EXPERIENCE
A boat trip to Paradise beach in Corfu
Taking a boat trip to Paradise Beach, in northwest Corfu, is a must if you want to discover one of the hidden treasures of the Ionian Islands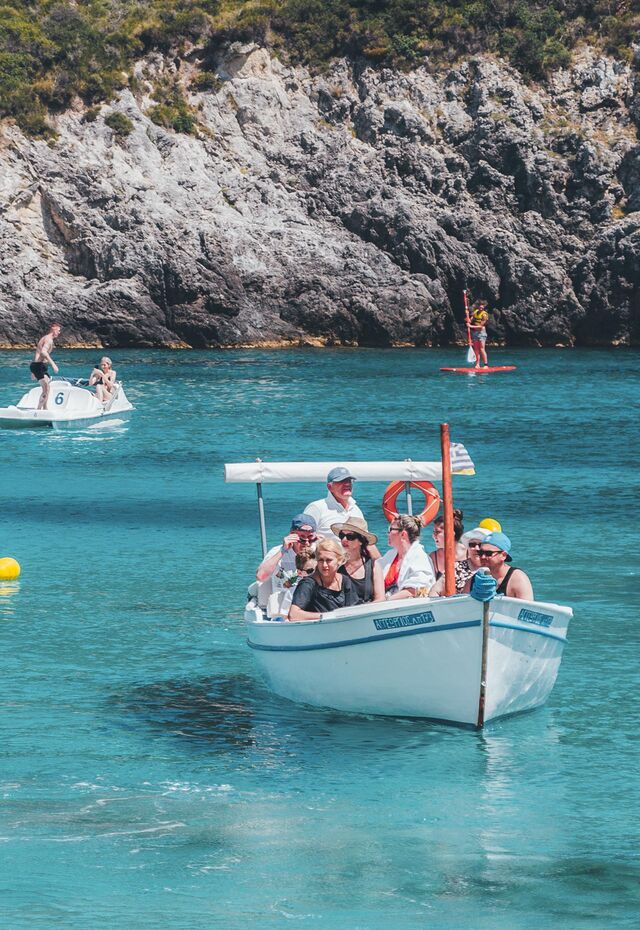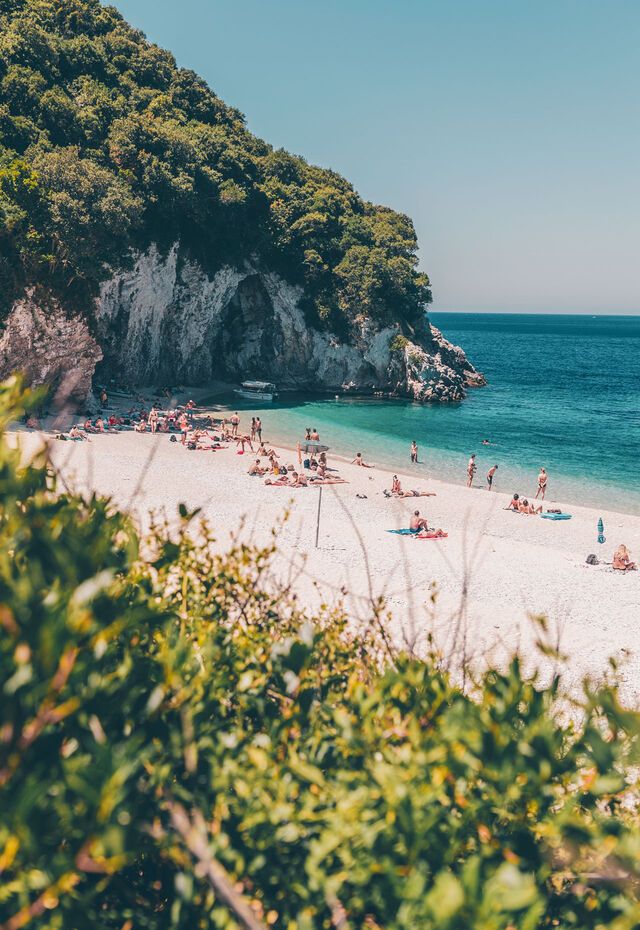 Duration
Full Day
Season
May - October
OVERVIEW
A boat trip to Corfu's Paradise Beach
Not only does the sea at Paradise Beach glisten with impossible shades of blue, but reaching high above you as you sunbathe there is a near-vertical rockface that gives you a sense of total isolation from the rest of Corfu. The scene is completed by the cliffs around the bay gently sloping towards the sea, carrying a carpet of Mediterranean greenery with them.
And best of all, Paradise Beach (or Chomi as it's known to the locals) is accessible only by sea. So, despite its rising popularity, you have the feeling of unearthing a treasure as you approach it.
Boats make the short journey from Paleokastritsa, and other nearby spots in northeastern Corfu, throughout the day, driving you right onto a beach of fine white pebbles. From then on, all you have to do is swim and gaze into unbroken views of the Ionian Sea.
The coastline near here is full of enchanting bays, sea caves and other beaches to explore. So you can also hire your own boat and skipper and tailor your journey. Just don't forget the reason you came and give yourself plenty of time in paradise.
DON'T MISS
Highlights of a boat trip to Corfu's Paradise Beach
The coastline
Paradise Beach is the star of this show, but the blues and greens of the sea and dramatic cliffs of Corfu's northwest coastline will delight you, even if only for the very short trip from Paleokastritsa.
Sea caves
There's the added bonus of pulling in to a couple of sea caves along the way. Nafsika Cave was mentioned by Homer as where the daughter of the mythical king of the Phaeacians, Nafsika, sheltered Odysseys during his travels. Other caves stand out for their impressive shades of blue. There's also a sea cave at the northern end of Paradise Beach that you can swim into.
Other beaches
If you hire a boat and explore the coastline, you'll find numerous beautiful beaches. Rovinia is 600m of fine pebbles and sand, surrounded by exceptional natural beauty, while Iliodoros (or Liniodoros) is a gorgeous, pebbled enclave southwest of the village of Liapades that is completely locked in by the sea and a thick forest. And Limni, 2km from the village of Liapades, is a smooth-pebbled strip of land between two rocks, giving views of the sea in front of and behind you.
Book your trip
All your holiday planning needs in one place, letting you book direct and benefit from official online rates
Private
4.5 hours
Free cancellation
Not sure? You can cancel this reservation up to 7 days in advance for a full refund
Private
9 hours
Free cancellation
Not sure? You can cancel this reservation up to 3 days in advance for a full refund
Private
5 hours
Free cancellation
Full refund 72hours before embarkation
GET PLANNING
Where do boat trips to Corfu's Paradise Beach leave from?
Boats taking 5-8 people leave regularly from Paleokastritsa's central beach (Agios Spyridonas).
During the summer, they run from 9:00-10:00 till 18:00-19:00.
Other nearby departure points are Ampelaki (750m), Alipa (700m), La Grotta (1.4km), Liapades Beach (5.4km)
How do you reach Paleokastritsa in Corfu?
Paleokastritsa is 25km (37mins) by car or bus from Corfu town
When is the best time to visit Paradise Beach in Corfu island?
Boat trips run throughout the day from May to October, but if you get the opportunity to visit either side of the peak summer months (May/June and September/October), you'll enjoy Corfu is at its greenest and quietest.
If you visit Paradise Beach during July & August, do so in the morning or afternoon to avoid the crowds and heat.
Autumn
Spring
Summer
Winter
How much do Paradise Beach boat trips cost?
Tickets are €15-20 per person. Private boat hire will be more.
All boat trips are dependent on weather conditions.
How long does it take to reach Paradise Beach in Corfu?
Travel time to Paradise Beach is 10-20mins, depending on your departure point.
Boat excursions typically last between a half-day to a full-day, but you may be able to arrange your return time with your captain.
There are umbrellas for hire and a boat with refreshments visits the beach, selling drinks and snacks.
Bring some money if you want to buy jewellery from the little souvenir shop on the beach.
Make sure you're fully equipped for a day in the sun.