One of the most popular Cyclades islands, Paros fully justifies its reputation as a complete and diverse Greek holiday destination. Enjoyed by a wide spectrum of age groups – from families and party animals to surfers and sun-worshippers, the island is big enough to keep everyone happy, and does. And one of the many reasons is its beaches. Clean, varied and easily accessible, Paros' beaches are considered to be some of the best in the Cyclades and whether you're looking for a quiet patch of sand, a beach bar or the next wave, Paros has it. So let's get you planning your holidays in Paros by looking at some of the island's best beaches.
Kolymbithres beach
The postcard beach of Kolymbithres, close to Naoussa, is a sight to behold. As one of the most famous beaches in Paros, it attracts just about everyone. It's a golden-sanded paradise that's actually made up of three separate beaches, which are naturally occurring indentations within the granite rock. You can opt to rent water sports equipment, like kayaks, and explore the beach's famous rock formations and neat craggy coves.
Amenities: Sunbeds & umbrellas, beach bars, tavernas, water sports
Access: By road
Distance from Naoussa: 4.9km
Distance from Parikia: 10.5km

Chrissi Akti beach
Like most Cycladic islands, Paros sees a fair share of wind. And so does Chrissi Akti (or Golden Beach), one of the main windsurfing hubs on the island. This is the biggest of Paros' beaches and definitely one of the most popular as it is favoured by everyone for its amazing blue waters (it has a Blue Flag certificate) and extensive water sports opportunities, with kite- and wind-surfing being the most popular. Several water sports schools operate within its shores for beginners. While it's a family-friendly beach, it's best to avoid when windy. Look out for the small, yet enchanting Nea Chrissi Akti beach, nearby.
Amenities: Sunbeds & umbrellas, beach bars, water sports
Access: By road
Distance from Naoussa: 14km
Distance from Parikia: 20km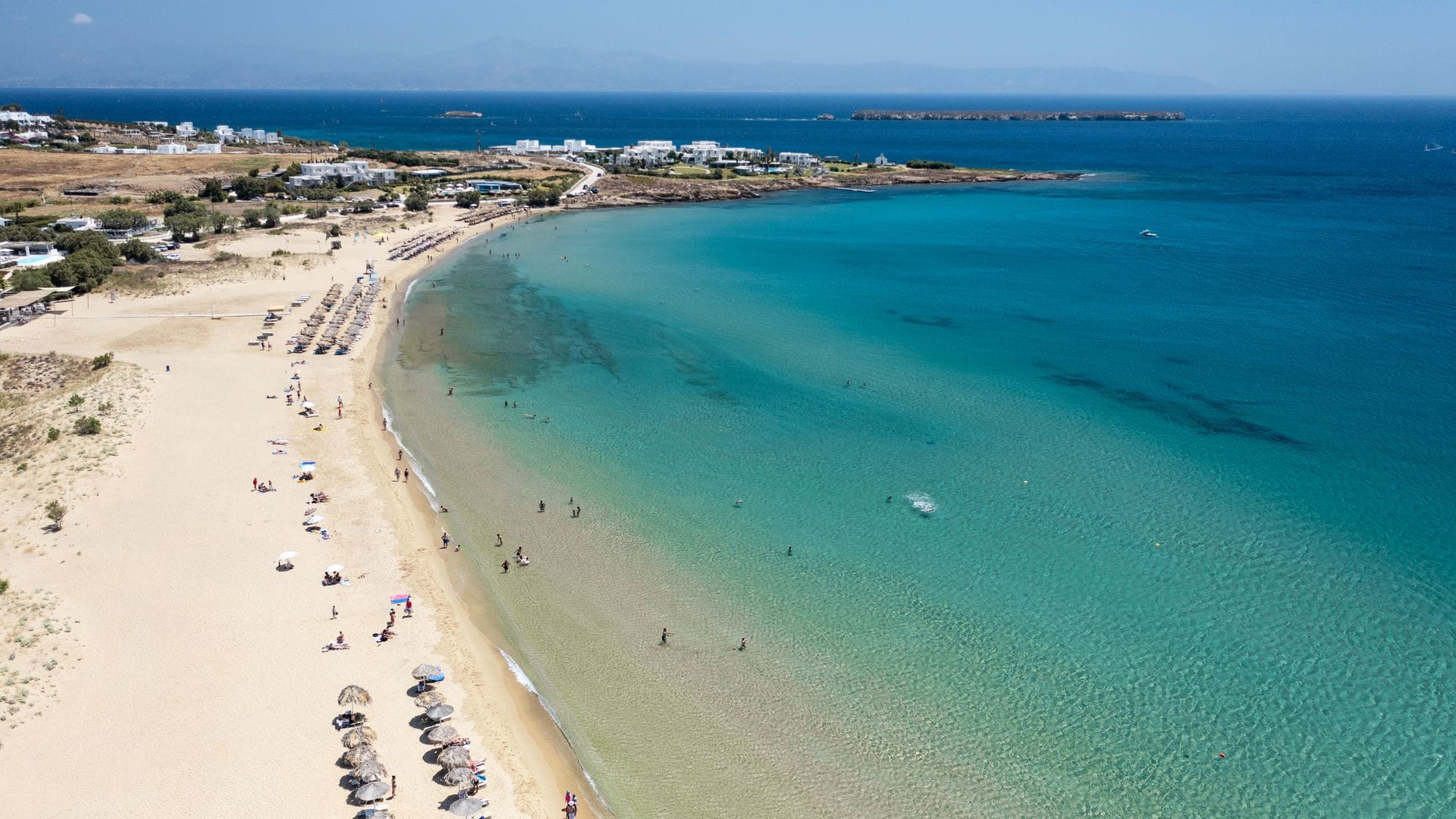 Santa Maria beach
The white-sanded shores and green waters of Santa Maria beach are heavenly. It is one of the most famous beaches in Paros, with good reason. Mikri Santa Maria is a smaller adjacent beach, with some neat little tavernas. If you fancy your privacy, head for the smaller one. The bigger one attracts more people and is home to several water sports schools, allowing you to spend a carefree day diving or kite- or wind-surfing, if that's your thing. And if you fancy partying, there's dance music in the beach bars.
Amenities: Sunbeds & umbrellas, beach bars, restaurants, water sports
Access: By road
Distance from Naoussa: 6.3km
Distance from Parikia: 16km

Kalogeros beach
Surrounded by massive rock faces, Kalogeros (monk in Greek – from the priest who, legend has it, jumped to his death from the rocks) is reached by foot from nearby Molos beach. Once there, nature provides. Secluded and quiet, it offers total serenity. And argyle. Lots of it, for the sand is made up of clay, so a day here doubles as a day at the spa (the seawater rinse is on tap). Bring your goggles if you fancy exploring the sea bed, or just bring your book and enjoy a quiet day at the beach. You can't go wrong.
Amenities: None
Access: By road & 10min walk
Distance from Naoussa: 12km
Distance from Parikia: 17km
Faragas beach
Easy on the eye and chilled, Faragas is as pretty as the beaches in Paros come. Flanked by a green canopy of pine trees and shrubs, the emerald-green waters of Faragas are quiet and clean. Its fine golden sand is as dreamy and its family-friendly credentials are solid.
This is a postcard-perfect setting, and what's more, its location affords the necessary protection from the strong winds. Divided into three small coves, this beach also allows you to rent kayaks and SUPs to explore the coastline. If you feel like working up a sweat make time to explore the nearby secluded Tripiti beach.
Amenities: Sunbeds & umbrellas, beach bars, water sports
Access: By road
Distance from Naoussa: 25km
Distance from Parikia: 14km
Pounda Kite Beach
As you might have guessed, Pounda Kite beach is where the action is at. Playing host to the yearly Windsurfing World Championship, and home to several kite-surfing and wind-surfing schools, this is one of the liveliest of beaches in Paros, located by a 1.5km channel between Paros and Antiparos which ensures a steady supply of strong winds. This fine sandy water sports utopia will have you occupied for hours on end.
Amenities Water sports
Access: By road
Distance from Naoussa: 18km
Distance from Parikia: 8.3km
Marcelo beach
Also known as Krios, Marcelo beach and its green-blue waters are surrounded by a long, craggy bay that is just perfect if the wind is up. Endowed by an expanse of fine yellow sand, it allows you to spend your time frolicking its shallow waters or exploring its coves. It's fully organised and even boasts a beach volleyball court if that's your thing. Popular with families and youngsters alike, Marcelo will enchant you. It's especially convenient if you're stationed in Parikia. Livadia beach, on the edge of town, is equally convenient and great for families with its extensive amenities.
Amenities: Sunbeds & umbrellas, beach bars
Access: By road
Distance from Naoussa: 13,5km
Distance from Parikia: 4.2km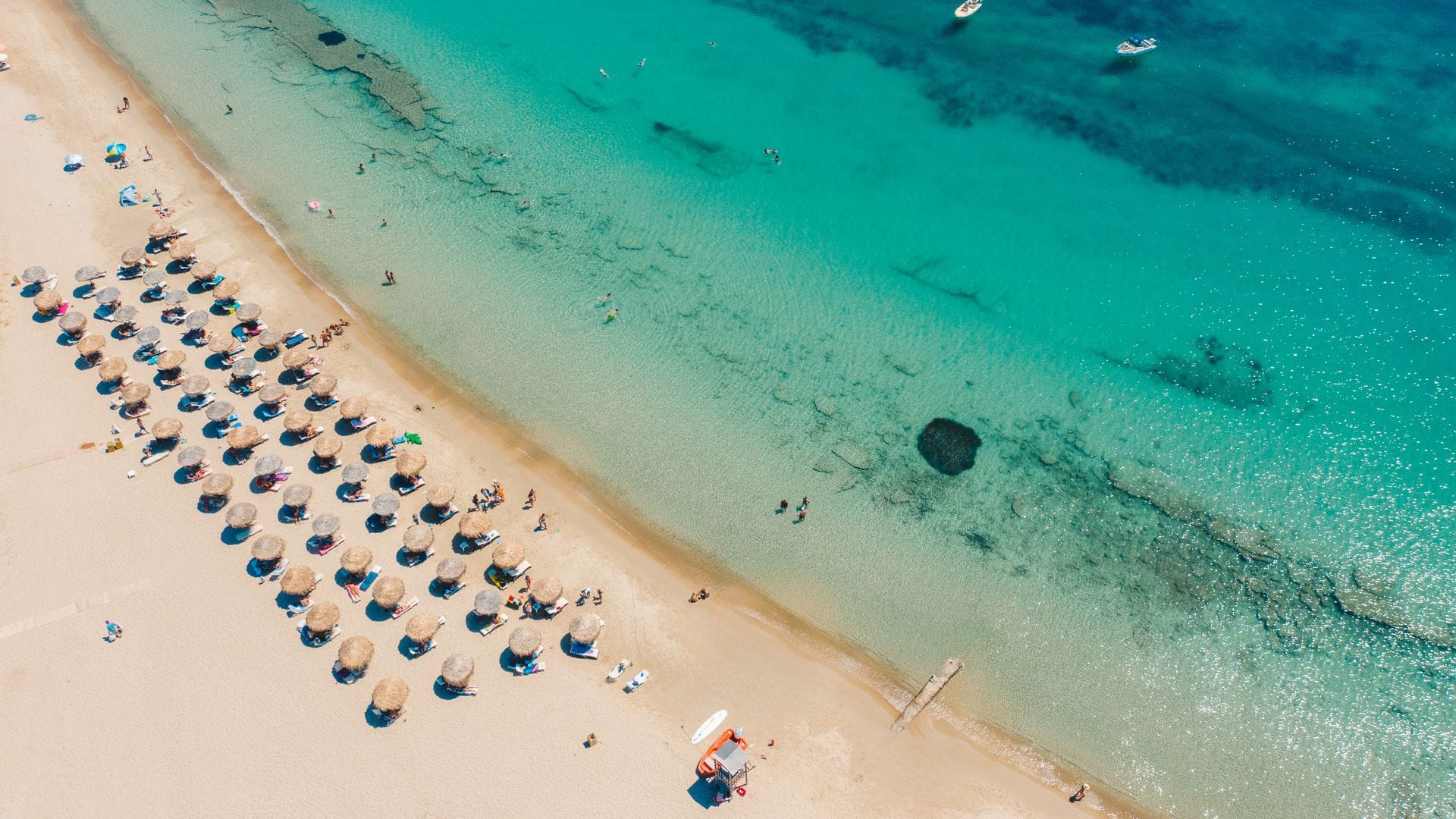 Monastiri beach
One of the prettiest beaches of Paros. Monastiri is located in a secluded cove and measures a mere 200m, gaining its name from the Monastery of Agios Ioannis Detis sitting on its eastern edge. It is cosmopolitan but with a quiet side, allowing you to sip your cocktail in tranquility or take it up a notch at the beach bar, according to your mood. The beach itself is a glowing patch of yellow-white sand, with its turquoise waters extending waist deep for about 100m, making it great for kids, too. If you feel compelled to catch up on local culture and history, make sure to visit the monastery as well as the Paros Environmental and Cultural centre (with a museum and theatre) where every summer the annual 'Festival in the Park' event takes place.
Lageri beach
Divided into two separate beaches and boasting some of the bluest water you'll experience, Lageri is one of the most exotic beaches in Paros. It is secluded, chilled, and fairly big, attracting nudists on the not-so-accessible left side and mainly families and boho types on the right, with the tamarisk trees offering the only natural shade. Its complete lack of any discernible amenities and less-than-easy access make it a great spot for those looking to get some respite from the crowds. Set your towel down, get your book out and let your holiday in Paros do its thing.
Amenities: None
Access: By road & 5min walk
Distance from Naoussa: 6.3km
Distance from Parikia: 16km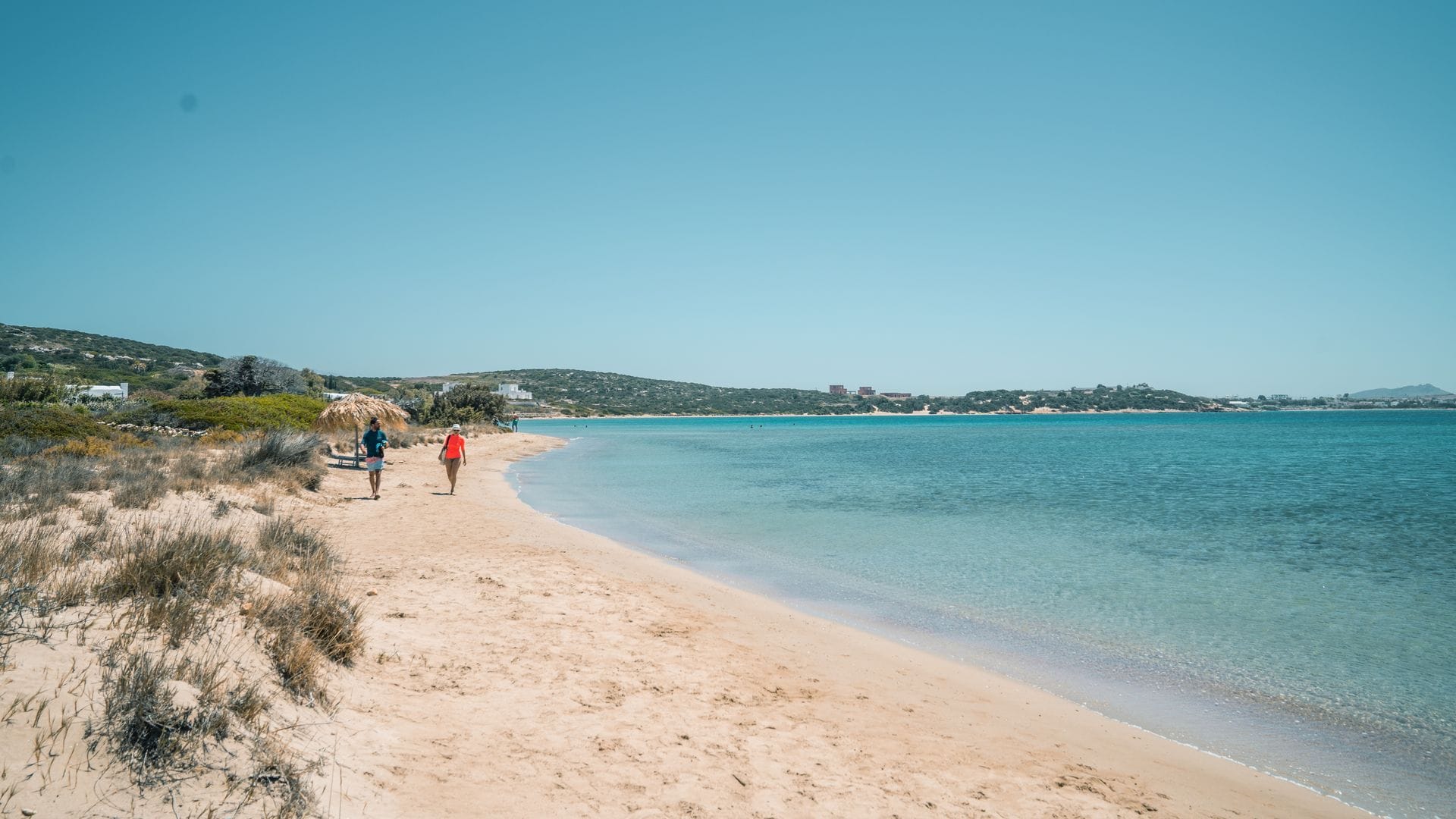 Logaras beach
Logaras promises a fun day at the beach for everyone. Whether it's jumping off the rocks, swimming in Blue Flag-certified waters or enjoying some of the many amenities and activities on offer (water sports, beach volleyball, restaurants), you're in for a treat. The shallow waters and rich sea bed are ideal for swimmers and snorkellers, and the tamarisk tree-lined beach extends to the pretty Piso Livadi port to the south if you fancy exploring a little more. Try some of the local grub at the tavernas lining its shore.
Amenities: Sunbeds & umbrellas, beach bars, parking, tavernas, water sports
Access: By road
Distance from Naoussa: 12.3km
Distance from Parikia: 17.5km
Punda beach
Not to be confused with the sporty Punda Kite beach on the other side of the island, Punda is your designated daytime party spot. With beautiful people, house music and more bubbly than an R&B party, Punda will have you thinking you're in Mykonos in no time. And while the chances of running into an A-list celebrity are slim, rest assured you'll get your money's worth. This world-famous beach bar is vivacious and best enjoyed if single. Be ready to mingle.
Amenities: Sunbeds & umbrellas, beach-bar
Access: By road
Distance from Naoussa: 12.8km
Distance from Parikia: 17.9km
Alyki beach
The picturesque fishing village of Alyki and its similarly named beach hits the spot. It is windless, with yellow, fluffy sand and has an adjacent little sister beach named Piso Alyki (not organised). Furthermore, its excellent seafood tavernas (some right on the seashore) and shallow, crystal clear waters make it excellent for families with kids. One of the most family-friendly beaches in Paros, with easy vibes and an unforgettable sunset. Alyki should be on your bucket list, without a doubt.
Amenities: Sunbeds & umbrellas, tavernas
Access: By road
Distance from Naoussa: 22.6km
Distance from Parikia: 12.2km
The best beaches in Paros
The all-star of Greek islands, Paros has something for everyone. It's got a multidimensional appeal, with all the class of the Cyclades and experiences as diverse as kite-surfing and village-hopping. So whatever type of holiday you're after, you'll find a beach mood to match.
Book your trip
All your holiday planning needs in one place, letting you book direct and benefit from official online rates
Accommodation
Paros
Under new management for this opening season 2021, High Mill is going through a major renovation project in his interior as well as exterior spaces....
Accommodation
Paros
Mrs Armelina by Mr & Mrs White Hotels  is located in the traditional village of Naoussa, in the area of Agios Georgios, 800 meters ...