What is it that makes Aegina unique? Is it the incredible proximity to Athens, letting you be on a Greek island around 1hr after leaving Piraeus? Is it the monuments that let you travel through Greece's entire history? Is it the light, which has inspired dozens of artists over the years? Or the green-blue water, so unexpected in places that you'll never believe you're in the Saronic Gulf? It's definitely Aegina's famous pistachios and the seafood. In fact, it's all of these together and much more. So here we go. Are you ready for our 14 best things to do in Aegina?
Stroll through the history of Greece in Aegina town
It's fascinating how an island can encompass all of Greek history. Just a breath from the port is the Temple of Apollo (also known as Kolona after its one standing column), dating from the 6th century BC but built on a prehistoric site. After that, you fast-forward to the Venetian era as you take a walk through Aegina town. The Tower of Markellos was built in the late 17th or early 18th century as a watchtower against the Ottomans.
And nearby are the so-called Kapodistrian Buildings (including the Eunardios School, Orphanage and Governor's House) – all dating from the early 19th century and the time when Ioannis Kapodistrias was Greece's first leader after Independence and Aegina was briefly the capital of modern Greece. For more history, there's the Archaeological Museum and Historical & Folklore Museum in town.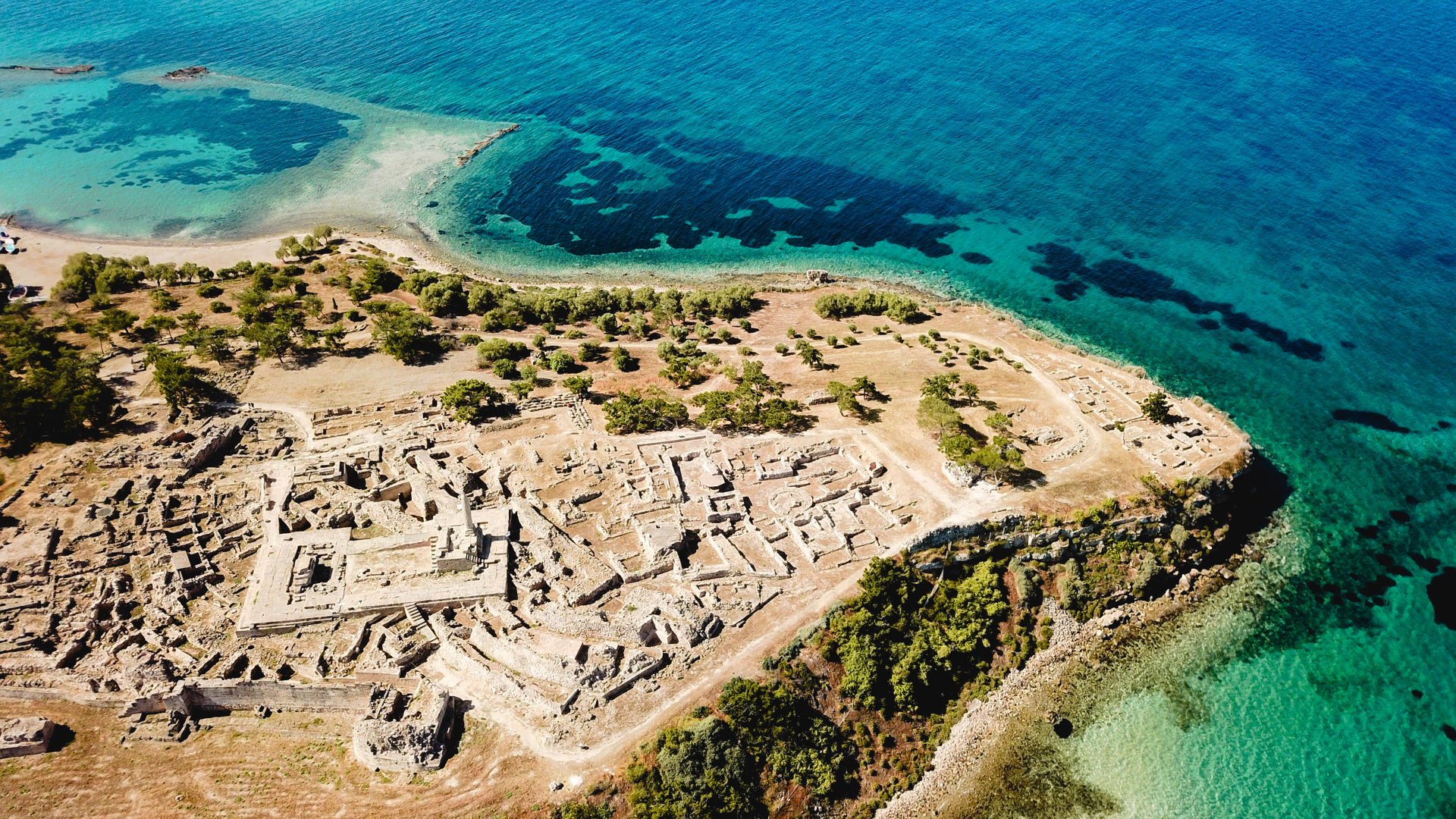 Discover unique monuments all around Aegina
That's just the start of the historical monuments on this fascinating island. Next in our list of what to do in Aegina, you head to the Temple of Aphaia (from 500-490 BC). You can feel the incredible energy of the site as you ponder the significance of this temple forming two imaginary isosceles triangles: one with the Temple of Poseidon at Sounio and the Temple of Hephaestus in Athens and a second with the Temple of Apollo in Delphi and the Acropolis' Parthenon. On the other side Aegina, near Sfentouri, are the fascinating prehistoric drakospita (dragon houses), more than 3,000 years old. And climbing to the top of Mt Ellania (Aegina's highest peak), you'll find the ruins of the Temple of Ellanios Zeus, predating the Trojan War by three generations and thought to be the oldest temple in Europe. Finally, the pirate era takes over as you visit Aegina's medieval capital, Paleochora, before you emerge into 20th-century Greece with the forts of World War II in Tourlos.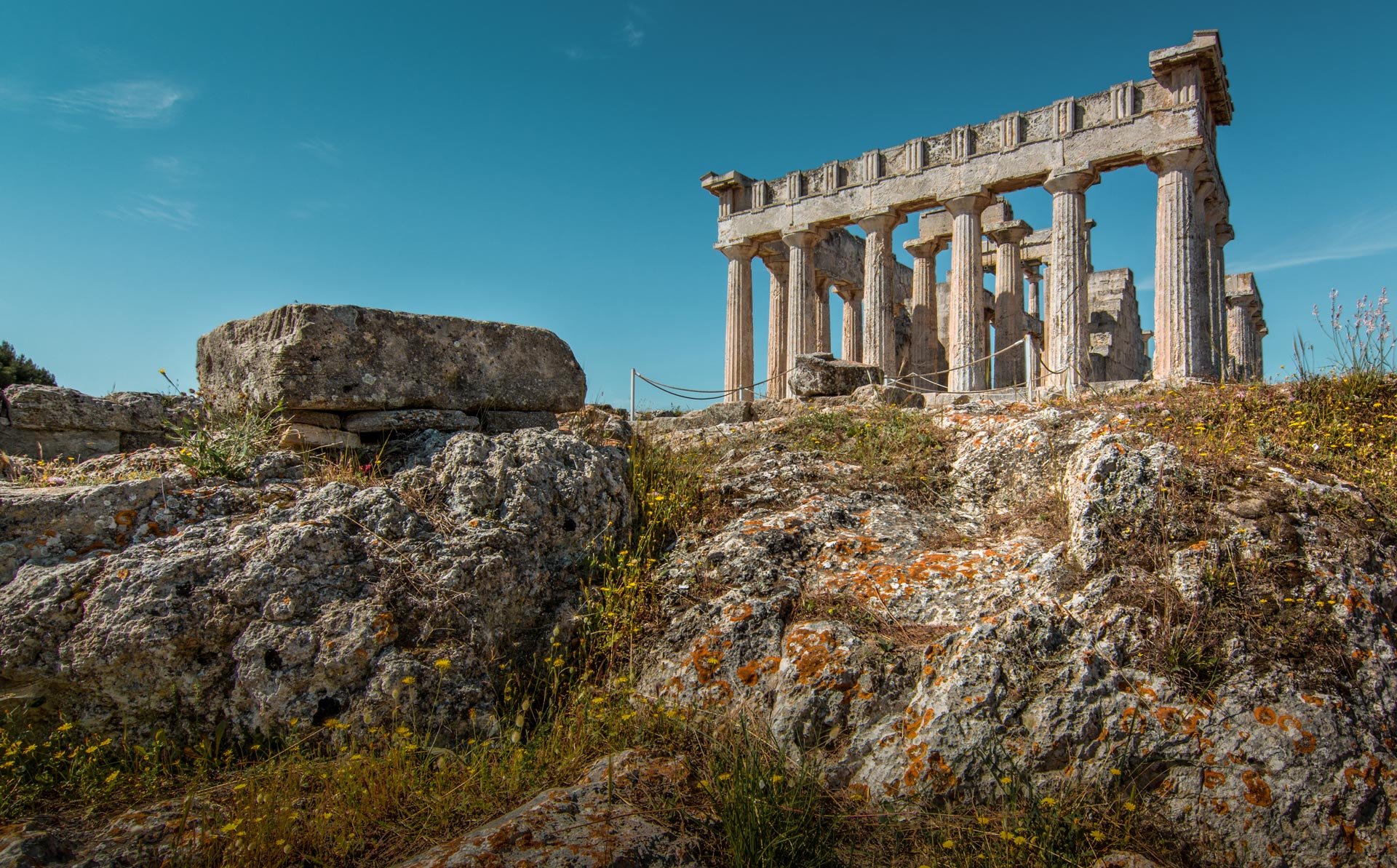 Follow the path of artists up the coast
The beautiful coastal route from Aegina port to Cape Plakakia (5km, 1hr round trip) will make you feel as if you are following in the footsteps of the great artists that Aegina has inspired. Starting from Costas Varotsos' glass 'Gate of Aegina' in the port, you pass ancient Kolona and follow the Nikos Kazantzakis St (named after the celebrated Greek author, of Zorba the Greek fame) up the coast, stopping to photograph the 'Untitled' sculpture of the great Yiannis Moralis, standing serenely against a background of endless blue sea. After pausing at the romantic Lighthouse of Bouza, continue to the Statue of the Mother of painter and sculptor Christos Kapralos (you can also visit the museum of the same name). Your art-inspired walk ends at the house where Kazantzakis, who loved Aegina and its unique light, once lived. If you make the trip at sunset, you'll enjoy the incredible colours of the horizon.
Photo by: We Love Aegina
Explore your artistic side and fill your Instagram feed
If art is your passion, you're in for another treat. Aegina is an island that is perfect for a painting or photography lesson in the countryside or making your own souvenir in a pottery workshop in town. And if you find the idea of an outdoor cinema enticing, there are three summer cinemas where you can enjoy moonlit movies (they also have movies for kids). And for something totally authentic to Aegina, the 'floating grocery stores' by the port will look perfect in your Instagram feed!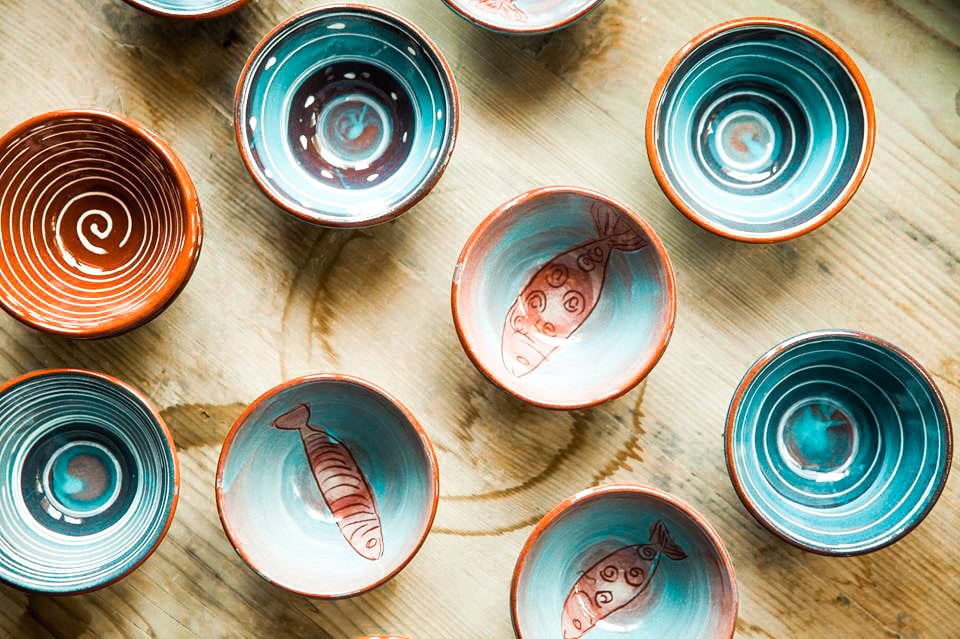 Photo by: We Love Aegina
Take a bite out of an island made of pistachios
If Aegina has a taste, it's of pistachios in all their forms: fresh, with their skins still on; roasted (salted or unsalted); in a pasteli bar or a spoon-sweet preserve; and in breakfast spreads, pesto or a refreshing ice cream. The list really could go on! A stop at the historic cafe-patisserie Aiakeion in the old town is a must to enjoy one of their famous handmade sweets and buy award-winning pistachio products. And for yet another recommendation, there is Mourtzis, behind the fish market, where you'll find handmade local products. Just don't leave without trying the famous 'fistikato' (grated pistachio paste with caramel, covered in whole pistachios) and a syrup-sweet.
Photo by: We Love Aegina
Sample the seafood, as fresh as it gets
High up on your things to do in Aegina list is finding a taverna by the sea and ordering seafood… especially when it's accompanied by a glass of local Roditi or another Greek wine. If you want a suggestion for what to order, try delicious, sweet katsoules, a type of wrasse found exclusively in the Saronic Gulf. In the port, Tsias restaurant serves authentic Greek flavours and traditional dishes with a modern twist. A little further down the coast, there's O Manitas sto Kima for fresh seafood with a fantastic sea view, while in Perdika, a fishing village on the southwestern tip, Nontas has got a great reputation. (Tip: don't leave without their homemade pistachio pesto!)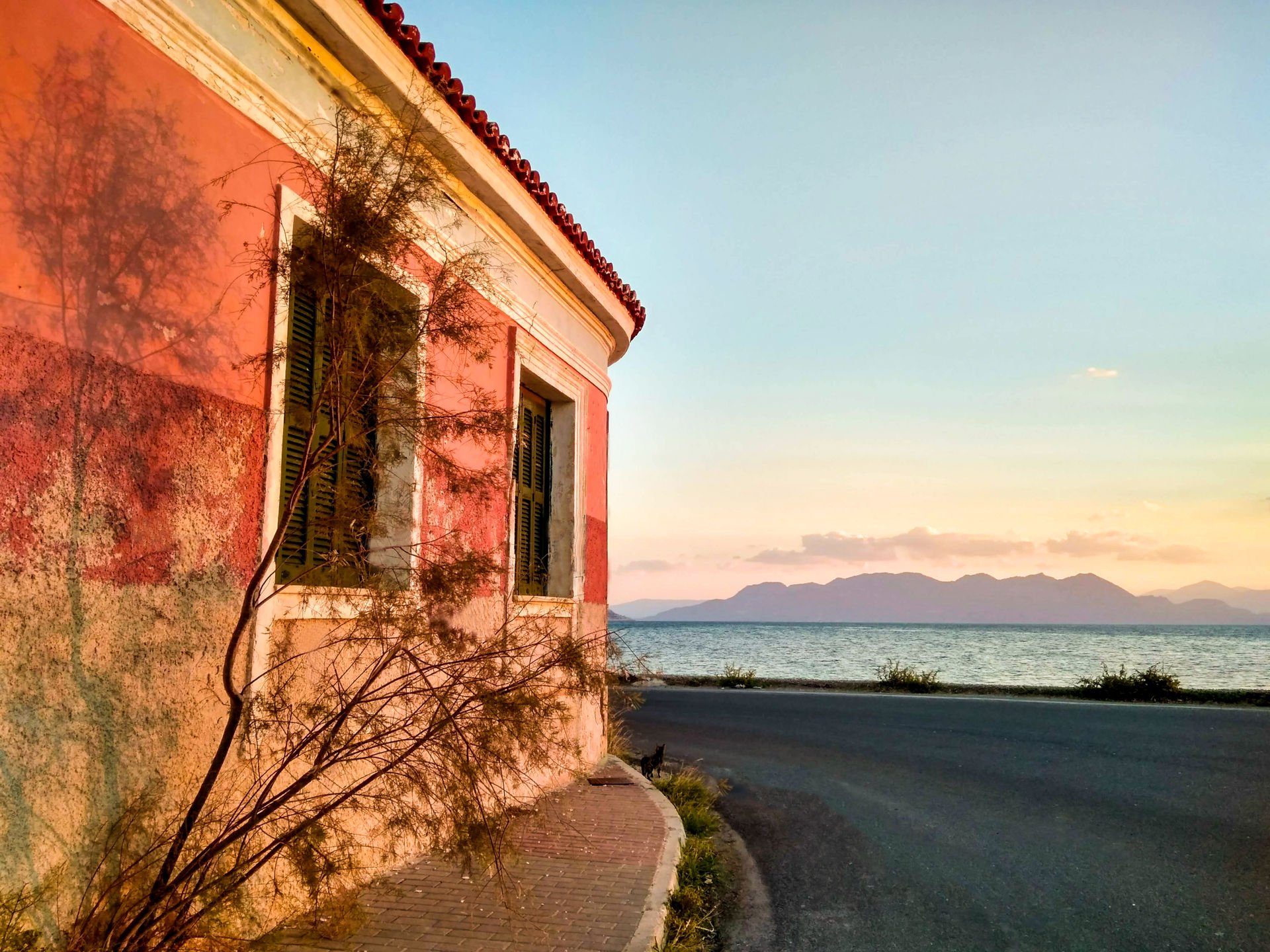 Photo by: We Love Aegina
Discover beaches for all tastes around Aegina
What sort of beach mood are you in? Fully organised with food and amenities or remote for pure escape? Either way, you'll find it in Aegina. If you're good at diving, head to the rocks of Agia Marina (on the east coast, just south of the Temple of Aphaia) and then swim in the turquoise waters there. Or you could discover the wild beauty of Vagia and Tourlos in the north (you definitely don't know this side of Aegina). Families will feel carefree on the beaches of Marathonas (just a 10min drive south of town), with shallow water and an expanse of sand for the kids and plenty of tavernas for afterwards. And for something more active, you can book a scuba diving lesson, go canoeing or kayaking, join a yoga class on the beach or go wind- or kite-surfing (when the wind is up, you'll find plenty of company on Agios Vasilis beach).
Explore the ancient olive grove that inspired Hermès
We're talking about Hermès, the Parisian fashion house, not the god. And yes Aegina's ancient olive grove of Eleonas famously inspired the photoshoot of their 2005 collection. Yet despite the attention these magnificent olive trees received at the time, this beautiful location (in a secluded valley, just south of Pachia Rachi) is an undoubted hidden gem of Aegina. Most of the trees are at least 400 years old, with some through to go back an astonishing 1,500 years, judging by the width of their trunks. It's a beautiful and serene spot, with churches and the remains of other religious buildings scattered amongst the trees.
Take a boat trip to Moni and uncover secret beaches
Can you combine a swim in turquoise waters with dense greenery, deer, wild goats and even peacocks striding to the beach bar? Well, in Moni – a heavenly little island opposite Perdika – you can find all this and plenty more! You get to Moni in just 10mins by boat from Perdika. Or you can take it to another level and book a private boat and registered skipper and explore Angistri (just past Moni) and other nearby islands in the Saronic Gulf to discover yet more divine swimming spots.
Take to the mountains on the footpaths of Aegina
There are nine marked hiking trails and dozens more footpaths in Aegina, inviting nature-lovers to enjoy the little-visited mountains and hills. You'll find routes that are ideal for all levels and ages, taking you through traditional settlements and past the famous water collection tanks known as 'souvales' (resembling cisterns) and chapels in the virgin landscape… all of which is made even more special by Aegina's dazzling light. It's an experience you can enjoy in every season, but spring, autumn and winter are best to avoid the summer heat. A great route is on Mt Ellanio (or simply Oros, which is the Greek word for mountain), starting from Anitseo and passing by Vlachides, Sfentouri, Achlada, Analipsi and Taxiarhes. The highlight is the unforgettable view from the peak, where you'll find the remains of an ancient temple to Zeus.
Explore Paleochora, the island-version of Mystras
Paleochora deserves a special mention in any list of best things to do in Aegina. It was built in the 9th century for protection from Saracen pirates and remained the capital of the island until 1826. They say that Paleochora has a special energy... and you can really feel it as you wander among the 38 churches that remain of the 366 once standing here (one for each day of the year!). It has been likened to an island-version of Mystras (the famous town in the Peloponnese, which was one of Greece's centres of Byzantine culture). You'll find wells, cisterns and examples of the 'souvales' encountered during your hike, as well as incredible views. Don't forget to climb to the top of the hill, where there are traces of the castle built by the Venetians in 1654.
Photo by: We Love Aegina
Have a taste of a farmer's life, Aegina-style!
Aegina also has its rural side that you'll love discovering. If you visit picturesque Sfentouri, just before Perdika, you can have the experience of milking goats, collecting fresh eggs from the henhouse, and even making (and certainly buying) fresh rice pudding or cream at the Orini Aigina (Mountainous Aegina) dairy. Don't try to resist. You'll adore getting closer than ever before to animals and nature. In places like Agios and Alones, you'll encounter animals being reared with love and care.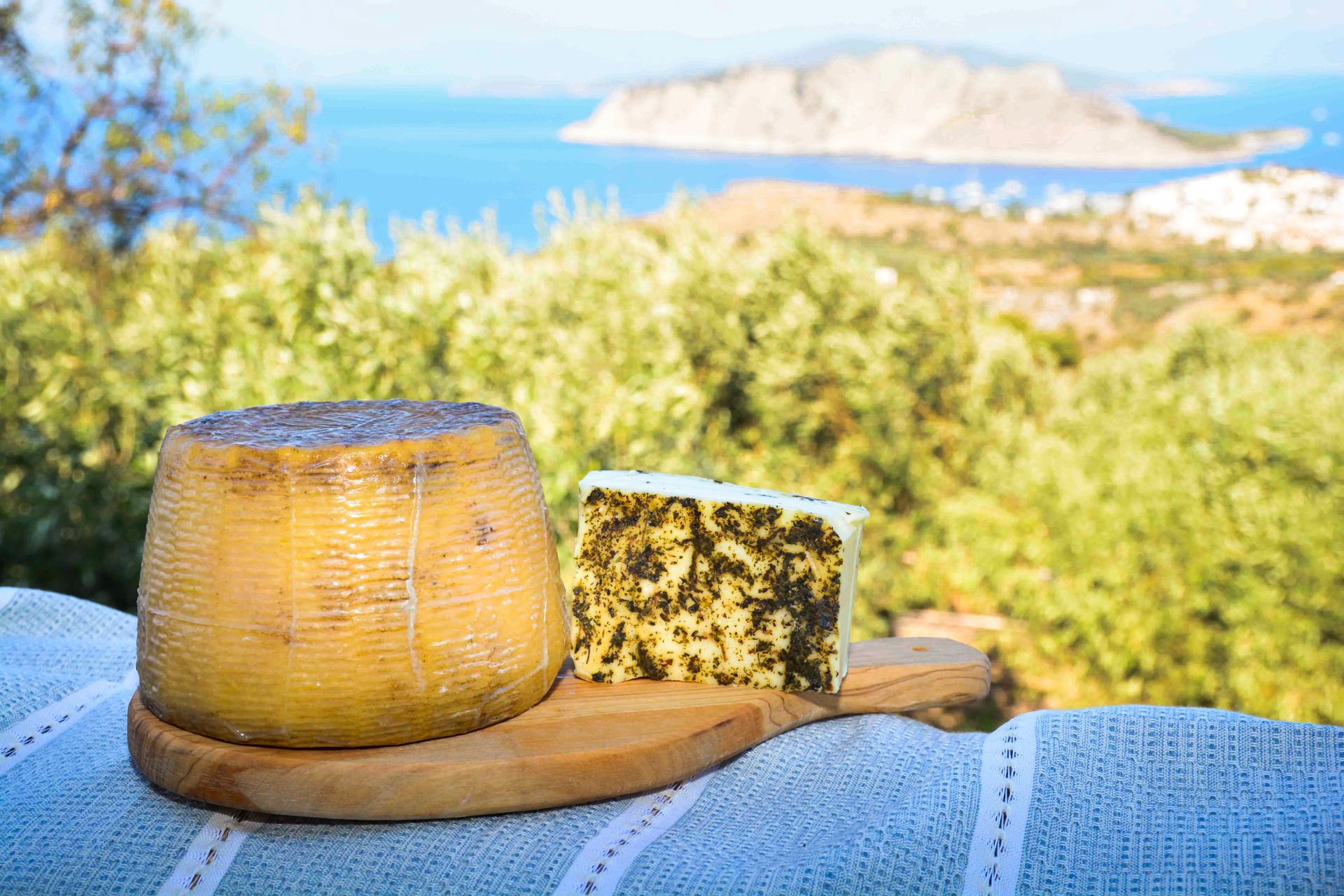 Photo by: We Love Aegina
Feel the special atmosphere of the monasteries
Aegina has a multitude of monasteries that you can visit, filled with the devout spirit of the monks that reside there. You can admire the architecture of the monastery complexes and the beauty of the surrounding landscape. Not to be missed is the famous Monastery of Agios Nektarios, the Monastery of Agios Minas (Aegina's greenest monastery) and the historic Monastery of Panagia Chrysoleontissa (the island's patron saint) built in the early 17th century. Also, on your walk in Paleochora, it's worth visiting the Holy Cross church (Stavros) by the village entrance, where you can admire the unique frescoes of Agios Georgios and the cell where St Dionysios of Zakynthos spent three whole years in 1567.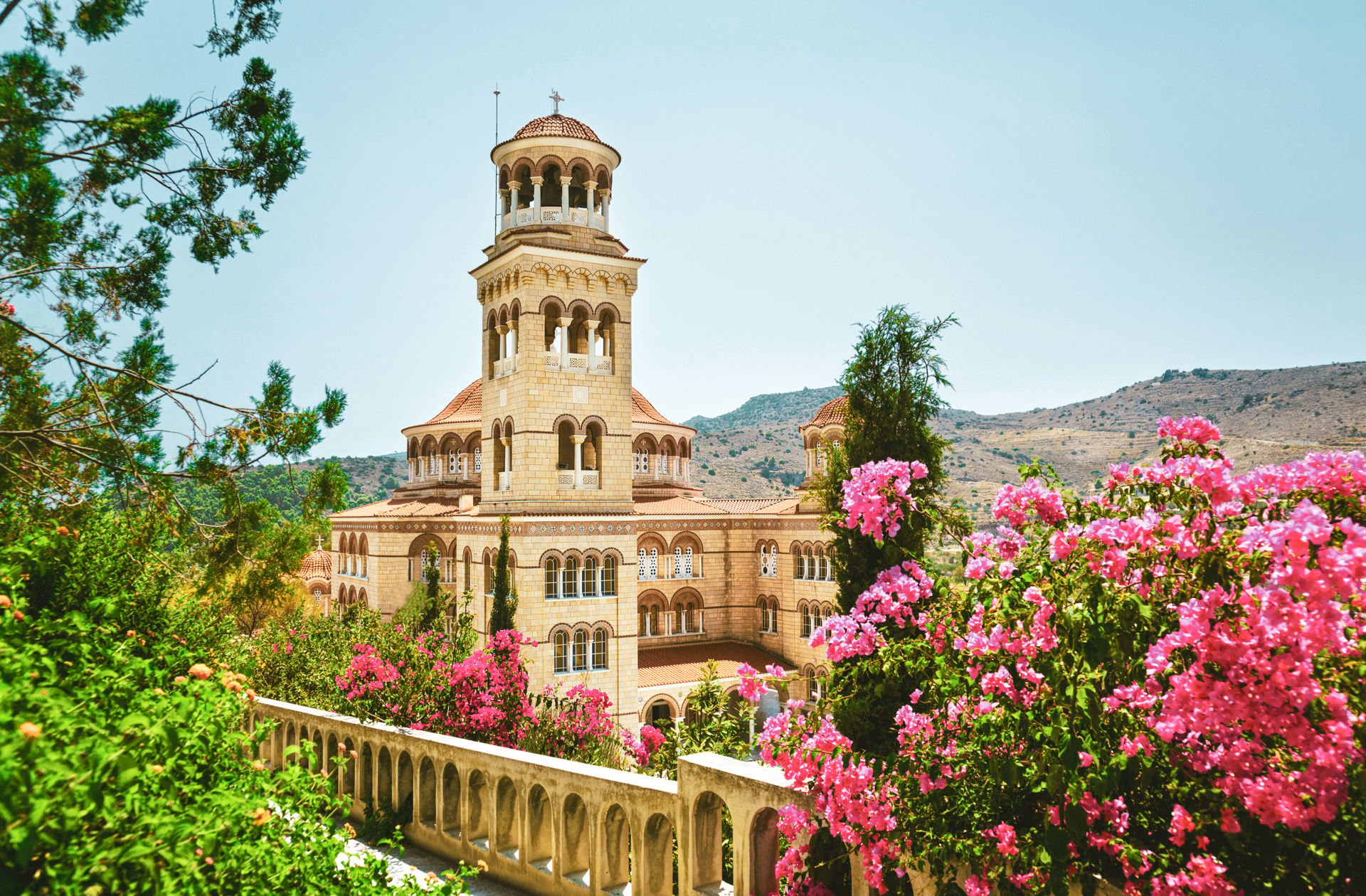 Discover yet more villages filled with history and nature
Aegina has a way of charming you wherever you go. So the last of our things to do in Aegina is to explore a little bit more. In Pachia Rachi, you'll find a beautifully preserved village that famously contributed some of the fighters of the 1821 Revolution against the Ottomans (and a great view to match). Continuing to Anitseo, in the hills, you'll find the start of two footpaths that you can follow that let you enjoy the island's birdlife and cooler air, as the village is built at an altitude of 230m. Meanwhile, Mesagro is rich in nature and architecture and has a tradition of delicious local cuisine. And if you have time, pass by some of Aegina's uninhabited hamlets, such as Giannakides, Aposporides, Kanakides, Kapotides, Lazarides and Benakides, each hiding their own small treasures.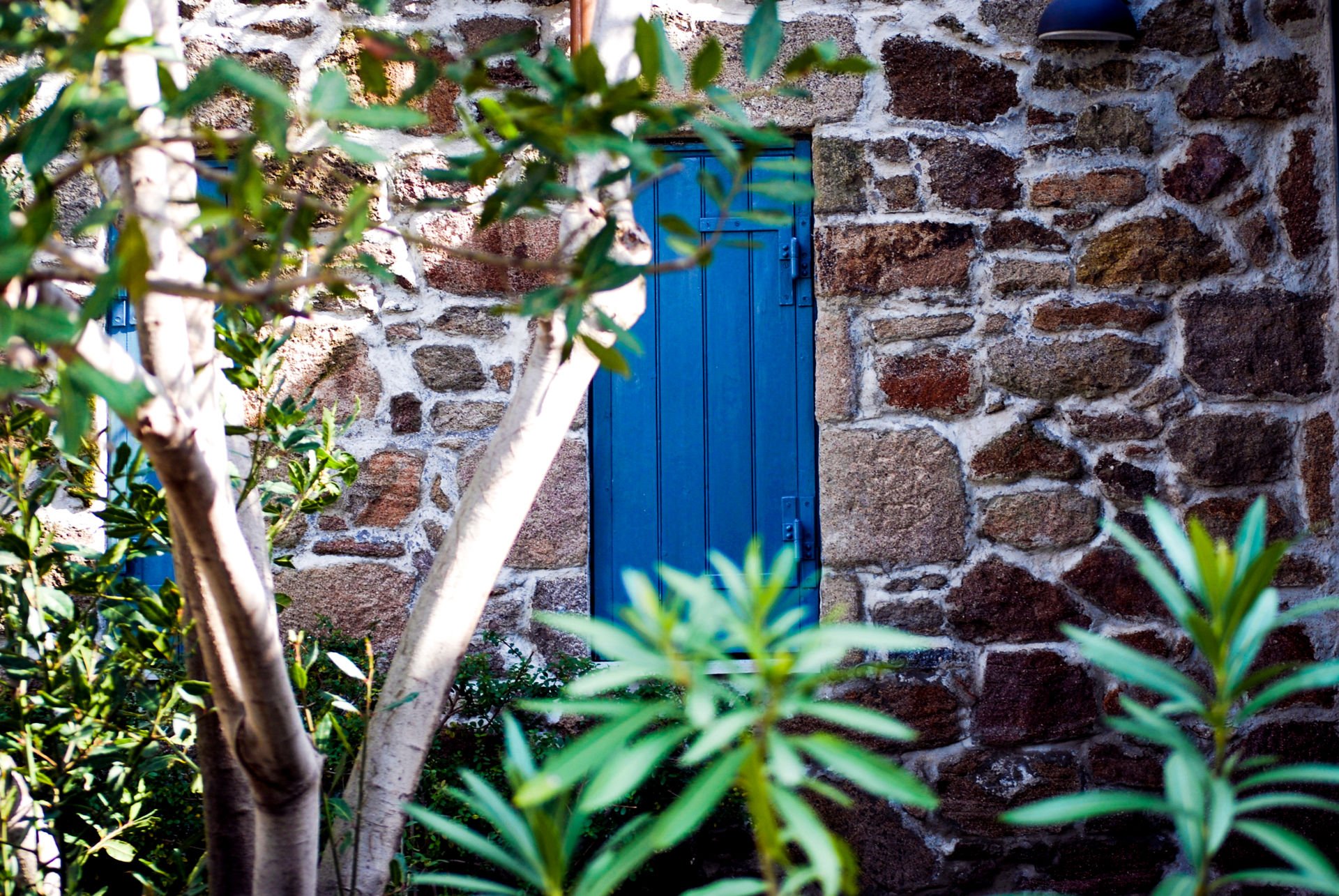 Photo by: We Love Aegina
14 unforgettable things to do in Aegina
It's not just 14 incredible things to do on Aegina that you'll be treated to. There are so many unforgettable experiences here that one visit simply won't be enough. Those who visit become avid fans (taking to Instagram with #weloveaegina), so it's just as well that Aegina is so close to Athens you can pop over every time you're in town.
Discover the beauty of the islands close to Athens

FAQs about Aegina island
How do you get to Aegina by ferry?
There are regular, daily ferries from the port of Piraeus to Aegina all year round, with crossings taking 1hr15mins for vehicle ferries and as little as 40mins for passenger-only Flying Dolphin hydrofoils. Most ferries from Piraeus will take you to the main port of Aegina town, although there are also summer ferries to Souvala and Agia Marina, Aegina's other ports.
When is the best time to visit Aegina?
Of all the Greek islands, Aegina is perhaps the most suited to being visited at any time of year, including winter. If you want to enjoy it at its quietest and coolest, spring and autumn are the best times to visit (especially if you want to hike and enjoy the countryside).
What is the best way to get around Aegina?
It's easy to walk around Aegina town and to nearby beaches and the Kolona archaeological site, and there are buses from the main town to various spots around the island. You'll find the central bus station around 300m from the port. There are also taxis in town but the most flexible experience will be to bring your own vehicle or hire one on the island. There are also motorbikes and bicycles for rent.
Can you visit Aegina in a day?
Yes, as the closest island to Athens, Aegina is perfect for day-trips. You'll be able to enjoy a selection of the experiences described here, although you'll be limited by time. Of course, you'll need to spend a few days in Aegina to do it justice. It can also be visited as part of an island-hopping itinerary, with most Aegina ferries also going to other Saronic Gulf islands (such as Poros, Hydra and Spetses).

Book your trip
All your holiday planning needs in one place, letting you book direct and benefit from official online rates
Group
Private
11 hours
Free cancellation
Until 73 hours prior to scheduled commencement date of service: no cancellation fee
Group
10 hours
Free cancellation
Not sure? You can cancel this reservation up to 24 hours in advance for a full refund