Just a short drive from Athens is the 5th-century BC temple dedicated to the sea god himself, with an aura (and sunset) that continues to captivate visitors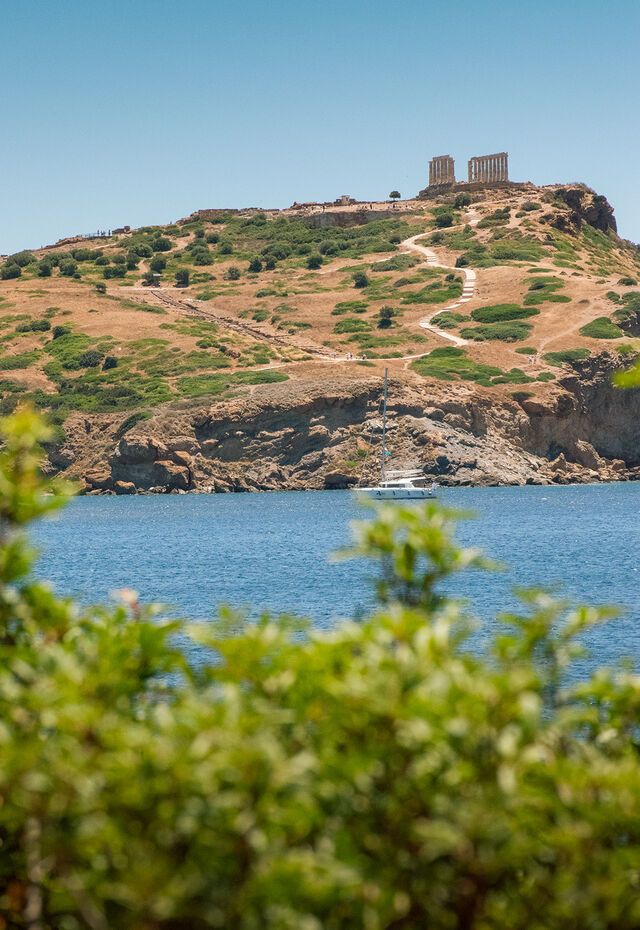 Duration
Half or full day
Season
All year round
OVERVIEW
The Temple of Poseidon in Sounion has always had a special place in the hearts of visitors. Built at the same time as the Parthenon, during Athens' Golden Age, it wasn't just a site of worship of the sea god Poseidon (whose bronze statue stood more than 6m tall at its centre) but – positioned high above the sea on the southeastern tip of Attica – it was an indication for sailors returning to Piraeus that they were almost home.
Less than an hour's drive from Athens, the Temple of Poseidon continues to enthral visitors today who can combine a visit the archaeological site with time at the nearby beach. Where else can you swim in beautifully clear water and gaze up at the marble-white columns of a 5th-century BC temple?
Naturally, you'll have been tempted by the beaches, bars and restaurants along the Athens Riviera as you make the short drive from the city centre, but Sounio beach – with its views into the Saronic Gulf – feels like it should be on island.
The highlight, of course, is feeling the aura of the temple. On a clear day, you can make out the islands of Kea, Kythnos and even Serifos to the southeast and Aegina to the west.
It was all too much for the 19th-century British poet and philhellene Lord Byron, who felt compelled to scratch his name in one of the rocks of the temple. And at the end of the day, you'll be treated to one of the most magical sunsets of your life.
DON'T MISS
The Temple of Poseidon
Some temples have it all. Beauty, symmetry, a sea view and a cult following. Built between 444-440 BC, the Temple of Poseidon was part of the Sacred Triangle (including the Temple of Aphaia in Aegina and the Parthenon in Athens). It replaced an Archaic period temple destroyed a few decades earlier by the Persians during Xerxes I's invasion of Greece. After the Athenians defeated Xerxes in the Battle of Salamis, they responded by placing an entire captured enemy trireme here as a trophy dedicated to Poseidon. Similar in architecture to Athens' Temple of Hephaestus, you can still admire many of the Doric marble columns and other features of the temple.
Sounio beach
Welcome to the feeling of being on an island just a short drive from the city centre. The beach at Sounion is well-organised, with facilities such as umbrellas and sunbeds, a beach bar and showers that make it perfect for families. The sand, sea and Mediterranean landscape … they could all be straight out of a beach experience on any number of Greek islands. And then you look up and catch sight of the temple presiding above you, as it has done for more than 2,500 years, and there's only one place you could be.
Mediterranean meze by the beach
How do you end a day in which you've visited a 5th-century temple, lazed on the beach and enjoyed a refreshing swim? Eating seafood at a fish taverna, of course, maybe even within sight of the temple – and certainly with a sea view. Roasted squid, steamed mussels, delicious shrimp and other meze that go perfectly with an ouzo, chilled beer or glass of wine. Or maybe delicious little homemade pies. Tempted? There are a few taverna choices just up or down the coast from Sounion that do the setting justice.
Book your trip
All your holiday planning needs in one place, letting you book direct and benefit from official online rates
Group
4 hours
Free cancellation
Not sure? You can cancel this reservation up to 24 hours in advance for a full refund.
Group
8h
Free cancellation
Not sure? You can cancel this reservation up to 6 days in advance for a full refund
Private
GET PLANNING
To Sounio:
From Athens International Airport
By car/taxi: 45km (40min)
From Athens city centre
By car/taxi: 77km (1hr10min)
By bus (KTEL): Daily service from the Pedion tou Areos stop
The archaeological site is open all year round (except national holidays).
The reflection of the light off the temple's marble is particularly special in the morning, or it's worth timing your visit to coincide with the sunset
Autumn
Spring
Summer
Winter
You'll need around 4-5 hours to enjoy the experience as part of an organised tour, including the return trip to Athens. And almost a whole day if you combine it with the beach and meal.
Opening hours:
Summer: 9am till sunset
Winter: 9:30am till sunset
Tickets: €10 (€5 reduced)
There's little shade and the archaeological site is expansive so don't forget your hat, sunglasses and sunscreen and bring a water bottle.
Wear comfortable footwear.
There is a parking area at the end of the road by the entrance to the temple, as well as a cafeteria and Museum Shop.
There are plenty of accommodation options, including luxury 5* hotels, in Sounion and along Athens Riviera.
A little further up the coast is the port town of Lavrio, in which you will also find tavernas with a seaside feel.
There are many guided tours (group or private) available online.
The archaeological site is suitable for visitors with disabilities.