READING TIME
As long as it takes to eat a slice of watermelon
There are so many reasons to visit Skiathos, with the cosmopolitan main town (Hora), great food, history and nature activities all competing for your attention. But there's a hands-down winner when it comes to star attractions of this magical Sporades island … the beaches. Known for their lush background of pine and olive trees, blue-green waters and combination of fine sand and pebbles, the beaches of Skiathos shine like a slice of sun-dappled Greek gold. Ten have been awarded Blue Flags for environmental cleanliness and they range from fully organised (with tavernas, beach bars and water sports) to totally remote. So if you've already booked your holidays to Skiathos or are looking for a bit of inspiration for where to go, there's only one thing you're missing … a bucket list of beaches in Skiathos.
Lalaria beach
Lalaria beach will live long in your memory. It is perhaps the most famous beach in Skiathos (although Koukounaries will argue with that) and the reasons are as clear as its deep, blue waters. Reachable only by boat, it is instantly recognisable by its smooth white pebbles and the white sheer cliff-face rising high above the sunbathers. At one end, there's an Instagram moment waiting to happen, with a huge hole in the rock-face as it extends into the sea (Tripia Petra, or Perforated Stone, as it's known in Greek). The craggy shoreline is perfect snorkelling territory, as are the nearby sea caves that your boat will likely visit. Just, please, don't be tempted to take a souvenir pebble (as visitors have done in the past). Photographs more than do the job.
Amenities: None
Access: By boat from Skiathos port
Koukounaries beach
Another frontrunner in any list of the best beaches in Skiathos, Blue-Flag-awarded Koukounaries is a time-honoured staple of Greek holidays that envelops you like a snug blanket. The pine grove that flanks the entirety of the golden-sanded beachfront, combined with the translucent green-blue waters, are enough to seduce anyone who visits. Bring your book and enjoy life horizontally or explore (Natura 2000-protected) Lake Strofylia, right behind the beach. It is home to several migratory bird species. The whole area is carpeted in green. The cosmopolitan vibe of Koukounaries beach means you'll be tempted to extend your stay till sunset cocktails.
Amenities: Sunbeds & umbrellas, beach bars, water sports, sea ramp
Access: By road or by boat from Skiathos port
Megalos & Mikros Aselinos beach
These two beauties sit next to one another, with a neat backdrop of greenery to the green-blue waters and white pebbly sand. You'll find slightly more in the way of facilities at Megalos (Large) Aselinos, including a taverna, but it still offers pure relaxation. Equally chilled is Mikros (Small) Aselinos, where you'll find fewer people. They're both fairly windy beaches with deep water, so bear that in mind if you have kids. The sea is pretty special around here, so pack your flippers and goggles.
Vromolimnos beach
One of the liveliest beaches in Skiathos, Vromolimnos is another beauty, sitting in a calm cove with fluffy yellow sand and greenery stretching to the sea. Like most of the best beaches in Skiathos, it has a tropical vibe that is uplifting and carefree. Splash around or rent some water sports equipment (SUP, water-ski, wakeboard, jet ski etc), or you could even rent a boat and explore the surrounding shores. The beach bars and tavernas of Kolios beach are nearby. That's if you haven't already been tempted to stay at Vromolimnos beach till sunset, as so many visitors do.
Amenities: Sunbeds & umbrellas, beach bar, restaurant, water sports
Access: By road or by boat from Skiathos port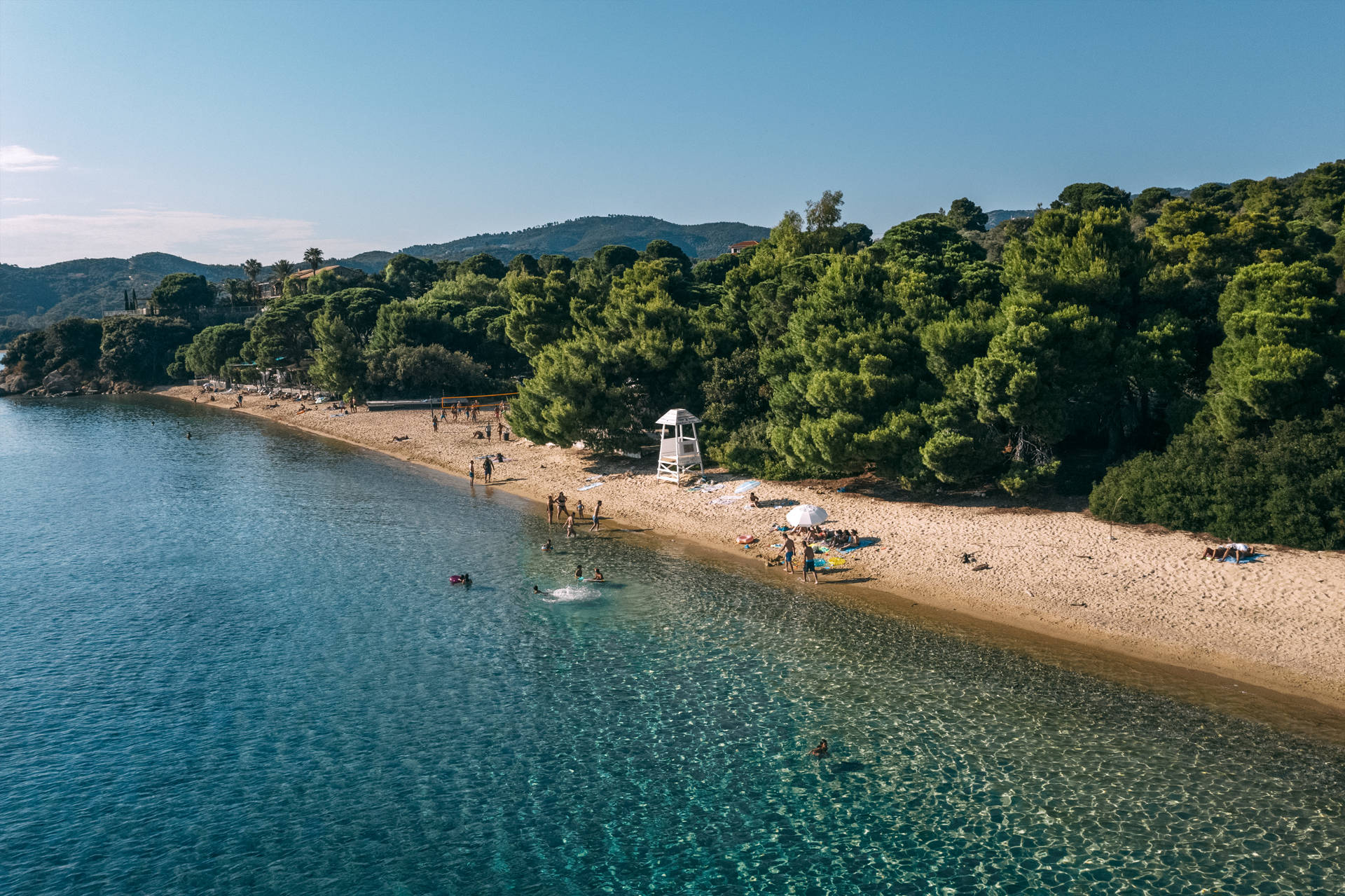 Troulos beach
Surrounded by a canopy of green, this sandy paradise is ideal for families due to its Blue Flag, calm, shallow, turquoise waters and choice of sunbeds & umbrellas or the natural shade provided by trees in some parts. One of the calmest beaches in Skiathos, Troulos is chilled and easy-going, with swans sometimes waltzing in and out looking for snacks and the sight of Troulonisi (an islet just opposite from which the beach gets its name) providing the requisite motivation for a good swim.
Amenities: Sunbeds & umbrellas, beach bar, tavernas, water sports
Access: By road or by boat from Skiathos port

Elia beach
Located in the wilder, northern side of the island (you pass through a forest to get here), Elia is nestled inside a calm, palm tree-lined bay and is one of the most secluded beaches in Skiathos, ideal for relaxation. There are plenty of facilities and the water is green-blue and shallow, making it ideal for kids.
Krifi Ammos beach
Wild and secluded, Krifi Ammos is another of Skiathos' beaches made for Instagram. Located inside a U-shaped cove that's carpeted with trees, it is a gorgeous stretch of sand that slopes gently into green-blue waters that are ideal for snorkelling. There are enough basic amenities here to last the day. But despite its name (Hidden Sand), it does get busy so come early if you don't want to jostle for position.
Amenities: A few sunbeds & umbrellas, snack bar
Access: By road & short walk (steps) or by boat from Skiathos port

Xanemos beach
Xanemos beach puts together two of the least likely items to be included on your holidays in Skiathos: horseback riding (make sure to book) and seeing the legendary airplane landings at the nearby airport. And while both activities provide some thrills, the beach itself is chilled and wild, with sandy pebbles lapping its crystal-clear, deep waters and easy disposition. Conveniently located close to Skiathos town, it's the perfect choice if you want to split your day with another activity.
Amenities: A few sunbeds & umbrellas
Access: By road or by boat from Skiathos port

Kastro beach
With clear, blue water that is surrounded by greenery, small and isolated Kastro beach is found below Skiathos' medieval town and its Byzantine castle (hence the name of the beach). So if you're visiting the fortress (the view alone is worth the journey), it's the ideal accompaniment. It's a short, steep walk down to the beach. Alternatively, Kastro beach is a stop on many boat trips to Lalaria beach. Don't forget to pack your snorkelling gear. You'll regret it if you don't.
Amenities: Taverna
Access: By road & short hike or boat

Ligaries beach
Lodged inside a small, green bay, Ligaries is one of the prettiest beaches in Skiathos. You'll need to negotiate a dirt road to get here, but good things come to those who persist as this gem is full of character. It is endowed with fluffy, white sand, green-blue waters and some of the sweetest sunsets. Make time to pop in to nearby Kechria beach, notably for its photogenic rock jutting into the water and seaside taverna.
Amenities: A few umbrellas & sunbeds, taverna
Access: By road & short hike or by boat from Skiathos port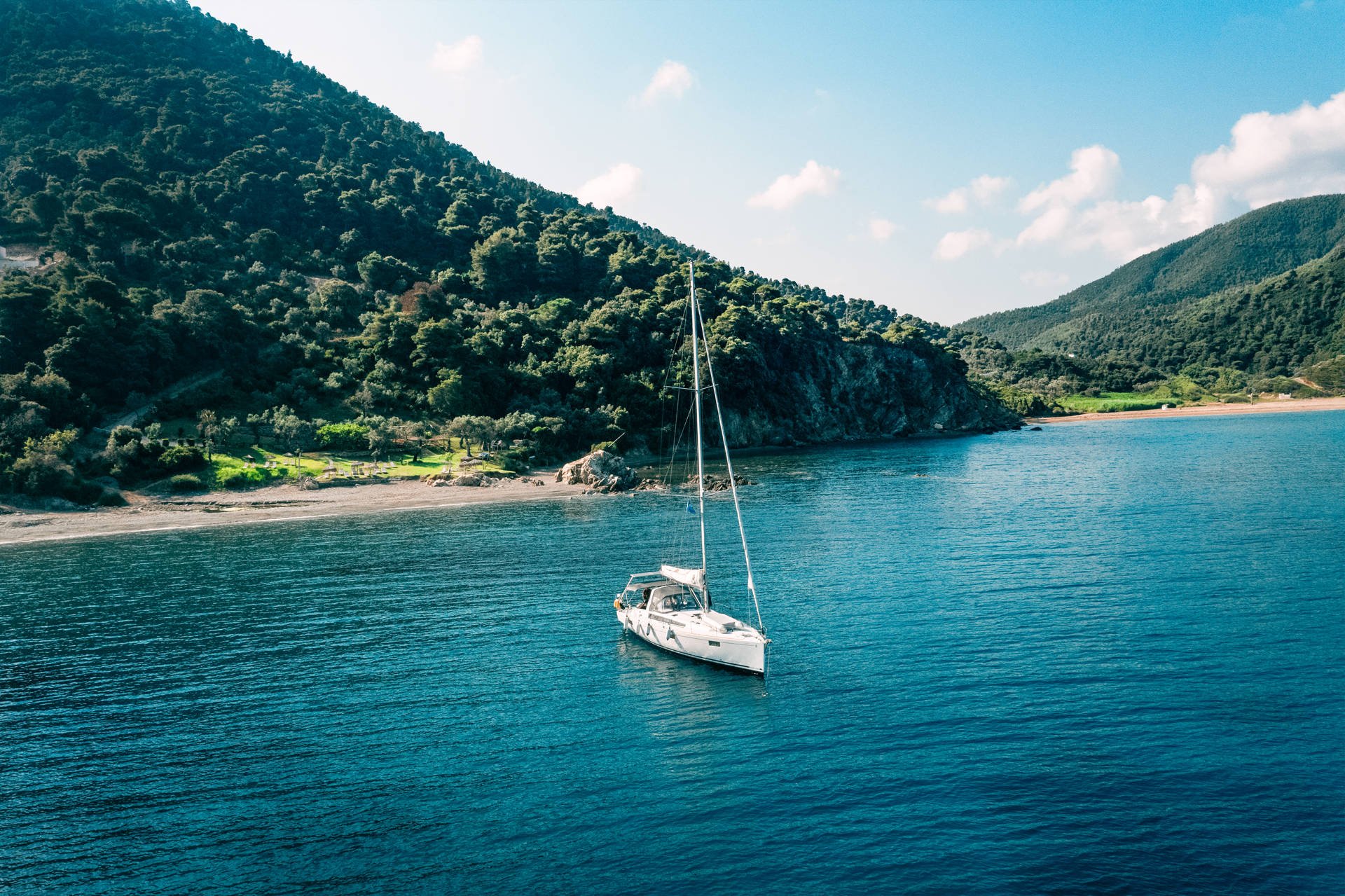 10 of the best beaches in Skiathos
Don't pretend you're not tempted. The question is which ones are you going to be raving about after your holidays in Skiathos … the dramatic, cliff-side remoteness of Lalaria beach or the something-for-everyone beauty of Koukounaries? Or maybe somewhere else. Let us know what you decide.
Book your trip
All your holiday planning needs in one place, letting you book direct and benefit from official online rates
Private
Group
4.5 hours
Free cancellation
Not sure? You can cancel this reservation up to 24 hours in advance for a full refund
Group
3 hours
Free cancellation
Not sure? You can cancel this reservation up to 24 hours in advance for a full refund