Whether you set out to see the highlights of Skiathos town in one stroll or spread the experience over your holiday, you'll understand why it's got the power to keep you away from the island's world-famous beaches … for a while at least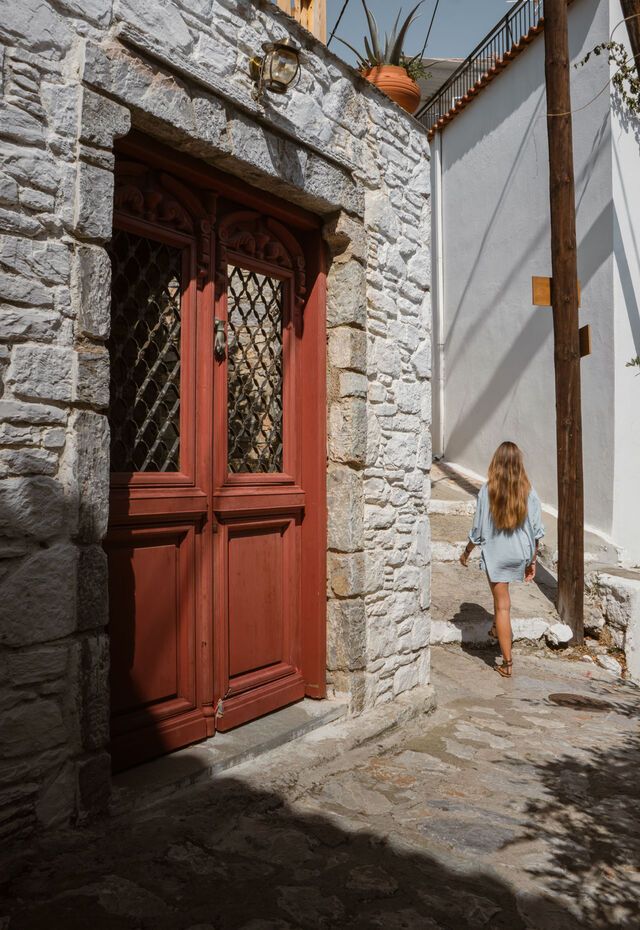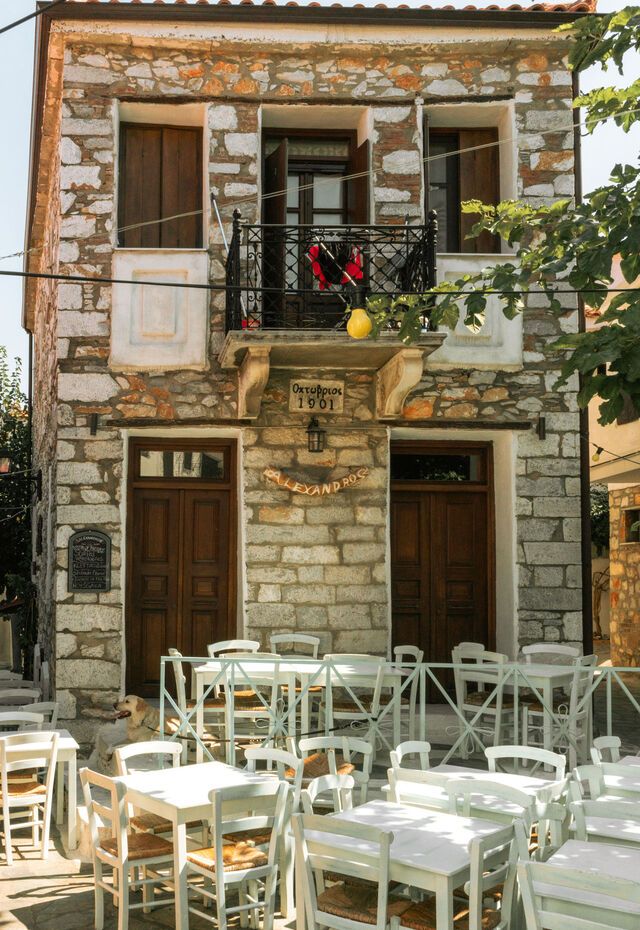 Duration
3 - 4 hours
Season
May-October
OVERVIEW
A tour of Skiathos town
Famous for its green hillsides and iridescent blue swimming spots, Skiathos is an island that knows how to seduce visitors keen to fill up on sun-and-beach time. But hold on a minute! There's another gem in its treasure chest that you'll love discovering. And if you are traveling by ferry, it will be your first and last impression of this gorgeous island.
Skiathos town is where you'll find most of the island's life. It's filled with shops, bars and cafes, as well as restaurants and tavernas and all the other amenities you'll need for your holidays in Skiathos.
Just strolling along the waterfront (including the Old and New Port and the Bourtzi peninsula) is special, but you'll also adore exploring the maze of alleyways of tightly packed whitewashed houses. It feels like every time you turn a corner, you'll find another adorable little spot or a bougainvillea-filled courtyard.
So join us as we explore the highlights of Skiathos town!

DON'T MISS
Bourtzi
This is the natural place for every stroll in Skiathos town to begin. The pine trees and green-blue water around the Bourtzi peninsula give the whole setting a watercolour painting beauty, especially when you look back at the whitewashed houses and red roof tiles of town. But there's also a lot of history here. The teardrop-shaped peninsula was fortified by the Gyzi family in the 13th century and archaeologists have uncovered the remains of a Venetian fortress.
In the middle is a schoolhouse that now serves as a cultural center, housing the Museum of Nautical and Cultural Tradition of Skiathos (where you can learn about the island's long shipbuilding and naval history). As you continue around, you'll also find a restaurant-bar, serving everything from breakfast to wine and cocktails. On moonlit nights, the views of the Aegean and lit-up town couldn't be more romantic.
Alexandros Papadiamantis Museum
From Bourtzi, you have the option of continuing your stroll along the waterfront of the Old Harbour (lined with shops and tavernas), but our walking tour of Skiathos town takes you a few hundred metres inland to the home of Alexandros Papadiamantis, one of Greece's literary giants. You'll find it in a square just off the main shopping street (named after the novelist). The house, which was built by his priest father, is where Papadiamantis was born and died (1851-1911) and has been turned into a museum. You will be humbled by his ascetic way of life and the simplicity of the furniture, including a desk on which he wrote many classics.
Skiathos House
Delving deeper into the alleyways of Skiathos town, you reach the Skiathos House (Skiathitiko Spiti). The home of an affluent local family from the early 1900s, it was converted into a museum by relatives of the original owner and is another example of traditional Skiathos architecture, built over two storeys, with thick stone walls, large cornerstones and red roof tiles.
The first of three rooms on the upper floor contains a loom used to weave traditional costumes, the second photographic material of the family over 150 years (including members who emigrated to America) and the third has been preserved as a master bedroom, including a chest with dowry items such as embroideries. In the courtyard, you will find jars and an olive mill, from an olive oil press originally kept in the basement.

Plakes
Looping back towards the sea, you reach the most beautiful part of Skiathos town, the charming neighbourhood of Plakes. You'll adore just walking through the maze of alleyways, with picturesque old houses with iron balconies and bursts of bougainvillea. As you reach the sea, you'll be treated to views of the old port and Bourtzi. The highlight is the photogenic little beach (known simply as Plakes), with a taverna just above it. Feel free to sit and admire the view, or maybe you'll be tempted to have a cheeky swim before continuing.
Agios Nikolaos church
Completing your walking tour, you return along the Old Harbour, with fishing boats and bobbing yachts. But there's a final treat in store as you head inland one last time and climb to the Church of Agios Nikolaos. This cute little chapel was built in 1931 and has a well-preserved wood-carved iconostasis and bell/clock tower. But the real draw is the panoramic view over Skiathos' houses and the waterfront – gorgeous at any time of day but especially at sunset.

GET PLANNING
How do you get to Skiathos, Greece?
There are ferries to Skiathos throughout the year from Volos (on the mainland) and Mantoudi (in northern Evia), and seasonal ferries from Agios Konstantinos and Thessaloniki (on the mainland).
Skiathos also has an airport just outside town, with seasonal international flights and domestic flights from Athens (45 minutes) throughout the year.
Skiathos is also a popular destination for island-hopping to other Sporades islands.
How do you get to Skiathos town?
The ferry port is just by the main town and the airport is 2.5km away from the town center (around 10 mins by car). You can rent a car or take a taxi from the airport.

When is the best time to visit Skiathos island?
Skiathos has a year-round population, but you'll find most of the shops, restaurants and cultural sites open between May-October.
If you can, visit in May-June and September-October when Skiathos is at its most charming and quiet.
Museums & cultural sites
Opening times and entry fees of museums and other cultural sites may vary throughout the year.
Alexandros Papadiamantis Museum
Open all year round
More info on opening hours & tickets here
Skiathos House
Open all year round
More info on opening hours & tickets here

How long does it take to walk around Skiathos town?
The length of your walk is entirely up to you, but the attractions listed here can easily be done in 3-4 hours.
Because life on Skiathos revolves around the main town, you'll have plenty of time to get to know every corner of Skiathos town during your stay.