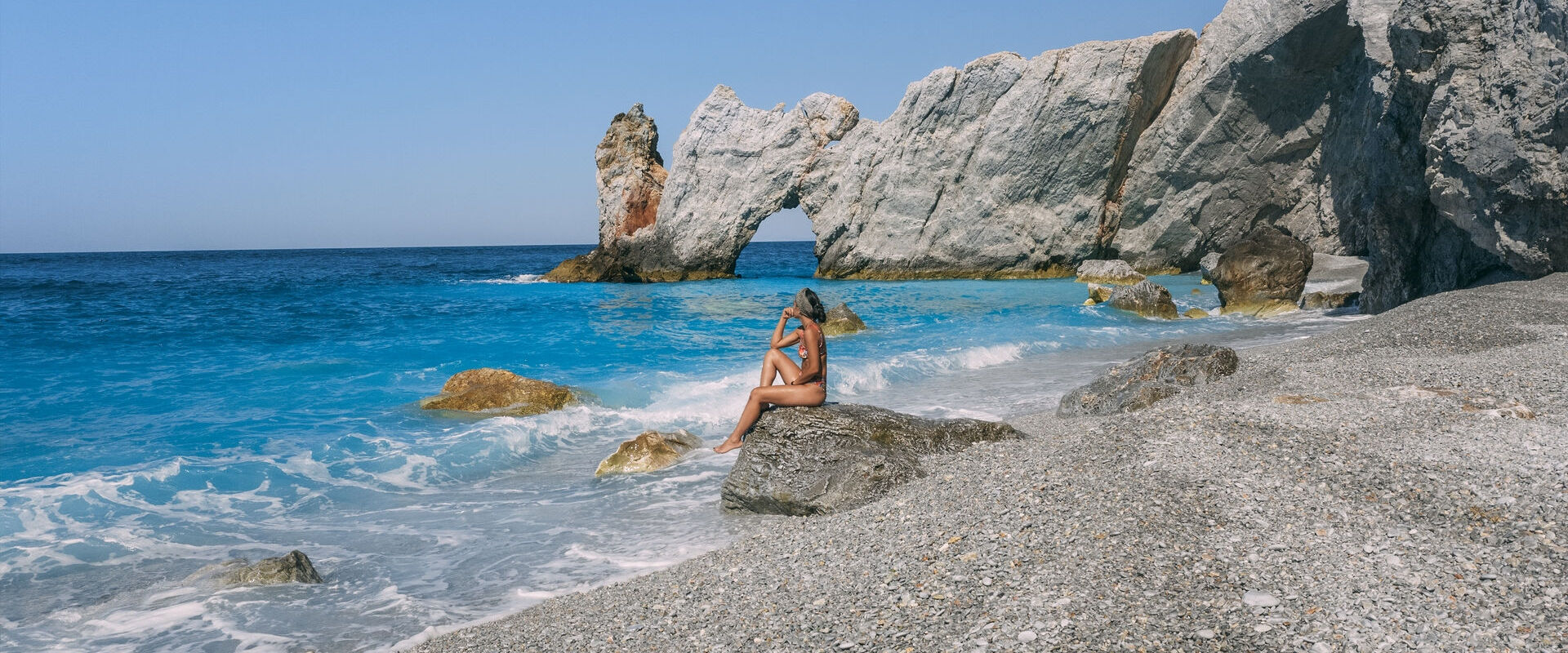 ITINERARY
The very best of Skiathos in 6 days
Farawayfarers
An island of radiant blues and greens, Skiathos shares its gifts generously with everyone who visits – from the vibrant main town to the legendary beaches celebrating everything magical about the Aegean.
More than 60 beaches, spread over 44km of coastline, compete for your attention on Skiathos, alongside family-run tavernas and restaurants specialising in modern, creative dishes. The main town buzzes day and night and, as for all that greenery, you'll want to get out and explore. You could spend a week beach-hopping, eating, strolling around town, going on a boat trip, hiking, cycling, scuba-diving and dipping into cultural highlights – and still be left with more to discover.
So here's a six-day itinerary that takes you from landmark beaches to the quieter corners of the island. Using the main town as your base, you can follow them all or pick and choose. Just prepare to discover the best of Skiathos.
SHOW ROUTE ON MAP
DOWNLOAD AS PDF
Start point - End point
Skiathos Hora
Distance
75 km (47 miles)
Means of transport
Boat, Car, Foot
Highlights
Skiathos town, Koukounaries and Lalaria beaches, outdoor activities in nature, the food
DAY 1 OVERVIEW
Skiathos town
3 km
Foot
3
It doesn't take long to locate the heart of Skiathos. The main town (or Hora) is known for its lively atmosphere, day and night. With the port and marina also found here, it welcomes everyone arriving from the mainland – by ferry from Volos and Mantoudi (in northern Evia) all year round and Agios Konstantinos in the summer months, and from other Sporades islands by sailing boat or yacht. There's also an airport just outside town, receiving flights directly from abroad and from Athens (40mins).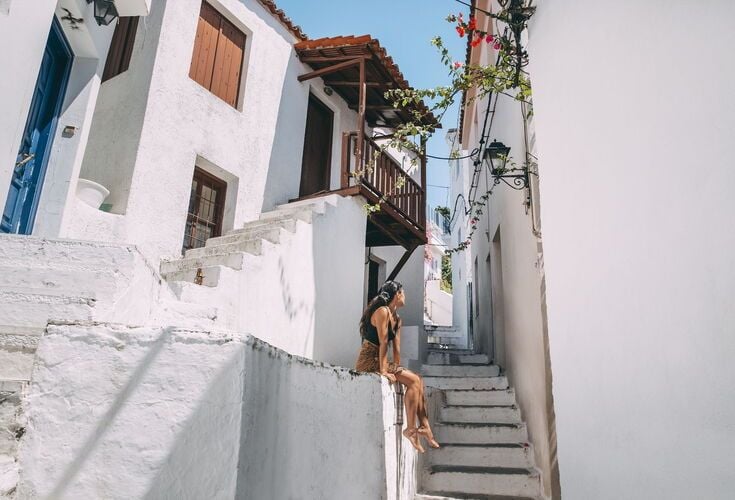 A stroll around town
The cosmopolitan vibe of Skiathos comes from the shops, cafes and bars of Hora, day and night. You'll love the Instagrammable beauty of the town's hidden corners and red-roof-tiled houses – particularly the captain's houses of the listed Plaka district. Losing yourself in the narrow alleyways will be a holiday highlight, as will be the warmth of the locals and the assortment of stores and interesting new restaurants, particularly along the waterfront.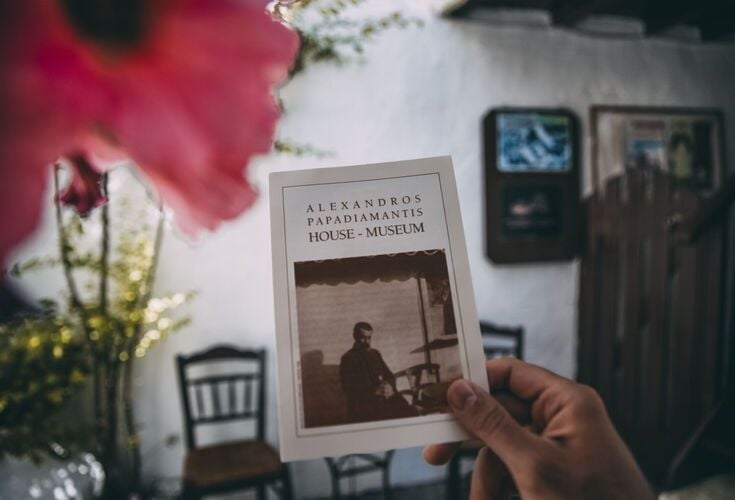 Alexandros Papadiamantis Museum
One of Greece's foremost literary figures, Alexandros Papadiamantis was born in Skiathos in 1851. His house, near the port, has been preserved as a museum dedicated to his life and works. You'll find the modesty of his furniture humbling, including the desk on which he churned out a string of classics. There's also a collection of manuscripts, many referring to his love of Skiathos (especially the beaches).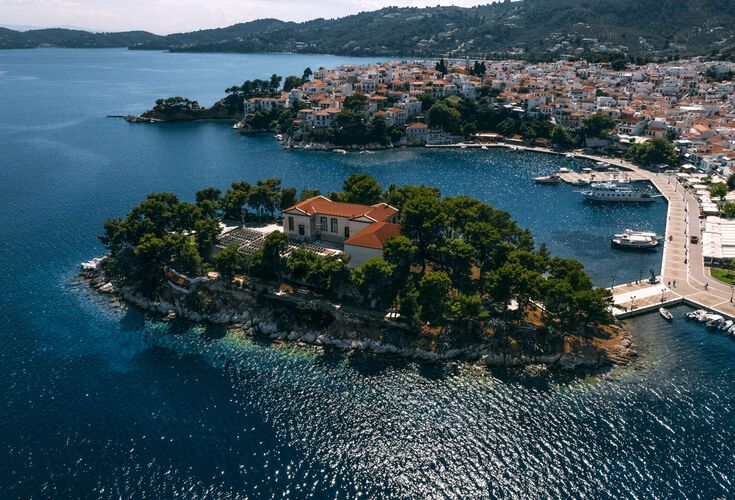 Exploring tree-filled Bourtzi
If there's a part of Hora that captures the mood of the rest of the island, this is it. Bourtzi is a small, tree-filled peninsula separating the port from the rest of town. You'll find the remains of a 13th-century fortress here, and a former primary school building that's now a cultural centre. Look for the cafe serving cocktails and tapas. On moonlit nights, the view of the Aegean is especially romantic.
DAY 2 OVERVIEW
Standout beaches
25 km
Car, Foot
3
You could visit Skiathos many times over and still not exhaust its riches when it comes to the beaches. There are more than 60, almost all within easy reach of the town, and many with tavernas and a whole range of activities for a full day's fun. You can cherry-pick or you could spend your days beach-hopping, starting on the south coast.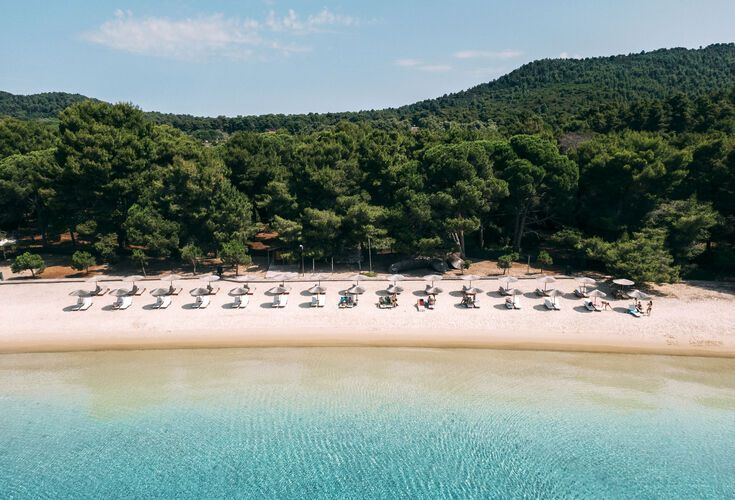 Koukounaries beach
A landmark beach, not just in Skiathos but in Greece, because of its fine golden sand, beautiful swimming conditions, beach bars and three water sports clubs – all within a setting of eye-catching natural beauty where the greenery extends all the way to the sea. Behind the beach is a tree-lined lagoon, Lake Strofilia, attracting local and migratory birds (depending on when you visit). Take a stroll around the lagoon before settling down to all that beach perfection.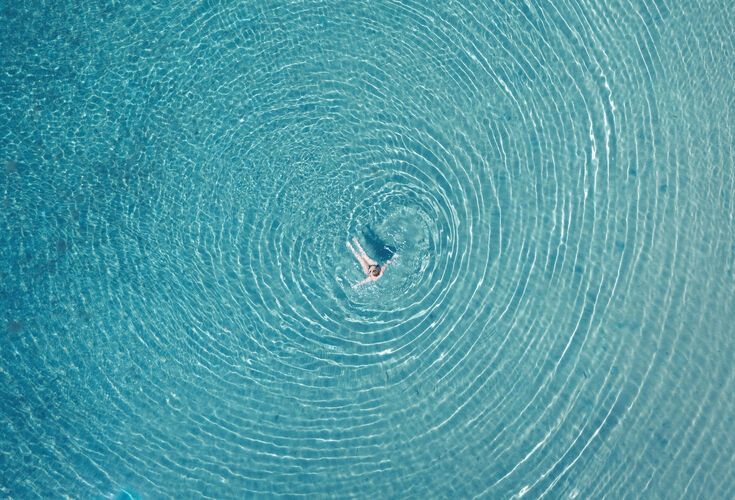 Troulos beach
There's more to discover on the south coast so, hard as it might be, it's time to continue your journey. Troulos is another strand of golden sand, crystalline water and a backdrop of pine trees. You'll find sunbeds and umbrellas, but there's also natural shade in which to sit and take it all in. Just try and resist the temptation of the aromas of chargrilled fish wafting over from the taverna!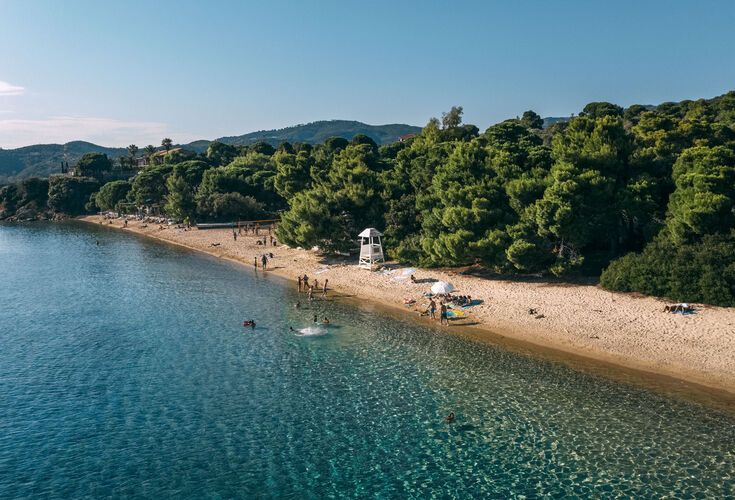 Vromolimnos beach
Another beautiful sandy beach with a great vibe. There's a lively beach bar scene and a water sports centre here (the first to open on the island) that caters to all levels. It's worth staying till the end of the day for the fantastic sunset.
DAY 3 OVERVIEW
Lalaria boat trip
-
Boat
3
Another day, another landmark. You swap the road for the sea today as you head off on a boat trip to the internationally recognised Lalaria beach and other spots accessible only by sea. If your trip doesn't include food and drink, it's worth stocking up on local products before you go.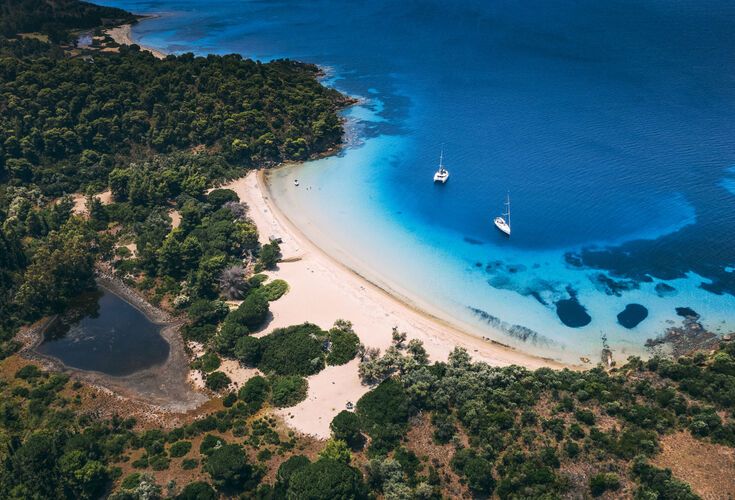 Tsoungria and Arkos
Heading south from Skiathos, your first stops are the islets of Arkos and Tsoungria, where you're welcomed by yet more greenery (eucalyptus trees are prominent here) and surprise, surprise, beaches that seem to out-do each other. Tsoungria's main beach, in a protected bay, is long and sandy, with a small church (Agios Floros) that you can visit. And if you've hired your own boat, Arkos (just opposite of the main town), has a fantastic small beach that's practically overtaken by greenery, with a beach bar/restaurant and clutch of elegant umbrellas.
Lalaria beach
Here it is… Lalaria, up on the north coast and unique for its smooth, pearly-white pebbles, unbroken views across the blue-green Aegean and dramatic cliff setting. If you think you've been here before, it's because it's been used to illustrate so many international top 10 beaches magazine article. There's no other way to get here than by boat. Unsurprisingly, the sense of escape is otherworldly.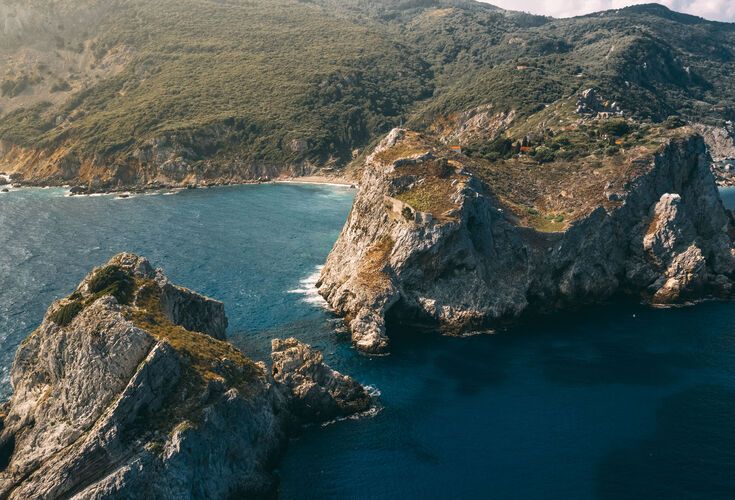 Kastro
Just next door is another must-see. Kastro beach gets its name from the medieval castle town that once stood above the beach. If you have time, explore the remains. You can still visit two of the original 22 churches. The view of the peninsula is breathtaking.
DAY 4 OVERVIEW
Activities in nature
-
Car, Foot, Bike
3
Time to enjoy all that amazing scenery in a different way. Skiathos isn't just green, it's hilly too, creating the perfect setting for a day's hiking or mountain biking. Or if you can't help but be drawn to the sea, there are plenty of scuba diving spots to make the most of that super-clear water. Each is a full day's activity, so choose whichever interests you.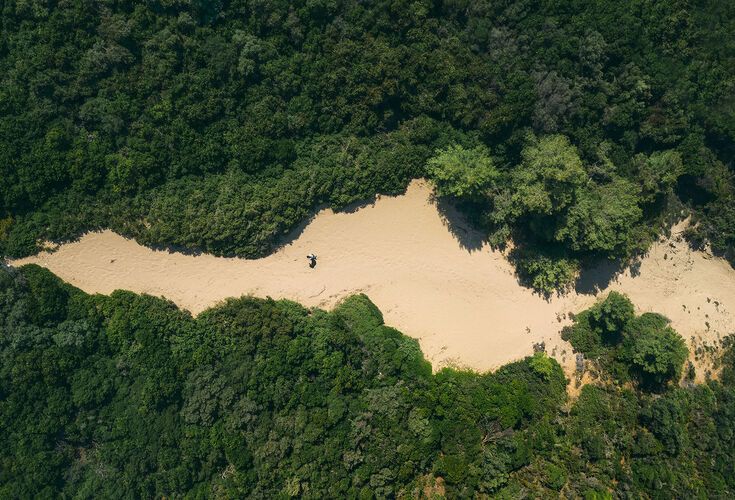 Hiking trails
Almost two-thirds of Skiathos is covered in greenery and, with a 243km network of roads and paths, it's one of the best Greek islands for hiking. In all, there are around 25 signposted paths of different lengths and difficulty, so finding a route to suit your level isn't difficult. They are mostly easy to follow, but the best experience is with a guide who can point out the cultural highlights and take you to some of the more remote beaches. There's a great route of around 2hrs that links the monasteries of Evangelistria and Kechria, in the north of the island. The highlight of any walk is to find a panoramic picnic spot, surrounded by all that greenery, with an epic view of the Aegean.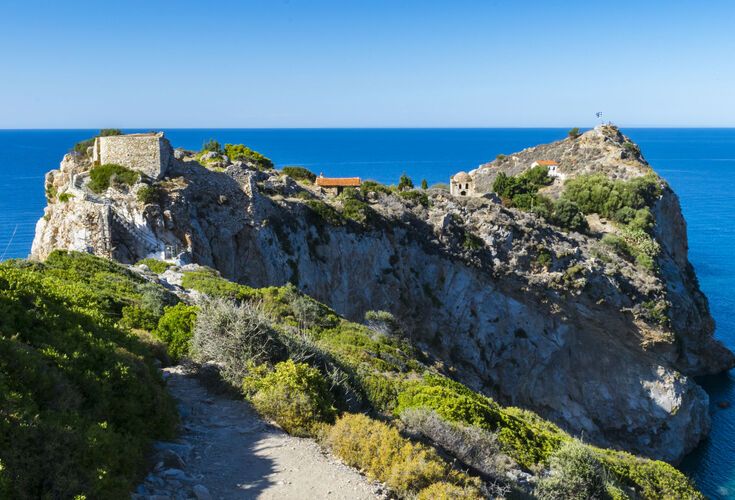 Mountain biking
As we're talking about the hills and mountain paths, a way to see even more of the island is to spend a day mountain biking. There are guided tours from the town, such as that to Kastro on the north coast (18km round trip), that take you off-road through pine forests and along quieter routes. It's a way of feeling even closer to nature. If you prefer, you can arrange to be followed by a support vehicle.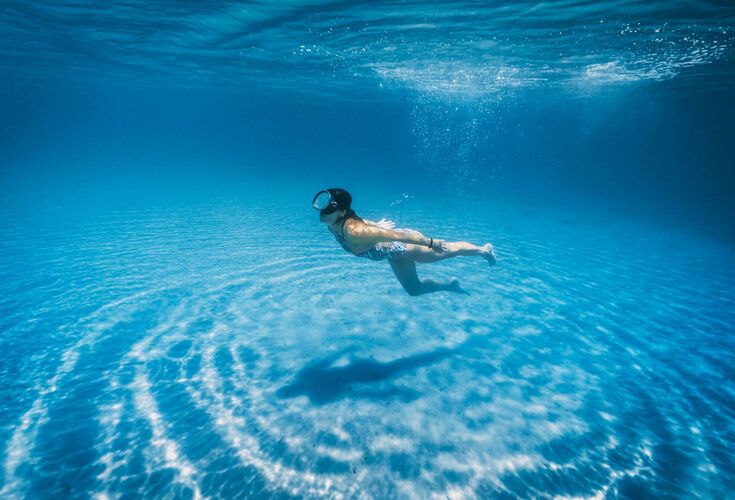 Scuba diving & snorkelling
Whether you're a bubble-blowing beginner or an expert scuba diver or just a mask-and-flippers type, there are dive sites all around Skiathos, most with fantastic visibility. There is no shortage of centres, providing all the equipment and experience necessary, as you set out to explore reefs and even uninhabited islands around Skiathos.
DAY 5 OVERVIEW
The beaches of the north
43 km
Car, Foot
4
Having sampled the beaches to the south, you're in for another treat as you explore the north coast today. Your reward will be to uncover beaches that are less visited and more remote, the kind that offer wild escape and are accompanied by a simple little taverna that makes you want to stay there all afternoon.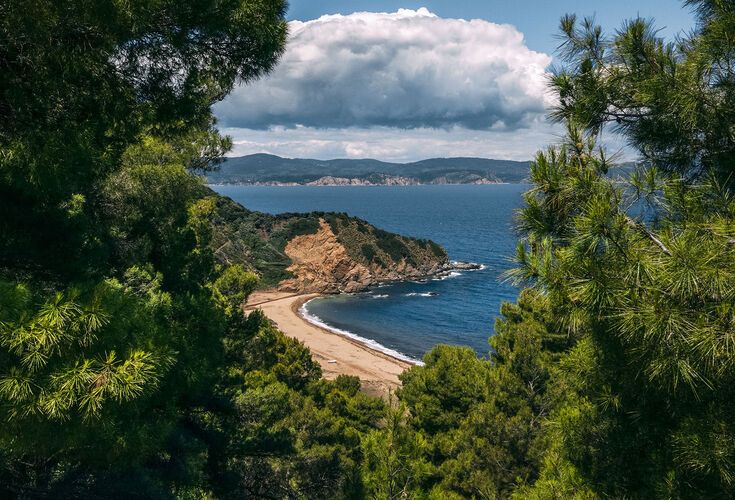 Mikros & Megalos Aselinos beach
Your first stop is a pair of dreamy beaches midway along the north coast. Big and Little Aselinos are located either side of the bay of the same name. Mt Kounistra, in the background, adds to the beauty as you go for a long leisurely swim or stroll between the beaches. The yellow sand and taverna are everything you could hope for.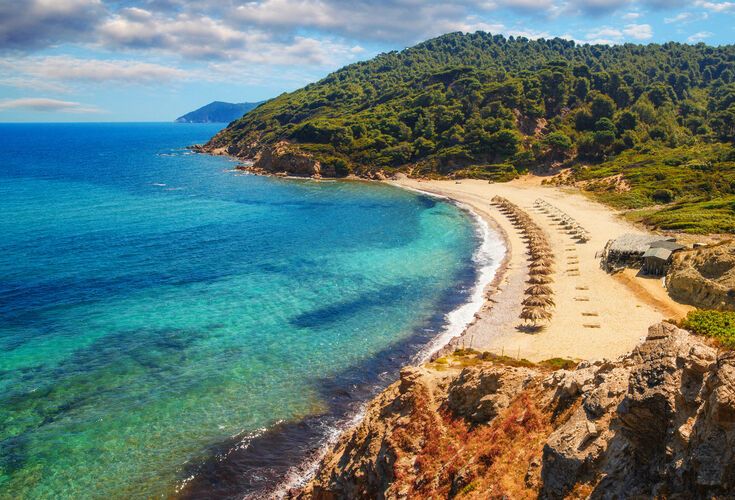 Agistros beach
Agistros is like a little golden nugget resting within a setting of emerald green. It's a wonderful sandy cove, with a taverna on the beach. You have to negotiate a 200m descent to the beach, where you'll be greeted by a couple of rows of umbrellas that blend in with the setting and a sublime view of the sea that gets even better at sunset.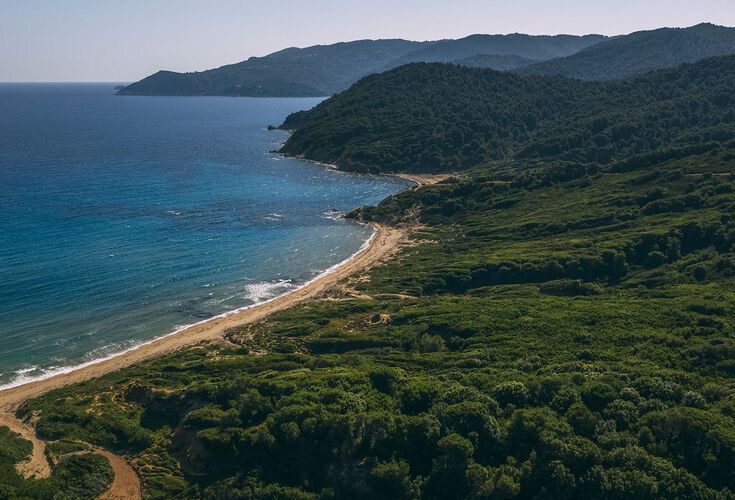 Elia beach
Your next stop takes you to Elia, one of the most generous expanses of sand in Skiathos (which is saying something). It's also one of the island's most secluded beaches. You'll find a taverna here, serving the freshest seafood.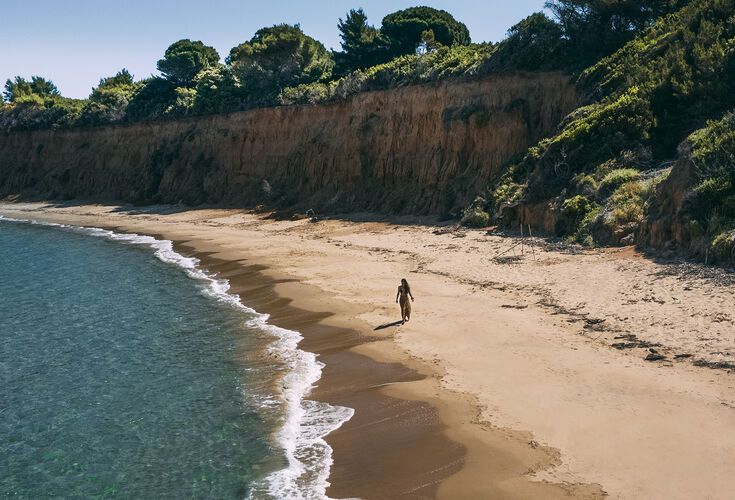 Mandraki beach
Your final stop is Mandraki (or Xerxes) beach, a shallow, sandy bay with blue-green water. It quickly becomes a favourite of those who discover it. Bring your own shade, drinks and snacks. You'll be wanting to spend the rest of the day here – worth it for the heavenly sunset.
DAY 6 OVERVIEW
The best of Skiathos in a day
-
Car, Foot
3
It's almost time to bid farewell to Skiathos, so let's keep you close to Hora today, to make the most of your final day. You're about to find out that staying close to town still allows you to experience the best of Skiathos.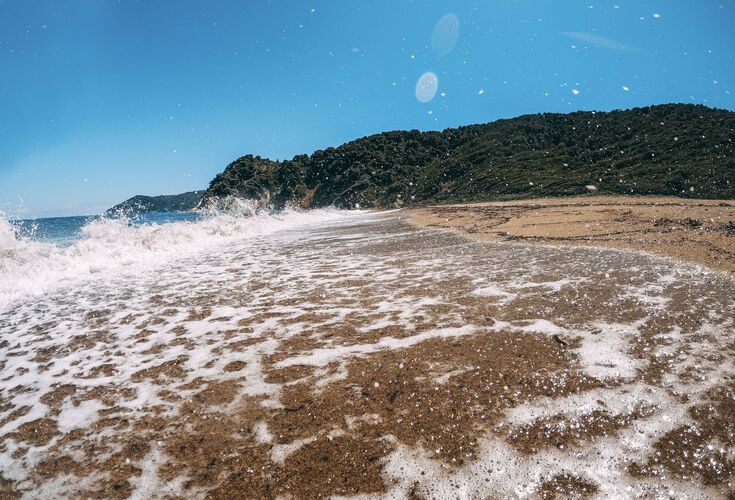 Xanemos beach
As no day on Skiathos is complete without some beach-time, head to Xanemos, less than 15 minutes away by car but with a look and feel that could easily be from the remote north coast. It's a small, shingly beach, close to the airport, with particularly clear water that becomes deep quite quickly. There's even the option of horse-riding on the beach! Alternative beaches close to Hora are Achladies and Kanapitsa, just 15 minutes away in the other direction.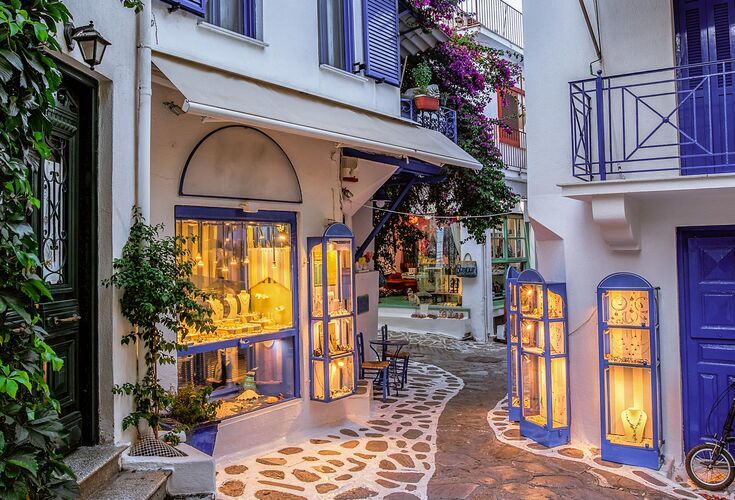 Shopping in town
Whichever beach you choose, you'll be close enough to be back in town for a final twirl around the shops. Head to Papadiamantis Street if you're looking to take home something to remind you of your time in Skiathos – jewellery, clothes or local crafts or products, such as a bottle of olive oil or jar of honey.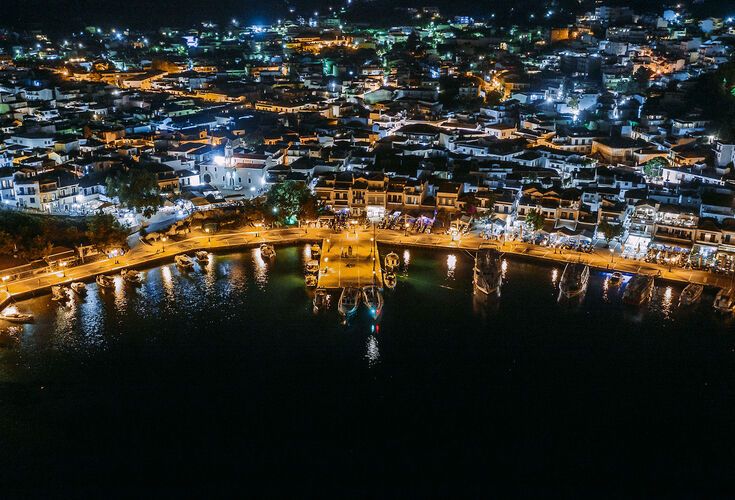 Making a night of it
Your final night couldn't be spent any other way than eating great food and another dose of nightlife. How does one of the more creative, modern eating choices in town sound for tonight? Just to spice it up. And for a great tip for a drink, find one of the outdoor bars with multicoloured cushions and beanbags, order yourself a cocktail and let the last night of magical summer memories begin.