In Macedonia, Naoussa bids you welcome with good wine, Veria invites you to explore its neighbourhoods, while Seli and 3-5 Pigadia call all skiers to the fine slopes of northern Greece
Greece is more than a summer holiday destination and Naoussa and Veria prove the rule. Not that you can't visit at other times of year but these two historic Macedonian towns are some of the best winter destinations in Greece. During the winter months, streams ripple through Naoussa and its dark-green park of Agios Nikolaos, the famous local xinomavro red wines come into season and the streets are full of skiers heading up to the ski centres at 3-5 Pigadia and Seli. Naoussa, on the densely wooded eastern foothills of Mt Vermion, and atmospheric Veria nearby are ideal springboards for your winter excursions.
What to do in Naoussa
Skiing at Seli, ideal for beginners and beyond
Here you can take your first steps with snowshoes. Seli, Greece's first ski centre, has been operating since 1934. Its slopes are ideal for novices and intermediates, who can practice the basics before they take off for more difficult terrain. Not a downhill skier? Seli has 8km of cross country trails and a special park for snowboarders. But if you're already an expert seeking thrills, then move on to the other ski resort in Macedonia.
Agios Nikolaos, a forest in town
The Arapitsa River bestows its blessings on Naoussa. Dividing it in two, it delivers both waterfalls and energy. At its source, in Agios Nikolaos park, it gives life to incredible scenery. In this forest of linden and oak trees, you'll find all mod cons, such as artificial ponds, playgrounds and restaurants serving a local delicacy, trout from the nearby streams, just 3km from the centre of town. But don't stop there. In the Alonia, Pouliana and Batania neighbourhoods, there are marvels of Macedonian architecture to admire.
Industrial yet photogenic
As you walk through Naoussa, you'll come across the old water-powered textile mills of the 19th and early 20th centuries; Victorian-era industrial architecture at its most attractive.
Veria, a mosaic of fascinating neighbourhoods
In the nearby town of Veria, you'll find unspoiled quarters with curious names – Olganos, Kyriotissa, Barbouta – and interesting stories to go with them. Veria itself took its name from a daughter of Okeanos and Thetis, a strange choice for an inland city. Here you'll find a pleasing hodgepodge of old and new, without pretense or apologies. Kyriotissa – along with Makariotissa – were the primary Christian neighbourhoods in Veria.
Since the '90s they have become the liveliest part of the city, a hangout of the young. A bit to the north, next to a lush ravine carved by the Tripotamos River, is Barbouta, the old Jewish quarter, whose wonderful old houses have undergone tasteful restoration. Where else can you find a Roman tower, delightful Byzantine churches, an early synagogue and an Ottoman bath complex all within walking distance of each other?
The Panagia Soumela: A famous monastery
Just 18km southwest of Veria, the village of Kastania on the slopes of Mt Vermion hosts hundreds of pilgrims every year, eager to pay homage to the historic monastery here, one of the most significant attractions in the area. On August 15th, in celebration of the Dormition of the Virgin (Panagia), it's the scene of a famous panigyri, or festival, with food and drink for all and dancing till dawn after the mass. In the church you'll want to see the icon of the Virgin, brought from the original Soumela monastery in the Pontos region of Turkey.
3-5 Pigadia: a challenge for skiers
If you are a downhill ace, Naoussa has an additional attraction for you. On the western slopes of Mt Vermion, the 3-5 Pigadia ski centre boasts the longest and most difficult piste in Greece, just 17km from town. Think you can handle it?
Hidden gems of Naoussa
Naousa's reds
Xinomavro is one of Greece's most recognisable grapes, producing a full-bodied red, which you'll enjoy in Naoussa's restaurants and tavernas. You can learn more about its production at the local Wine and Vine Museum.
Naoussa Municipal Park
Worth a visit for the excellent views as well as its colourful inhabitants like peacocks, squirrels,fish, swans and ducks, which your kids will have endless fun feeding!.
Painted tombs and Aristotle's school
Ready for some ancient history? Just a short drive from Naoussa, you'll find the famous Macedonian tombs of Lefkadia with some of the finest examples of Hellenistic painting. The lush vegetation watered by nearby springs held a shrine dedicated to the Nymphs. It may also be the site of Mieza, Aristotle's open-air school, which like an ancient Harvard, produced celebrity-alumni such as Alexander the Great.
Skiing at Seli, ideal for beginners and beyond

The Panagia Soumela: A famous monastery

3-5 Pigadia: a challenge for skiers

Agios Nikolaos, a forest in town

Painted tombs and Aristotle's school

Naoussa Municipal Park
Highlights
Travel ideas
Shining the light on stories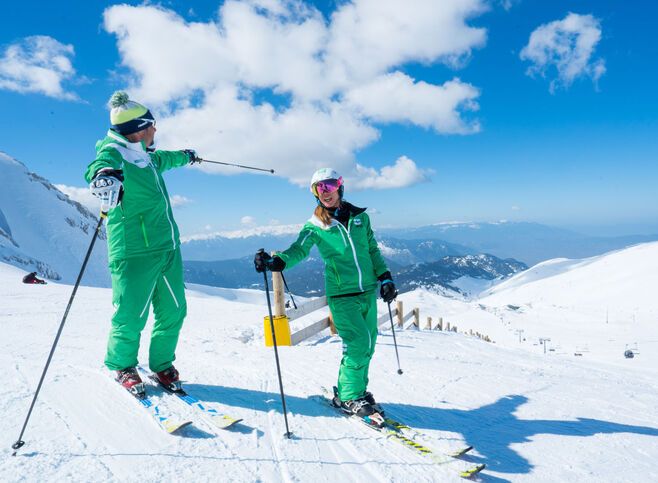 Winter holidays in Greece
Greece's bright light welcomes you to experience the most exciting winter holidays of your life