EXPERIENCE
Tap into the deep-rooted wine culture of Lemnos
From ancient grapes to modern whites and reds, you'll love hearing the story of the North Aegean island of Lemnos through its family-owned wineries and vineyards.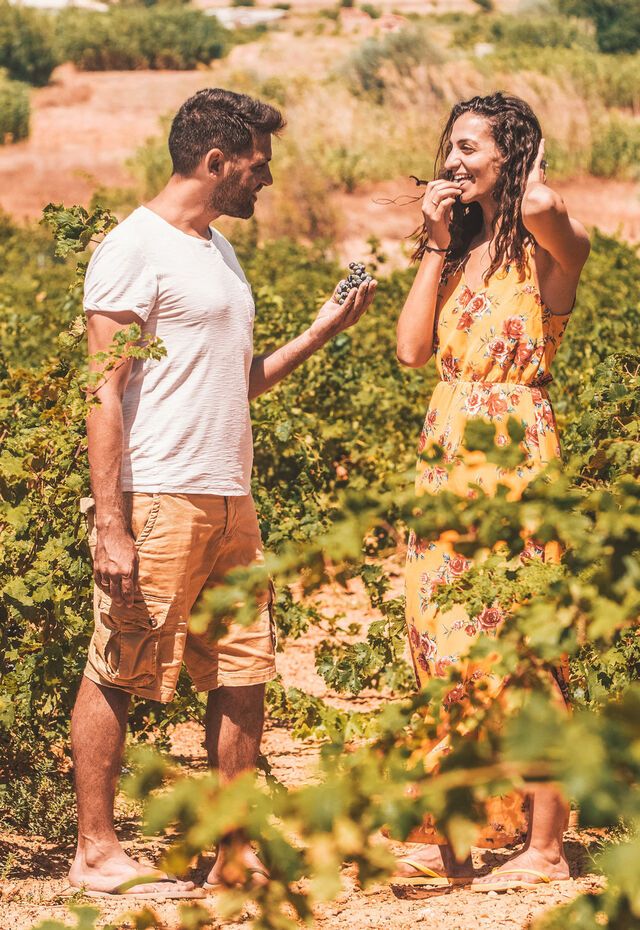 Duration
2-3 hrs or 3-4 days
Season
All year round
OVERVIEW
We'll never know what the wine drank by the Achaeans during of Siege of Troy tasted like but (according to Homer's Iliad, at least) it was from Lemnos and they enjoyed every drop of it. So to explore the island through its vineyards and wineries is to tap into a very rich and long wine-making tradition.

Two varieties dominate Lemnos' wines and you'll love learning about both: Limnio (believed to be the most ancient grape variety) and Muscat of Alexandria, a white grape introduced at the start of the 20th century from Egypt.

Whilst the white Muscat grape now dominates production, there has been a revival of Limnio, with the dry, semi-dry and sweet reds that it produces turning heads in ever-greater numbers. Both varieties have achieved Protected Designation of Origin status.

These are the stories you'll be taking home with you (as well as a bottle or two) after visiting the island's family-owned wineries. You'll learn how the vines have adapted to the island of Hephaestus' volcanic soil and are pruned low to the ground to protect them from high winds and water loss. And how the viniculture techniques that made Lemnos a wine-trading centre in antiquity were taken forward by the Romans and preserved by Byzantine monks.
DON'T MISS
Wine and culture are an irresistible combination, so while you're visiting Lemnos' vineyards make sure you also explore the island's cultural highlights.
Myrina Castle
Located at the highest point of Myrina (close to Kaspakas), the Byzantine Castle was constructed in the 12th and 13th centuries. The view from the top is incredible and you'll find remains of houses, an underground vaulted room and a healthy deer population within its walls. While you're visiting a winery in Kaspakas, pick up a bag of almonds. The village is renowned for them.

Ancient Hephaestus
Close to Karpasi (another wine-producing area), is Ancient Hephaestus. Centering around a theatre, the ruins are what remains of the ancient city that flourished during the 5th and 4th century BC and was dedicated to the god of fire and volcanoes. There is a wonderful sea view from the theatre.
Bonus
To the north of the island is Ammothines, a 70,000sqm area of golden sand dunes (a rare phenomenon in Europe, dubbed the Sahara of Greece). Did you ever imagine being able to sand surf in Greece?
Book your trip
All your holiday planning needs in one place, letting you book direct and benefit from official online rates
GET PLANNING
The villages of Karpasi, Kaspakas and Agios Dimitrios are the main wine-growing areas on Lemnos and so will likely be your main destinations when it comes to visiting wineries. (A selection is given below.)
From Myrina to
From Lemnos Airport to Myrina
By car of taxi: 20km (25mins)

Many of the wineries of Lemnos are open to visitors all year round (some upon request).
The best experience is to visit during April-May, when the vineyards come to life and the weather is often perfect for walking and picnics. Or from the middle of August to September during the harvest period.
Autumn
Spring
Summer
Winter
To visit all the vineyards mentioned will take around 3-4 days (including the cultural bonuses).
The experience at each winery, including wine tasting and touring the vineyard and cellar, will take 2-3 hours. It's worth contacting each winery before visiting.