Description
Nestled between a picturesque mountain range and the Aegean Sea, this luxurious residence is located in one of the most sought out locations on the island of Lemnos.
The home's stylish esoteric space, cozy terrace, and bedroom balconies with a sea view inspire dreamy days and alfresco dining beneath the stars.
Daytime is for basking beneath the Mediterranean sunlight on comfortable lounge chairs between plunges in the refreshing pool. Come late afternoon, the stylish wooden patio table is perfect for sipping cocktails then moving on to delectable dinners that linger into the night with glasses of the island's superb wines.
This impressive newly renovated property is a perfect choice for families or friends.
Enter this exclusive property into a beautifully re-vamped (2020) landscaped garden complete with a dazzling pool, lounge chairs, and a fully furnished patio designed for languid mornings and unforgettable star-gazing evenings.
Wood and stone dominate the indoor space with touches of Greek marble and delicate rattan decorative details.
The modern, fully equipped kitchen conveniently leads straight out onto the patio and is complete with everything you'll need for meals at home. From pots and pans to coffee machines; it's all there.
The open plan living area exudes boho-chic vibes and features ultra-comfy sofas, TV, adorned with decorative pieces you'll be inquiring about.
The two spacious, photo-shoot worthy, bedrooms boast double beds with top-of-the-line mattresses, linen, and ample wardrobe space. Each has its own TV (Netflix included) and the master bedroom has its own bathroom with a gorgeous walk-in shower. A second, equally gorgeous bathroom exists with all necessities from towels and toiletries to hairdryers on hand.
The residence is equipped with individual, all-weather, air-conditioning units throughout. Exercise equipment (for simple workouts in the garden) and bicycles are available upon request.
Facilities
Concierge
Pool Towels
Safe Deposit Box
Satelite TV
Swimming pool
Wi-Fi Internet Access
Book your stay with peace of mind

Curated list of top-rated hotels across Greece.

Direct booking benefits

By booking directly through the hotel's booking engine, you'll enjoy exclusive offers, better room selection and personalised service.

Effortless booking & cancellation

Easy for you to book your ideal hotel. Simplified cancellation process for a stress-free experience.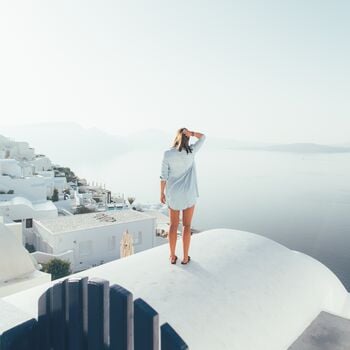 Monthly Discount 10%
Offer valid until: 31 December 2024
Weekly Discount
Offer valid until: 31 December 2024