EXPERIENCE
Rafting in the shadow of the extraordinary Meteora
Visit Meteora
The magical landscape of the Meteora monasteries and rock formations takes you on yet another journey with the experience of rafting down the Pinios River.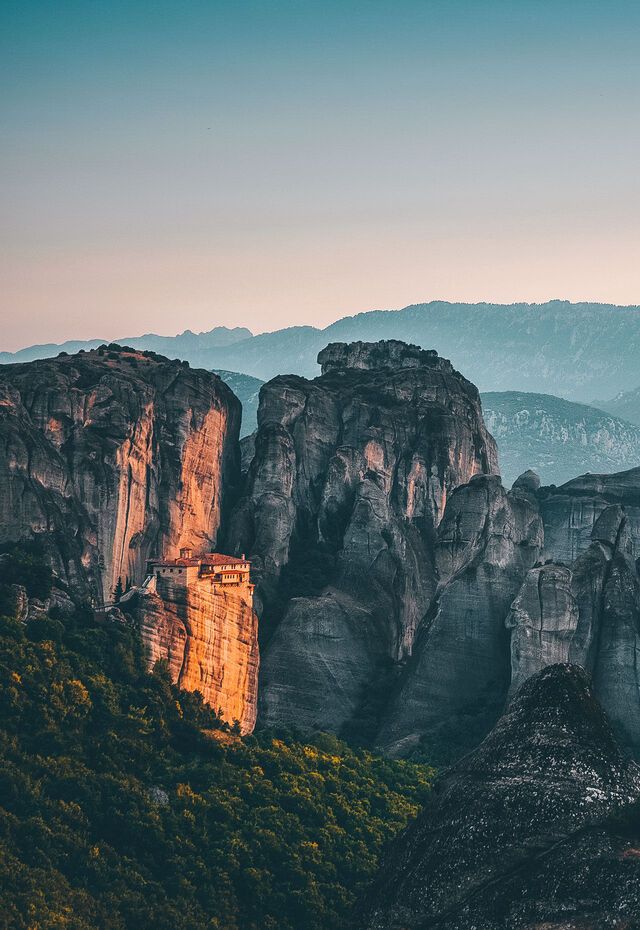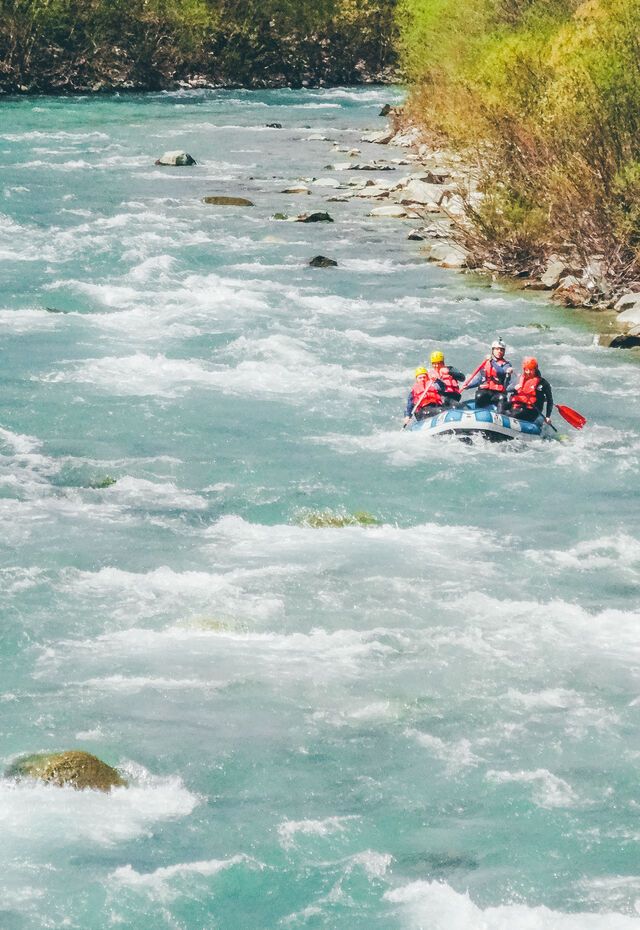 Duration
4 - 6 hrs
Season
October - May
OVERVIEW
The world-famous Meteora only know how to do epic. Whether you see them as geological marvels sculpted by ancient rivers, or as otherworldly monasteries perched on pillars of rock, they never fail to draw awe and admiration from visitors. So it's only right that the experience of rafting along the river that passes in their shadow should stand out for its jaw-dropping scenery.

A wonderful addition to visiting the monasteries (some continuously inhabited since the 11th century and collectively a UNESCO World Heritage Site), rafting here will live long in the memory. You pass along a deep gorge full of nature, admiring extraordinary-coloured water and plane trees – until you see the sight you've come for: the epic pillars of rock dominating the landscape ahead of you.

Approximately 7-8km long and reaching no more than Grade 2 in difficulty, the routes are ideal for all members of the family, as well as couples and friends.

GET PLANNING
To Kalambaka
From Athens
From Thessaloniki
To Trikala (nearest city to Kalambaka)
From Athens
From Thessaloniki
Rafting at Meteora takes place between October-May, although you will need to check the river conditions first.
October is also a beautiful month, with all the changing colours of nature and the weather still warm, but with rafting made possible by the first winter rains in the mountains.
The best time of year to raft is spring (March-May), when the meltwater and nature are at their most abundant and as the days warm up.
Autumn
Spring
Summer
Winter
For ease of accommodation, parking and eating, Kalambaka and Kastraki offer everything you could ask for.
Kalambaka has a rich history, with ancient and Byzantine attractions and many hotels and eating options, and shops where you can pick up a souvenir. (Try the handmade sausages and dairy products, and definitely a homemade pie.)
For something a bit quieter, Kastraki (meaning 'small castle'), oozes peace and quiet. You'll love the stone-built houses with clay-tiled roofs.
If you're after something a little livelier, head to the city of Trikala. There's a charming riverside feel and residents going about on bicycles
What to pack:
Your experience provider will supply you with all the technical equipment necessary (including wetsuit, life jacket and helmet) but you can bring any of your own if you have them.
Don't forget to equip yourself for a day in the sun and for getting wet.
Ionas River (a tributary of the Pinios River)
Starting/Meeting point: Diava (11mins by car from Kalambaka)
End point: Diava (you will be returned to your meeting point by the experience provider)
Distance: 7km
Duration: 4hrs
Age/Difficulty: 8+ / 1 (Suitable for beginners)
Aspropotamos River (a tributary of the Acheloos River)
Starting/Meeting point: Aspropotamos (1hr by car from Kalambaka)
End point: Aspropotamos (you will be returned to your meeting point by the experience provider)
Distance: 8km
Duration: 4hrs
Age/Difficulty: 14+ / 3 (Suitable for beginners & intermediates)