Explore the volcanic history of Santorini with a boat tour to the caldera islands, including volcano tours and swimming in thermal springs, the legendary Red beach, and a visit to Thirasia, the Santorini of 50 years ago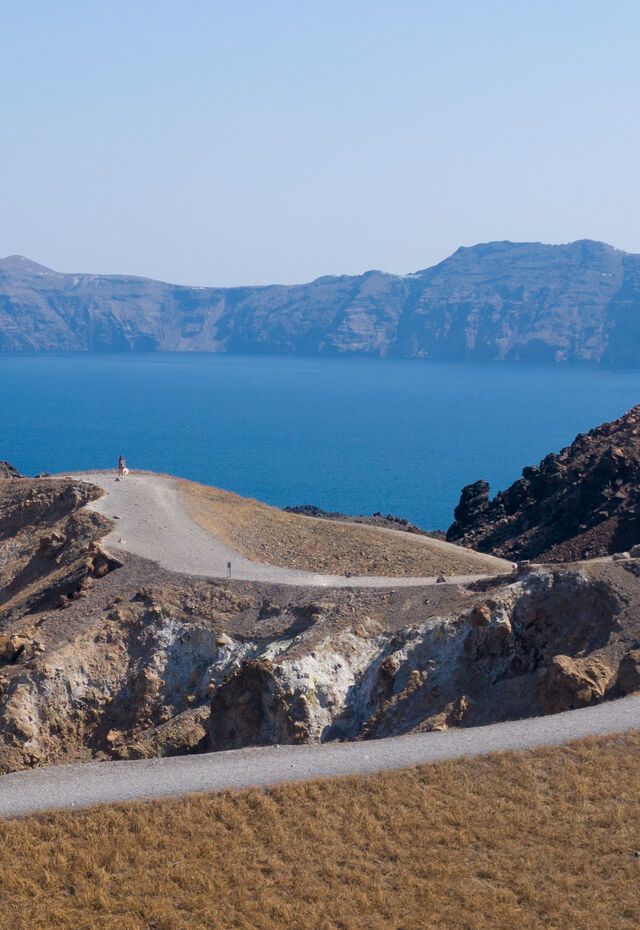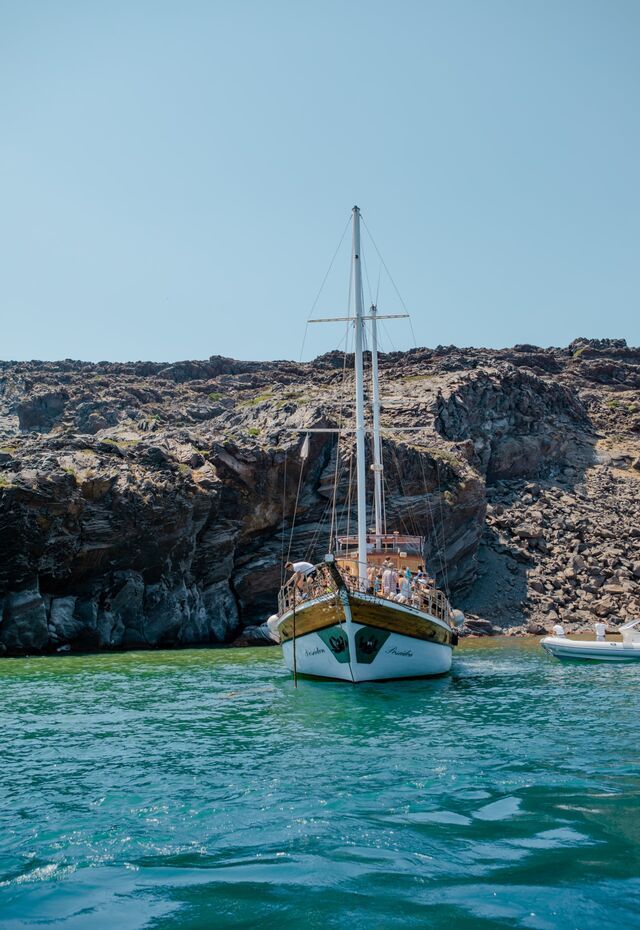 Duration
3 - 6 hrs
Season
April - November
OVERVIEW
A Santorini caldera boat tour
Santorini is a bucket list destination for so many people around the globe, and understandably so as images of dreamy sunsets and one-of-a-kind villages like Oia, Fira and Imerovigli light up the Instaverse. To that, you can add vineyard tours, visits to traditional villages and – perhaps the highlight – caldera views from right across the island, which is why a boat tour to Santorini's caldera islands is up there among the unmissable things to do on Greece's star island.
They all have an incredible story that adds to the allure of Santorini, having been born out of volcanic eruptions as long as 3,600 years ago. The most famous was in 1613 BC (one of the biggest on record and called the Minoan Eruption as it is said to have been responsible for wiping out Crete's Minoan civilisation), which sank much of the great island of Strongili and created the caldera we marvel at today. Santorini was part of Strongili, as were Thirasia and Aspronisi islands on the other side of the caldera.
Subsequent eruptions all the way up to the mid-20th century caused another two islands to rise from within the caldera. Named Palea Kameni and Nea Kameni, they are formed out of pumice and other volcanic rock and are now Natura 2000-protected environments.
A volcano cruise from Santorini allows you to walk around one-of-a-kind moonscapes and craters and even swim in seawater warmed by thermal springs. Boat trips often include Thirasia (a throwback to a simpler age), where you'll experience views of Santorini from the other side of the caldera. And if you choose an evening boat trip, you'll experience yet another angle to Santorini's world-famous sunset and more memories that last a lifetime.

DON'T MISS
Highlights of caldera boat trips from Santorini
Nea Kameni
Right opposite Fira, Nea Kameni is the bigger of the two isles in the centre of the caldera. It was created by underwater volcanic activity, with geological research dating some terrain from a 1570 AD eruption and other rocks from an eruption in 1950, with several islets merging over time to create the 3.4 square km island you see today. Nea Kameni's lunar landscape of solidified lava includes seven craters and most boat trips stop here and give you time to walk amongst the craters with a guide who tells you the story of the geological phenomenon. (On tours which just pass by Nea Kemeni, you'll hear the story onboard.) And some boat trips go a step further, stopping for a swim off Nea Kameni in yellow sulfur-tinted water fed by underwater springs. (You'll have to book a Santorini hot springs boat tour for this.)
Palea Kameni
Palea Kameni (just behind its larger, younger brother in the middle of the caldera) was formed after an eruption in 46-47 AD, with a solitary crater and a terrain of black soil, sulfur and solidified lava, similar to Nea Kameni's. If your boat trip from Santorini doesn't include a stop at hot springs in Nea Kameni, you're most likely to stop for a dip in the warm, sulfurous waters of Palea Kameni's Agios Nikolaos bay.
Thirasia
Thirasia is the only caldera island that is inhabited. Visiting will make you feel like you've entered a time warp as everything about it is like the Santorini of 50 years ago. Most boat trips to Thirasia arrive at the Agia Eirini (Riva harbour), the main port of Thirasia, and you can reach Manolas, the main town and the island's highest point, by foot. You'll find traditional Cycladic houses, narrow streets and small village shops and the same cliff-side views as Santorini (but from the other side of the caldera). The best viewpoint is from the church of Prophet Elias.
Red beach
Some boat trips include stops at some of Santorini's most famous beaches, including the Red beach. It's not actually connected with the caldera because it is on Santorini's south coast, but it more than fits the theme as the red volcanic rock which gives the beach its name is often likened to the surface of Mars. It's organised with sunbeds and umbrellas and has clear blue water and characteristically dark-coloured pebbles.
White beach
Another stop on some boat tours is Santorini's famous White beach, very close to Red beach but miles apart in terms of appearance. While the cliff face here may be white, the sand is brown (as it is on most sandy beaches in Santorini). The only way to get here is by sea (unless you walk from Kambia beach), so don't miss the opportunity to visit if it's included in your boat tour.
Akrotiri lighthouse
Some boat trips go the extra mile and pass by the lighthouse of Akrotiri (named after the prehistoric settlement of Akrotiri, which is another must during your stay in Santorini). Dating from 1892, it's one of the oldest lighthouses in Greece, having been built by a French trading company. It still flashes every 20 seconds to warn ships passing Santorini's southwestern point.

Book your trip
All your holiday planning needs in one place, letting you book direct and benefit from official online rates
Private
Private
6 hours
Free cancellation
Not sure? You can cancel this reservation up to 48 hours in advance for a full refund
Group
GET PLANNING
How do you get to Santorini?
Santorini has an airport with regular direct flights to Athens and international arrivals during the summer months.

There are regular ferries to/from Piraeus and Rafina (eastern Attica) and many other Greek islands, including the Cyclades (Ios, Milos, Syros, Paros etc) and Dodecanese islands (including Rhodes and Kos) and Crete. High-speed ferries can reach Santorini from Piraeus in 4hrs while conventional ferries take 8hrs.
Where do Santorini's caldera boat tours sail from?
Most boat trips start from Paleo Limani in Thira, the main harbour of Athini, or Vlychada marina.
When is the best time to do a boat tour in Santorini?
Most trips operate from April to the beginning of November.
June to September are the busiest months in Santorini, so the best time to visit is in April-May or October.
Keep in mind that all boat trips may be affected by weather conditions.

How long are Santorini caldera boat tours?
Most boat trips last 3-6 hours, depending on the number of stops.
The stop in Nea Kameni lasts around 1-1.5 hours, and the swimming time at the hot springs of Palea Kameni and Santorini's beaches is around 30 minutes in each destination.
If your boat trip includes Thirasia, then you're likely to stop for either a 30min swim or for 1.5-2 hours, giving you time to explore the island.
The cost of a boat trip ranges from €30-150 per person, depending on the route, type of vessel and number of passengers on board.
If your boat trip doesn't include the €5 per person fee required to explore the Nea Kameni volcano, you will have to pay on-site.
The cost of a private tours increase accordingly.

Most boat trips offer food and drinks on board and sometimes snorkelling gear, hotel pick-up and drop-off, and tour guides at Nea Kameni.
There is a choice of vessels when it comes to Santorini boat trips, from traditional wooden boats to sailing boats (there are even catamaran tours from Santorini). Private boat trips include inflatable RIBs and speedboats.
Because of the lack of shade and the terrain, it's hotter on Nea and Palea Kameni than on Santorini, so it's advisable to dress appropriately and wear trainers.
Make sure you have everything you need for a day in the sun: