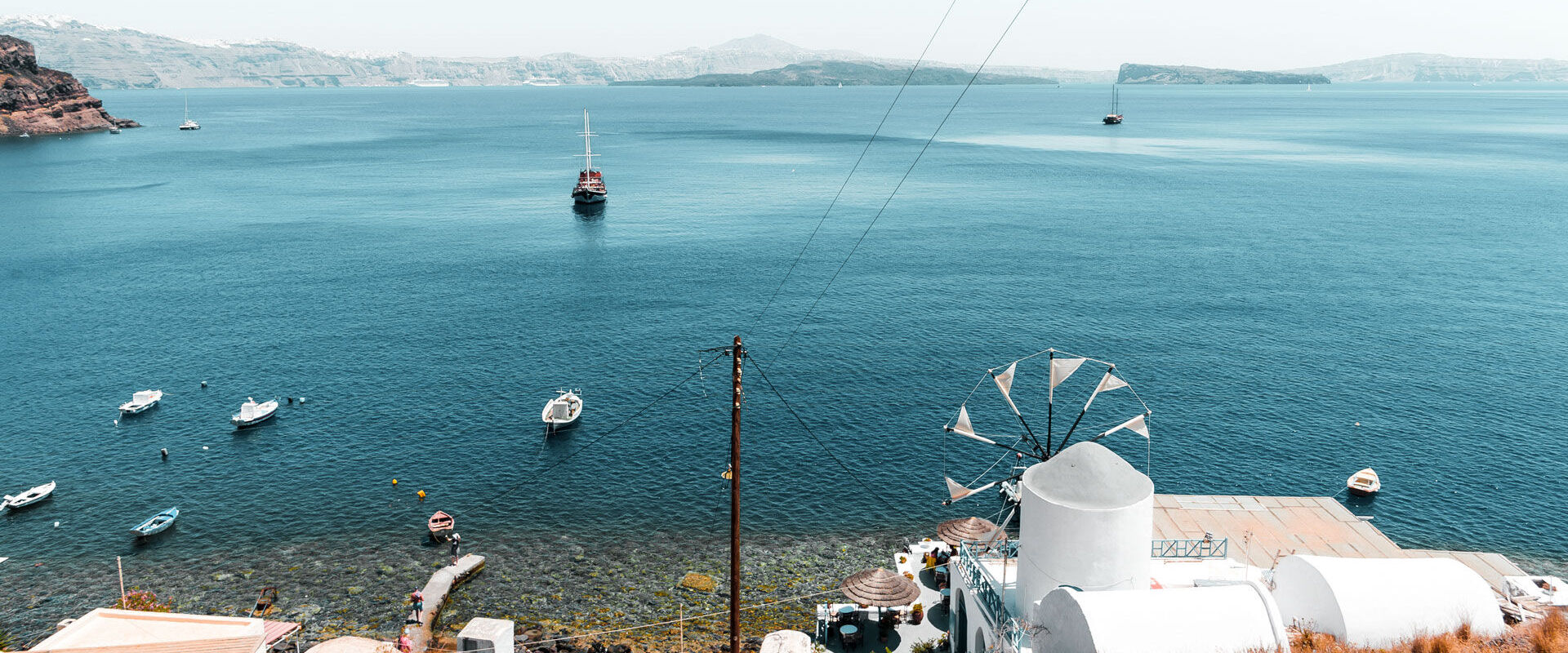 EXPERIENCE
A boat trip to Thirasia, the Santorini of 50 years ago
Visiting the island of Thirasia, on the other side of the caldera, is like travelling to Santorini when it was still a rough diamond awaiting discovery.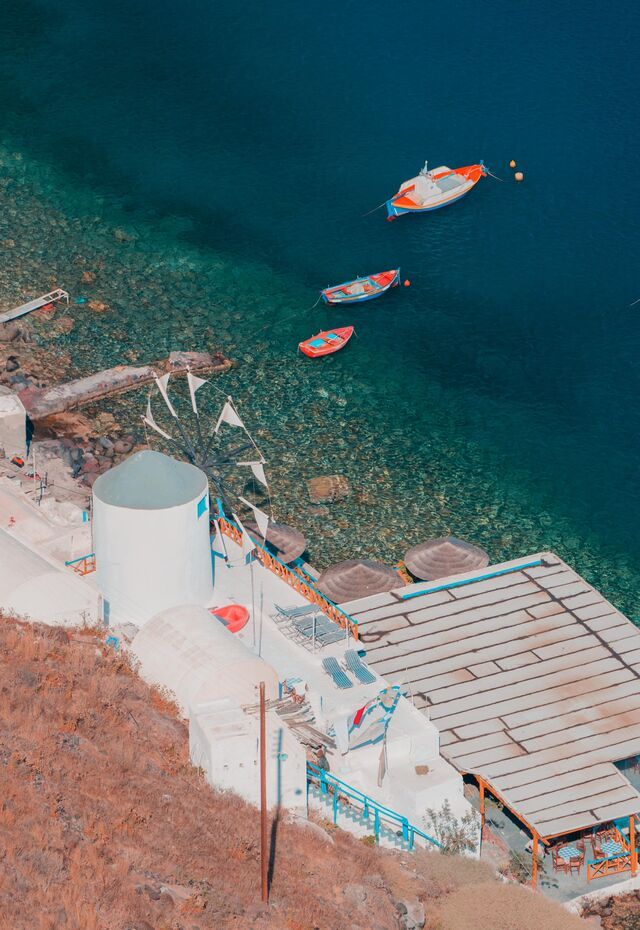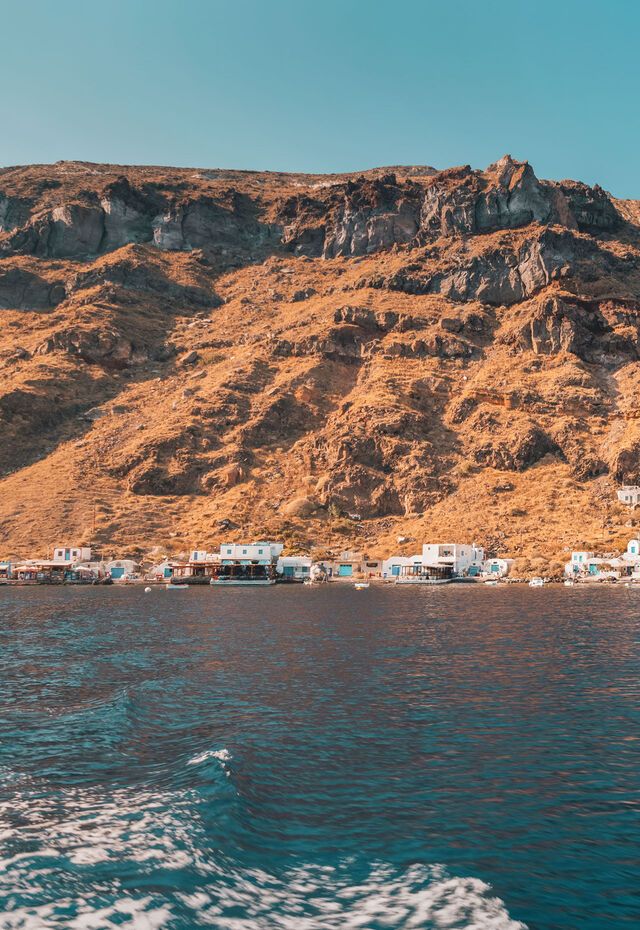 Duration
5 - 8 hrs
Season
All year round
OVERVIEW
Imagine being able to travel to Santorini as it was before the cosmopolitan vibe. To when the landscape was all about raw volcanic beauty rather than whitewashed glitz and glamour. Well, on Thirasia - one of the islands you can see from Santorini as you look across the caldera – you don't have to imagine.

It was originally part of the large island of Strongilis, which collapsed during the Minoan eruption to form a cluster of islands (that includes Santorini and Palea and Nea Kameni) and the iconic caldera that unites them. As such, it shares the same volcanic geology as Santorini, and was similarly inhabited in the past, but it experienced none of its explosive growth as a tourist destination.

So to take a day trip there is to be given a rare glimpse into the past. To a version of Santorini when it was a rough diamond, with just over 300 inhabitants, and a slow-paced, unchanging way of life that will, most likely, still be the same 50 years from now.
DON'T MISS
Korfos port
One of the two ports on the island, where you can enjoy seafood in traditional tavernas and swim, with views of the characteristically volcanic landscape and Santorini.
Manolas
The main town of Thirasia is built just above Korfos, at the island's highest point. It's got the same dramatic clifftop feel as Santorini, but with views from the other side of the caldera. You'll find traditional Cycladic houses, narrow streets and small village shops. It's worth carrying on the path south of Manolas. You'll get to the church of Prophet Elias, probably the best viewpoint.
Potamos
Built in a ravine, from where it got its name (River), Potamos is about 1km inland from Manolas. It has beautiful houses with courtyards and two churches in the centre, Agios Dimitrios and the colourful Panagia Yatrissa.
Agia Eirini (Riva harbour)
The main port, at the northern end of Thirasia, this will be your first stop if you arrive by ferry. You can enjoy a seafood meal here in a traditional tavernas and have a dip at a beach with striking black pebbles.
Agrilia
The oldest settlement on Thirasia is no longer inhabited, which makes it especially interesting to explore, especially the remains of the houses built right into the rock. To get here, you'll most likely need to complete a 2km walk from Manolas. You'll be rewarded with a raw volcanic landscape along the way.
GET PLANNING
There are half and full-day boat trips to Thirasia, and others that include stops at Nea and Palea Kameni.
You can also catch a ferry or smaller boat from Santorini or hire a boat and set your own itinerary.
From the port of Ammoudi (Oia, Santorini)
Boats for Riva and Korfos leave at various times of the day (from 8:00) all year round.
In the summer, there is an evening departure.
From the port of Athinio (Santorini)
Ferries depart for Riva on most days of the week.
There is a possibility that the nearest return time from Riva will be the following morning. You can stay overnight on Thirasia or return on boat to Ammoudi.
It is best to confirm daily departure and return times of all crossings with the Santorini Port Authorities (+30 2286 022239).
There is a bus that connects the port of Riva with Manolas.
To Ammoudi (Oia) and Athinio (Santorini)
By car or taxi from your hotel.
There is a good network of public buses on Santorini, including stops in Fira and Oia.
You can visit Thirasia all year round, but swimming and sunbathing are best from May to October.
Organised boat trips operate in the summer months.
All boat trips are dependent on weather conditions.
Boats from Ammoudi start from €1 - €2
Organised boat trips to Thirasia (and possibly other locations) start from €31 (half day) and €40 (full day).
May-June and September-October are the best and quietest periods to enjoy Santorini.
Organised boat trips last around 5 - 8 hours.
The crossing takes 10-15 minutes from Ammoudi and 45 minutes from Athinio.
There are facilities and services on the island (tavernas, cafeterias, a few shops and an ATM).
The beach at Riva has umbrellas and sunbeds.
Make sure you have everything you need for a day in the sun:
TRAVEL RESPONSIBLY
Please help preserve the magic of Greece's islands, cultural sites and natural environment for future generations.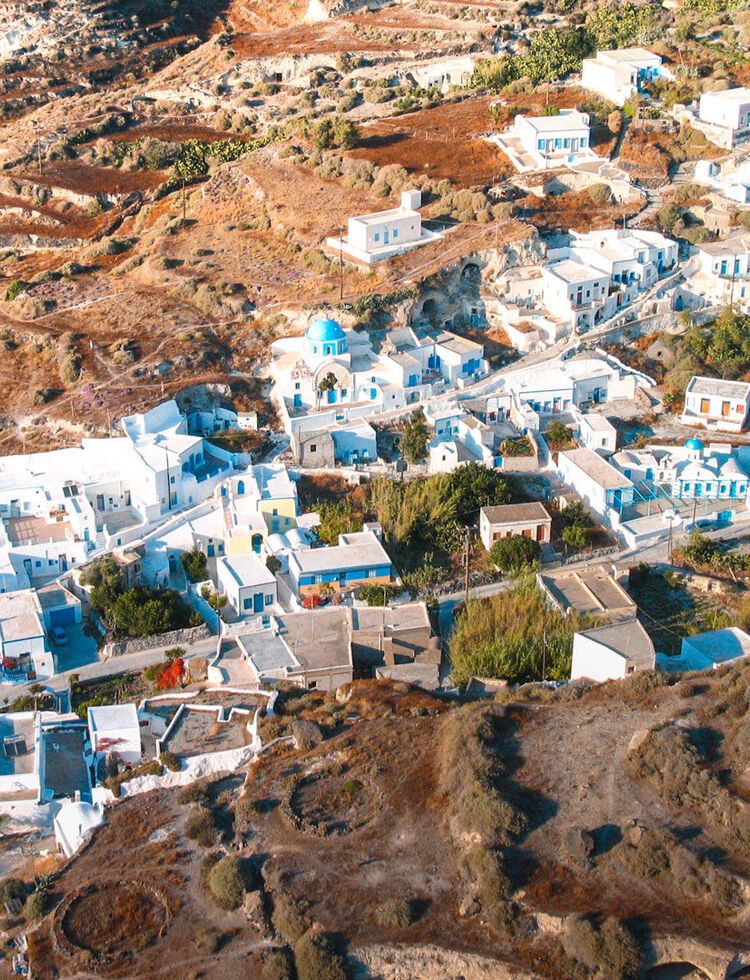 Use the bins provided or, if need be, take your rubbish with you.
Don't remove any shells, rocks, fossils or sand from the beach.
Use a refillable water bottle to try to minimise your use of plastic.
Do your best to support small, independent family-owned stores and local producers, taking home something handmade and local.
Explore your surroundings but please keep to designated paths for your own safety and to avoid disrupting the flora and fauna.
Respect the marine life and the plants and animals on shore.
Think about the welfare of the animals by not feeding them or taking donkey rides.
Be inquisitive and definitely ask the locals for tips
Making fires on beaches is strictly forbidden.