READING TIME
As long as it takes to eat a slice of watermelon
Santorini is widely considered one of the top holiday destinations in the world, its beauty surpassed only by its fame. From sunsets in Oia to wine-tasting in one of the island's trademark vineyards, it delivers a devastating sensory explosion of culinary ingenuity, Cycladic allure and more photo opps than you can shake a selfie stick at.
The sugar-cubed houses along the caldera are guaranteed to be among the prettiest sights you'll see, and the beaches are similarly unique, with the volcanic rock providing an extravagant amount of diversity in colour and composition. You can take your pick. Red, white and black shores, pebbly or sandy, there's even the choice of swimming in Santorini's famous caldera. So let's get you started by looking at the best beaches in Santorini.
Red beach
Red beach is reminiscent of a Mars-scape with actual water. It is popular and so can get crowded, something not made easier by the fact it is quite small. But the combination of red-hued rocks that wall this calm bay and cerulean waters make this beach an attractive choice. Activities include SUPing and adding nearby Akrotiri (which has its own beach) to your day, visiting one of the most important archaeological sites in the eastern Med. Pack the sunscreen.
Amenities: Sunbeds & umbrellas, snack bar, water sports, parking
Access: By road & a small walk, or by boat
Perivolos & Perissa beach
Mesa Vouno (the tallest mountain on Santorini) is the imposing backdrop to these two awesome black-sand beaches, near the Archaeological site of Ancient Thera. Part of a wider stretch of sand, Perivolos and Perissa beaches are filled with amenities and activities for everyone. Just about every aquatic sport is available here (look out scuba fans) and the beach bars play host to daytime parties. The wider area is home to a number of tavernas and shops that see abundant nightlife.
Amenities: Sunbeds & umbrellas, beach bars, restaurants, tavernas, water sports, sea ramp
Access: By road

Kamari beach
Kamari is a hunk of beach located next to Perivolos and Perissa, attracting an assorted clientele to its black sandy shores. It's a beach that caters to every age group with amenities that are accessible to you wherever you are on the shore. There's a plethora of bars, tavernas and restaurants and if you aren't staying nearby, it's definitely worth walking around and checking out the area. Kamari is one of the longest beaches in Santorini, and also one of the most organised.
Amenities: Sunbeds & umbrellas, restaurants, tavernas, water sports, sea ramp
Access: By road
Find the certified water sports centers of Santorini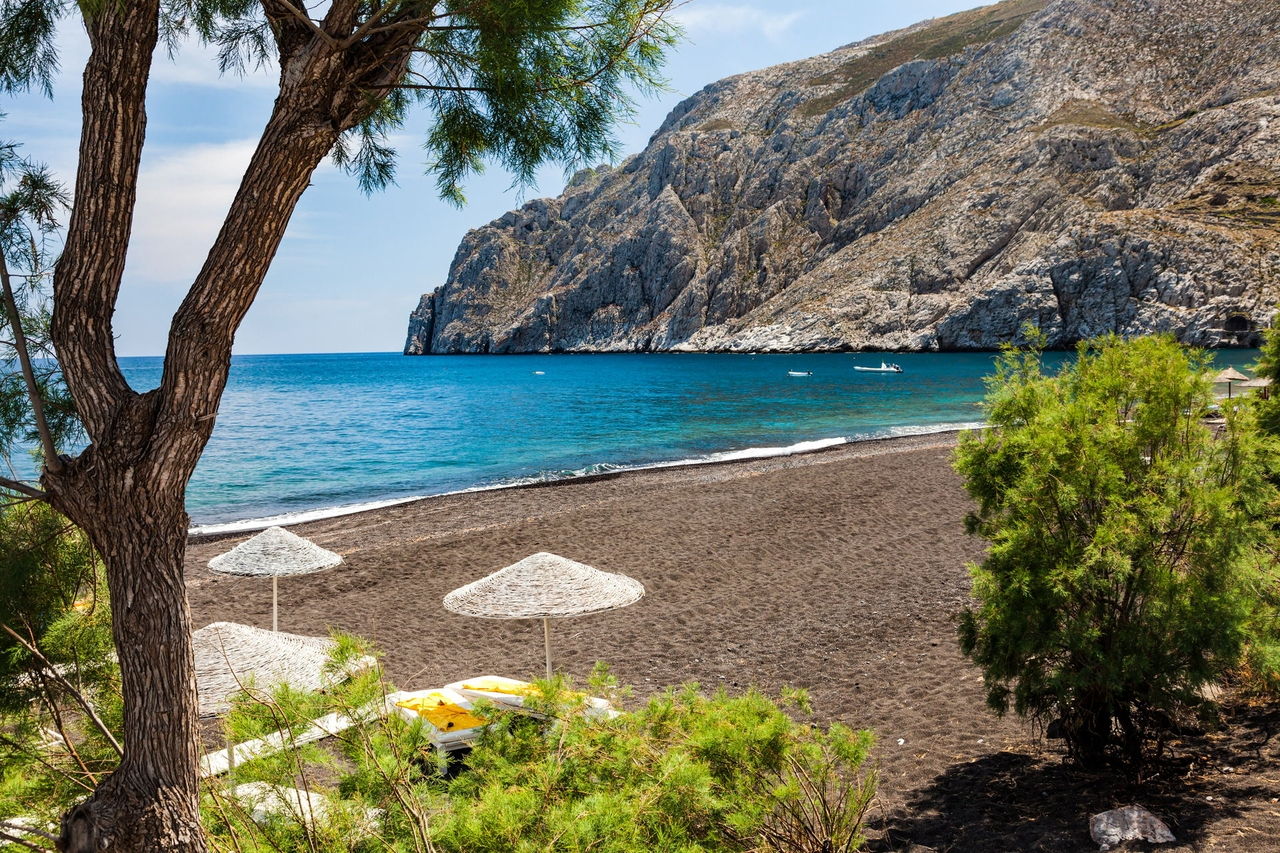 White beach
Beaches in Santorini come in several colours and while White Beach is one of the most famous, it's also one of the least accessible. Nestled inside a cozy cove lined by soaring, white cliffs, this beach is ideal for underwater missions to explore caves and crags, of which there are many. Very close to Red beach, it can be reached on foot through nearby Kambia beach (or by boat from the Red beach). Your holidays in Santorini won't be complete without experiencing this gem.
Amenities: Sunbeds & umbrellas, snack bar
Access: By boat from Red beach or hike from Kambia beach
Vlychada beach
Like most of Santorini's beaches, Vlychada offers a mixture of fine black sand and pebbles. But it stands out for the impressive white, wind-carved rock face that flanks it. Resembling something a sculptor might create, this bizarre moonscape is one of the prettiest and most isolated locations on the island. The adjacent Eros beach is also worthy of your time, as is the Tomato Museum atop the shore, if you feel like brushing up on the island's history
Amenities: Sunbeds & umbrellas, beach bar
Access: By road
Agios Nikolaos beach
One of the best beaches in Santorini, if you value your privacy, is Agios Nikolaos and the lovely Exo Gialos port. Agios Nikolaos is what dreams are made of. Its black, fine pebbles attract boho and adventure types and if you do make it out to Exo Gialos keep an eye out for swans and ducks (as well as your snacks as they will go for them). Agios Nikolaos is easy on the eye, with its majestic rocks forming an impressive wall along its shores, and if you tire of all that beauty, head to one of the tavernas for a seafood dinner followed by sunset cocktails.
Amenities: Sunbeds & umbrellas, beach bar
Access: By road
Mesa Pigadia beach
A smidge outside Oia lies little-known Mesa Pigadia beach. Impressive is underselling it, as its towering, multilayered and multicoloured cliff face reveals its sedimentary history. Its Instagrammability is bolstered further by the fishermen's boat houses that are carved inside the cliff face. Mesa Pigadia is actually divided into two separate sections (one quieter and more secluded) and it is a designated sunset viewing spot. Expect to see a fair share of love birds splashing around the black, sandy shore.
Amenities: Sunbeds & umbrellas, beach bar
Access: By road
Cape Columbo beach
If your definition of best beach in Santorini happens to mean most secluded and wild, look no further than Columbo beach. This desolate moonscape owes its name to one of the little-known submarine volcanos found in the sea northeast of Santorini, providing swimmers with the benefits of warmer water than elsewhere around the island. Preferred by nudists and adventure types, it has scant amenities (a solitary beach bar heading to Baxedes beach is all there is), and that's more than ok. It's perfect just as it is.
Amenities: None
Access: By road
The best beaches in Santorini
While sunsets in Oia and the caldera view get the lion's share of snaps, the volcanic beaches of Santorini could round out your holidays nicely with their mix of sea, sun and fun. Few places can match this island's amazing landscape.
Book your trip
All your holiday planning needs in one place, letting you book direct and benefit from official online rates
Private
Group
Multi-day Tours