Discovering the food & drink of Rethymno includes visits to a raki distillery and an olive oil press, vineyard tours and wine-tasting, and cookery lessons that reveal the secrets of Crete's legendary Mediterranean diet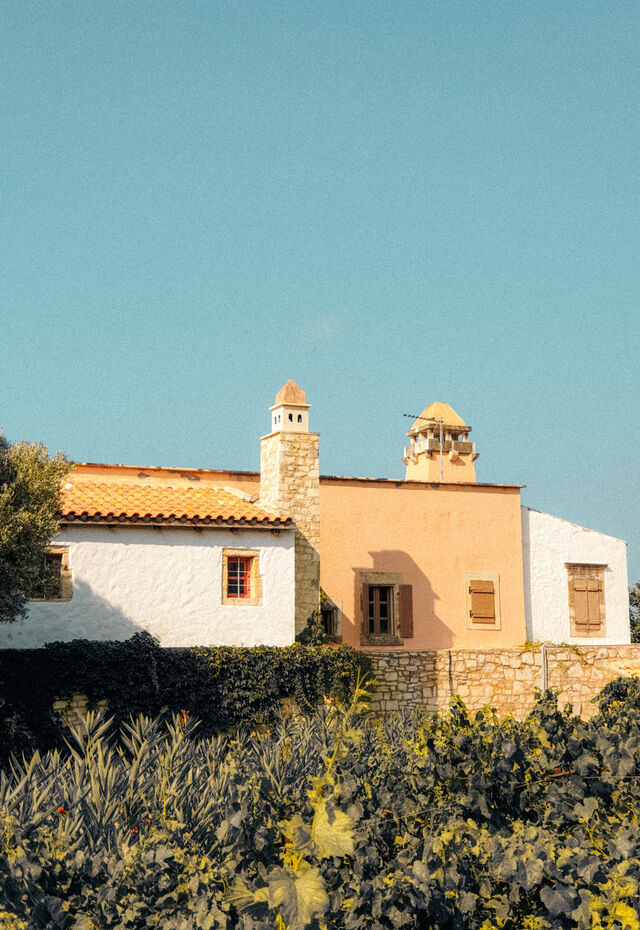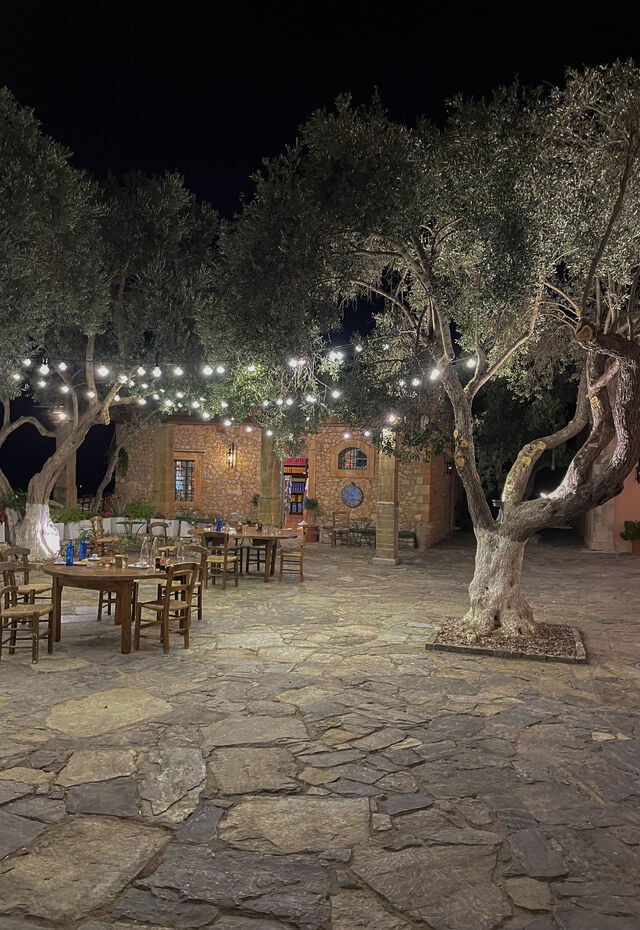 Duration
2-3 days
Season
All year round
OVERVIEW
There is so much to look forward to on your holidays in Rethymno. The culture (especially the Old Town and Minoan history) and beaches (let's not even get started on Preveli) are standouts, for sure. But if food is at the top of your bucket list when you travel, there's no question which of the things to do in Rethymno will stay with you the longest.
Crete is rightly credited as the birthplace of the Mediterranean diet, with olive oil, fruit & vegetables and other local products filled with the energy and sunshine of Greece's southernmost island. And then there's the secret ingredient: the local's famously good spirits … especially if it comes in the form of a glass or two of raki (the local firewater) that's more a celebration of life than an alcoholic beverage.
So we're here to whet your appetite by exploring the food & drink scene … not just of the city of Rethymno but of the entire area of Crete that goes by the same name (between the regions of Chania and Heraklion) which includes mountains and villages and stretches from the Aegean in the north down to the Libyan Sea in the south.
We take you to a raki distillery and an olive oil press, introduce you to the vineyards (where you can learn about the local grape varieties) and encourage you to book a cooking lesson where you'll meet the people behind the magic and learn how to knead dough, fold pastries and identify herbs like a local.

DON'T MISS
Rethymno food & drink highlights
Visit a raki distillery
Raki (or tsikoudia as it's known locally) is a way of life in Crete. It's used to greet guests, toast each other's good health, accompany a meze meal and generally socialise throughout the year. And the annual process of turning grape pomace into crystal-clear, 35-40% proof distilled alcohol is a time for celebration. Rakokazana (the word for both the distillery and the distillation 'parties' held in November) are a feature of villages around Rethymno. And visiting a distillery is part of many organised Rethymno food tours, with 35N (a company started by three friends as a hobby and now a thriving business around 15mins outside town) a favourite. You'll find their raki in restaurants and shops in Rethymno town but visiting the distillery will let see the original bronze sills and learn about the production process. It's your chance to find out the difference between raki made with Syrah and Moscato grapes as well as with honey.
Olive oil tasting
You can't get more Cretan than olive oil. Green gold (as it's known) is the core ingredient of the Mediterranean diet (rich in monounsaturated fats, vitamins and antioxidants) and Cretan cuisine generally and its origins in Rethymno can be traced back to Minoan times in around 3000 BC. Olive oil will be a part of just about every meal on your holidays in Rethymno but to truly understand the product you have to visit an olive oil press, like the Paraschakis Family Olive Oil Factory in Melidoni (a Mylopotamos village), which produces around 400 tons of virgin olive oil each year. If you visit as part of an organised tour or individually, you'll be guided around three different facilities, learning the difference between an animal-powered press, diesel-powered machinery and the modern centrifuge used today.
Wine-tasting
The landscape and climate of Rethymno are well suited to making wine, with mountains and valleys and a combination of warm summers and cooling sea breezes. There are a handful of wineries that you can visit, each with its own personality and where you can sample wines from the different grape varieties of the region. Vidiano is the most prominent grape in Rethymno, but there's also Asyrtiko, Vilana and Thrapsathiri amongst whites and Liatiko, Kotsifali, Achladi, Agiorgitiko and others amongst reds (as well as well-known European varieties). Wineries in Rethymno offering vineyard tours and wine-tasting include Zoumberakis Vineyards (an organic winery in Kali Sikia on the slopes of Mt Krioneritis), Kourkoulou Winery in the Psiloritis mountains and the Klados Winery in the Geropotamos region east of Rethymno (the closest to the sea and included in the wine roads of Wines of Crete). They all offer wine tasting with local delicacies, as does Oinoxoos House (just west of Rethymno), which has assembled wines of varieties from all over Greece and paired them with traditional foods.
Enjoy a cooking class
Your final foodie experience in Rethymno is a cooking class. There's no better way to learn how to recreate some of Crete's favourite dishes than from a local. Dakos salad (chopped tomatoes, crumbled feta or myzithra cheese, oregano, olive oil and paximadi rusks), marathopita (thin, pancake-like pies filled with fennel), boureki (a warming bake of layered potatoes and courgettes, with myzithra and mint) and other dishes could become part of your kitchen repertoire. There are cookery classes in Rethymno town and in villages around the region, as well as the opportunity to be a Farmer for a day at Agreco Farm, where you sample life on a Cretan farm (and put their produce to good use!). Another great choice if you're looking for eco-friendly and sustainable experiences on holidays in Crete is Enagron ecotourism village in Axos, where you go on a botanical walk, try your hand at traditional bread- and cheese-making and generally cook up a storm. There are even cookery classes that take place in a mountain Mitato, a traditional Cretan shepherd's shelter.
See the Good to Know section below for details of the raki distillery, olive oil factory, ecotourism resorts and wineries of Rethymno.
GET PLANNING
How do you get to Rethymno in Crete?
The closest airports to Rethymno are in Chania (70km) and Heraklion (80km), from which you can reach Rethymno by hire car or taxi (around 1hr15min) or by bus. More info on bus timetables from Chania-Rethymno here and Heraklion-Rethymno here.
Alternatively, the closest ports with ferry connections with Piraeus and other Greek islands are Souda in Chania (54km, 1hr) and Heraklion port (81km, 1hr25min).
Food & drink experiences in Rethymno (with distances from Rethymno Old Town):
Raki
Olive Oil
Ecotourism
Wine
When is the best time of year for the food & drink experiences of Rethymno?
Food & drink experiences in Rethymno can be enjoyed all year round.
The best months are April-June and September-November as the weather is still warm (summer conditions in Crete start earlier and end later than elsewhere in Greece):
Vineyards offering wine-tasting in Rethymno are open all year round (some upon request, so be sure to call first).
In April and May, vines come alive once again with the first grapes of the year and, from September, you'll find the wineries in full production mode, with staff tending the vines and the grape harvest in progress.
Raki is distilled in November. Ask locals for villages where you can live a rakokazana experience.
Autumn
Spring
Summer
Winter
How long do you need to enjoy the food & drink experiences of Rethymno?
Each food experience and winery visits will last around 2-3 hours.
To enjoy all the food & drink experiences outlined here, you will need 2-3 days.
A full bucket list of experiences in Rethymno will require a minimum of 6-7 days.