READING TIME
As long as it takes to eat a slice of watermelon
If you've experienced the magical beaches of the Ionian Islands and the emerald beauty of the Epirus region of north-western Greece, then Parga (and its equally good-looking neighbour Syvota) has a double treat in store for you. It's is the most popular beach destination in Epirus and one of mainland Greece's most charming coastal settlements, with multicoloured houses cascading down the hillside and a Venetian castle above it. And once there, you're in beach heaven – not just because of the blue-green waters of the Ionian Sea but because there are beaches dotted all the way up the coastline to Syvota. Some are cosmopolitan and fully developed with amenities and water sports while others are hidden gems perfect for unwinding.
Easily reached by road from both Athens (4hr 50min) and Thessaloniki (3hr 45 min), or by plane to Aktio airport (1hr away), Parga serves up a treat. The rest of Epirus is on your doorstep (if you haven't checked out the mountains and villages, you must) or you could just concentrate on the beaches. Either way, prepare to discover the best beaches near Parga.

Kryoneri beach
Parga
Parga's resident beach, Kryoneri is a postcard-pretty stretch of golden sand within a small protected bay, with tavernas by the shore, plenty of greenery around it and views of the islet of Panagia. It's a showstopper that comes with a full set of facilities (including a diving centre) and the clearest, green-blue waters. And if you want some privacy, just up the road is Piso Kryoneri, smaller and more secluded and great for snorkelling. You can still get your iced coffee there, but with fewer people around.
Valtos beach
Parga
Occupying a full 3km within a wide bay, Valtos is the longest beach near Parga, with a mix of sand and fine pebbles and a cosmopolitan vibe. It's right by the town, with the Venetian castle standing above it, big enough to blend into and with everything on hand to keep you entertained, thanks to beach bars and a couple of watersports centres. Head to the edges for solitude, or plant yourself where the action is. It's all good.
Amenities: Sunbeds & umbrellas, restaurants, beach bars, water sports
Access: By road
Distance from Parga: 1.3km
Sarakiniko beach
Parga
Holidays in Parga wouldn't be complete without a visit to Sarakiniko, one of the prettiest beaches in the area. If you're looking for a quiet day at the beach surrounded by greenery and clear, turquoise waters you've found your spot. It's made up of fine sand and pebbles and is fully organised, with plenty of food & drink options. And as a bonus, it's near the similarly pretty beaches of Agios Sostis (small, secluded and surrounded by rocks) and Spartila (similarly secluded but sandy).
Amenities: Sunbeds & umbrellas, beach bars, taverna
Access: By road and boat from Parga
Distance from Parga: 12km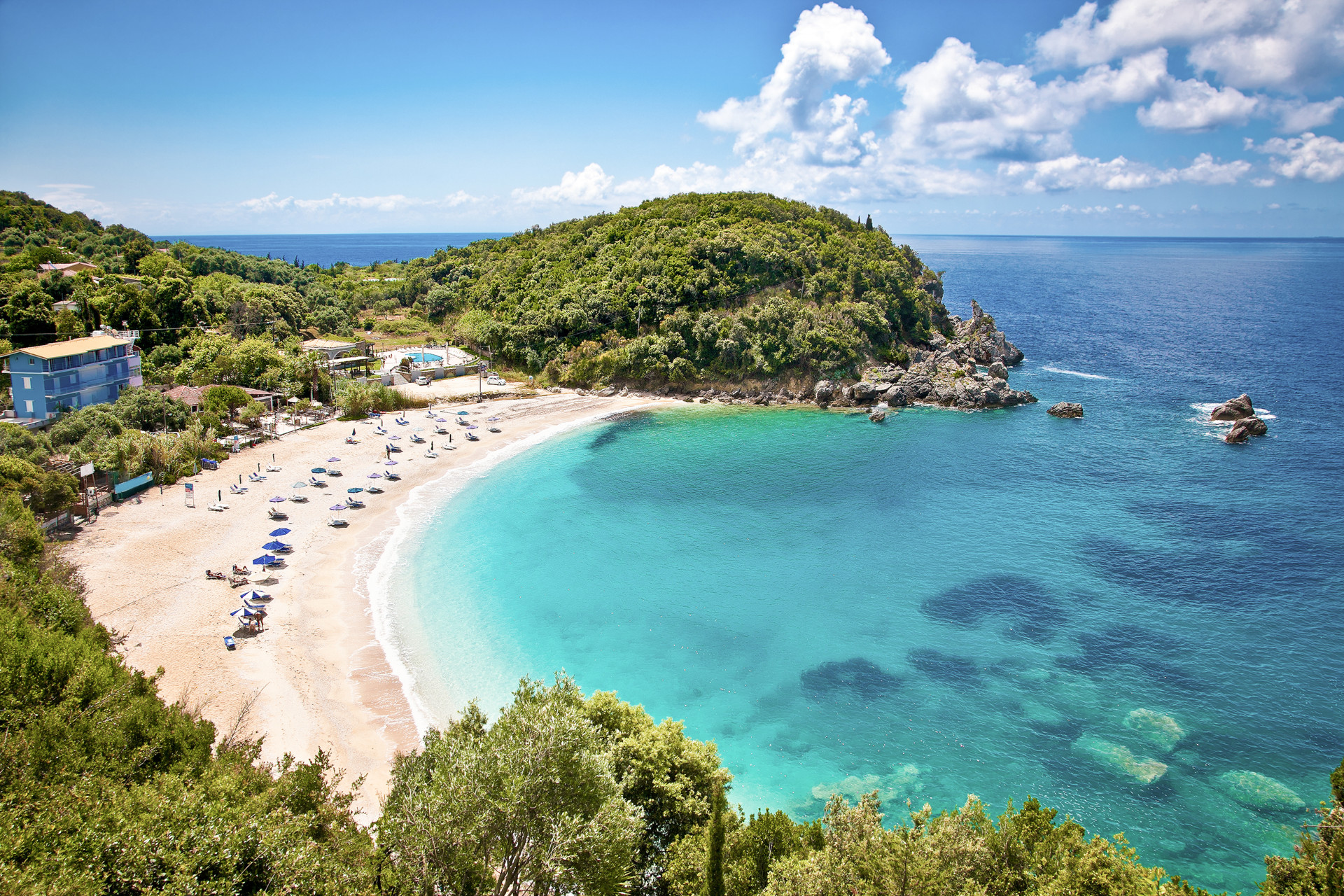 Lichnos beach
Parga
Proving that Parga sets the bar high when it comes to beaches, we present Lichnos. This stretch of fine white sand and pebbles just outside Parga has all the facilities you could want (including water sports) and a lively vibe, surrounded by the customary greenery. The waters are crystal clear and great for swimming and if you do want something more secluded, you'll also find Agios Giannakis beach nearby.
Amenities: Sunbeds & umbrellas, beach bars, water sports
Access: By road
Distance from Parga: 4km

Alonaki Fanariou beach
Parga
One look at the canopy of green from the trees draping over Alonaki Fanariou beach and you'll be left in no doubt that you've uncovered another of Parga's best beaches. Shallow, wind-protected and with water that's the most beautiful shade of blue, it's a beach that offers total relaxation. You'll find just enough amenities to keep you satisfied, without intruding on the calm. Make sure you get here early to find your spot.
Amenities: Α few sunbeds & umbrellas, snack bar
Access: By road
Distance from Parga: 24km

Loutsa beach
Parga
On the road from Parga to Preveza, Loutsa (or Vrachos) is another beach whose size (3km long) allows you to choose between amenities or seclusion. White sand and blue water dominate the view – although it's more open to the Ionian Sea than other beaches near Parga, so can be affected by the wind. There are water sports to keep you and the kids occupied and tavernas and beach bars to keep you fed and lubricated. Meanwhile, the sunset is reason enough to stay for afternoon cocktails. Pick your spot, whether you're under an umbrella or going rogue.
Amenities: Sunbeds & umbrellas, beach bars, tavernas, restaurants, water sports
Access: By road
Distance from Parga: 25km

Bella Vraka beach
Syvota
Switching to Syvota now, Bella Vraka beach is located on the tiny islet of Mourtemeno, just a few metres from the mainland so you can easily reach it by foot. Trees practically reach the shore, there are exotic vibes galore and the shallow water is always a hit with kids. Alternatively, you can just as well stay on the mainland. While no amenities exist (so come prepared), there is a water sports centre where you can hire a SUP or canoes and explore the coastline.
Amenities: Water sports
Access: By road
Distance from Parga: 35km
Blue Lagoon beach
Syvota
On Mourtos (another of the tiny cluster of islets opposite Syvota), Blue Lagoon is another beach gem with swimming pool-like water and exotic vibes galore. We're talking turquoise waters surrounded by tall rocks inside a small cove. You'll find a small strip of white sand to chill on but this time you'll need to catch a boat from Syvota (or hire one for the day). Bring your chills and enjoy the Ionian Sea, but don't forget to pack essentials.
Amenities: None
Access: By boat
Distance from Parga: 35km

Zeri beach
Syvota
Just 10mins from Syvota, Zeri has everything you need for a day out to the sea, including shallow water and a mix of sand and fine pebbles and greenery extending all the way around the cosy little bay. Alternatively, there are facilities to rent a boat and explore some other nearby hidden gems, like DEI and the larger Gallikos Molos beach, allowing you to enjoy all that green-blue water and greenery with fewer people.
Amenities: Sunbeds & umbrellas, beach bar
Access: By road
Distance from Parga: 25km
Megali & Mikri Ammos beach
Syvota
What's better than one beach? Two, of course … and here to oblige are Megali & Mikri Ammos. You'll find this double whammy south of Syvota, with Megali (big) Ammos first as you travel down the coastline. Both are cosmopolitan and family-friendly and tick all the boxes for amenities, but Megali Ammos has sand and pebbles while Mikri (small) is made up entirely of sand. In Megali Ammos, you'll find more space and a choice of eating options (Mikri Ammos only has a beach bar). Alternatively, Zavia beach is close by if you want to explore a little further. Zavia is similarly endowed with green-blue waters and fine sand.
Amenities: Sunbeds & umbrellas, beach bars, tavernas, water sports
Access: By road
Distance from Parga: 28km

Agia Paraskevi beach
Perdika
Another family-friendly beach (they pretty much all are) just south of Syvota (near Perdika) hits the spot every time. The first thing that grabs you in Agia Paraskevi is the densely forested islet in the bay (you can swim to it easily, but beware of the currents), contrasting magically against the shallow turquoise waters. Then, you notice the fine sand and pebbly beach spreading out across the windless cove and the scenic chapel of Agia Paraskevi to your left. And just like that, you know you're in for a magical day at the beach. There are beach bars and tavernas to cover you come lunchtime. And you can also get to Agia Paraskevi beach by boat from Parga.
Amenities: Sunbeds, umbrellas & beach bars
Access: By road and boat from Parga
Distance from Parga: 15km

Karavostasi beach
Perdika
Last certainly doesn't mean least when it comes to beaches near Parga and here to prove it is Karavostasi. This golden stretch of fine sand is big (700m) and cosmopolitan, with blue waters that get deep quickly and all the comforts for a full day at the beach. You can opt for the unorganised section or, if you prefer, base yourself near the sunbeds and umbrellas. There are also food & drink options around you. And if you want to take it up a notch, you'll find canoe and kayak rentals. The sunset is tops, too.
Amenities: Sunbeds & umbrellas, beach bars
Access: By road and boat from Parga
Distance from Parga: 16km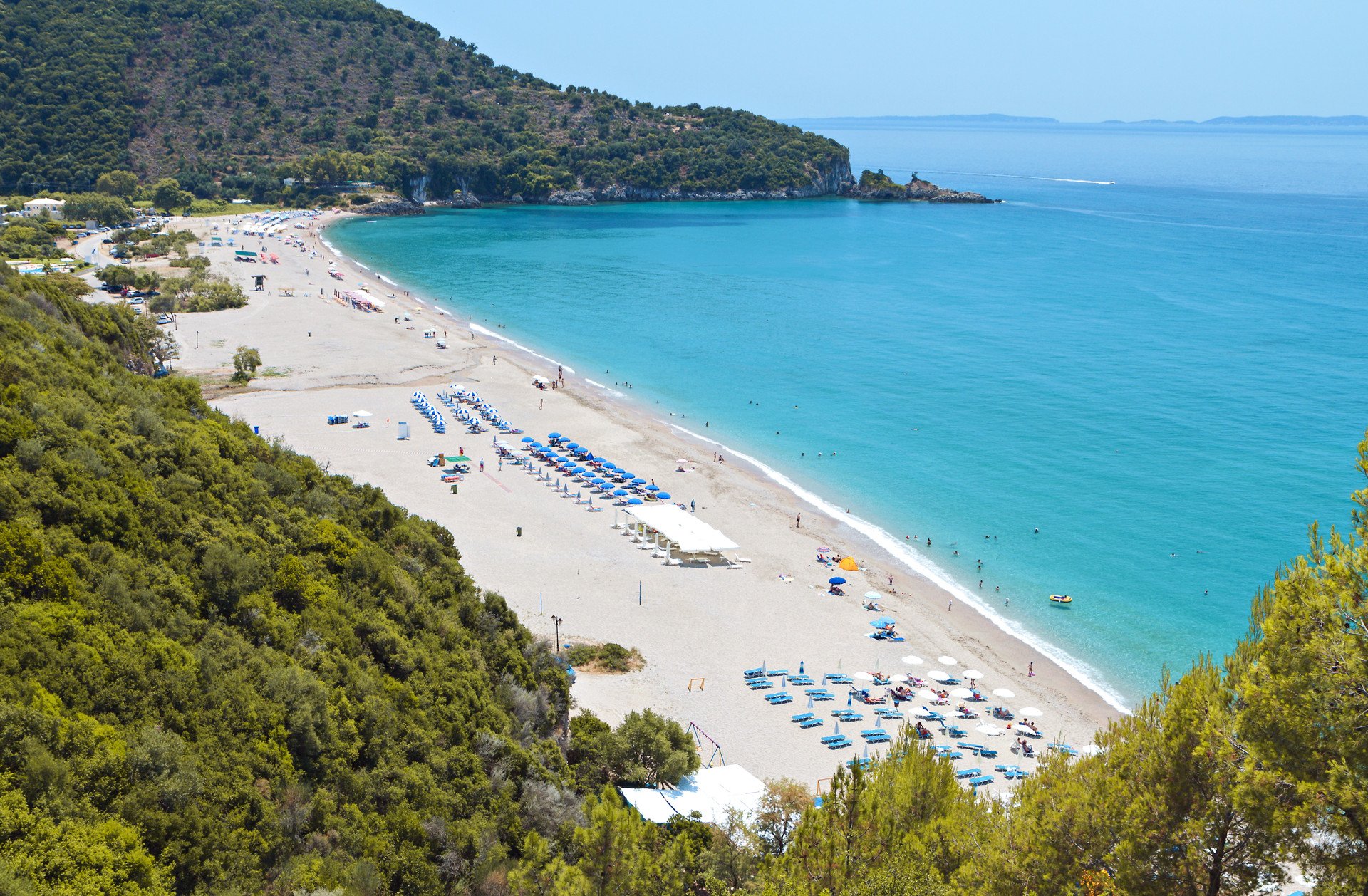 12 of the best beaches near Parga
So what grabbed your attention when it came to the best beaches near Parga? Fully organised and cosmopolitan or a little further away and remote? Either way … pretty impressive, right?
Book your trip
All your holiday planning needs in one place, letting you book direct and benefit from official online rates
Group
Group
Group