EXPERIENCE
A walking tour of Astypalea's radiant Hora
The main town of Astypalea emits classic Cycladic charm everywhere you look – except that it's not in the Cyclades at all and, once you've explored it, you'll be overcome with a unique energy.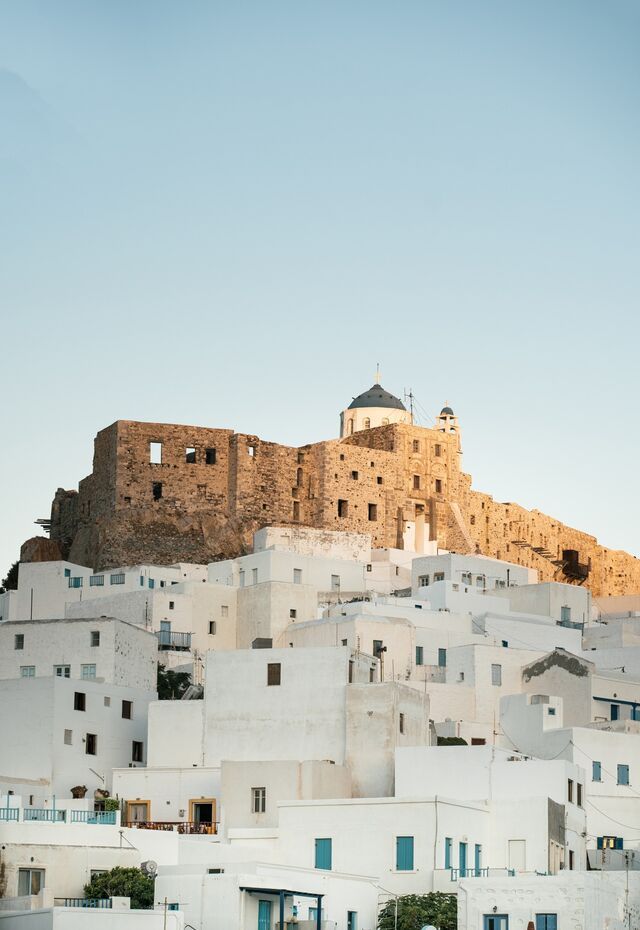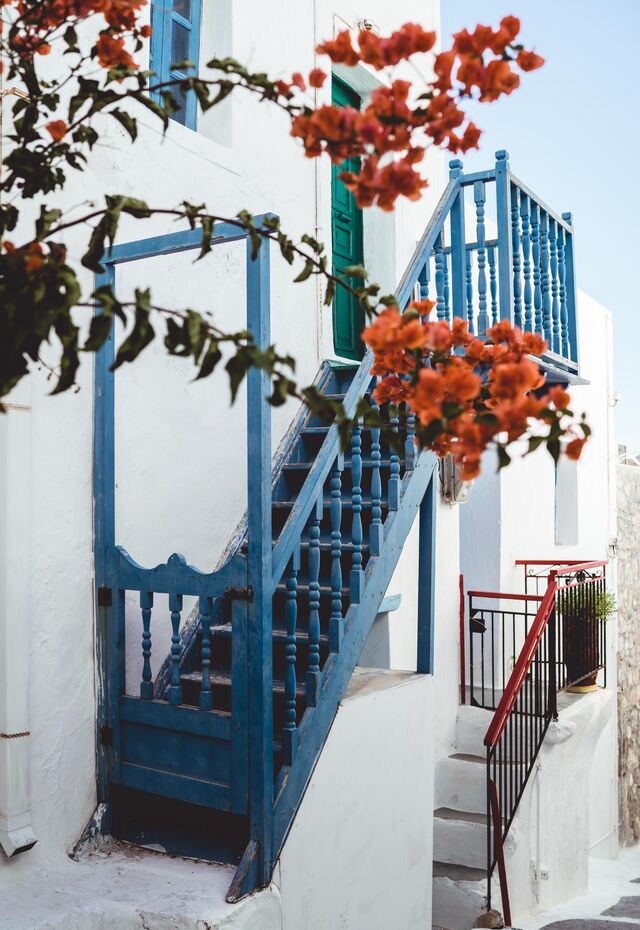 Duration
Full day
Season
All year round
OVERVIEW
Everything about Astypalea's gorgeous main town resembles the Cyclades islands at their very best. Whitewashed cube houses, with blue balconies and window frames, tumble theatrically down not one but two hillsides and courtyards are filled with bougainvillea and geraniums. Except Astypalea isn't in the Cyclades - it's part of the Dodecanese island chain – and it's unlike any other island in Greece.

Just ask anyone who has visited and they'll tell you about its very special energy. There's no better way to feel it than by exploring the main town (Hora) from top to bottom (or bottom to top in this case) by walking from the island's original port, Pera Gialos, all the way up to the Venetian castle.

You'll adore the view from the top, just as you will the narrow alleyways, into which little shops and trendy bars have breathed new life. And you'll know exactly when you've found your favourite spot to take in the view because it will be filled with that special energy you'll also be telling everyone about.
DON'T MISS
Pera Gialos
Sit down for a coffee to soak up the atmosphere of a naturally deep harbour with lively fish tavernas and coffee shops. From here, you'll have a view of the houses sprawling up the two hillsides of Hora and the castle at the top.
The Archaeological Museum
Before you leave Pera Gialos, take the time to visit Astypalea's Archaeological Museum. The collection goes back to prehistoric times, with clay vases, jewellery, and bronze and stone tools from the chamber of a Mycenaean tomb. Also interesting are the votive ornaments from sanctuaries around the island, including an inscribed votive base of Apollo from the 4th century BC.
The Windmills
Your walk up to Hora will be punctuated by the photographs of courtyards and cubed houses and eventually you'll reach the central square. Here, you'll find the town's eight windmills (cue more photographs). People used to bring their crops here for milling. Nowadays, they bring books (a few have been turned into a lending library with foreign-language books) and one is an information kiosk.

The castle
The vaulted passageway on the southwest side is the castle's only entrance. You can still feel the protection its imposing walls once gave and you'll be spoiled for views once you're inside. But the one from the church of Panagia Portaitissa (Keeper of the Gate) is possibly the best on the island. Built in the 18th century by a blind Athonite monk, it's the venue for a festival on August 15. At night, there's a great atmosphere in the bars on the narrow roads around the castle. The view was made for cocktails.
The local food
As you walk, keep a lookout for your choice of taverna for dinner. The food here is fantastic. A few specialities to look out for are Poungia with chlori (bread pouches with a local cheese), ardista (stewed lentils with dough balls), lambriano (lamb stuffed with rice and liver) and xirotigana (folded and fried pastries drizzled with honey).
GET PLANNING
To Pera Gialo
From the New Port
By car or taxi: 52km (10min)
From Livadia
By car or taxi: 2km (5min)
From the airport (Maltezana or Analypsi)
By car or taxi: 8.5km (16min)
By bus: Regular service in summer
You can visit Astypalea at any time of year, but most of the shops, restaurants and cultural sites are open between May-October.
If you want to feel the island at its quietest and most charming, visit in May-June or September-October.
Astypalea is famed for its festivals, which take place in July, August and at the start of September.
---
Archaeological Museum:
Seasonal opening times apply (8:30-16:00 from April-October).
Entry: €2 (€1 reduced).
Autumn
Spring
Summer
Winter
The length of your walk is up to you, but all the attractions described here can easily be done in one day.
Hora is the heart of Astypalea, so there's nothing to stop you walking it again and again until you know every corner.