READING TIME
As long as it takes to drink a Greek coffee
Located just off the furthest tip of the Peloponnese, Kythira is an amalgam of the best parts of southern Greece. You'll find villages, hills and gorges, blue-green water that could be straight out of the Ionian Sea, and Venetian castles and Byzantine fortresses that are reminiscent of those in Mani and Crete. The island's cultural pedigree is undisputed. This is, after all, what Homer cited as the Goddess Aphrodite's birthplace, and as you can guess, the beaches in Kythira are as mythical as The Iliad itself. They come in different styles and sizes, with some great for families and others ideal for bohos and off-the-grid travellers. Nature rules on this island that can be reached by plane from Athens or ferry from Piraeus or Neapoli in the Peloponnese. Read on and discover 10 of the best beaches for unforgettable holidays in Kythira.
Kaladi beach
One of the most photographed beaches in Kythira, Kaladi is a showstopper. The route there is particularly scenic and after a short drive following a forested ravine, you arrive at a beautiful pebbly beach – but not before you negotiate around 150 steps. It is actually made up of three separate coves, with the first two separated by a giant boulder. The third section of the beach is essentially a small open cave that leads to another very small secret beach.
The area is carpeted in green, which juxtaposes dramatically with the crystalline waters. It's best to avoid Kaladi beach when northerly or easterly winds pick up and make sure to come prepared (you'll need shade) as the canteen above the beach is the only place to reload.
Amenities: Snack bar (above the beach)
Access: By road & steps
Distance from Hora: 15km
Kamponada beach
Situated between Firri Ammos and Kaladi, Komponada should definitely be on your bucket list of Kythira beaches, as it's one of the largest and wildest on the island. As easy to get to as it is on the eye, it is bathed in green, with rocky promontories to either side and it is endowed with fine pebbles and crystal-clear, deep blue waters. Kamponada is so big that if you walk from the beach bar at one end of the beach to the other end, you'll be on your own – even in peak summer.
Amenities: Sunbeds & umbrellas, snack bar, parking
Access: By road
Distance from Hora: 13km
Kapsali beach
For a fun day out, look no further than Kapsali. Conveniently located close to Hora (the main town), it's another of Kythira's most popular beaches. You'll find water sports as well as shops and tavernas, and there are views of one of Kythira's medieval castles. Kapsali's green-blue waters and sand (with some pebbles) tick all the boxes, especially for kids who love the shallows.You can hire a pedalo and explore the cove and there are boat trips from Kapsali port to Hytra, a rocky islet you can see from the beach.
And if you are looking for something more secluded, you can always seek out nearby Sparagario beach. But you're likely to find what you need to spend the day in Kapsali, especially once you spy the great seafood tavernas behind the beach.
Amenities: Sunbeds & umbrellas, tavernas, cafe restaurants, water sports, sea ramp
Access: By road
Distance from Hora: 2.5km
Firri Ammos beach
Not to be confused with the same-named beach on the other side of Kythira, Firri Ammos (after Kambonada beach and close to Kalamos village) is your go-to option for a fun day under the sun. It is one of Kythira's bigger beaches and gains plaudits for its clear, green-blue waters. It has red-coloured pebbles and is surrounded by a sloping wall of rocks that juts into the sea. There are umbrellas and sunbeds but not much else (so bring supplies), except the village of Kalamos. The last stretch of road is a dirt track.
Amenities: Sunbeds & umbrellas
Access: By road & walk
Distance from Hora: 11km

Paleopolis beach
The longest beach in Kythira, Paleopolis is also one of the most family-friendly on the island, as its clear and shallow waters are safe for the little ones. The beach has sand and pebbles and ample room for you to explore, should you wish to dispense with comforts. Alternatively, a short drive away is Limni, a wilder and much smaller beach with sand, pebbles and chilled vibes. East of Paleopolis, the lovely seaside village of Avlemonas is ideal for food.
Amenities: Sunbeds & umbrellas, snack bar
Access: By road
Distance from Hora: 18.3km

Chalkos beach
Chalkos' combination of emerald-green waters and smooth pebbles means it's a perfect beach for snorkelling and you'll find all the amenities you'll need, including a beach bar. All of that means that Chalkos is one of Kythira's more popular beaches, so it's worth getting here early or later in the afternoon, but you should still find plenty of room to enjoy a perfect day out. There's a good road leading to the beach, half of which is organised and half just as nature intended. It is one of the few beaches in Kythira unaffected by northerly winds.
Amenities: Sunbeds & umbrellas, snack bar, parking
Access: By road
Distance from Hora: 8km

Melidoni beach
Another action-packed beach in Kythira that's easy to get to. Melidoni beach is located in a small U-shaped cove and boasts some incredibly clear waters and fine sand and also has views of the islet of Hytra. There are plenty of water sports options and you can rent a kayak or SUP and explore some hidden bays. There are facilities over half the beach, while the other half is wild … so choose what you fancy and enjoy the ride.
Amenities: Sunbeds & umbrellas, snack bar, water sports, parking
Access: By road
Distance from Hora: 11km

Fourni beach
On the northern coast, Fourni is perhaps Kythira's most boho beach, with a smattering of read umbrellas and a mix of very shingle and sand. Once you're settled, soak up the laid back atmosphere and don't forget to pack your snorkelling gear. There's a short dirt road to get here and note that when the northerly winds pick up, the water can get choppy.
Amenities: Sunbeds & umbrellas, snack bar
Access: By road
Distance from Hora: 29.8km

Kakia Lagada beach
Kakia Lagada is long and sandy, with a beach bar and a lively atmosphere and enough space to roam freely. And roam you will because, whilst there's everything on Kakia Lagadia, there are other beaches nearby that are also worth exploring. Just to the right, there's a quiet beach with fine sand and pebbles and the extra attraction of being the end-point of a green, rocky ravine with a small lake at the back of it. It's prime Insta-content. Kakia Lagada is also close to the village of Agia Pelagia and its lovely beach, as well as the nearby beaches of Firri Ammos and Lorentzo. Lorentzo is big and secluded, if that's what you're looking for.
Amenities: Sunbeds & umbrellas, beach bar
Access: By road
Distance from Hora: 21.5km
Limnionas beach
Another of Kythira's most scenic and family friendly-beaches, Limnionas is a superb option for an easy day out. It has shallow waters and sand and is surrounded by pine groves that offer some natural shade. There's also a solitary taverna serving seafood. All around the small cove, there are white-washed fishermen's boat-houses with colourful doors, adding to the allure. The snack bar gives you every excuse to spend the day here.
Amenities: Snack bar
Access: By road
Distance from Hora: 19.5km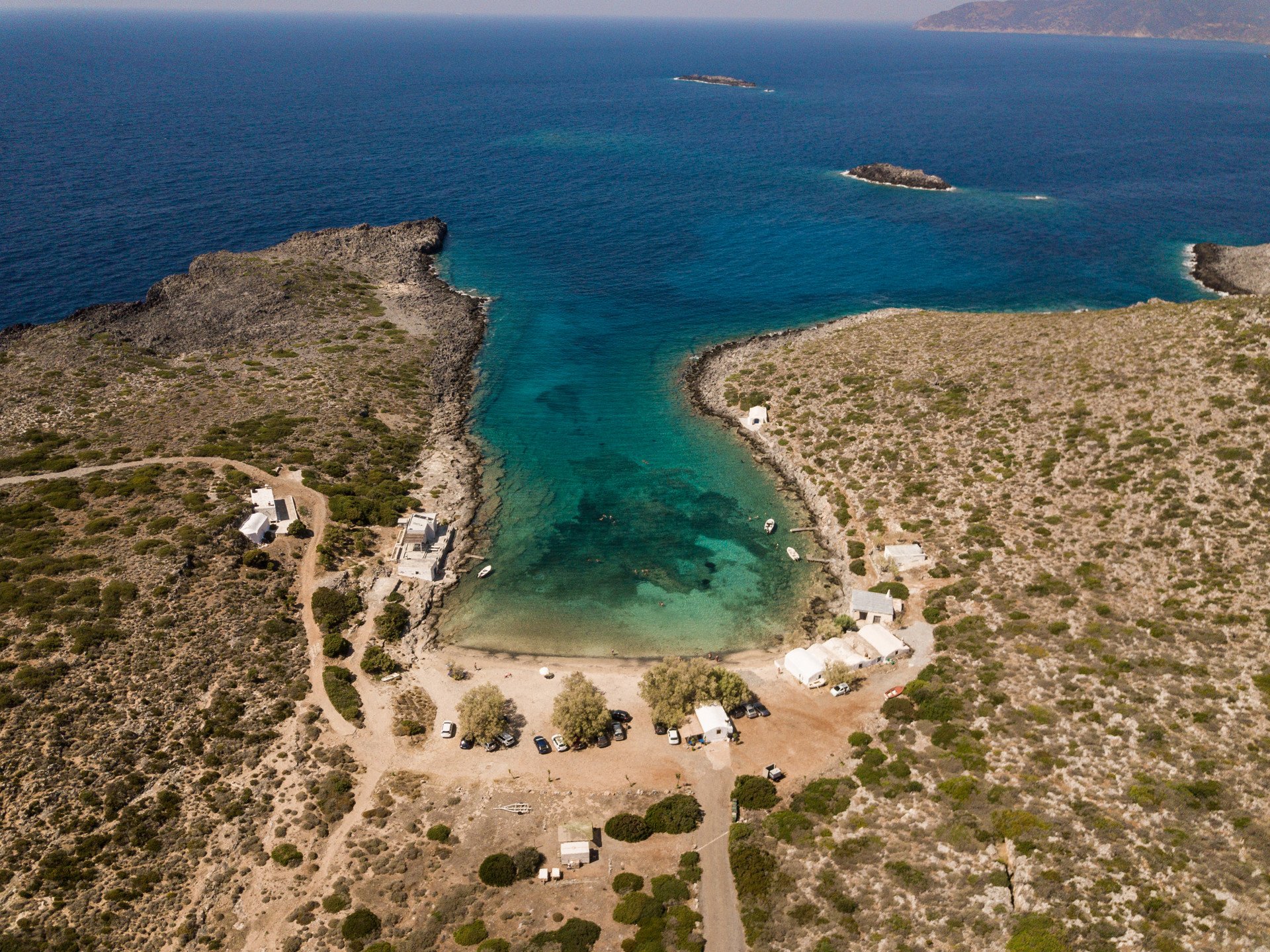 10 of the best beaches in Kythira
Kythira is a hidden gem that guarantees top-notch holidays. With rich nature, amazing culture and jaw-dropping beaches, you'll find reasons aplenty to be tempted back. Just follow the siren calls.
Book your trip
All your holiday planning needs in one place, letting you book direct and benefit from official online rates