READING TIME
As long as it takes to eat a Greek salad
The second-biggest Dodecanese island, Karpathos is a superb choice for quiet holidays in Greece, with pristine, wind-swept beaches to add to time-forgotten hamlets such as Olymbos (where women still wear traditional costumes) and a delicious culinary tradition. For some rest and relaxation with the family or a dose of action with friends (the wind-surfing is legendary), this raw gem will deliver. So whatever your preference, we've got you covered with 10 of the best beaches Karpathos has to offer.
Apella beach
Getting there isn't straightforward, but this beach is a straight banger. The most famous beach in Karpathos, Apella is also one of the most Instagrammable, with calm, clear turquoise water that will draw you in. Found on the eastern part of the island, Apella is wedged inside a cove with thick, white, pebbly sand that is flanked by massive rocks and pine trees. There's plenty of underwater beauty to see while snorkelling.
And if you make the trip by car, you can pop into the 13th century AD (probably) chapel of Agios Loukas and its superb frescoes. Otherwise, there's a boat service from Pigadia.
Amenities: Sunbeds & umbrellas, taverna
Access: By road & short hike or by boat
Achata beach
Achata beach is located in a valley surrounded by tamarisk trees and rocks, which makes getting there part of the experience (the views as you drive down the valley are breathtaking). As for Achata beach, it's lapped by incredibly clear, turquoise-green waters and is covered in fine pebbly sand. There is a solitary rock some 50m into the water, great for snorkeling and diving around. In fact, that's almost obligatory, as this is a prime spot for missions to nearby caves. Get your grub at the solitary taverna.
Amenities: Sunbeds & umbrellas, taverna
Access: By road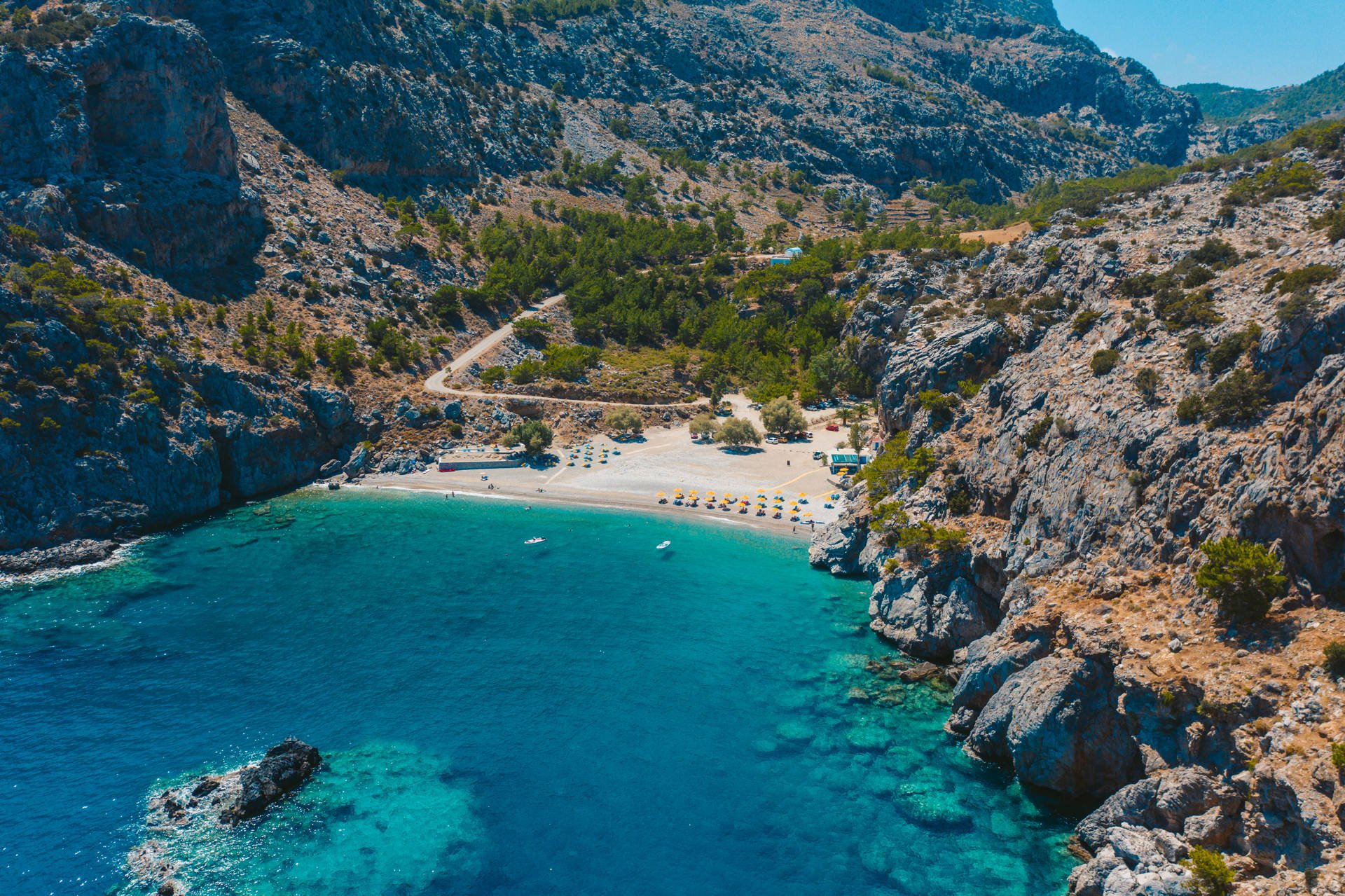 Kyra Panagia beach
The lone chapel sitting sentinel on one side gives this beach its name but make no mistake, this is one of the most famous beaches in Karpathos. Kyra Panagia attracts just about anyone who appreciates beauty. Against a backdrop of vertiginous, green mountainside, the shallow, green-blue waters and fine, white pebbly sand are a magnet for visitors to Karpathos, especially families. There's a smattering of tavernas and shops that make Kyra Panagia an easy choice for them. And an easy choice for you, too.
Amenities: Sunbeds & umbrellas, tavernas
Access: By road

Amoopi beach
The maths is indisputable. Two beaches are better than one, and Amoopi serves you three of these bad boys (Mikri Amoopi, Votsalakia and the main beach of Amoopi). How's that for choice? All are well-catered with amenities, shallow water and fine pebbly sand, with Mikri Amoopi being quieter and sandier. That and the fact that they are mostly windless make them ideal for families. Amoopi beach, in particular, is your one-stop-shop, where you can park the kids, sip your cocktail at ease and enjoy the cerulean waters. The finishing touch is given by the lone chapel of Agion Apostolon, visible from the beach.
Amenities: Sunbeds & umbrellas, tavernas, parking, restaurants
Access: By road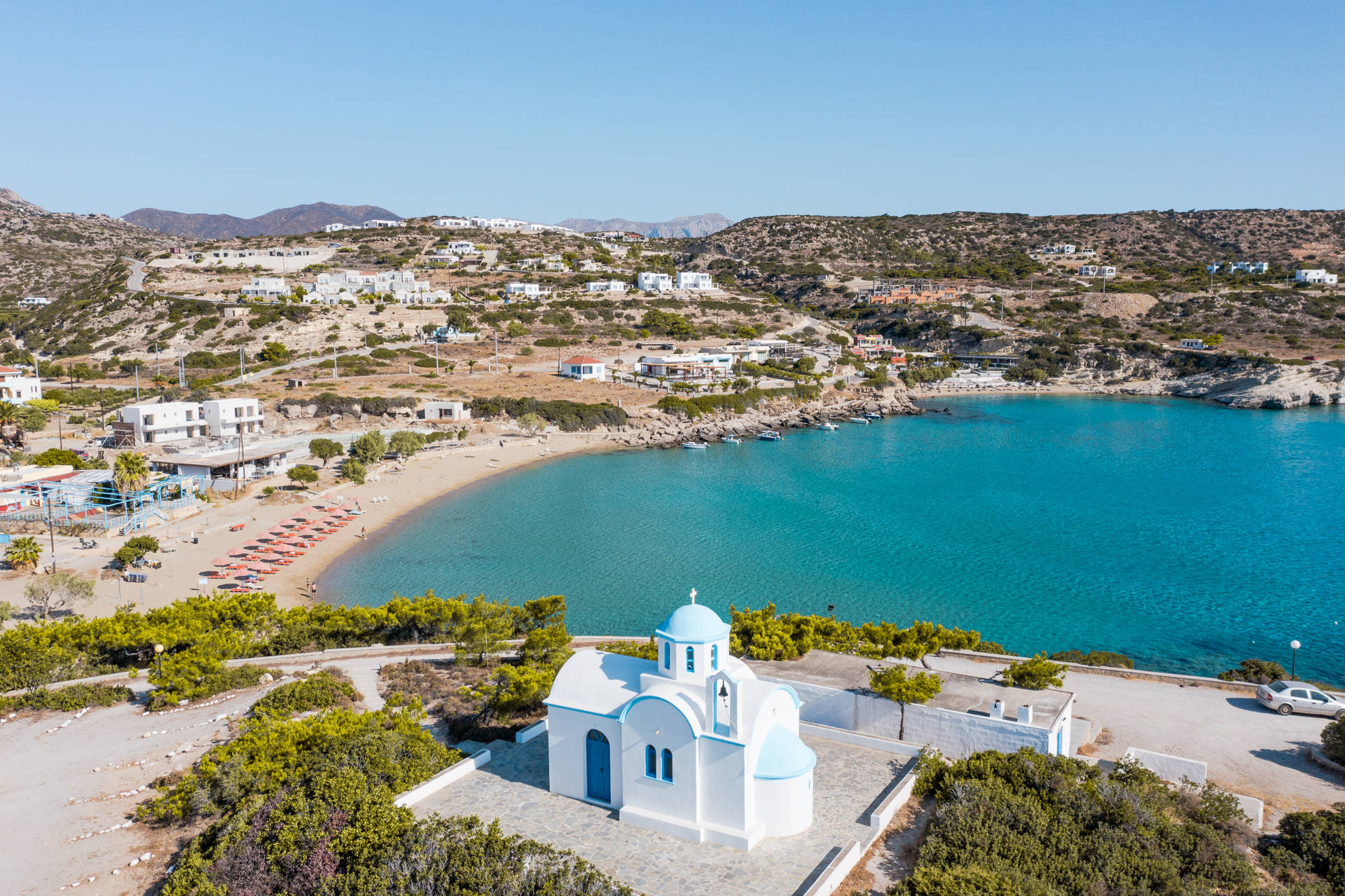 Agios Nikolaos beach
Your holidays in Karpathos should definitely include Agios Nikolaos beach. Maybe even more than once. Located next to the settlement of Arkasa, this wild spectacle of a beach on the western part of the island will enthral you with its fine yellow sand, choppy waves and awesome views of Kasos island. It's a boho beach and big enough that you can find your spot and relax, with the ruins of Paleokastro above it and a sunset to die for. Just don't confuse it with the other Agios Nikolaos beach in Karpathos. That's another beach on the northern part of the island, more tranquil and close to the village of Spoa. As for Agios Nikolaos, southern branch, there are some lovely fish tavernas nearby, so pack your appetite.
Amenities: Sunbeds & umbrellas, taverna, parking, beach volley, beach bar
Access: By road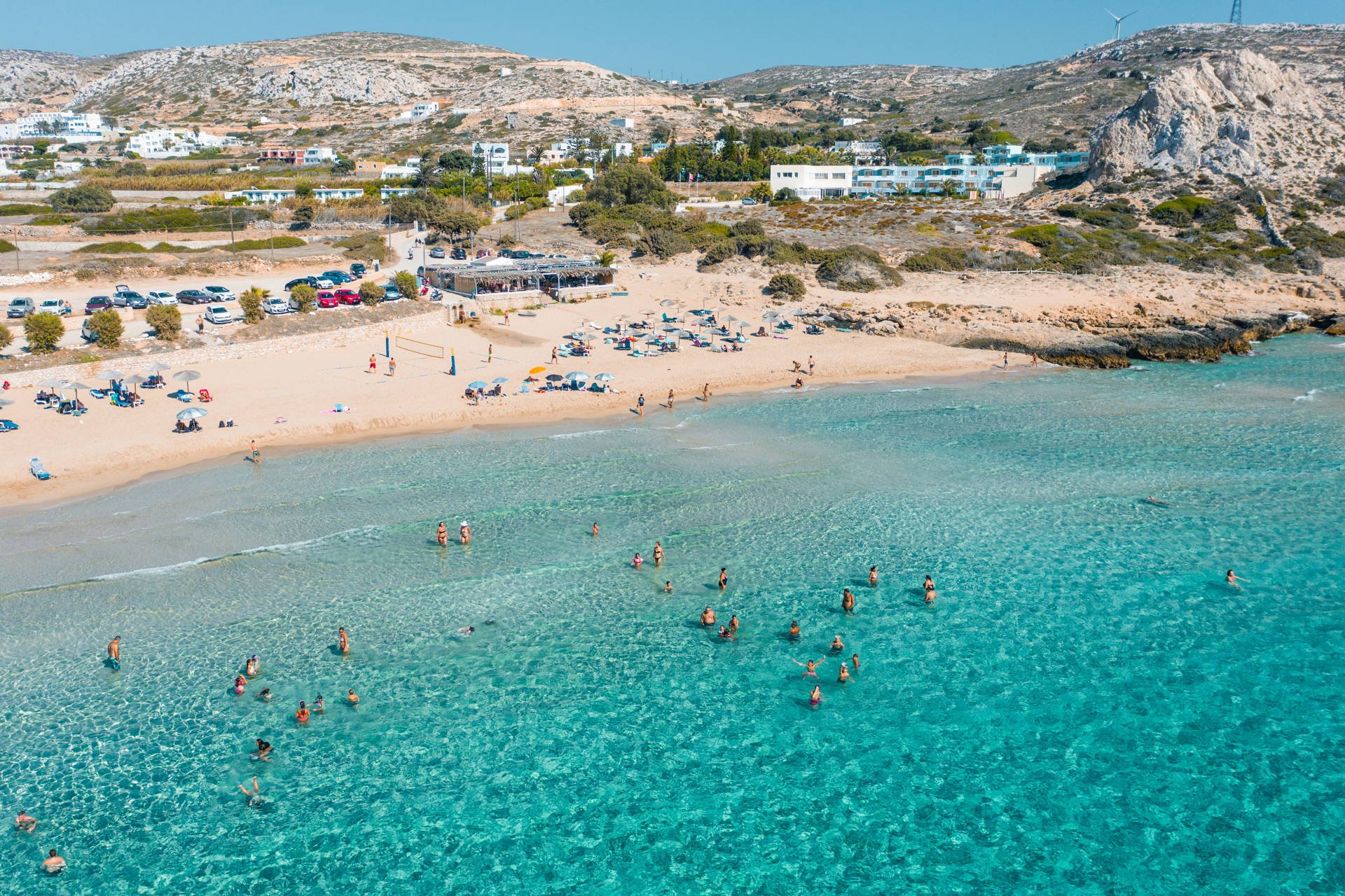 Diakoftis beach
One of the prettiest beaches in Karpathos, Diakoftis is all about the fluffy white sand and blue-green waters. Getting there presents a mild challenge as you'll have to endure several kilometres of dirt road but once there, you'll be treated to a wild setting of cedar trees, sand dunes and small coves.
Lefkos beach
Scenic and cute, the seaside settlement of Lefkos (northern Karpathos) and its four resident beaches are an absolute delight. The craggy coastline is home to all four. The main one, Lefkos beach (also known as Gialou Chorafi) has fine yellow sand and green-blue waters (as do all) and is in a virtually enclosed bay, attracting a fair share of people. If that's not your thing, just meander across to Panagias Limanaki for more seclusion. Further along, you get to Fragolimnionas, with views towards the islet of Sokastro. For even more tranquility, there's Potali, on the other side of Lefkos. All are ideal for families and come with some amenities. Don't miss out on the fresh fish.
Amenities: Sunbeds & umbrellas, tavernas, cafe
Access: By road

Makris Gialos beach
If you're into wind- and kite-surfing, strap on and hold tight because the winds that blow across Makris Gialos beach will get your adrenaline spiking in no time. Stretching out across a long, sandy bay with clear, shallow waters, Makris Gialos beach (aka Chicken bay – don't ask!) has hosted the annual windsurfing championship in the past and gleefully greets water sports enthusiasts of all abilities. You can rent equipment and give it a go. Or not. Either way, this is one of the prettiest beaches in Karpathos.
Amenities: A few sunbeds & umbrellas, beach bar, taverna, water sports
Access: By road

Christou Pigadi beach
One of the most cosmopolitan beaches in Karpathos, Christou Pigadi is a gem made up of fine white shingle. The calm sea is freshened up by a trickle of spring water making it great for those sweltering summer days. Meanwhile, the adjacent beaches of Vatha and Damatria are more secluded and wild, good for exploring. Christou Pigadi beach is a top choice for those looking for calm and comfort.
Amenities: Sunbeds & umbrellas, taverna
Access: By road
Agios Minas beach
If you want beach seclusion in Karpathos, Agios Minas is where you need to be. This off-grid swimming spot is hard to get to, with a 4km dirt road standing between you and beach bliss. Alternatively, you can catch a boat from Pigadia. It's located in a bay with deep, green-blue water and fine pebbles and is surrounded by craggy rocks. The chapel of Agios Minas above the beach is good for a hike and a few obligatory photos. This is one of the most isolated beaches in Karpathos come prepared.
Amenities: None
Access: By road, by boat

10 of the best beaches in Karpathos
Under the radar and pretty as you like, Karpathos is one of the most remote islands in Greece, with traditional mountain villages, delicious local food and pristine beaches. If you want authentic, step right up and grab yourself a slice.
Book your trip
All your holiday planning needs in one place, letting you book direct and benefit from official online rates
Group
Group
Group