Warm springs, a therapeutic lake, relaxing spas and salt grottos. Where do we start?
Hammam, spas and warm springs: a respite from city exploration to set you up for the journey home
Holidays don't always give us the rest we need. The rush to see as much of a city as possible and live its everyday life within the few days you have available can leave you full of images but physically exhausted. Walking is inevitable, so it is very likely that along with the souvenirs, you will also carry a pair of swollen feet back home. To avoid all this and make your travel experience even better, try going for a relaxing massage just before boarding that return flight. Athens is full of heavenly little retreats where you can do just that.
Visit the unique salt grotto in Athens. Situated in Elliniko, just a few metres from the sea, its walls are covered by rock salt from Pakistan, its heated floor a mixture of Polish mineral salt (70%) and sea salt from the Dead Sea, thus creating the beneficial, healing microclimate similar to the Polish salt mines. The treatments, based on salt's healing properties, promise to relax you and fortify your body against stress, viruses and tiredness. Exactly what you need for the end of your stay.
A bit further away from the city centre lies Lake Vouliagmeni, whose water has healing properties. The water comes from natural springs deep within the earth and keeps its temperature of around 22-23 degrees Celsius throughout the year. It contains a high concentration of a variety of trace elements and metals (potassium, sodium, lithium, calcium, iron, chlorine, iodine) naturally diluted at such temperatures.
The water is conducive to recovery from several ailments and has been used since antiquity, with Hippocrates leading the way. Apart from swimming in the therapeutic water of the lake, you can also enjoy the fish spa experience as it's home to Garra Rufa fish. The little fish cleanse your skin of its outer layer of dead cells while giving you a relaxing massage at the same time. At the end of the treatment, the sense of wellness and relaxation is second to none while your skin is incredibly soft and glowing healthily.
Another area famous for its warm springs and natural mineral water is Loutraki, around 1hr15min by car out of Athens. Famed since antiquity, the therapeutic waters of Loutraki, continue to provide prevention for a multitude of pathological, musculoskeletal, skin and other conditions, their temperature at any time of year 30 degrees Celsius. With the added luxury of ultra-modern facilities, the Loutraki Thermal Spa awaits your pleasure and relaxation with steam baths, hydrotherapy, hammam, sauna, clay baths and private massage parlours.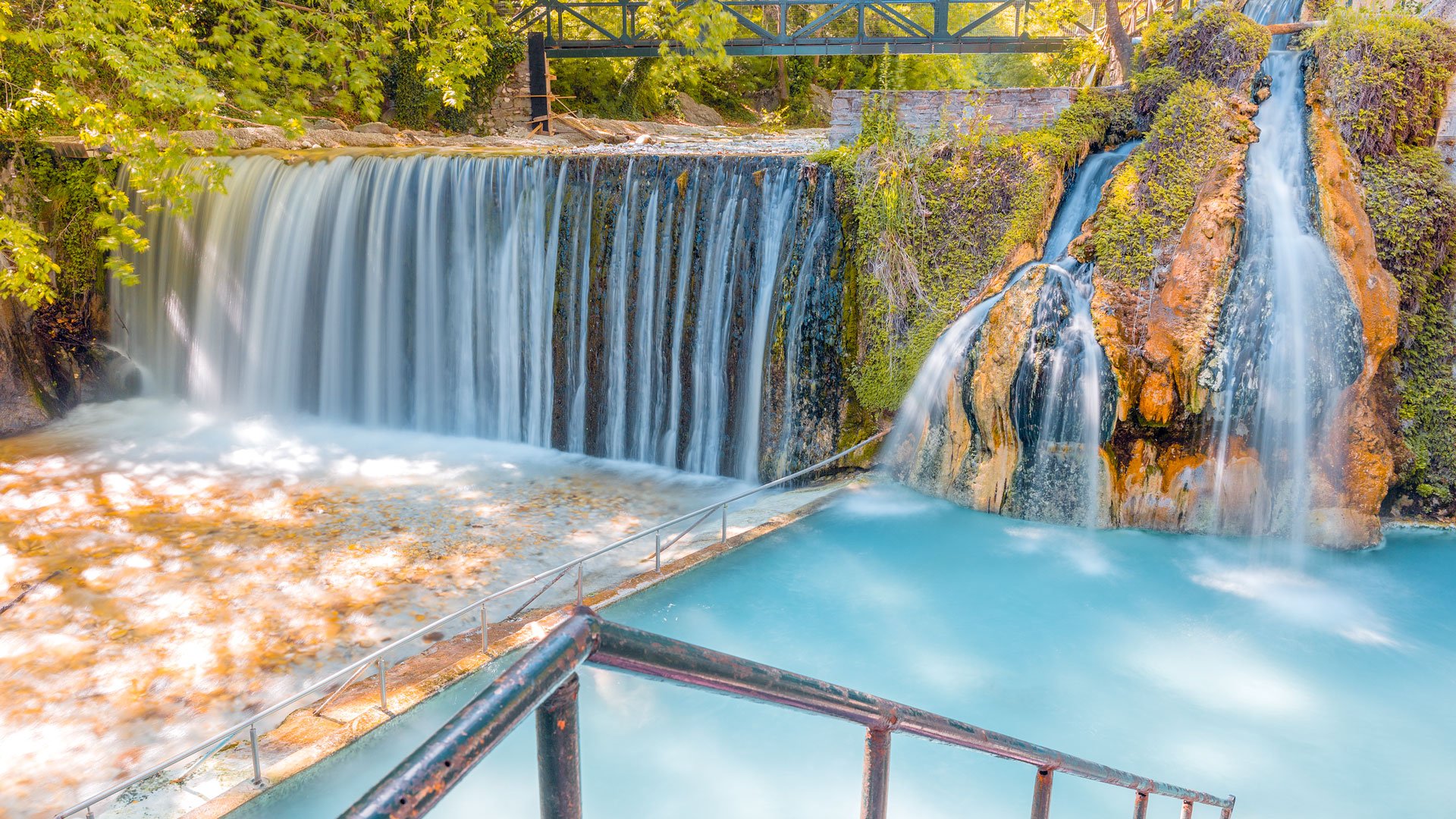 A little further away, in northern Evia, Loutra Aidipsou, a classic spa resort with natural hot springs with renowned healing properties. Apart from the hotel spas, 20 hydrotherapy centres operate in Loutra, equipped with indoor and outdoor pools, Jacuzzi, hydro massage, aero massage and waterfalls. Among them is the EOT (National Tourism Organization) hydrotherapy centre, with hydrotherapy and physiotherapy facilities. Alternatively, you can take a swim in the sea next to Loutra Aidipsou's sandy beach while natural spring water flows directly from the surrounding rocks.
Adorned by its majestic ancient temple and with sweeping views of the Aegean, Cape Sounio Hotel boasts its own Elixir Spa Retreat. Treat yourself to the ultimate in pampering with a special Elixir facial or body treatment and the unique Ayurveda programmes devised by therapists all the way from India, a country certainly not short of know-how when it comes to the holistic approach to wellness.
Back in the heart of Athens, there are three unmissable therapeutic havens. For an authentic hammam experience, visit Hammam Bath. Indulge yourself in the healing powers of steam and enjoy deep exfoliation and a relieving massage. Close by, the Grande Bretagne Hotel's multi-award-winning GB spa offers a Finnish sauna, ice fountain, foot soaks as well as its highly reputed steam baths (Amethyst Grotto, Laconium, Herbal Steam Bath), all of which carry unique beneficial properties.
Finally, the Divani Apollon Palace & Thalasso hotel in Athens is home to the Divani Athens and Thalassotherapy Centre. The only thalassotherapy centre in Attica offers refreshing thalassotherapy programmes combined with some of the best beauty treatments and wellness programmes.
Book your trip
All your holiday planning needs in one place, letting you book direct and benefit from official online rates
Private
3 hours (..or more!)
Free cancellation
Until 73 hours prior to scheduled commencement date of service: no cancellation fee
Private
Private
1 hour 15 min
Free cancellation
Μore than 16 days before the activity, the Company refunds the full amount between