Birthplace of the mathematician Pythagoras, philosopher Epicurus and writer Aesop, Samos has so many ways of tempting you to its shores, with gorgeous mountain and coastal villages and the island's famous sweet wine standing out. And to that list, you can add the beaches. Lots of them. Most are framed by greenery and deep blue waters and are of all sizes and styles for families, friends and couples. You'll find fully organised beaches (with tavernas, beach bars and water sports) or secluded gems on one of the greenest Greek islands. So let's get that bucket list started with 12 of the best beaches in Samos.
Potami beach
One of the best-known beaches in Samos, Potami is surrounded by greenery and has incredibly clear water. It's also one of the most photogenic beaches in Samos (which is saying something), with the chapel of Agios Nikolaos above it.
The view is magical, especially at sunset. Potami beach is close to Karlovasi and easy to get to and has amenities, although there is also space to feel free. It is known for its shiny pebbles and getting deeper quite quickly. Note that it can get windy.
Amenities: Sunbeds & umbrellas, beach bars
Access: By road

Mikro & Megalo Seitani beach
Natura 2000-protected area around Mikro & Megalo Seitani beaches in Samos are two of the most scenic beaches in Greece. Mikro Seitani is the smaller of the two, with high rocks, emerald waters and a feeling of total seclusion. Meanwhile, at the slightly larger Megalo Seitani the wow factor is amplified by the sight of Kakoperto Gorge from the sea.
Tsamadou beach
One of the most popular beaches in Samos, Tsamadou stretches out across Kokkaris bay like a mirage. The thick pine groves around the bay and green-blue waters give Tsamadou beach a tropical feel, and the small pebbles keep the water incredibly clear, making it prime snorkelling territory. There are amenities aplenty (including sunbeds, umbrellas and a beach bar) and it's easy to get to. Just watch out for northerly winds.
Amenities: Sunbeds & umbrellas, beach bar, snack bar
Access: By road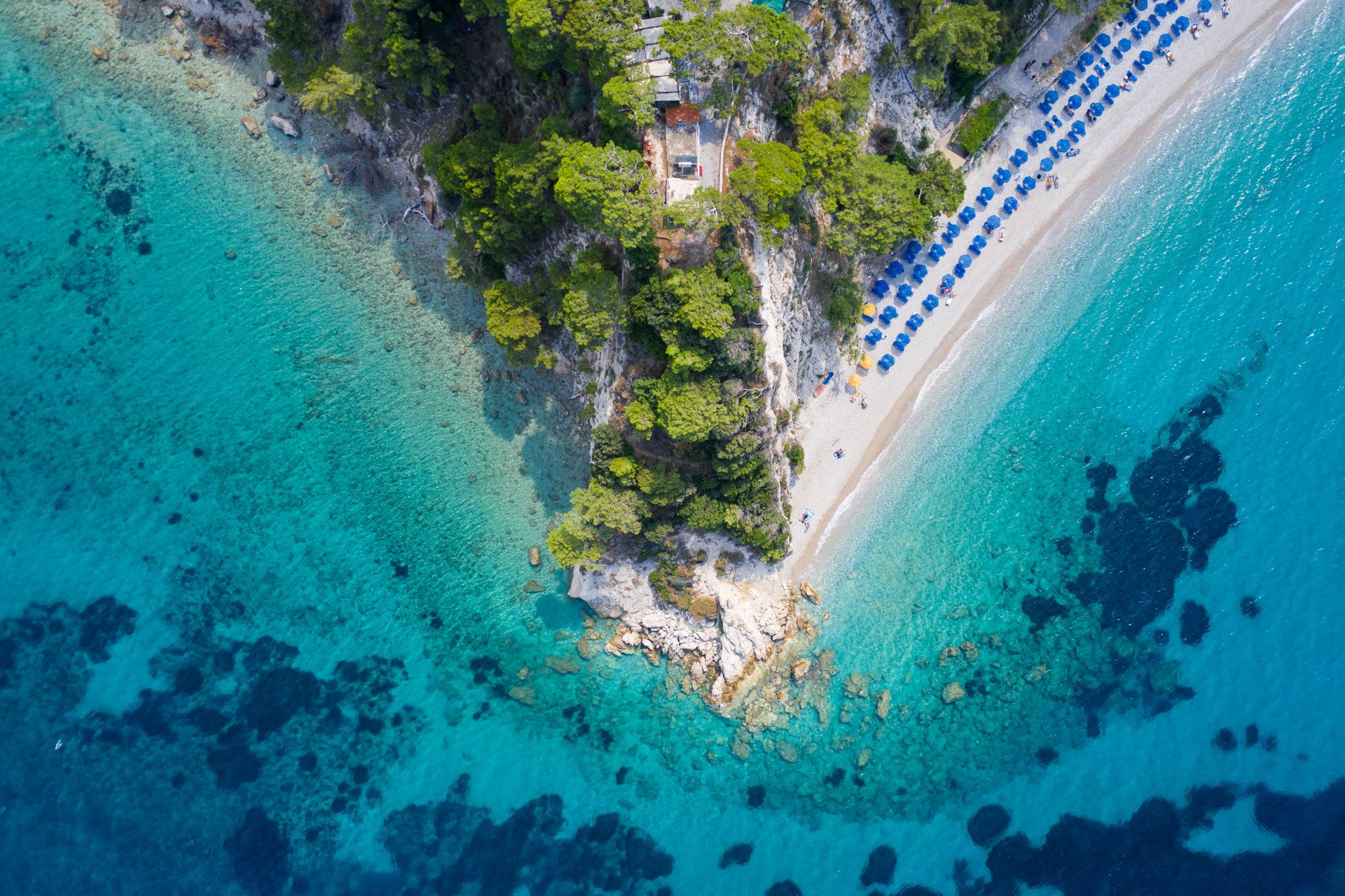 Kokkari beach
Visiting the little fishing village of Kokkari and its beach is a must when you are in Samos. The beauty is something else … and we're not just referring to the beach. The little white houses spreading amphitheatrically from the village are heavenly. The waters are blue-green, with fine pebbles and crushed shells, and there's another smaller beach next door.
Kaladakia beach
One of the smaller beaches in Samos, Kaladakia is a gem that rewards you with some of the clearest waters. It is located within Marathokampos (a large bay in southern Samos with many beaches) and is surrounded by 3m tall rocks. The beach is made up of fine pebbles and has a rapidly descending seabed (snorkelling, ahoy). There's also a semi-submerged cave, making for an awesome sea entrance (if you've got a GoPro, make sure it's charged). It's secluded, yet has all the necessary facilities and is easy to get to. Kaladakia is spot on.
Amenities: Sunbeds & umbrellas, beach bar, parking
Access: By road

Psili Ammos
Also in Marathokampos bay is Psili Ammos (meaning fine sand), one of the larger beaches in Samos. Thanks to its size, you can check into the beach bar or opt for the wilder part. But wherever you are, you'll enjoy fine yellow sand and shallow, green-blue waters (ideal for families with kids). Psili Ammos beach is backed by a wall of pine trees that reaches the edge of the shore and offers protection from wind. Psilli Ammos is easy to get to and has plenty of amenities, including tavernas. Bingo!
Amenities: A few umbrellas & sunbeds, taverna & parking
Access: By road

Votsalakia beach
The third of our swimming spots in Marathokampos bay is Votsalakia, one of Samos' biggest beaches at 2.8km in length. It is covered in fine pebbles and has shallow, clear blue waters (great for kids and families) and chilled vibes. It's one of the most popular beaches in Samos, protected from the wind and catering to one and all (especially families), as you'll find everything here: food & drink, watersports and plenty of space.
Amenities: Sunbeds & umbrellas, beach bars, tavernas, cafes, sea ramp
Access: By road
Livadaki beach
Boho vibes galore and activities for all. Livadaki beach is one of Samos' most picturesque and smallest beaches. It's is fully organised and its location deep inside a narrow fjord-like cove assures it a spot in your Instagram feed. And those shallow, turquoise waters make it a hit with the kids. Livadaki has fine sand and pebbles and is surrounded by greenery, meaning it's a joy to explore the cove by canoe or kayak.
Kerveli beach
Kerveli is a secluded beach, set in a small cove close to Posidonio. There are some sunbeds and umbrellas, although the thick greenery does offer natural shade over much of the beach. It's a family-friendly beach, with small pebbles and shallow, blue-green water that's a joy for snorkelling. There are water sport, including a scuba diving centre, and tavernas lining the boardwalk. Getting to Karveli beach is easy. Peeling yourself away is another matter.
Amenities: A few sunbeds & umbrellas, tavernas, water sports
Access: By road
Pythagorio beach
Named after Pythagoras, who was born on Samos, Pythagorio is the island's longest beach (a whopping 4.5km). It's also one of the most cosmopolitan, with beach bars, a mixture of fine pebbles and sand and with pine trees. It's also one of the most popular beaches in Samos, Blue Flag-certified and with plenty of water sports (you can hire kayaks and pedalos, as well as waterski, wakeboard, wake-surf and take windsurf lessons). And there are boats trips to tiny Samiopoula. It's divided by a small stream that gives way to Potokaki beach. Any way you have it, you're in for a treat.
Amenities: Sunbeds & umbrellas, beach bars, water sports, sea ramp
Access: By road
Mykali beach
Mykali is another long beach (3km) and one of the most organised in Samos. It boasts water sports, heaps of amenities and is close to Pythagorio. It's backed by pine trees that almost reach the water and has shallow, blue waters and fine pebbly sand. You can forego the comforts and opt for the wild part (some of the trees offer shade) or enjoy the facilities. It's a family-friendly beach and is easy to get to.
Amenities: Umbrellas & sunbeds, tavernas, water sports
Access: By road
Mikri Lakka beach
Mikri Lakka is perfect for a fun day out in the sun. It's one of the smaller and most secluded beaches in Samos, protected from the wind and with fine pebbles and shells and calm blue waters. It is steeped in pine groves that almost reach the sea, giving an exotic air. You can reach Mikri Lakka beach by boat or a 10min walk from Mourtia beach (it's not the easiest road to negotiate by car). Note there are no amenities.
Amenities: None
Access: By road & short walk

12 of the best beaches in Samos
Samos is an island steeped in culture and history and has a captivating landscape. If you're looking a Greek island that's totally authentic and chilled, Samos might just be your next holiday destination.
Book your trip
All your holiday planning needs in one place, letting you book direct and benefit from official online rates