EXPERIENCE
Sea-kayaking in magical Samos
Surrounded by a treasure-trove of beaches, hidden coves and sumptuous greenery, you'll need no second invitation to explore the coastline of Samos by kayak.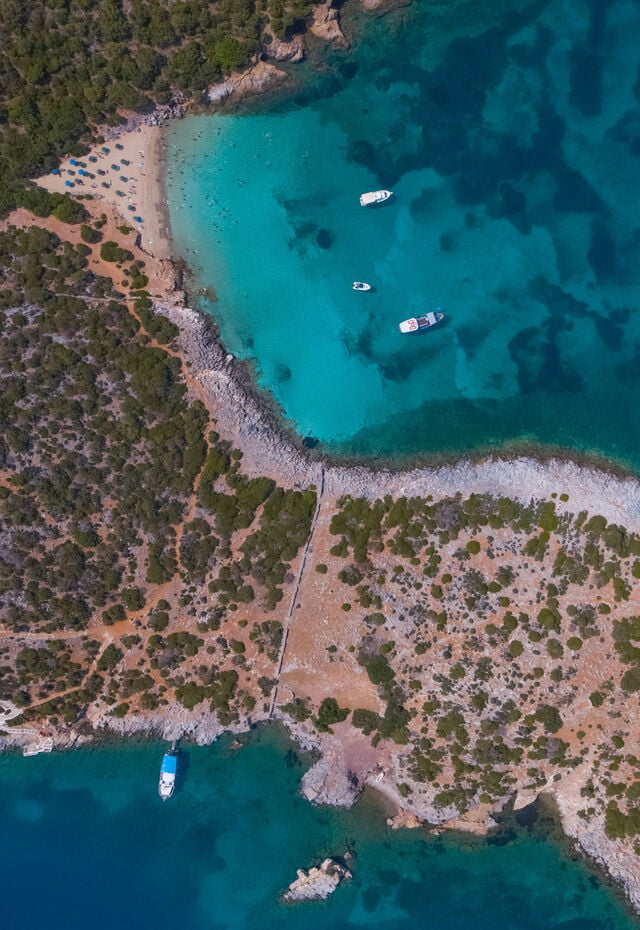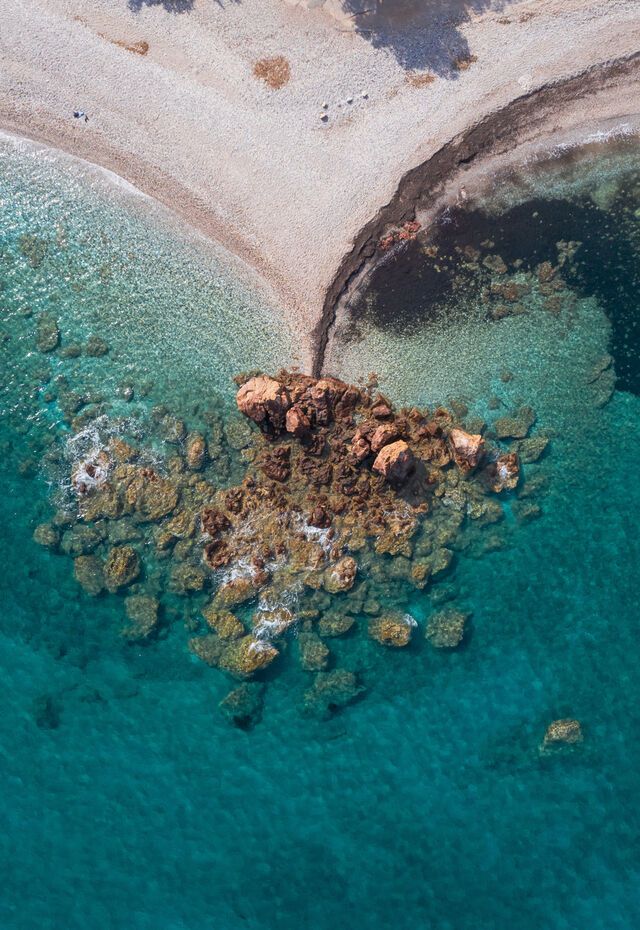 Duration
5 - 8 hours
Season
April - October
OVERVIEW
It won't take long when you're on Samos before you're gripped by the urge to explore the coastline. The legendary North Aegean island, once the homeland of Pythagoras and a powerhouse of antiquity, is above all a paradise of beaches and hidden coves.

Everywhere you turn, you seem to be surrounded by greenery tumbling down to the sea. Nowhere more beautiful a sight than on remote beaches, some accessible only by sea, where Samos' radiance comes into its own.

So whether you're staying in Vathi (Samos' port- town in the northeast) or on the south coast (from Pythagorio to the Bay of Marathokampos) and beyond, there are beaches from which you can start your sea-kayaking adventure. It could be a full- or multi-day guided expedition with family or friends and picnics on the beach, or just hiring a kayak from the beach for a few hours. Just prepare to see Samos at its best.

DON'T MISS
Near Vathi
Just north of Samos' main town is the little village and beautiful pebbly beach called Agia Paraskevi, named after the chapel found there. The entire coastline here is called Nisi (island) and you'll adore exploring it all. Or a little further away, around the northeastern coastline, are the beaches of Mourtias and Kerveli, where you can also start your journey. Sheltered and remote, they are blessed with water that has a colour that needs to be seen to be believed. You can snorkel here or anywhere along your route. Make time to enjoy Kerveli, lying under the shade of the tall trees for a feeling of escape or visiting the nearby cave.
Near Pythagorio
Just west of Pythagorio on the south coast, you reach Ireon (or Heraion), one of Samos' draw-card beaches because of its 400m of sand (and some pebbles). There are facilities here and you'll enjoy taking a dip in the protected bay but make sure you venture down the coast, exploring the coves and snorkelling, as far as Pappa, a wonderful little beach organised in three terraces of sunbeds and with a taverna. Or heading up the coast, towards Pythagorio, you reach the Heraion of Samos, an impressive ancient sanctuary dedicated to the goddess Hera, the wife of Zeus.
Marathokampos Bay
The long bay of Marathokampos, to the southwest, has so many beaches and coves to explore that it's hard to know where to start. Near the village of Pefkos is the fantastic sandy beach of Perri, with a cave nearby. From here, some kayaking groups even head as far as Samiopoula, the little island off the coast of Samos. Or just to the west of Pefkos is Balos, another remote setting with a large cave right on the beach. Park your kayak and make sure you explore a bit on foot. You'll love the rock formations. And to the western end of Marathokampos Bay is Limniona, one of Samos' beach magnets. With water coming down from Mt Kerkis, the sea here is a little colder which means the visibility for snorkelling is fantastic.
The west coast
If it's remote you're after and a west-facing view that's perfect for admiring the sunset, head to Plaka. It's near the village of Kallithea and has beautiful calm and clear water, soft sand and views to the islands of Fourni and Ikaria.
The north coast
The north coast of Samos can be windy but there are a couple of gems that will interest the adventure-seekers out there. Setting out from Potami beach (near the port of Karlovasi), a day trip to the beaches of Mikro and Megalo Seitani is an experience you won't forget. The only other way to get to this pair of sandy beaches is by hiking. The scenery of forest and cliff-face is breathtaking, before you arrive at the smaller of the two beaches. It's up to you whether you continue to its big brother. Either way, you'll experience wild beauty on an epic scale.
GET PLANNING
It's worth choosing a kayak trip close to where you're staying and reaching the departure point by rental car or taxi.
There are bus routes from Vathi to Marathokampos, Pythagorio, Ireon and Karlovasi, from which you will need to reach your departure beach by taxi.
Organised sea-kayaking excursions on Samos can be enjoyed between April and October.
Otherwise, you will need to have your own equipment or find a beach with kayak rental in operation.
The experience is dependent on weather conditions.
April-June and September-October are the best and quietest months to visit Samos.
Autumn
Spring
Summer
Winter
Organised kayaking trips last from 5 to 8 hours, depending on the route.
If you have your own equipment and want to discover on your own, you can devote as much time as you want to exploring the coastline.
Multi-day expeditions (up to 5 days) are also available
Distance: Expect to cover from 5 up to 15 nautical miles for a full-day experience with an organised group
Level of difficulty: Easy
Equipment: Offered as part of group trips (paddle, buoyancy aid, spray deck and dry bags). Snorkelling equipment is also usually provided.
Food & drink: Full-day trips usually include lunch and snacks with local products.
Make sure you have: