READING TIME
As long as it takes to eat a Greek salad
Lefkada is widely considered one of the best beach destinations in the world, with the likes of Kathisma, Porto Katsiki and Egremni regularly featuring in top 10 beach compilations and a loyal set of fans flocking to its shores every summer. No surprises there. Its waters are clean and exotic (some of the best in the Ionian Sea), set against a wild backdrop of white vertiginous cliff faces that are carpeted in pine, olive, and fir trees. Getting to Lefkada is easy by plane (Aktion airport is close by) or car (it's connected to the mainland by a bridge).
What's more, its multitude of seaside resorts and facilities means that you can explore its off-grid beaches with boat tours. And if you're into water sports, welcome to paradise! That's all you need to know. So, if we've got you tempted or you're already planning holidays in Lefkada, read on and discover 12 of its best beaches.
Porto Katsiki beach
If you're in Lefkada, a visit to Porto Katsiki is practically obligatory. It's one of the most photographed beaches in Greece, meaning you've most likely seen it pop up on your feed at some point. It is bathed in fine, pebbly sand and is lapped by turquoise water, and the rock face behind it is a full 100m tall.
It is a spectacular beach, with the vegetation that reaches the edge of the cliff adding another colour to the palette. Swimming at Porto Katsiki beach is unlike anything you've experienced before, and the sunsets are pretty special too.
Make sure to grab supplies from the canteen before heading down the 100 or so stone steps to the beach.
Amenities: Sunbeds & umbrellas, beach bar, taverna, parking
Access: By road & steps, by boat
Egremni beach
Like Porto Katsiki, Egremni beach is also endowed with otherworldly beauty. It has a mix of fine sand and small pebbles and green-blue, deep waters, and is similarly flanked by a massive limestone cliff face with 400-plus steps leading down to the beach and a canopy of greenery above it. It's larger than Porto Katsiki and has no shade (paid for or organic), making it one of Lefkada's wilder beaches, even though it's also one of the most popular. Get what you need from the canteen by the viewpoint. And if you don't fancy all those steps, you can also get there by boat.
Amenities: Snack bar, parking
Access: By road & steps, by boat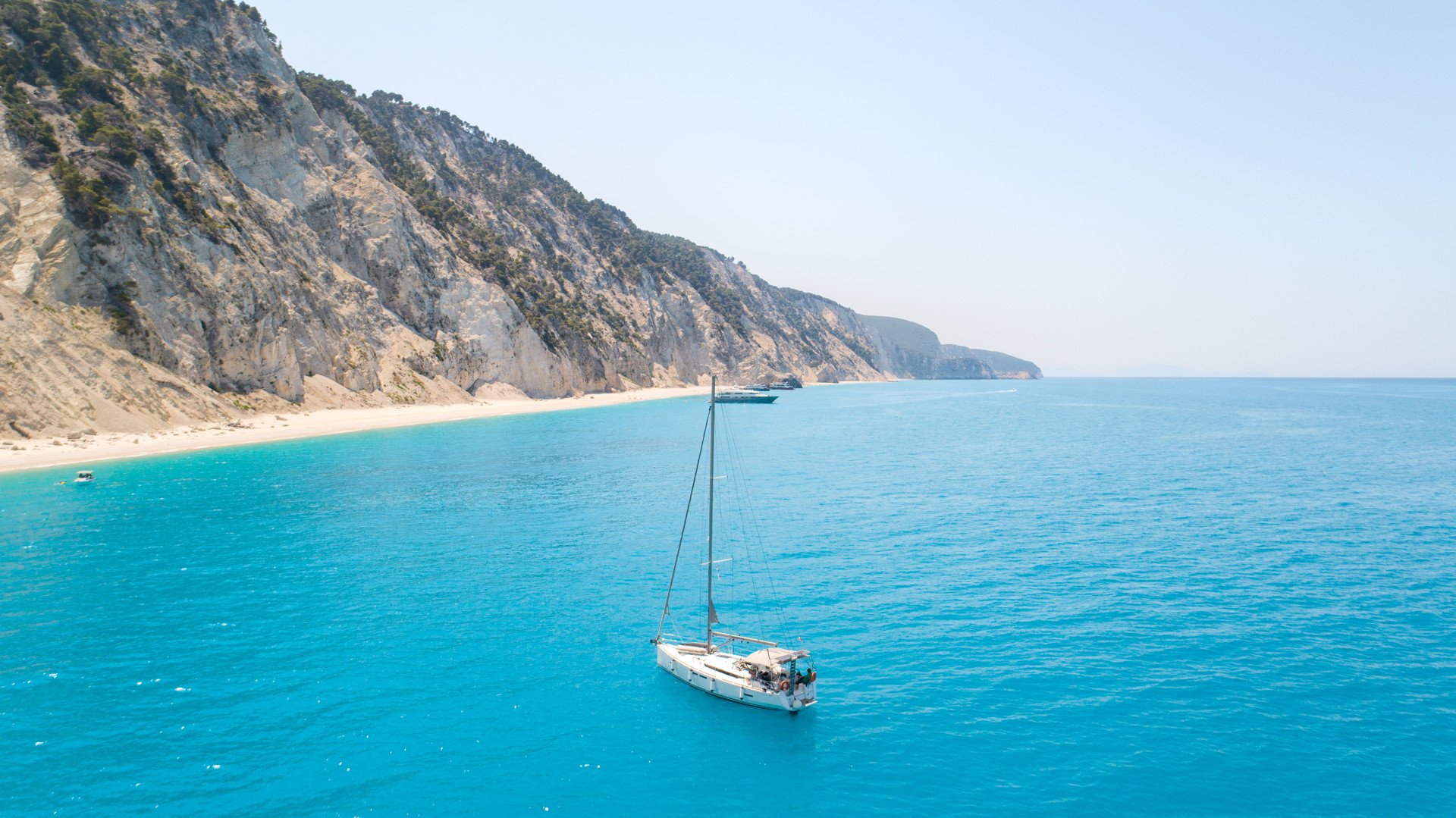 Kathisma beach
Kathisma is one of the prettiest beaches in Lefkada, both wild and cosmopolitan. It's another that boasts fine white sand and pebbles and the tropical turquoise waters are the Ionian Sea at its best. It gets even better though, with pine and fir trees cascading down the mountainside, making it prime Insta-content. Paragliders use the cliff to launch from and the beach to land on, and there are water sports available too.
It's all fun and games at Kathisma beach, with the shallow water a hit with kids. The sunset view is the icing on the cake. Kathisma is many visitors' No. 1 beach in Lefkada, especially families.
Amenities: Sunbeds & umbrellas, beach bars, restaurant, tavernas, snack bar, water sports, parking
Access: By road

Megali Petra beach
Getting its name (big rock) from the boulders that pop up on the beach and in the sea, Megali Petra is considered one of Lefkada's finest beaches for its wild and exotic setting as well its turquoise waters. It's another beach with fine white pebbly sand that is bordered by rolling cliffs that taper into the sea. There are a few loungers and sunbeds, but you're on your own after that, so bring supplies.
Note that the smaller Kavalikefta beach is just up the road, with a similarly tropical setting and a beach bar.
Amenities: A few umbrellas & sunbeds
Access: By road & short walk

Avali beach
Avali beach boasts the kind of coarse white sand and turquoise waters you see in commercials. It's flanked by a rolling wall of green that hugs the coastline, with huge rocks on the shore and in the sea. Close to the village of Kalamitsi (and Megali Petra beach), Avali has a snack bar above the beach, so get what you need before settling down. You won't want to budge once you're on the beach. Enjoy the Caribbean vibes and stick around for the magical sunset.
Amenities: A few sunbeds & umbrellas, snack bar
Access: By road

Gialos beach
As big a beach as you'll find in Lefkada, Gialos is great if you want a peaceful spot and to enjoy the exotic surroundings in tranquility but also be able to get a drink (there are some snack bars on the organised part of the beach). You'll find coarse white sand as well as pebbles in some parts, with the sea being deep and blue-green, almost swimming pool in colour. And when the surf picks up, it's play-time with the waves (be careful with younger kids). Gialos beach is very near Egremni.
Amenities: A few sunbeds & umbrellas, snack bar
Access: By road

Agios Nikitas beach
The seaside village of Agios Nikitas is one of Lefkada's most popular resorts, and its beach lives up to the billing. The waters here are clear and if you're towing kids, you'll especially value the beachfront tavernas and shops. It's located inside a bay, so it sees little wind and the seabed is perfect for snorkelling.
And for even more seclusion and natural beauty, you can catch a boat ride to Mylos beach from here (alternatively it's a 20min hike). Mylos is off-grid and off-the-charts pretty, with fine white sand and crystal-clear water amidst a backdrop of pure green. Your beach holidays in Lefkada just got better.
Amenities: Tavernas & cafes
Access: By road

Pefkoulia beach
It's a testament to the scale and beauty of beaches in Lefkada that Pefkoulia isn't one of the island's pin-up beaches. It would be elsewhere. In true Ionian style, Pefkoulia is a visual contrast of fine white sand and pebbles, turquoise-green water, and a cascading mantle of pine trees (pefko means pine in Greek). It's also one of the biggest beaches in Lefkada and is close to the main town, making this a fine option if you're staying in town and don't want to stray too far. And if you fancy an adrenaline hit, there's a paragliding club, too.
Amenities: Sunbeds & umbrellas, paragliding & cafe-bar
Access: By road

Agiofili beach
You'll find Agiofili beach near the village of Vasiliki. It's a small beach on the southern part of the island that is blessed with shiny white pebbles and is located within a scenic bay backed by rocky cliffs. There are turquoise waters that get deep quickly (this is prime snorkelling territory) and more beach beauty than you can take. Should you be able to untether yourself from the view, you'll find swimming equally captivating. Note that parking is limited and there's a bit of a walk to the beach, so you might want to catch a boat ride from Vasiliki.
Amenities: Sunbeds & umbrellas, snack bar, parking
Access: By road & steps, by boat from Vasiliki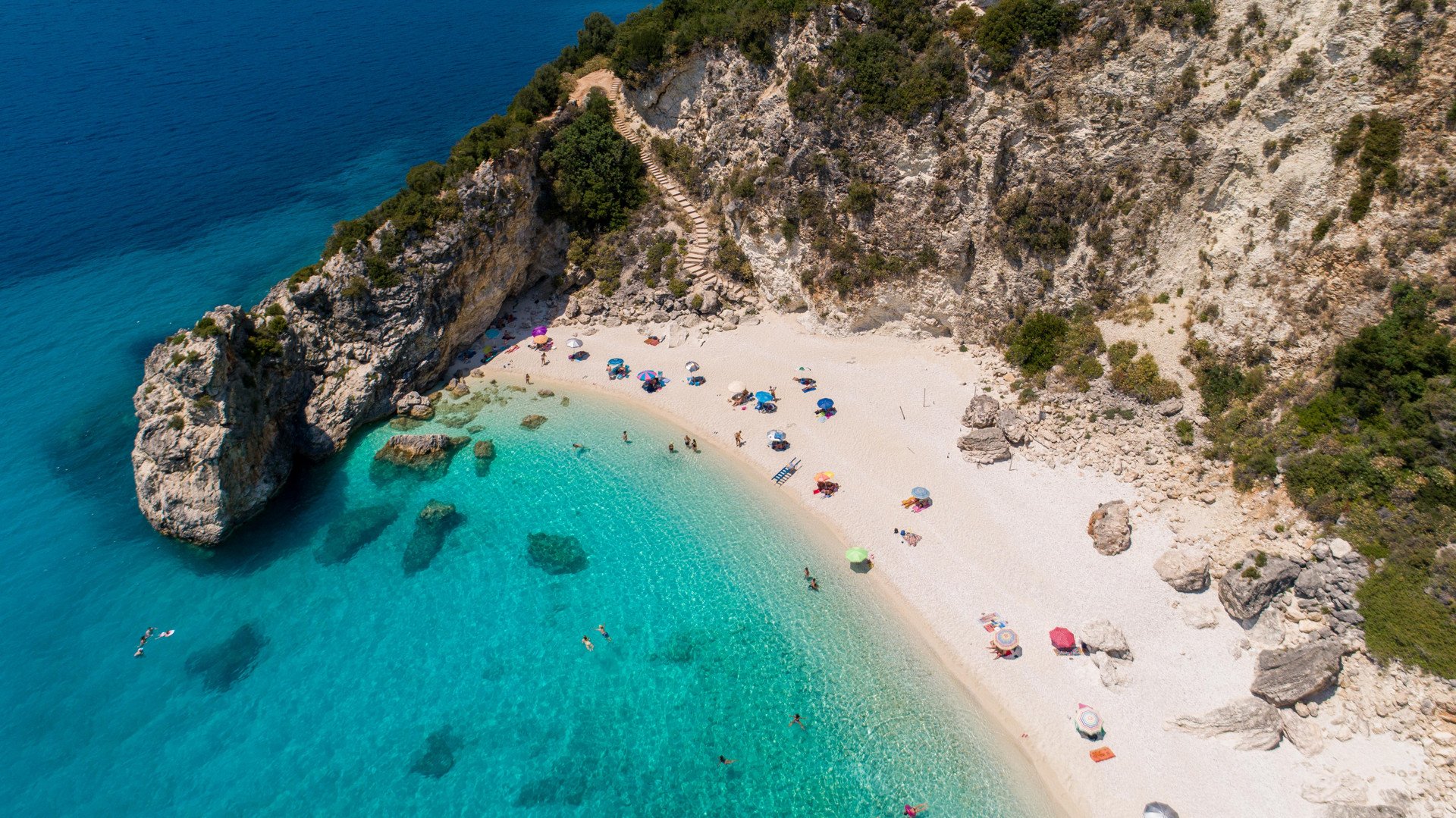 Mikros Gialos beach
On the southern side of Lefkada, next to the village of Poros, Mikros Gialos invites you to its own version of exotic. Visits to Mikros Gialos are often day trips because time at the beach can be combined with exploring the village and the surrounding areas (and getting a hearty taverna meal). On the beach, you can rent water bikes or canoes and go off on a different kind of expedition. Mikros Gialos is located within a windless cove and has pebbly shells with shallow, emerald-green waters, making this another of Lefkada's family-friendly beaches.
Amenities: Sunbeds & umbrellas, cafes, tavernas, water sports
Access: By road

Afteli beach
Pretty as you like, Afteli beach is cosy and tranquil, ideal for families and anyone looking to get away from the crowds (it's favoured by locals). More white pebbly sand and crystal-clear waters await at the end of a scenic road, with the beach being bordered by thick vegetation. When it's time, the taverna/beach bar has you covered for lunch. Alternatively, the scenic village of Evgiros is nearby.
Amenities: Sunbeds & Umbrellas, beach bar
Access: By road

Vasiliki beach
Last but certainly not least, this pearl is one of the most fun beaches in Lefkada. Located inside a long bay, the fishing village of Vasiliki and its sprawling sandy beach are a superb option for those who love water sports (the wind here makes it a favourite with windsurfers, but you can also rent sailing, kayaking & paddling equipment, and there is a scuba diving club) as well as the comforts offered by one of the most developed resort beaches on the island (food, drinks & entertainment). The beach itself is a classic Ionian goddess, with fine pebbles and turquoise waters, flanked by a canopy of green. And when you're done, there's also Vasiliki village for a seafood meal.
Amenities: Sunbeds & umbrellas, water sports, tavernas, beach bar
Access: By road
12 of the best beaches in Lefkada
Few Greek islands can match Lefkada when it comes to the quality and quantity of beaches, some world-famous and others begging to be discovered by you. They are some of the best beaches in Greece, catering to all tastes and ages.
Book your trip
All your holiday planning needs in one place, letting you book direct and benefit from official online rates
Multi-day Tours
Group
3 hours
Free cancellation
Not sure? You can cancel this reservation up to 24 hours in advance for a full refund
Group