Enchanting, romantic, cosmopolitan… However you describe it, Santorini is a one-off. A life's dream for millions around the world, the volcanic isle in the Aegean's Cyclades island chain evokes powerful emotions and intense feelings in everyone who visits.
Admire the Caldera from up above or by boat
For the best possible view of Santorini, fly by helicopter over the volcano which became active 1.5 million years ago or circumnavigate the Caldera by boat.
Find your balance on the edge of the precipice
The walk along the edge of the Caldera – from Fira to Firostefani and on to Imerovigli and then Oia – will be, quite simply, unforgettable.
Exploring the hiking trails of Santorini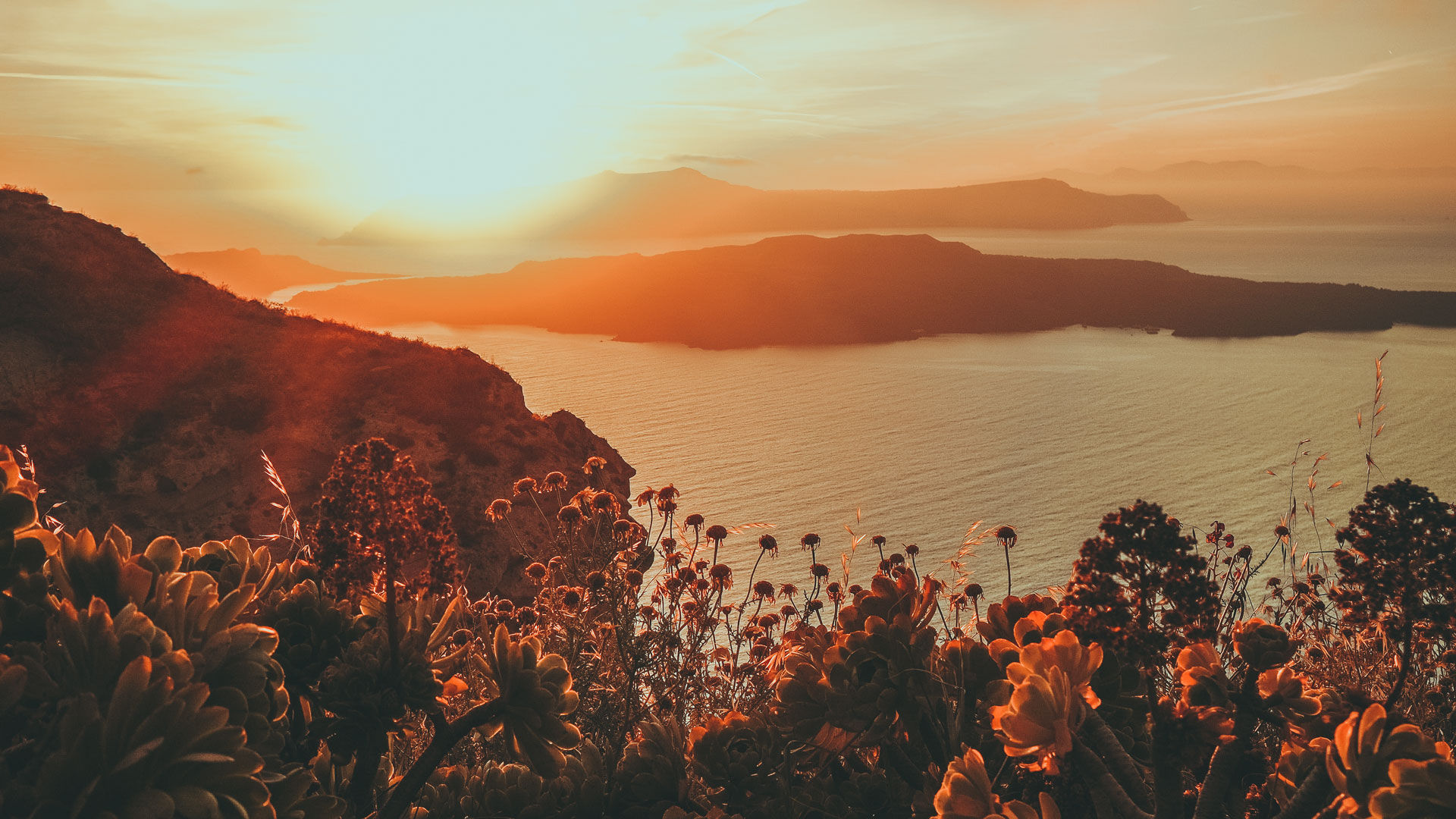 Visit a volcano (and take a thermal dip)
Take a boat to the island of Nea Kameni, in the centre of the famous caldera. Around the islet of Palaia Kameni, those who dare will take a dip in Agios Nikolaos bay with its warm springs that give the water its exotic orange colour!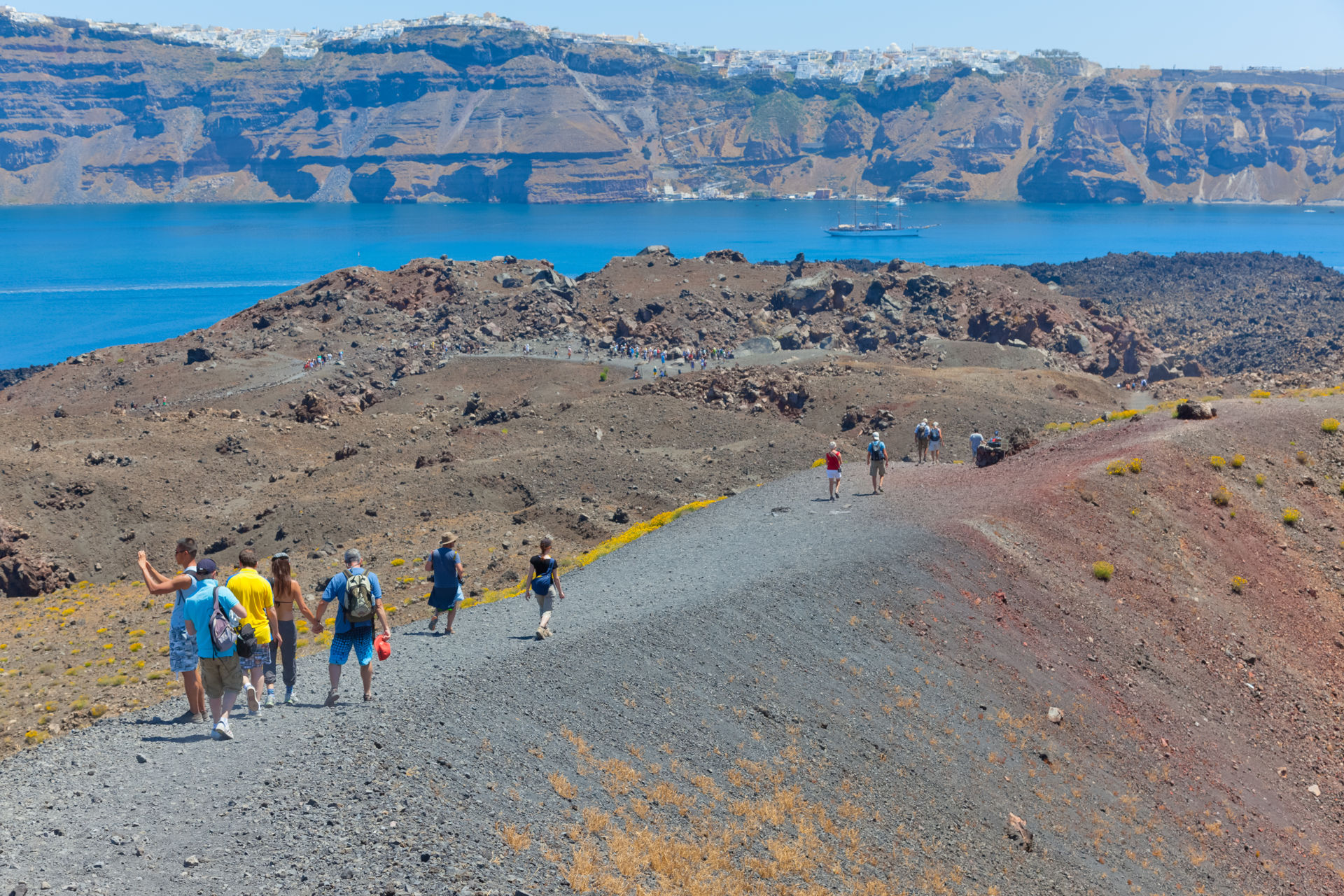 Indulge in a touch of luxury
Will it be a suite with a pool or a villa with a Jacuzzi for you? Either way, it will come with a Caldera view. And after that, can we tempt you with a massage followed, naturally, by a gourmet dinner with local wines served with a private waiter?
Experience the sunset of Oia
Take your position early on in Goula, near Oia, for this unique experience. Then get to know Oia from up close, with its colourful, hyposkafa buildings, minimalist churches, sea captains' houses, old wineries, and collection of restaurants, cafes and elegant shops.
Sample the wines of antiquity
In the wineries of Santorini, you will be introduced to the flavours and aromas of the wines produced more than 3,000 years ago on this island. Try the renowned Vinsanto and the wines made from the local varieties of grape… asyrtiko, atheri and aidani.
Sampling the wine routes of Santorini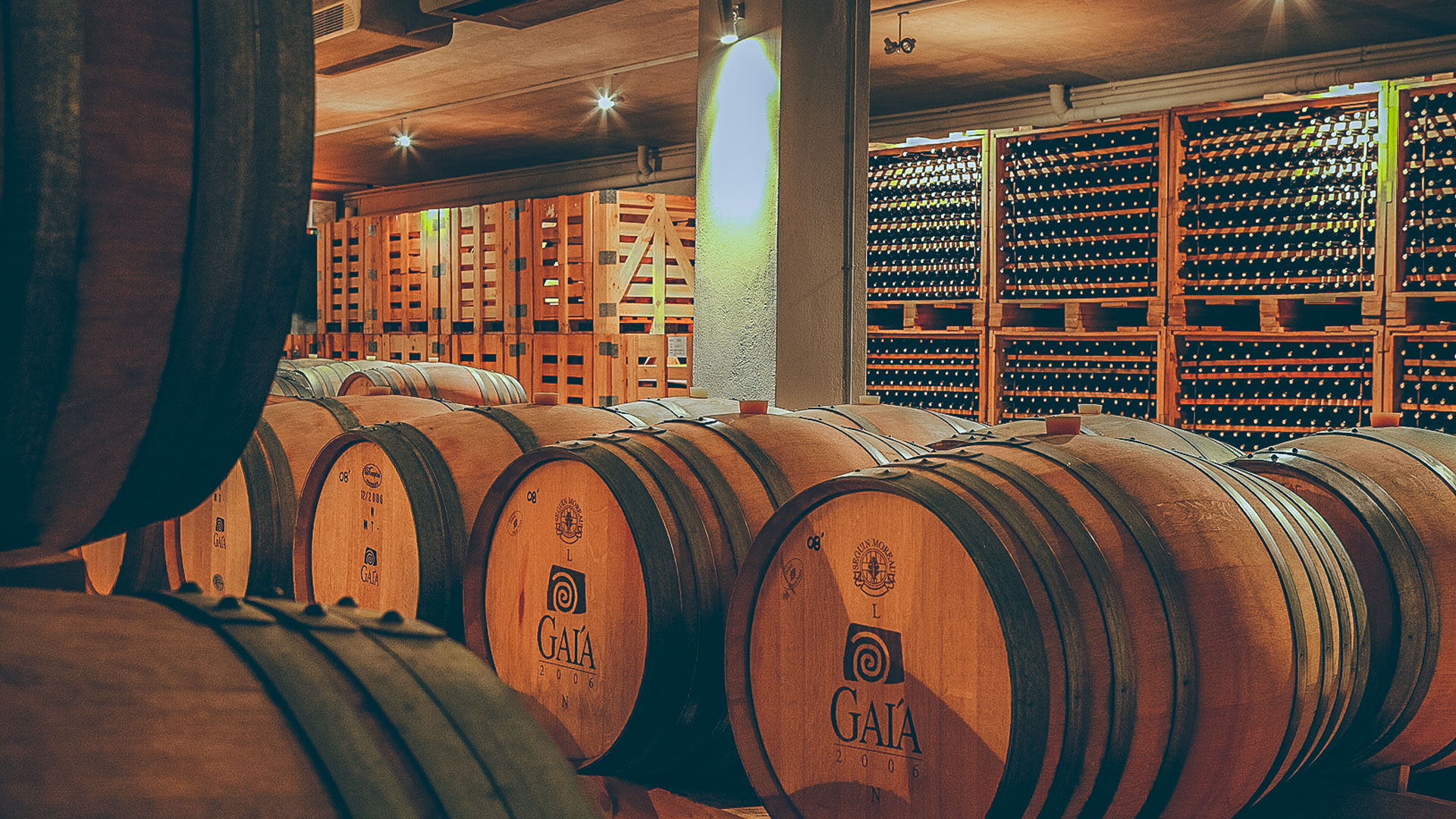 Visit volcanic beaches
Perivolos and Perissa, Kamari, Vlihada, Kokkini (red) and Aspri (white) beach… Marvel at the rocks hewn by nature's most visceral forces and the black and red volcanic sand you will find there!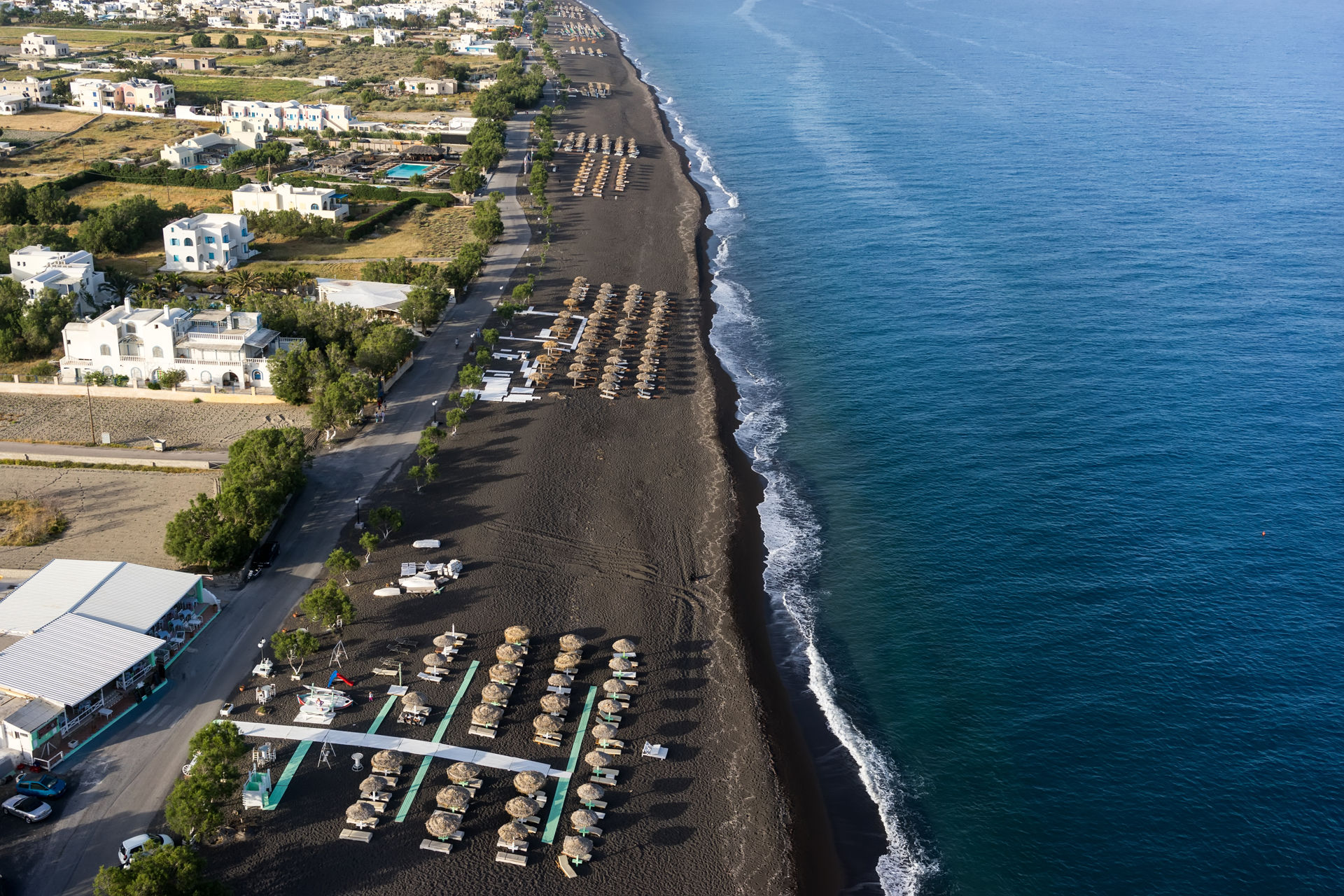 Discover the unexplored Santorini
The tower of Nimborio, Skaros in Imerovigli, Akrotiri's castle and lighthouse, ancient Thera above Kamari, the hyposkafa hamlets of Vothonas and Karterados, Megalohori and Finikia and its old wineries are but a few of Santorini's secrets waiting to be uncovered!
Experience award-winning flavours
The award-winning chefs of Santorini's restaurants will bring you the exquisite and original flavours of the island. Try the local cherry tomatoes, grown in arid conditions, tomato fritters, white aubergines, fresh cheese and locally grown cucumbers.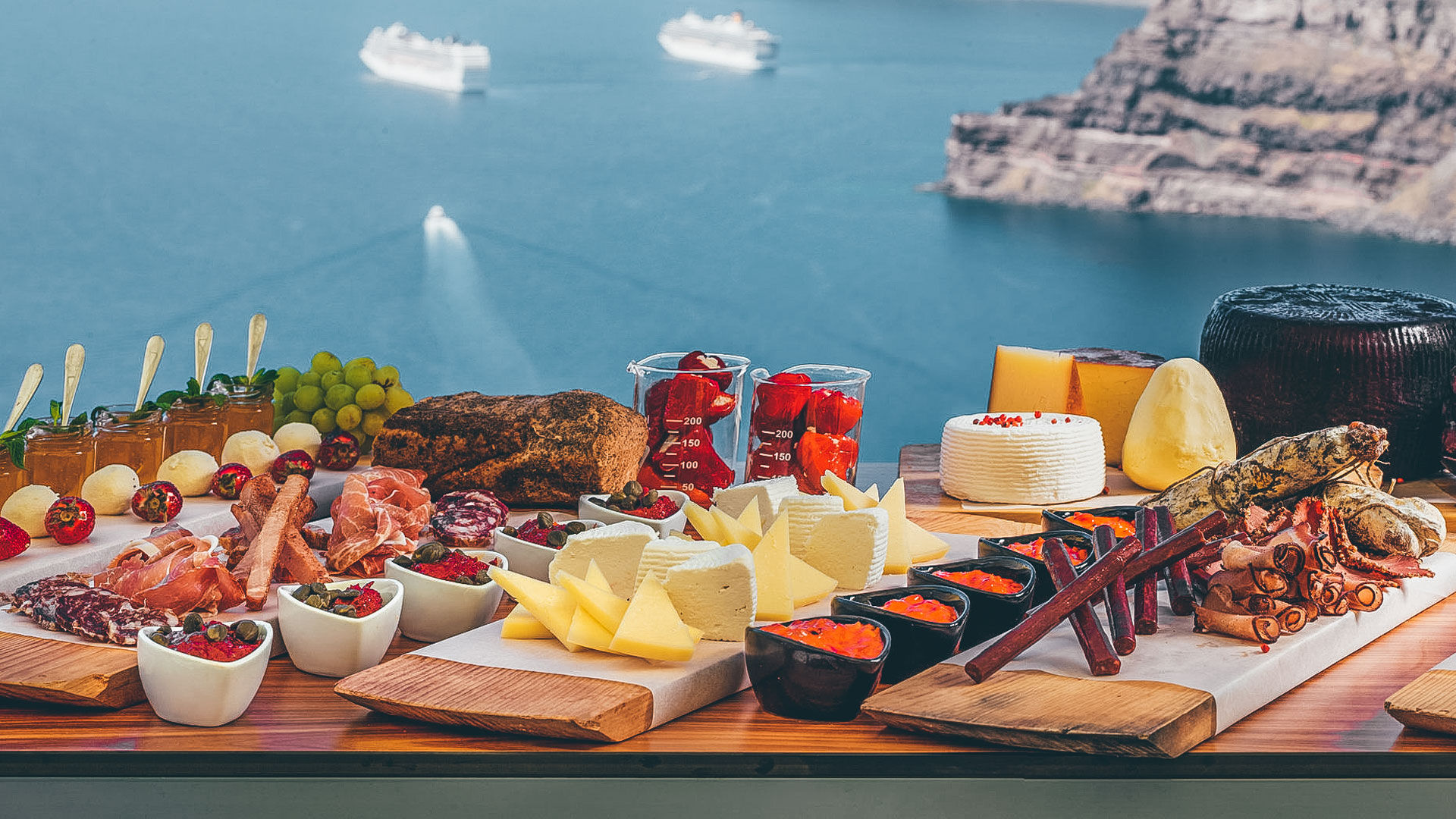 Visit Akrotiri, the Aegean Pompeii
Covered with an ultra-modern bioclimatic shelter, prehistoric Akrotiri is one of the most interesting archaeological sites in the Aegean.
Book your trip
All your holiday planning needs in one place, letting you book direct and benefit from official online rates
Group
Private
Group
5 hours
Free cancellation
Not sure? You can cancel this reservation up to 24 hours in advance for a full refund.