READING TIME
As long as it takes to eat a slice of watermelon
Located between the islands of Thassos and Lesvos, this North Aegean gem has resisted the tides of time and oozes authenticity, whether you're in the main town, Myrina (Venetian castle alert!), or in any of Lemnos' mountain or seaside villages. And as you'll quickly discover, the beaches of Lemnos are mostly blessed with a combo of clear blue water and fine sand. In fact, make that sand dunes in some places. There are beaches for all tastes – secluded and tranquil or with water sports and beach bars, and many with great seafood tavernas to choose from. Whatever beach style you're looking for, read on and discover 10 of the best beaches in Lemnos.
Zematas beach
Zematas beach is one of Lemnos' most popular swimming spots as it combines laid-back vibes, natural beauty, activities and – best of all – fine yellow sand. It has shallow, green-blue water (family-friendly) and some scattered tamarisk trees for shade. And there are plenty of spots where you can just pitch your beach umbrella and soak up the atmosphere. Alternatively, there is a fully organised beach bar. Activities include water sports and beach volleyball and you can always combine your beach day with a visit to Panagia village, which you have to pass through to get to there.
Amenities: Sunbeds & umbrellas, beach bar, water sports
Access: By dirt road

Gomati beach
Gomati is one of the most singular beaches in Lemnos. Found in the north of the island, it is home to the biggest expanse of sand in Greece (70 acres), with a Saharan landscape in some parts. It's a beach that's tremendous fun, as it doesn't get too crowded but has shallow water (again, great for kids) and amenities, as well as nearby tavernas. When the wind is up, you can kite-surf at Gomati beach, or if you're looking for something different, you can combine it with a visit to the nearby Ammothines of Lemnos, where you can surf down the sand dunes. The village of Katalakkos is nearby if you feel like exploring further.
Amenities: Sunbeds & umbrellas, taverna, snack bar
Access: By dirt road

Plati beach
Located in southwestern Lemnos, next to the village of Plati, this 700m stretch of fine yellow sand welcomes one and all to its shores. Plati beach's shallow waters, water sports, beach bars and easy access from Myrina (2km), make it a hit with families and all other visitors. You will find some natural shade under scattered tamarisk trees and, as a bonus, you can grab your lunch at one of several nearby tavernas. Plati beach's Blue Flag clinches the deal.
Amenities: Sunbeds & umbrellas, beach bars, taverna, water sports
Access: By road

Thanos beach
If you're holidaying in Lemnos, you'll inevitably find yourself at Thanos beach. It's one of the most popular beaches on the island, attracting sunbathers who come for the shallow, clear waters (Blue Flag-certified and popular with families), fine golden sand and lively vibe. It is located inside a windless bay, next to its namesake village, and is easy to get to. There are water sports and a beach volleyball court (so no excuses for not getting active). You can get lunch at one of the seafood tavernas along the shore.
Amenities: Sunbeds & umbrellas, beach bars, taverna, water sports
Access: By road

Megalo & Mikro Fanaraki beach
You get two for one when visiting Fanaraki. Megalo (Big) & Mikro (Little) Fanaraki are found in a bay next to the settlement of Moudros. Megalo Fanaraki is the bigger of the two beaches, with fine white sand and shallow water. There are plenty of amenities and it is popular (especially with families) but you'll always be able to find a quiet spot because of its size. Have fun playing beach volleyball or chill and enjoy till sunset. Meanwhile, on the other side of the bay, Mikro Fanaraki beach is smaller (only about 50m long). You can enjoy the same fine sand, clear water and amenities as Megalo Fanaraki but it is more secluded. The Spilia tis Fokias (Cave of the Seal) is nearby.
Amenities: Sunbeds & umbrellas, beach bar
Access: By road

Keros beach
As the island's designated wind- and kite-surfing spot, Keros is one of the most fun beaches in Lemnos. There's a certified water sports club, with plenty of activities, but it's also a long and sandy beach, with shallow water, making it a great option for families with kids. Beyond that, all the amenities you could need are on offer and there are some hidden spots where you can just chill in peace. Next to Keros beach are the Alyki wetlands (a Natura 2000-protected habitat) and the village of Kalliopi, both of which are worth seeking out. Keros is an easy beach to get to, with just the last 100m being dirt road.
Amenities: Sunbeds & umbrellas, water sports, beach bar
Access: By road
Agios Ioannis beach
Located in western Lemnos, Agios Ioannis is a sandy beach with some pebbles and a few curious volcanic rock formations to admire as you swim in its shallow, clear waters (Blue Flag-awarded). It's a family-friendly beach that's easy to get to, with beachside seafood tavernas, amenities and a killer sunset. It's conveniently located next to the village of Kaspakas and is just 6km from Myrina. Heavenly!
Amenities: Sunbeds & umbrellas, beach bars
Access: By road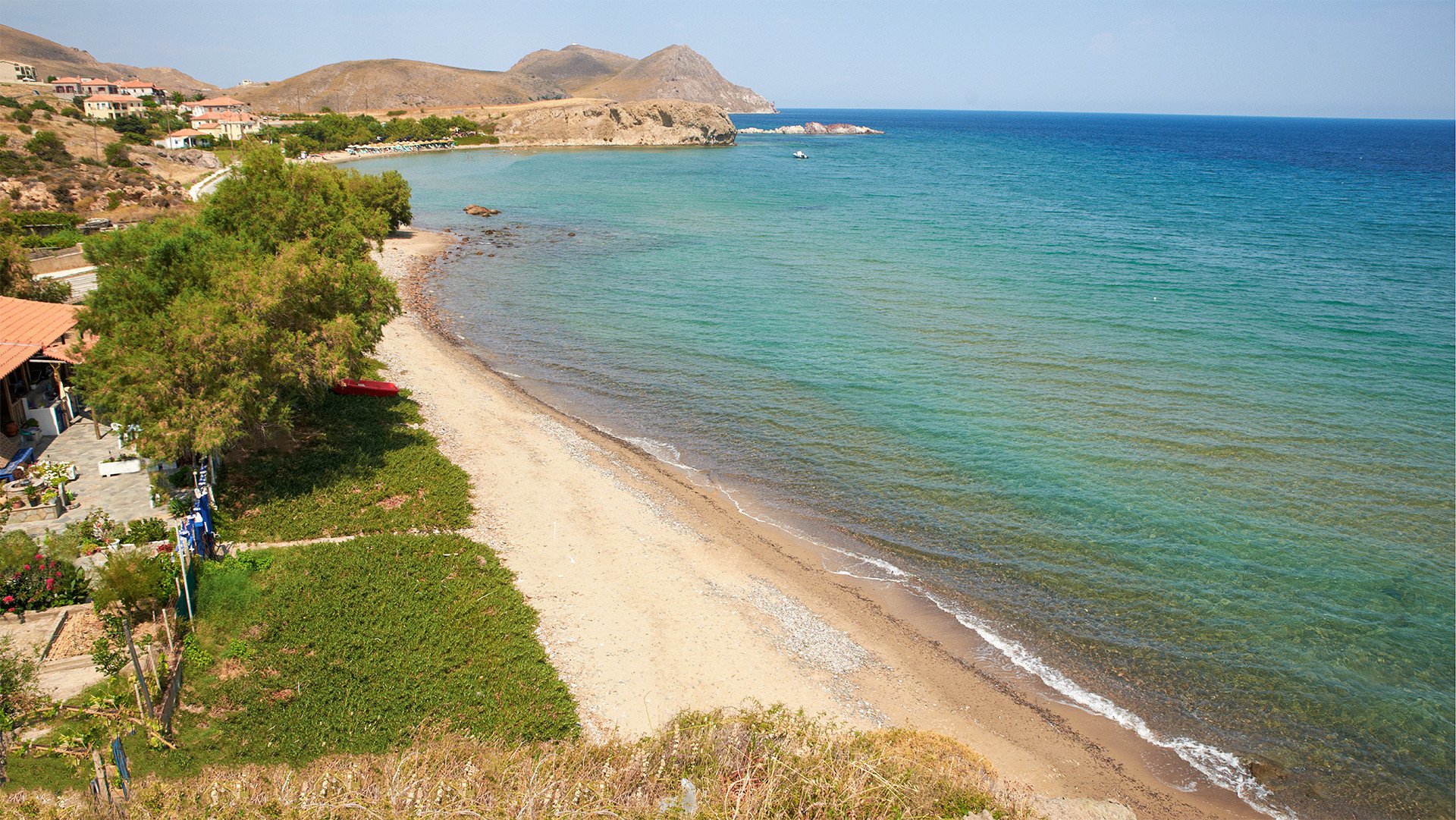 Parthenomitos beach
If you want wild and secluded, Parthenomitos beach is for you. It's located near Moudros but is one of the trickier of Lemnos' beaches to get to and can be wind-affected when the northerlies pick up. But all of that assures its privacy. You can be at one with nature, as there are no amenities or distractions here. You'll get to enjoy the fine pebbly sand and shallow waters in peace. Just make sure to bring the essentials. If you do need to reload on supplies, Moudros should have you covered. An alternative nearby beach (especially if it's windy) is Chavouli, located within a wind-protected cove, with fine white sand, clear blue waters and natural shade courtesy of a few tamarisk trees, as well as some amenities (umbrellas, sunbeds, beach bar). Note that it's easier to get to Parthenomitos beach through Kaminia than Moudros.
Amenities: None
Access: By dirt road

Richa Nera beach
As its name indicates (shallow waters), this sandy beach is ideal for families with kids and is another of Lemnos' beaches to have been awarded a Blue Flag. It is practically within Myrina, so if you're staying in Lemnos' main town, you can have your cake and eat it. Pretty and cosmopolitan, with amenities and water sports, Richa Nera beach caters to everyone and is favoured by locals. Get your drinks at one of the beach bars and take a walk into town for lunch. Another nearby option, just in front of a neighbourhood with beautiful mansions once occupied by Lemnion aristocracy, is Romeikos Gialos, a sandy beach with amenities including a sea ramp for swimmers with mobility difficulties.
Amenities: Sunbeds & umbrellas, water sports & beach bars
Access: By road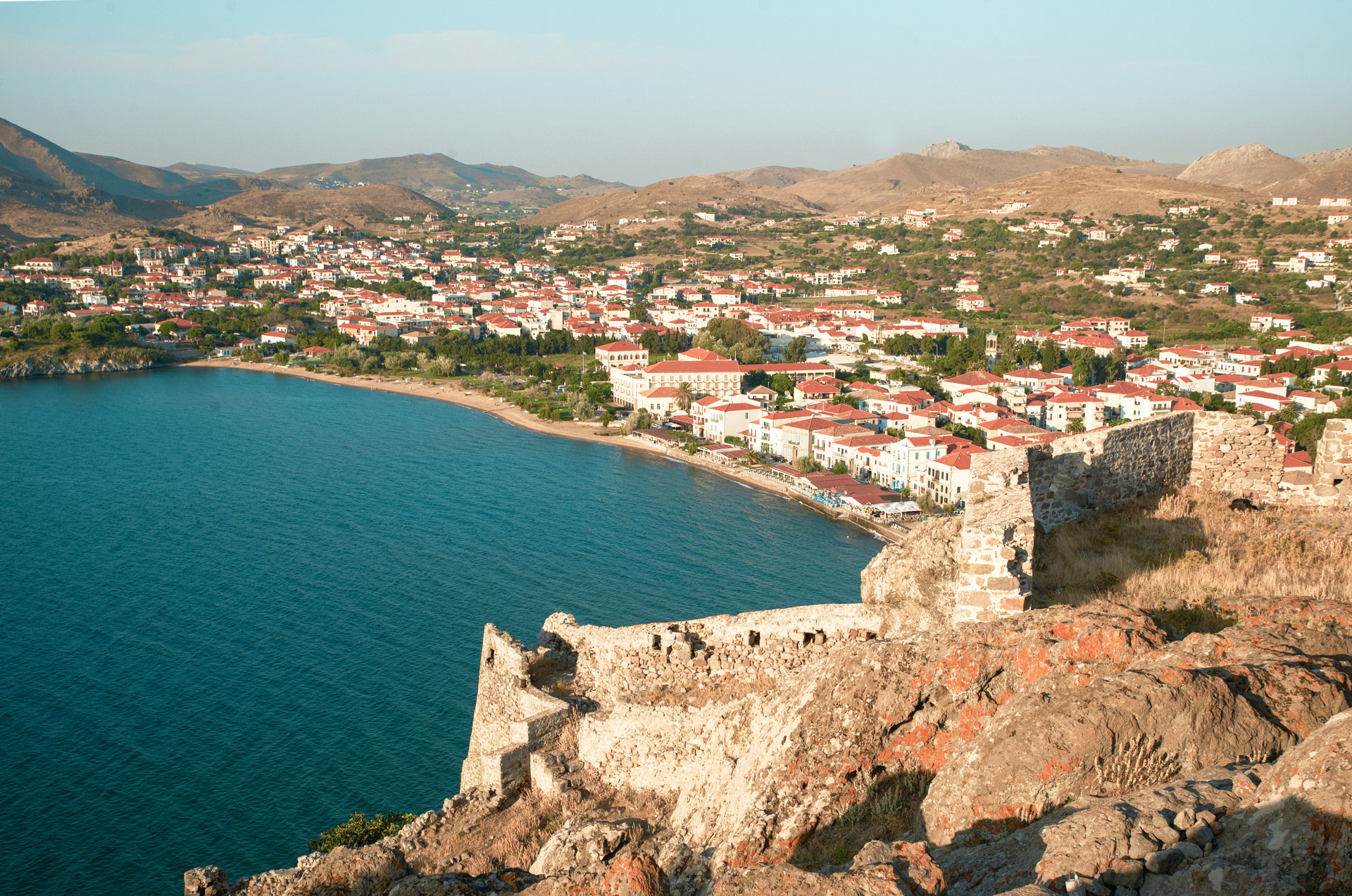 Evgati beach
Evgati (aka Negvati) beach is lively and fun, swelling with families and younger sunbathers during peak hours. Not to worry, though, as it's one of Lemnos' biggest beaches, meaning that you can always shuffle across to the isolated parts and enjoy the fine white sand and shallow waters in greater privacy. Back in the busier spots, Evgati beach comes prepared to welcome you. This Blue Flag-awarded beach has water sports, amenities aplenty, a sea ramp, and several tavernas for when you get hungry. It's on your way to Thanos beach, so keep that in mind if you want a change of scenery.
Amenities: Umbrellas, sunbeds, water sports, beach bars, sea ramp
Access: By road

10 of the best beaches in Lemnos
Great for families and fun for kids and young adults, Lemnos and its beaches hit the spot, and then some. Authentic, yet amenable, this island has cracked the code for great summer holidays.
Book your trip
All your holiday planning needs in one place, letting you book direct and benefit from official online rates