READING TIME
As long as it takes to eat a slice of watermelon
Ikaria is an island with a pedigree like no other. It was named after the mythical Icarus and is the birthplace of the god Dionysus. Meanwhile, the bacchanalian festivals that pop up around its lovely villages in August have earned it worldwide fame. But look past all that and you'll find that Ikaria is also a beautiful island with a wild, untamed character, unsullied beauty and friendly locals. It really is no wonder that its residents routinely make it past 100. The mountaintops, steep gorges and amazing beaches are as pristine as they come on Greek islands. So if you're looking to fill up on authenticity on your holidays, or some water sports action or a good swim at the end of a hike, Ikaria should be top of your list. Welcome to 10 of the best beaches in Ikaria.
Seychelles beach
If the name didn't give it away, we'll let you in on the secret: Seychelles beach is as exotic as it sounds and you'll be back for more. It's the most famous beach in Ikaria, even though it requires a 20-minute walk (or a boat trip from Maganitis) to get there. You'll be rewarded with emerald-green waters and a mixture of white sand and fine pebbles, given an extra lustre by the granite boulders within the cove, formed after an ill-fated tunnel project caused a landslide. Like Bob Ross said, there are no mistakes, just happy accidents. Seychelles beach is great for snorkelling and there are rocks that provide a handy platform from which to dive right in.
Amenities: None, parking
Access: By road & hike or boat
Livadi beach
Located in northern Ikaria, Livadi beach is ideal if you're staying in coastal Armenistis (it's also known as Armenistis beach). The water is freshened by a stream that forms a small lake before disgorging into the sea and its beauty is further amplified by the surrounding hills. Meanwhile, Livadi beach's fine golden sand and laidback charm beg you to simply lie back and sunbathe. Or you could just as easily indulge in people-watching. It's that kind of beach. There are plenty of lunch options in nearby tavernas, so pack your appetite.
Amenities: Sunbeds & umbrellas, snack bar, nearby tavernas
Access: By road & steps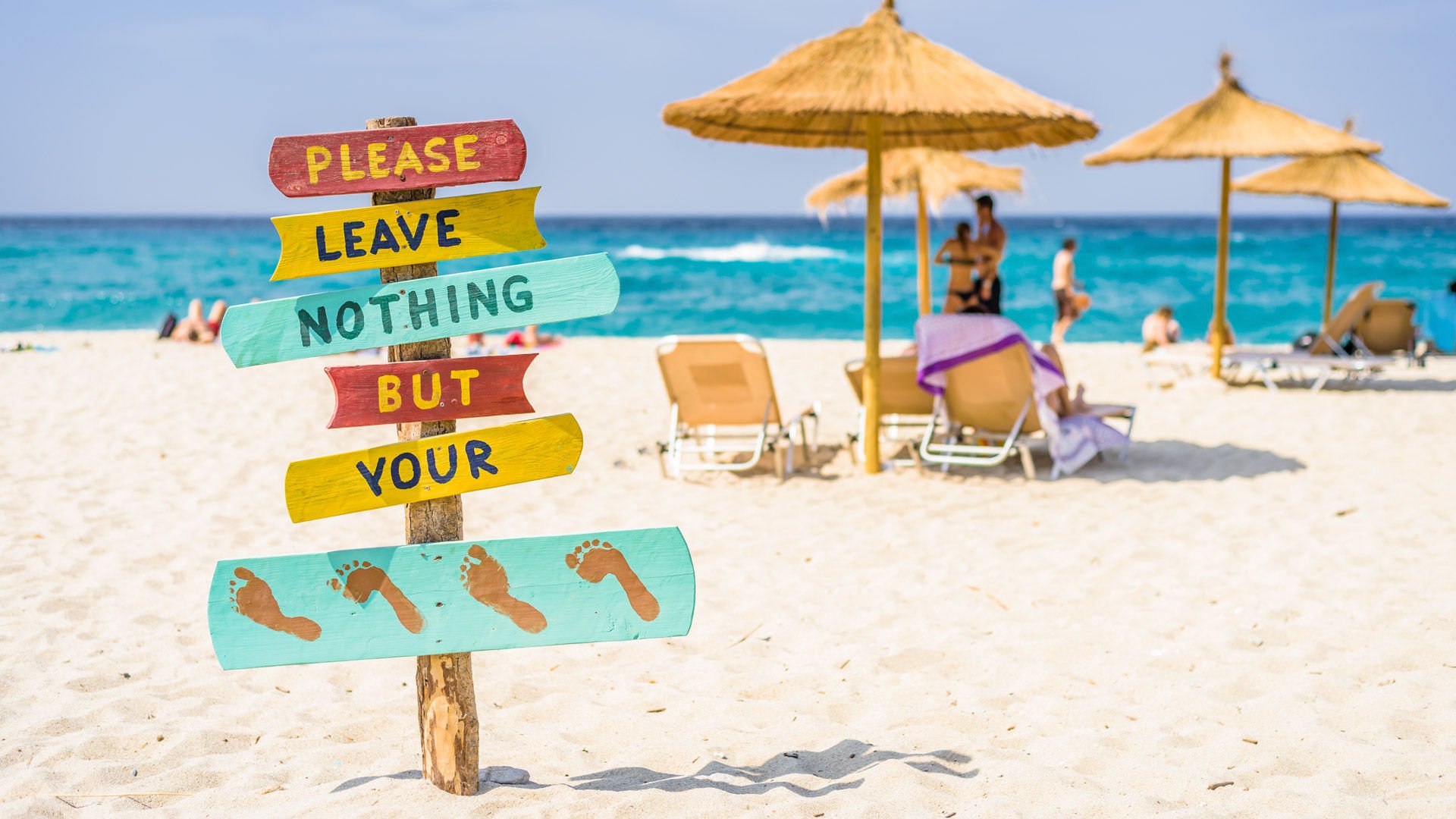 Messakti beach
Messakti is another of the best-known beaches in Ikaria. The reason? It's a stretch of fine golden sand that shines bright under the sun, with amenities and beauty to spare. It's situated near Livadi beach on the way to Gialiskari and its shore is lapped by emerald waters that are shallow enough for kids, but also fun for adults when the winds pick up a bit. If you want to work up a sweat (and an appetite), the resident water sports club offers wind-surfing and wave SUP lessons (or you could hire a regular SUP), while the beach comes with a volleyball court. Just behind the beach, there's a small lake that forms a curious little lagoon. There's also a nice viewpoint with the chapel of the Ascension above it. Perky and pretty, this is one of the most fun beaches in Ikaria.
Amenities: Sunbeds, umbrellas, beach bars & water sports
Access: By road
Nas beach
As picturesque as you can get without actually being a postcard, Nas may just be the prettiest beach in Ikaria. It sits in a small, wind-swept cove that is fed by a river that creates a double-sided patch of sand. Lush vegetation grows along the riverbed, lending it a tropical feel. It's small but charming, with thick, fluffy yellow sand and light blue water that gets deep quickly. And to one side, you can pay homage to the goddess Artemis (the ruins of her temple are located there). This is a nudist-friendly beach that also happens to be the endpoint of one of the best hiking trails on the island. Luckily, excellent food can be found at the tavernas near Halaris Gorge, with great views and a killer sunset. Just note that Nas beach is best avoided if it's windy when swimming there can get dangerous.
Amenities: None
Access: By road & steps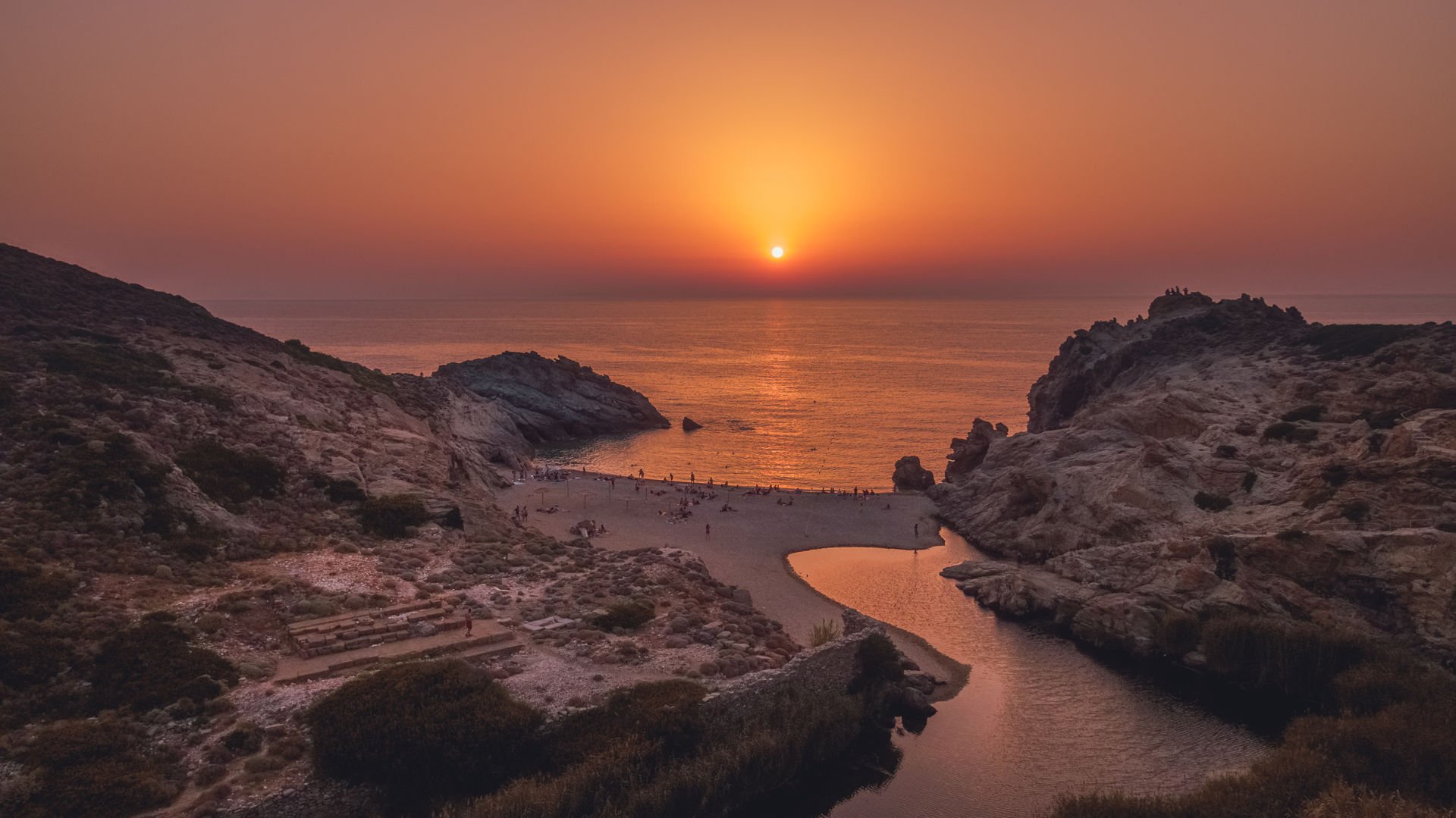 Fles beach
If you want to get the most out of your holidays in Ikaria, visit this gem. What Fles beach lacks in size, it makes up for in character, as it's surrounded by a verdant curtain of reeds and trees that gently gives way to a mixture of pebbly sand and crushed shells. The waters are calm and clear (great for snorkelling) and it's a tranquil beach that sees few people because of its lack of amenities. Meanwhile, visiting the nearby village of Evdilos and its quaint little harbour are a great way to stretch those legs and do some sightseeing, too.
Amenities: None
Access: By road & shοrt hike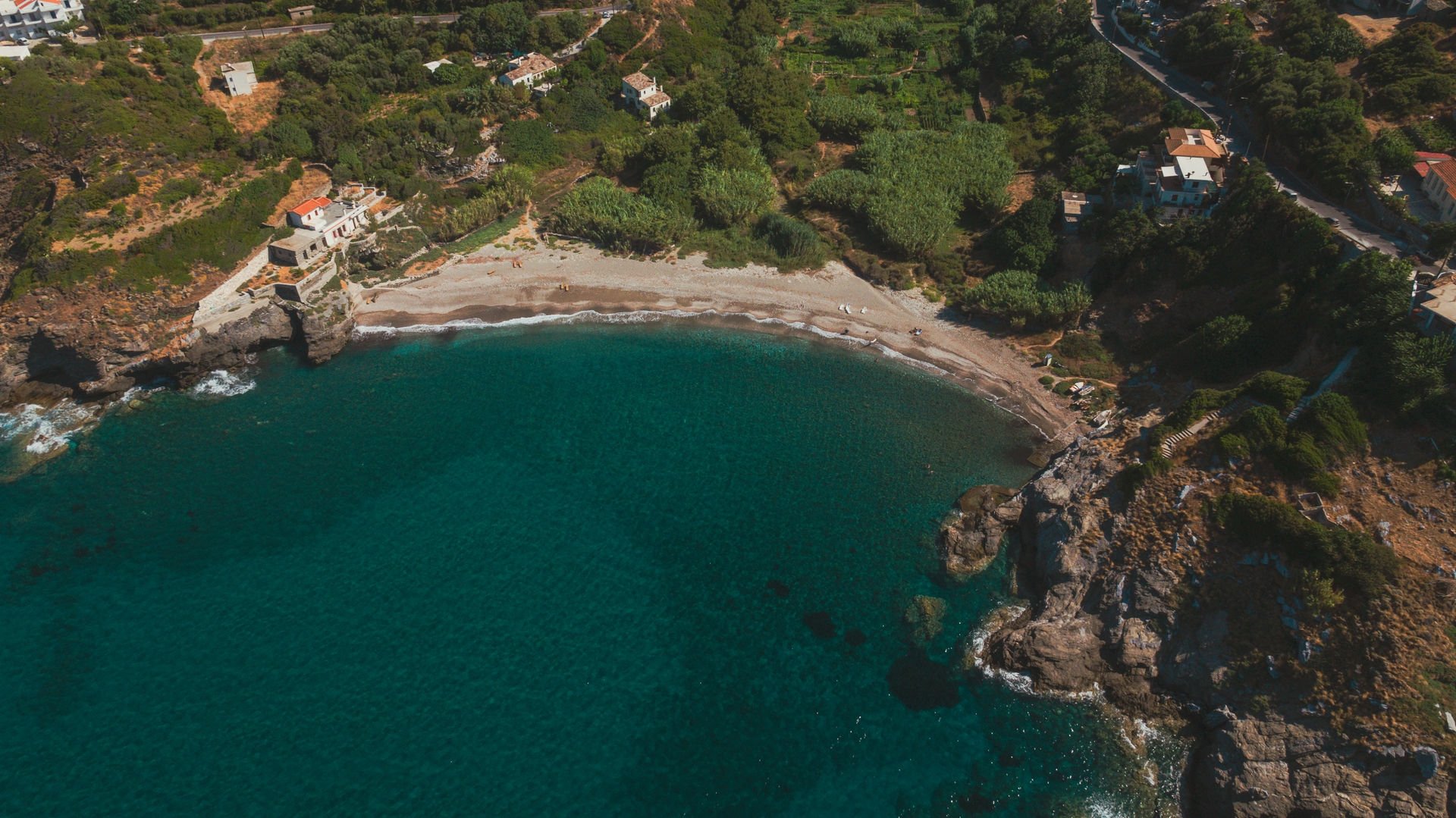 Kampos beach
One of the largest beaches in Ikaria, Kampos is also located next to Evdilos and is a great option for families for its all-around mix of beauty and amenities. There are sections of the beach without sunbeds and umbrellas, along with the natural curiosity of a river delta that creates a small lagoon on one side. Kampos beach is made up of fine pebbly sand and has shallow water that is safe for kids, although it can also be wavy. There's a lively beach bar and, in the neighbouring cove, tavernas for the catch of the day.
Amenities: A few sunbeds & umbrellas & beach bar
Access: By road
Therma beach
Quite close to Agios Kirikos, the aptly named settlement of Therma and its beach are Ikaria's natural spa salon. The spring waters have been known for their therapeutic properties for centuries and it's safe to assume that Ikaria's famed centenarian residents have all benefited from visits to the steam complex operating by the beach at some time or other. A more luxurious hamam and jacuzzi spot have also opened recently. The beach itself is a small stretch of sand and pebbles. A long soak in the warm waters at one end of the beach will set you up, after which lunch awaits at one of the many fish tavernas. The scuba diving club operating here tells you how clear the water is.
Amenities: A few sunbeds & umbrellas, water sports, tavernas, cafes
Access: By road
Nealia beach
Nealia is one of the beaches favoured by Ikaria's residents and it's easy to see why. You'll find a mix of sand and fine pebbles and clear blue waters that are great for snorkelling, along with enough natural beauty to sedate a baby elephant. The backdrop of rolling green hills and basic amenities make this a nice spot to chill and its location in a windless cove is a bonus. Its reputation is beginning to attract more visitors, so if you want more tranquility head to the adjacent Agaliasma beach, where you'll find yourself alone with nature and the string of rocks jutting from the sea.
Amenities: A few sunbeds & umbrellas, snack bar
Access: By dirt road
Iero beach
Located on the south coast of the island, Iero beach sits in a small, pebbly bay and is known for its clear blue water and rocky green landscape. It's a favourite spot for scuba divers, with the highlight being a sea cave that the locals have named the Cave of Dionysus and a shipwreck of a commercial vessel just to the west. Meanwhile, just 10 minutes away by car is the sandy beach of Agios Georgios in another small cove with incredible sand. It can only be reached by a footpath by the Tower of Drakano. The road stops as you approach a lighthouse and continues for 25 minutes by foot. Alternatively, you can catch a boat to the beach.
Amenities: None
Access: By road & hike
Faros beach
The wow factor is considerable in Faros, one of the largest beaches in Ikaria. Comprised of fine pebbly sand and some scattered tamarisk trees, Faros offers amenities as well as quiet spots in which to hide. The same-named seaside village provides ample food options and shops, while the beach offers water sports and fun for everyone.
Amenities: Sunbeds & umbrellas, beach bars, tavernas, water sports
Access: By road
10 of the best beaches in Ikaria
Ikaria is a sensory bath of colours, sounds and smells that will enthral you. Known for its clean living and the long life of locals, it's also filled with fun in the sun and will keep you coming back for more.
Book your trip
All your holiday planning needs in one place, letting you book direct and benefit from official online rates
Group
6-7 hours
Free cancellation
15 and more days before departure – retention of deposit