EXPERIENCE
Unearthing Ancient Messene in the southwestern Peloponnese
One of Greece's best-preserved archaeological sites, Ancient Messene combines the grandeur of Delphi with the natural beauty of Olympia.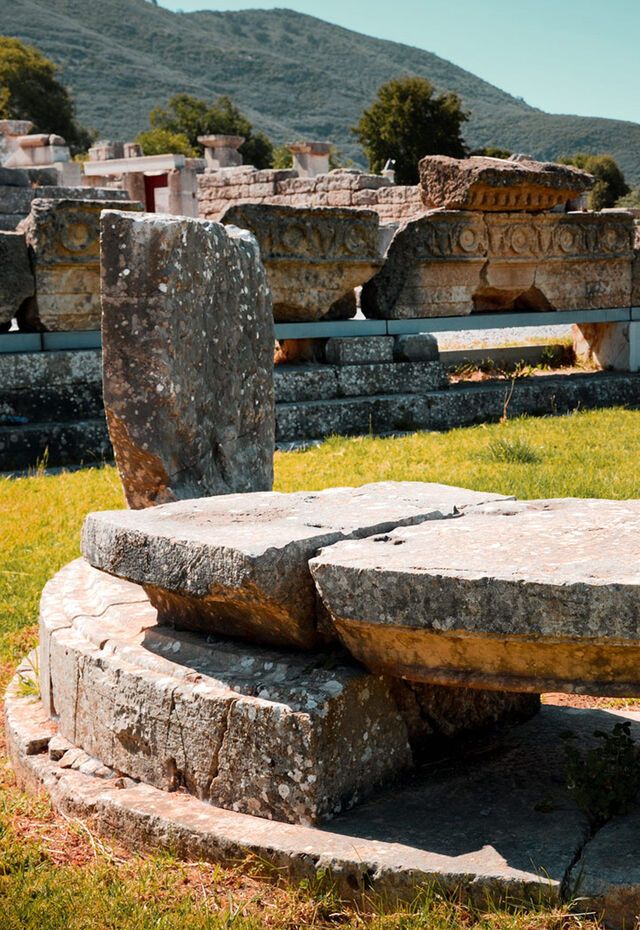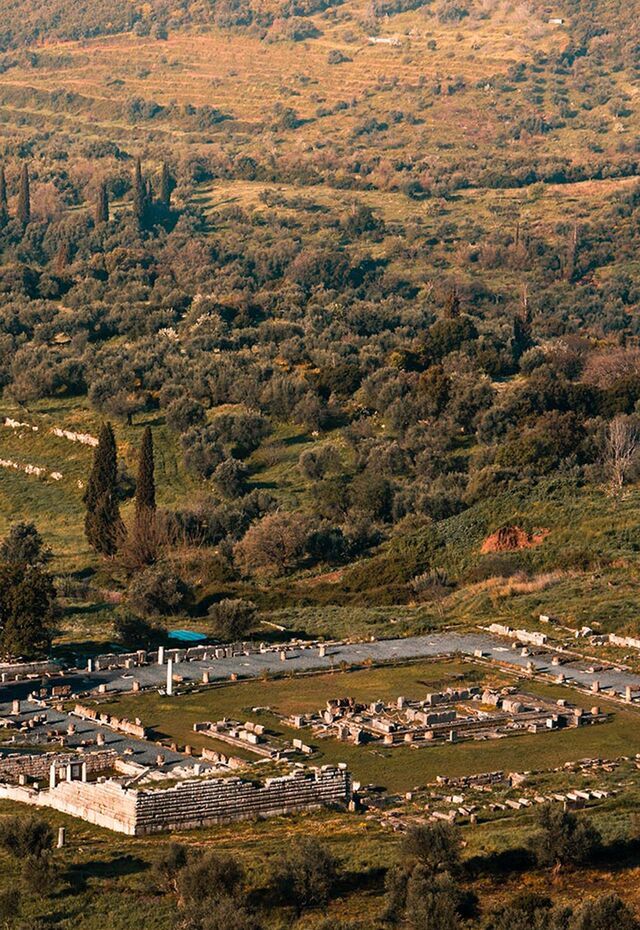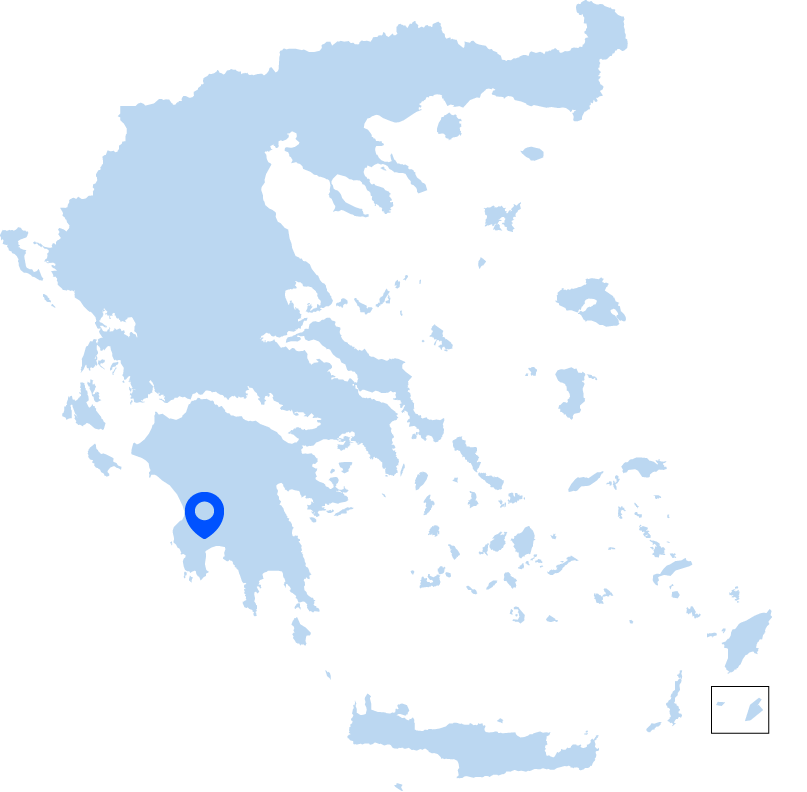 Duration
3 hrs
Season
All year round
OVERVIEW
Ancient Messene has the double attraction of being amongst the most exciting and complete archaeological settlements ever discovered and one of the most beautifully situated.
Little more than a lush green valley in the southwestern Peloponnese just 40 years ago, it now ranks as one of the most significant remains of Greek antiquity.

The city flourished in the 4th century BC after the defeat of the Spartans by the Theban General Epaminondas, ending centuries of Spartan rule. And to our eternal gain, it was never subsequently destroyed or settled over, allowing an astonishing insight into life in ancient times.

A complex that some believe is little more than a third excavated has already revealed the remains of a theatre, agora and gymnasium, as well as an assortment of sanctuaries, temples, statues, springs and dwellings – many of them brought to life by the writings of Pausanias.

Designed around a symmetrical grid system (known as the Hippodamian plan) rather than the more typical labyrinth to ward off attacks, the city can be seen as a forerunner to modern urban planning, with excellent fortifying walls that helped protect the gem we can all enjoy today.
DON'T MISS
The theatre
The first monument as you enter is the theatre, built in 3-2 BC and regarded as one of the greatest examples of its kind, reaching almost 100m in length and once seating 10,000 spectators. It was used for political gatherings as well as entertainment and has been restored to serve as a summer festival venue.
The Arsinoe Fountain
Next door is the Arsinoe fountain (named after the daughter of the mythical king of Messinia, Lefkippos and mother of Asclepius), which received water from the Klepsydra spring and had a 40m-long cistern.
The Agora
A huge square marketplace surrounded by stoas (galleries), the Agora was the centre of everyday life. Excavations are in progress but finds include fragments of a representation of a winged thunderbolt of Zeus and the temple of Zeus Soter.
The Stadium and the Gymnasium
Among the most impressive buildings, the well-preserved stadium includes 18 rows of seats, separated by staircases and surrounded by Doric stoas, where the gymnasium was housed.

The Asclepion
Along with the Agora, this was the centre of Ancient Messenian life. A 72mx67m area, with four internal stoas opening onto a courtyard, it was described by Pausanias more as a gallery of bronze statues and other artwork rather than the more typical sanatorium of the asclepions found at other sites.
The Heroon
Originally a four-storey Doric building that was part of the stadium, the Heroon served as a funerary monument for distinguished citizens given a hero's burial.
The Fortifications
Ancient Messene's imposing walls once stretched to 9km, broken only by Mt Ithome, which served as a natural fortification of its own. One of the city's two monumental entrances, the Arcadian Gate, has survived, along with eight impressive towers. As you look up at Mt Ithome, imagine that it too was once fortified.
Archaeological Museum
More than 12,000 findings from the excavations are kept in the on-site museum, a two-storey building by the entrance.
Book your trip
All your holiday planning needs in one place, letting you book direct and benefit from official online rates
Group
4 hours
Free cancellation
Not sure? You can cancel this reservation up to 24 hours in advance for a full refund
Group
4 hours
Free cancellation
Not sure? You can cancel this reservation up to 24 hours in advance for a full refund
Group
4 hours
Free cancellation
Not sure? You can cancel this reservation up to 24 hours in advance for a full refund
To Ancient Messene
From Athens
By car: 230km (2hr50min)
From Kalamata Airport
By car or taxi: 23km (30min)
Ancient Messene is open all-year round (except for national holidays).
During the summer months, avoid the midday heat as there is little shade.
Archaeological Site & Museum: Seasonal opening times apply, open daily in the summer from 8:00-20:00.
For an extra-special atmosphere, it's worth visiting in spring when the surrounding nature and olive groves are in bloom, or in autumn when the light is similarly inspiring.
At least 3 hours are needed to explore the entire site and the museum.
Tickets: €10 (€5 reduced)
Ticket includes entry to the Archaeological Museum
You will find all the basics (snacks & drinks, toilets etc) but be aware that the site is expansive and offers little shade. So don't forget your hat, sunscreen and water bottle and wear comfortable footwear.
There are no special provisions for people with disabilities. So visitors with mobility difficulties may not be able to explore the entire site.
The nearby villages of Mavromati and Arsinoi offer a selection of traditional tavernas.
For something more lively, there is the city of Kalamata (50mins by car), with plenty of accommodation options.