EXPERIENCE
Exploring nature's gifts in the Marine Park of Alonissos
Rory Collins
What a rare treat to explore the largest marine park in Europe, home to the incredibly shy monk seal and other protected wildlife, and visit beautiful secluded bays and beaches along the way.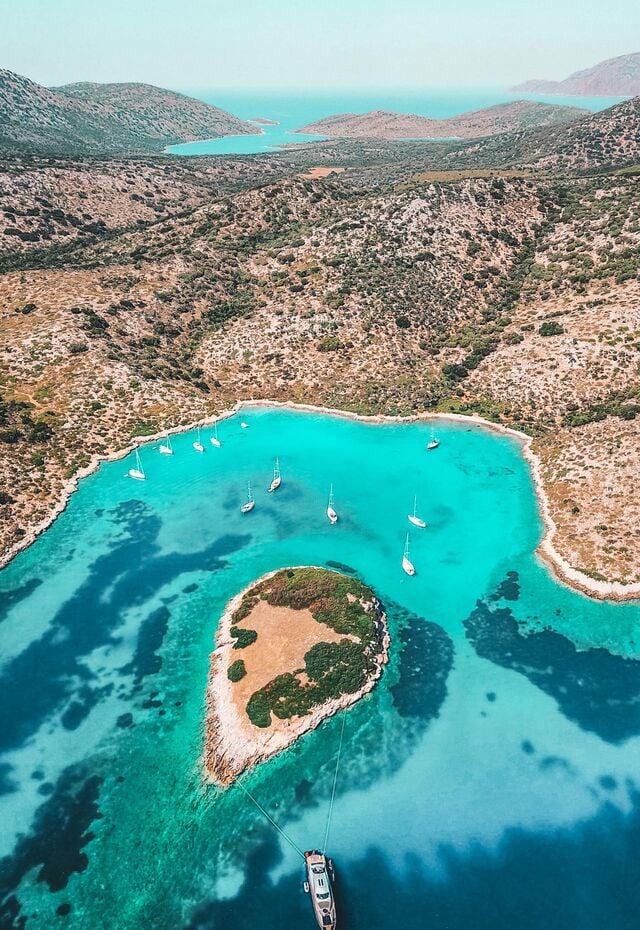 Duration
6 - 8 hrs
Season
May - October
OVERVIEW
Greece's first marine park offers the rare experience of exploring a protected wildlife reserve whilst also enjoying Mediterranean scenery and pristine beaches.

If you're a wildlife lover, you'll be sold just on the roll call of species found in the reserve. More than 80 types of bird (from tiny warblers to cormorants, gulls and eagles) and 300 species of fish reside here, along with reptiles and other animals. And, of course, the increasingly rare Mediterranean Monk Seal (so-called because of its love of isolation), for which the park is best known.

Around 10% of the estimated 500-600 Monk Seals (Monachus-Monachus) left in the wild live in the sea caves and along the rocky shorelines of the park's islands. They're amongst the biggest seals in the world and live to 35-40 years old, but they breed only once a year and seeing them is a very rare treat. More common are dolphins (striped and bottlenose).

But to take a boat trip around the marine park's 6 islands (excluding Alonissos) and more than 20 islets isn't just about seeing the wildlife. It's about swimming in beautifully clear water and even going ashore to visit monuments dating from Classical to Byzantine times.
DON'T MISS
Your itinerary depends on which boat trip you choose, but your experience will include some of the following islands:
Kyra Panagia
The largest of the islands, this is believed to be where Ancient Alonissos was located. There are two beautiful bays, Agios Petros and Planitis (to the south and north), where some boat trips stop for a swim. And to the east is the monastery of the Virgin Mary, with wonderful views from a height of 300m.
Peristera
The second-largest island of the marine park (and closest to Alonissos) has two natural harbours, Peristeri and Vasiliko, and a number of beautiful beaches. A 5th century BC shipwreck, with more 3,000 amphorae, was discovered here, confirming that the area was an important ancient trading route.
Skatzoura
Located between Alonissos and Skyros, Skatzoura was a stronghold in Hellenistic times and traces of rural settlements have been found here. There's also an abandoned monastery located at the highest point, with panoramic views of the marine park. It's an important reserve of seagulls and Eleonora's falcons.
Psathoura
The northernmost island is volcanic and rocky, with flora that does not exist on other islands in the park. To the south is Mandraki, the island's only beach, with white sand and black rocks. You can swim here but you're not permitted to stay overnight. Before you leave, you can visit the impressive 29m tall 19th century lighthouse. Some boat trips may include stops at beaches in Alonissos, such as Leftos Gialos, Tzortzi and Milia and also Alonissos' Blue Cave, with its impressive stalactites.
GET PLANNING
From Patitiri port (Alonissos)
Εxcursion boats leave from 10:00 and return around 18:30.
To Patitiri port
From Votsi

By car or taxi: 2km (6min)

From Steni Vala

By car or taxi: 10km (20 mins)
By bus: In summer, there's a bus that connects Patitiri with Steni Vala.
Organised boat trips leave from Skiathos and Skopelos and include stops in Alonissos and some of the islands of the marine park (most often Kyra Panagia).

Boat excursions to the marine park operate from May to October.
Tickets start from €20-30 per person.
All boat trips are dependent on weather conditions.
May-June and September-October are the best and quietest months to visit.
Autumn
Spring
Summer
Winter
The full experience lasts 6-8 hours.
The beaches visited aren't organised and most of the islands are uninhabited (with the exception of the few inhabitants of Kyra Panagia).
You can find out more about the Alonissos Marine Park in the Alonissos Underwater Museum, including information about how to dive to Peristera island's ancient wreck.
Make sure you have everything you need for a day in the sun: