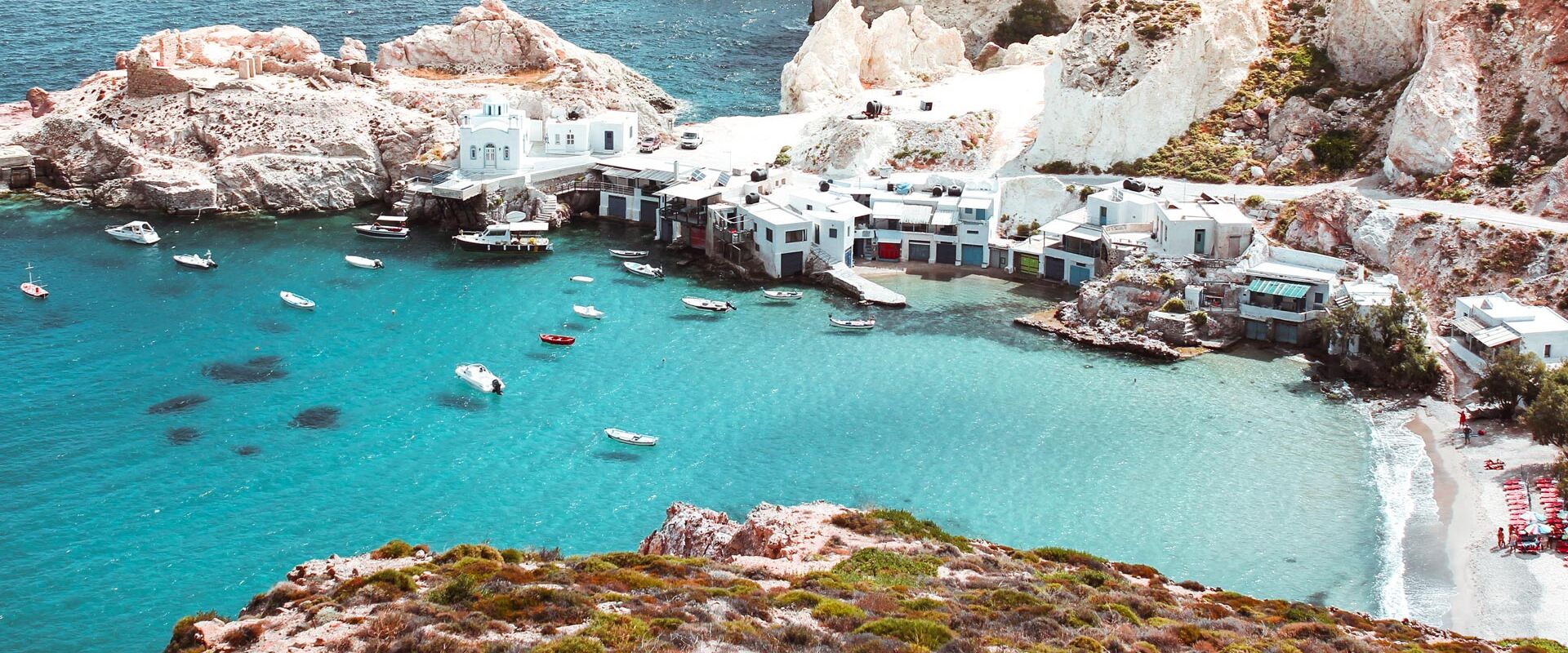 Covid-19 update
01/06/2022
Visitors to Greece are no longer required to present Covid vaccination certificates after the latest move to allow smooth entry to the country.
From May 1, visitors won't be required to hold EU Digital Covid Certificates (or other Covid vaccination or recovery certificates) on arrival, and can enjoy full access to museums, archaeological sites, restaurants and other culture and entertainment venues for which certificates were previously required.
The move came after the recommendation of the scientific committee advising the Greek government and represents the latest measure to facilitate travel to Greece following the abolishment of Passenger Locator Forms.
Certain health protocols are still in place to ensure your safety, including wearing a facemask in some spaces (including public transport, shops, taxis and public utilities). For any further Covid-related questions, see out FAQs.
We've been thinking of your holiday needs
We're sure you're as excited as we are to get the ball rolling again and can't wait to welcome you back. We've updated a lot of our content, with suggestions for hidden gem Greek islands, romantic holiday spots in Greece and a whole load of other travel ideas that emphasise outdoor activities and quieter destinations.
Just, please, remember to travel safely and stick to all the health guidelines, including washing your hands and checking your temperature regularly. Self-test kits are widely available at Greek pharmacies at around €5.
Check out our Covid-related FAQs, including what travel documents you will need to enter Greece and visit Greek islands or mainland destinations and whether you will need to quarantine etc.
If you've got any other questions, don't hesitate to get in touch on our live chat.
Welcome back and stay safe.
The Discover Greece Team
Useful info
---
Endless Greek Summer
Here is a selection of neverending greek summer stories you may also like
Covid-19-related FAQs
Below are answers to many of your questions, so you can get planning with your holiday to Greece. We'll be monitoring everything closely and keeping you updated. In the meantime, if you've got any other questions, you can always ask the Discover Greece team on the live chat and we'll help out in any way we can.
If you belong to any of the following, you will not need to quarantine in Greece: Nationals and permanent residents of member states of the European Union & Schengen Area (including their spouses or partners with which they reside and their minor children). Additionally, permanent residents of the following countries do not need to quarantine: Australia, New Zealand, South Korea, Thailand, the United Arab Emirates, the United States of America, Singapore, Rwanda, Israel, the Russian Federation, Serbia, the United Kingdom, Canada, Belarus, Bahrain, Qatar, China, Kuwait, Saudi Arabia, North Macedonia, Bosnia and Herzegovina, Ukraine, Montenegro, Albania, Japan, Lebanon, Azerbaijan, Armenia, Jordan, Moldova, Brunei and Kosovo.

In order to prove your place of residence, third-country nationals may present their residence permit, work permit, identity card, driving license or other documents, provided that the place of residence is stated.

There is also provision for individuals travelling for essential reasons to enter Greece without the need to quarantine. However, the information here is limited to holiday travel only.
From May 1, no Covid-related documents are required, after the abolishment of the Passenger Locator Form and the need to present an EU Digital Covid Certificate (or other valid Covid vaccination or recovery certificate) on entering Greece.
International passengers may be given a rapid Covid-19 test upon arrival in Greece. The result is usually available within 20 minutes.
If you test positive in Greece, you will be required to quarantine for 10 days (or 7 days if you have been fully vaccinated) in a designated hotel provided by the Greek state. In order for the quarantine to end, you will need to test negative in a laboratory PCR test on the last day of your quarantine. Close contacts will also need to quarantine for the same period of time.
Just as with entering the country, no Covid-related certificates (vaccination or recovery or PCR / Rapid test) are required to travel domestically by airplane, ferry or road within Greece.
All shops, culture and entertainment venues (museums, archaeological sites, cinemas etc) and restaurants, bars and cafes) are operating at 100% capacity and with no entry restrictions. However, you may be required to wear a facemask, including whilst waiting to be seated at restaurants and cafes
You will need to wear a mask in congested outdoor spaces and indoors (public transport, shops, taxis and public utilities, as well as private communal areas in hotels etc).
General measures
In the context of the protective measures in place to safeguard the passengers', the airport community employees' and the wider public's health and safety, Athens International Airport is adhering to the Authorities' instructions, and to official guidelines.
We are constantly working closely with the National Public Health Organization (EODY), whilst all instructed measures are diligently implemented.
Specific instructions have been issued by EODY for passengers and airport employees across Greece to respond to the COVID-19 crisis. These can be found on the EODY site.
More specifically, at Athens International Airport, as in all Greek airports, a cluster of measures including, among other, flight monitoring procedures, the presence of doctors and other emergency personnel, as well as the dissemination of information for the maximum possible awareness.
Airport employees are constantly updated on the most recent developments regarding COVID-19 and the Authorities instructions for the avoidance of the widespread of COVID-19.
Specific measures currently in place:
In accordance with the guidelines of the national health authorities, the meticulous observance of rules for hand washing / sanitizing and for respiratory hygiene, the use of face masks, physical distance keeping, very good cleaning and sanitizing of spaces and surfaces, especially of those frequently hand touched, are the basis for the protection of passengers and employees at Athens International Airport. Passengers travelling on domestic or international flights #athensairport, should bear in mind the following:
Τhe use of face masks is recommended in all indoor airport areas. Please note that, as per the Hellenic National Public Health Organization, face mask filtering respirators with one-way valves should not be used. Passengers using masks should also be aware that they may be asked to temporarily remove their mask during security and identity check processes.
The use of face masks is recommended during boarding, and during the flight in order to achieve a higher level of protection. In that case, it is recommended to change the face mask every 4 hours or in the case of the face mask being wet or soiled. Make sure you have enough quantity for your entire trip.
Airport employees are equipped with all personal protection items (masks, gloves, sanitizing liquids), which they are using at all times during their work.
Hand sanitizer dispensers are available in over 300 spots at the airport, including bathrooms and restrooms, for use by the passengers during the departure and arrival processes.
Polycarbonic panels are used for additional protection during the provision of services conducted in direct contact with employees (ticket desks, information counters, etc.).
Keeping distances is mainly a behavioural measure for passengers and airport staff, and a distance of 1 meter is recommended to be kept during all phases of the travelling processes on ground when feasible.
Facilities, machinery, equipment and frequently touched surfaces in the airport areas, are cleaned and sanitized regularly with special materials.
Airport, airlines and ground handlers' staff are providing information to passengers with regards to hygiene measures and to the relevant procedures applied in the airport, as well as on board.
Information and guidelines regarding hygiene measures are communicated through a constant flow of public announcements (PAs are regularly made through the airports public announcement system), as well as through visual content on the airport screens and relevant signage in all areas.
Passengers are encouraged to select e-services options prior to their departure to the airport (web check-in) as well as within the airport areas (web check-in, self check-in, baggage tag printing, drop off baggage, e-parking).
Seating in all waiting areas has been re-arranged, in order to allow for minimum distances to be kept. It is recommended that one seat be left vacant next to each seated passenger. Families or couples travelling together do not have to keep this distance.
The air-conditioning system in the airport facilities provides fresh, renewed, and top-down non-recycled air, in order to limit the horizontal air circulation. Furthermore, the air is filtered for dust, viruses and bacteria or fungi, through special filters.
For the protection of Passengers with Reduced Mobility, all the above measures are meticulously applied, while, in addition, rules for priority boarding, avoiding lengthy stay in closed areas including the airport's PRM facility, are implemented. PRM wheelchairs and Ambulifts are cleaned and disinfected regularly, before and after their use, in order to secure the maximum possible protection of passengers against Covid-19.
You must comply with the health protection measures in force at the airport – these measures are constantly communicated through visual material and repeated audio announcements.
The above measures are subject to continuous evaluation as to their effectiveness and will be modified as deemed necessary and instructed by the competent State Authorities.
According to joint Ministerial decision issued by the Hellenic Republic, all measures related to the corona pandemic are lifted. All arriving passengers into Greece regardless of country of origin, no longer require completed passenger locator form, valid certificate of vaccination or recovery from COVID-19, or evidence of a negative test result from a PCR/Rapid test.
Τhe use of face masks is recommended in all indoor airport areas. Passengers using masks should also be aware that they may be asked to temporarily remove their mask during security and identity check processes. Passengers are advised to keep distance from other people and avoid congestion in terminal facilities. They are obliged to comply with the instructions of the permanent and temporary staff of the airports or airlines who are responsible for the terminal supervision, queue management and assistance of passengers, in order to maintain the necessary distances and to ensure controlled embarkation-disembarkation and queues, in order to avoid congestion.
Passengers can travel from/to the airport 24 hours a day.
Escorts are allowed at any time of the day or night, provided that they do not exceed the maximum number of passengers allowed when traveling in private vehicles or taxis.
For additional information regarding the above, you may call the Consumers' Line at 4digit telephone number 1520, the Hellenic Police , or the Greek General Secretariat for Civil Protection at 213 – 15 10 100 or send an email at generalsecre[email protected] / [email protected].
1. The cleaning services have been intensified across the airport facilities.
2. The routine cleaning materials have been replaced with fast acting disinfectants.
3. Cleaning and sanitizing of frequently touched surfaces, such as door handles, elevator buttons, handrails, escalators etc., has been intensified.
4. In the event of an emergency involving a virus suspicious case, special disinfection or spraying is carried out, in accordance with the Health Authorities instructions.
Kindly be advised of the availability to perform diagnostic test for SARS-COV-2 (Covid-19) at Athens airport, using both methods, Molecular & Rapid Antigen test, at the specially configured testing point of Athens Medical Center, located on the "Arrivals" level, between exits 2 and 3.
However, the testing point at the airport should be used as a last resort due to unpredictability of traffic flows and possible increased waiting times.
The testing point operates on a 24-hour basis. You may proceed for testing without an appointment.
Due to increased attendance, longer waiting times might be expected thus, passengers are kindly requested to timely attend the testing point at the airport for their molecular (PCR) or Rapid-antigen test. As far as Rapid tests are concerned, it is highly recommended to plan for at least 3 hours available time prior to your departure.
Payment options available at the testing point include the use of POS machine accepting debit / credit card or cash.
Registration & payment procedure for the Molecular(PCR) test can be also accomplished electronically through the platform https://payments.iatriko.gr/. Details and important information are included in the section "Frequently Asked Questions" of the platform.
Test results for molecular (PCR) test will be delivered to you, by email, within approximately 24 hours. Response time varies according to sampling time or volume of tests.
Test results for rapid (Antigen) test are available by email ,15-20 minutes after completion of sampling. For any further information, please contact Athens Medical Center representatives at [email protected].
Instant hand sanitizers have been installed in all toilets, in all the departure gates, and in more than 300 locations within the terminals.
Passengers
Passengers must contact EODY in the four (4) digit line 1135 or the Greek General Secretariat for Civil Protection at 213 – 15 10 100 for further advice.
Cargo transport
There are no restrictions imposed for cargo transportation so far.
Terminal facilities & services
Various Cafes/Snack Bars are available throughout the Terminal Building.
Smoking in the Terminal Building is not allowed. Designated smoking areas are available at the following passenger areas :
Departures Intra Schengen (opposite departure gate B12)
Departures Intra Schengen (opposite departure gate B19)
Departures Extra Schengen (opposite departure gate A8)
Arrivals Intra Schengen (opposite baggage belt 6)
Arrivals Extra Schengen (before entering in the Passport Control area)
All airlines' CIP lounges operate daily according to the flight schedule. For further information kindly contact your airline.
Access to/from airport
All public means of transport (Bus, Metro, Suburban Rail and regional buses) are in operation at present.
More information regarding specific routes is available through the following links: