When you look at the incredible mix of Aegean blue and pine-forest green, it's pretty clear that Skopelos was always destined for stardom. It is one of the lushest Greek islands – with forests that practically reach into the sea. If you've seen the movie Mamma Mia, which was shot there, you'll know exactly what we mean. But the truth is that just about anyone who visits Skopelos is made to feel like a movie star … whether you're lounging on a dreamy beach, eating seafood in a seaside taverna, strolling around the charming alleyways of Hora (the main town) or immersing yourself in traditional crafts like pottery or rebetiko folk music. So let's help you write your own script by exploring all the best things to do in Skopelos and get your holidays started on this showstopper island in the Sporades.
You can reach Skopelos by ferry from Volos or Agios Konstantinos on mainland Greece, Mantoudi or Kymi in Evia, or from the nearby islands of Skiathos, Alonissos and Skyros.
Start with a long stroll around Hora
First impressions are everything in Skopelos. Arriving by sea, you're greeted by the terracotta-coloured roof tiles and brown wooden shutters of the amphitheatrically built houses of Hora (the main town and port) and a backdrop of emerald-green pine trees. So the first of your things to do in Skopelos is to put the beach on hold (just for a bit) and explore one of the most charming settlements in the Aegean. Highlights include the 17th-century Church of the Virgin Mary (Panagitsa Tower) at the edge of the port, from which you can walk up to the Venetian Castle where you'll find cafes and little tavernas that have amazing views.
Strolling through the Old Harbour and down picturesque alleyways, you'll find more cafes and tavernas and pass shops selling local products and hand-made souvenirs. And look out for the House of Pavlos Nirvanas (a modern Greek novelist who was born in Skopelos and whose refurbished house is a wonderful example of classic Skopelos architecture and a folk museum) as well as the Vakratsa Mansion (the former home of a renowned local doctor, filled with traditional furniture, handcrafts and medical instruments).
Local tip: You'll hear rebetiko (folk) music in many tavernas and the annual Rebetiko Festival is one of the summer highlights of Skopelos. With bouzouki seminars, concert & cinema screenings, and exhibitions of acoustic instruments, the festival honours the work of the great folk artists of Skopelos' rebetiko tradition.
Turn on the style at a choice of amazing beaches
There's no doubting the highlight of your holidays in Skopelos. Whatever beaches you choose, you'll be amazed by the blue of the sea and the green of the pine trees. It hardly seems right to highlight just a few but we'll give it a go.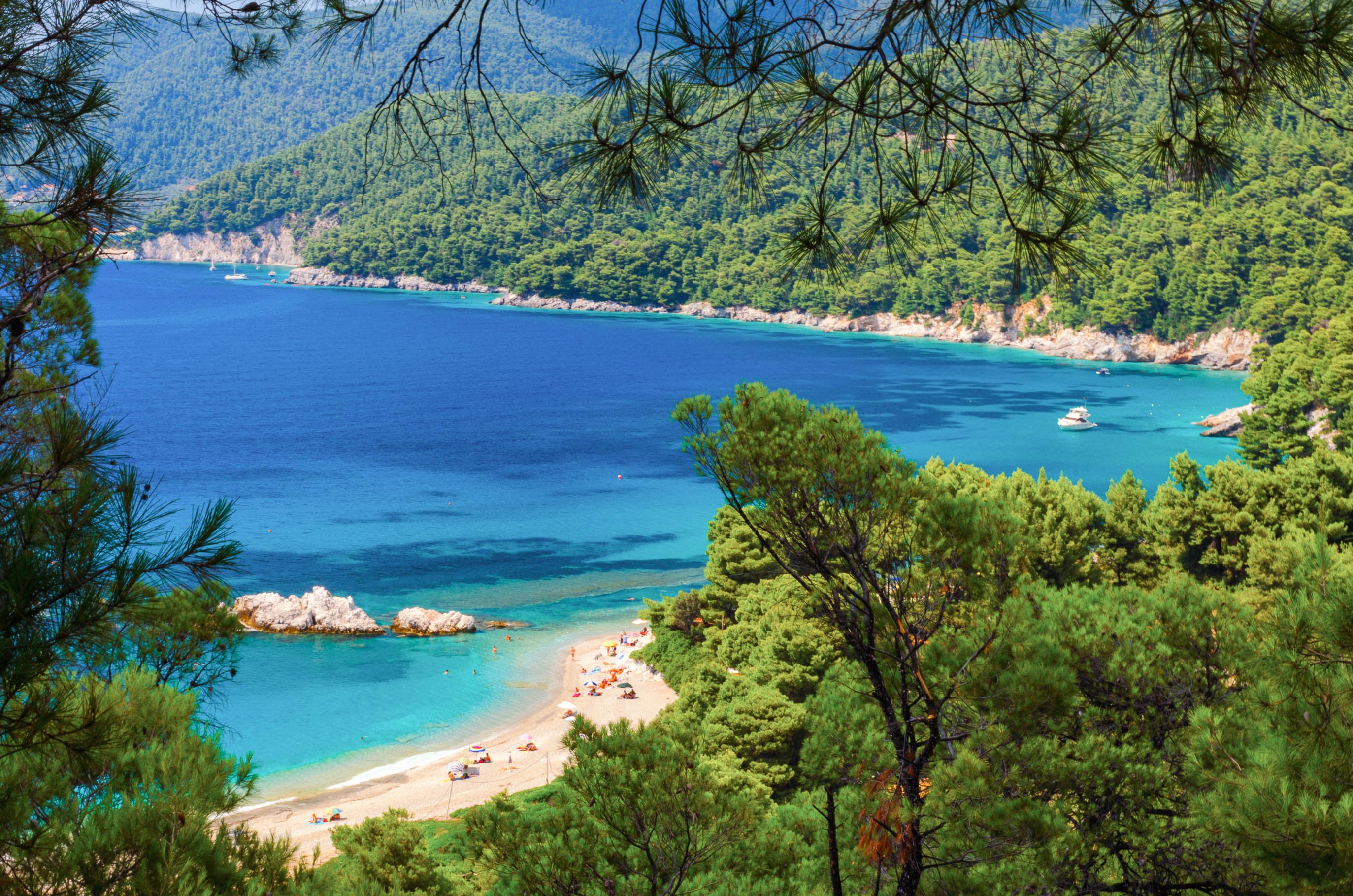 Starting on the west coast, Kastani beach (which featured in Mamma Mia) is a gorgeous bay, with sand and fine pebbles and easy access, as well as amenities for the whole day and a killer sunset. The same can be said for Milia (organised with sunbeds, beach bar etc) and a beautiful view towards the islet of Dasia. You'll also find Kayaking Skopelos on the beach, where you can book excursions (from day trips to week-long expeditions) to secluded beaches, sea caves and uninhabited islands. Other beautiful nearby beaches include Panormos and Elios.
Another beach gem worth seeking out (especially if you are based in or near Glossa) is Perivoliou, on the northeastern coast. It's a magical blue-and-green bay, with sand and fine pebbles and impressive rocks. The journey here is a part of the experience, with dense forest on both sides of the small road leading to the beach.
Great beach options closer to Hora are Stafilos (sandy & fine pebbles, organised and protected from northerly winds) and Velanio (within walking distance from Stafilos, with umbrellas, sunbeds and pebbles – perfect for absolute calm) on the south coast. And to completely get away from the crowds, there are countless rocky bays and inlets to swim at. One of the best known (another with a cameo role in Mamma Mia) is Amarantos. Moving up the coast, you reach Agnontas beach (perfect for combining a swim and a seafood taverna meal and with a little port from where Mastrale Rent a boat gives you the option of exploring some of Skopelos' otherwise inaccessible beaches) and Limnonari.
Create your own Mamma Mia moment at Agios Ioannis
Let's not put it off any longer. It's time you got your first real Skopelos Mamma Mia photo op. Shortly before arriving at Glossa as you head north, there's a little road that leads through a pine forest and ends with the sight of the little chapel of Agios Ioannis sitting royally on a hill 100m above the sea. It's where Meryl Streep and Piers Brosnan (aka Donna and Sam) were married. There's a bonus here with Agios Ioannis beach below and Spilia beach nearby. But you've come for the magical view from the chapel. There are around 100 steps to reach it, so arm yourself with water and plenty of endurance. You'll be rewarded!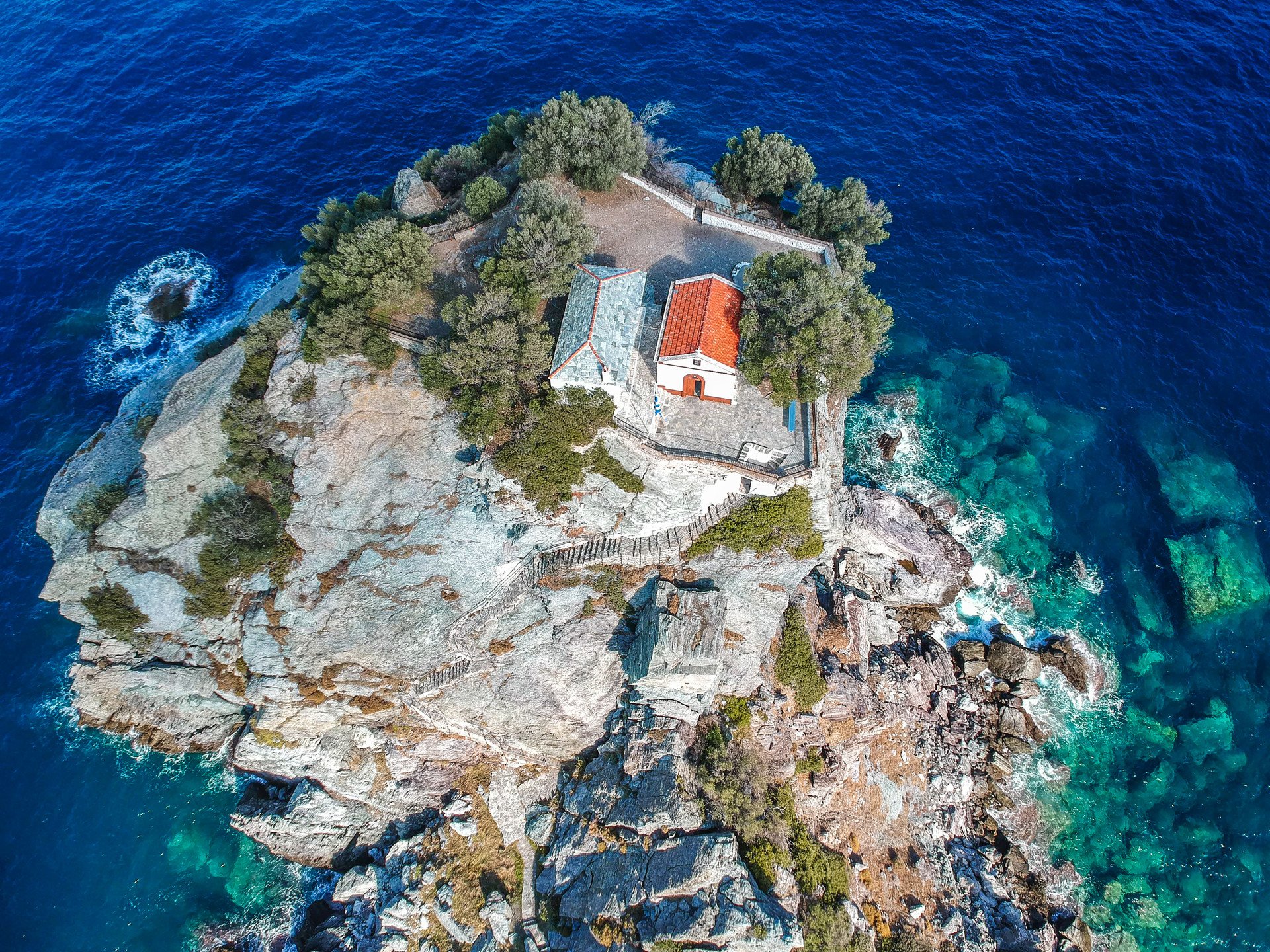 Explore the underwater magic of Skopelos
With all that beautiful clear water, there's no way you're not going to want to explore Skopelos' underwater world. Thankfully for you, it's as simple as grabbing a mask and flippers and kicking your way around the coastline of whatever beach you're at. But let's take it to another level with some scuba diving. Whether you're a first-timer or a skilled diver, there are options to match your experience at the PADI-certified Skopelos Dive Center. Imagine diving to cave entrances at Agia Anna beach, exploring reefs and shipwrecks, and a boat trip to dive around Dasia isle.
Another unforgettable diving option is a boat trip to the Alonissos Marine Park (the first in Greece and the largest in Europe). There are six islands and around 20 islets in the marine park, hosting a wealth of sea life, including the incredibly shy Mediterranean monk seal. Diving expeditions have also started to a 5th century BC shipwreck in the marine park, with more than 3,000 amphorae scattered around the wreck.
Discover Skopelos' local cuisine
You'll love the food on your holidays in Skopelos. There are local specialities that stand out – cheese pies twisted into a swirl and gently fried until golden, slow-cooked pork with plums (an ingredient of many local dishes) and rofos stifado (grouper fish stew with onions, garlic, bay leaves, tomato, extra-virgin olive oil and plums). But mostly, it's just about the freshness of the ingredients and the local touches.

If you've got a sweet tooth, try the walnut pie with ice cream and treats like hamalia (almond-based confectionery), rozedes (walnut sweets) and avgato (a plum preserve). There are all kinds of so-called spoon sweets (strawberry, bergamot, cherry, rose, mandarin etc). Check out The Skopelitissa (a traditional confectionery store in Hora and you'll see for yourself. Other treats include locally made honey and bee products (with apiaries like Ktima Stamatiou supplying local stores) and locally brewed beers (Spira Brewery has a shop/bar in Hora).
If you want to learn how to cook like a local, Fasolaki is a wonderful guesthouse overlooking Hora, owned by Fotini and Marina, a cook and a pastry chef full of passion and love for Greek gastronomy. It's a beautiful setting for a three-hour cookery lesson where you'll learn about the techniques, history and flavours of Skopelos' traditional cuisine and local products. You get to taste everything and relax with a glass of wine and meet people from around the world. And a final recommendation is the Skopelos Experience, created by two people who love good food and nature and have created an escape with games, animals and a canteen serving gourmet street food with local ingredients.
Visit Glossa, Skopelos' second-largest settlement
Perched 250m up on a hillside and with sweeping views of the coast, Glossa is very different to Hora. Wondering down the narrow alleyways and admiring the traditional architecture of two-storey houses make visiting Skopelos' second-largest settlement an experience in itself. And you'll love all the stores selling traditional products, especially those created by the local Women's Agricultural Cooperative known as Glossiotisa (try the avgato). A tip is to spend the day at nearby Perivoliou beach and then head up to Glossa at sunset. The island you can see in front of the setting sun is Skiathos.
Follow in a long line of Skopelos potters
You'll quickly notice how proud Skopelos is of its long pottery tradition, with the Rodios Pottery ceramics store (*) and workshop by the port being part of that rich heritage. Visiting the shop, you can buy a piece of traditional handmade and hand-decorated Skopelos pottery. You can even have a pottery lesson, gaining a first-hand insight into the pottery traditions of Skopelos and learning local clay-shaping and decoration techniques.
* Magda Rodiou, the author of this article, is a fourth-generation member of the Rodios family that owns Rodios Pottery.

Explore Skopelos by bicycle
With such a rich landscape, wonderful sea views and forest roads all over the island, Skopelos is perfect for biking expeditions. There's a bike shop in Hora (Skopelos Cycling) that can sort you out with the right equipment (mountain bike, gravel bike, helmets etc) and set you on your way. In summer, the Night Ride is a great cycling tour around the outskirts of town (only moderately difficult), taking you through a riverbed and along forest roads and including sunset views over the little port of Agnontas and stops at other places of interest on the way. Otherwise, you can hire bikes and head off under your own steam, choosing a coastal route to beaches and seaside tavernas or an inland route through olive groves and villages.

Visit the monasteries on Mt Palouki
You'll pass countless churches just wandering around Hora, but to really understand Skopelos' religious heritage, you have to head to Mt Palouki in the densely forested southeast of the island. The area hides a collection of mostly post-Byzantine monasteries, each with its own architectural and historical interest and housing important relics and icons.
The Monastery of the Transfiguration of Christ (Metamorphosis Sotiros) is one of the oldest, built in the late 15th and early 16th century, with a main church that has a similar architecture to the monasteries of Mt Athos. But the oldest monastery on Skopelos (thought to have been built in the 15th century) is the Monastery of Agia Varvara, which offers spectacular views of Alonissos. The main chapel is a single-aisled basilica, renovated in the late 17th century. Just 300m away, the Monastery of Timios Prodromos is a local favourite, with nuns who will gladly show you around. It was renovated in 1721 and features an ornately decorated wooden iconostasis (look at the detail of the animals and plants). Lastly, the fortress-like Monastery of the Annunciation of Virgin Mary (Evangelistria) also has stunning views over the Aegean and a remarkably elaborate iconostasis.

9 of the best things to do in Skopelos
Skopelos is perfect for anyone who loves nature and the Aegean Sea. It's both the star of the show (Greece's Mamma Mia island) and deeply authentic, with traditions, tastes and a choice of activities that will remain etched in your memory.
FAQs about Skopelos
Anatoli – Near the Venetian Castle and owned by a famous Skopelos rebetiko artist, combining good food and music with a great view.
Agioli – High-quality Greek cuisine in a taverna with beautiful views of Hora (especially at sunset).
To Rodi – A long-time favourite in Hora, with lovely touches and a big pomegranate tree in a courtyard.
Anna's restaurant – Excellent Greek food in a nice garden in the alleyways of Hora.
Korali Seafood Restaurant – Specialising in fresh fish and seafood in the little harbour of Agnontas.
Pavlos – Excellent seafood meze in Agnontas.
Agnanti – Beautifully presented food with fantastic views in Glossa.
Muses – An atmospheric little taverna by the sea in Hora.
O Mylos – A grill house with popular meat dishes, near the port in Hora.
Stafilos – A taverna with a wonderful view of Stafilos beach.
Kanela – Homemade delicacies and a great choice for breakfast in Hora.
Rosemary – A homely restaurant with a choice of traditional dishes, great for breakfast, lunch or dinner. Try the fouskopites.
Mihalis – Specialising in local pites (pies) in Hora.
Vrahos – All-day cocktail bar in Hora with nice views and relaxing music.
Mercurius – Cocktail bar in Hora with a very nice view of the port.
Skala – Cosy and modern cocktail bar in Hora, with a nice view of the port.
ScrewDriver – A little cafe/cocktail bar right in Hora, with a party atmosphere on busy nights.
P'tharakia – Espresso and cocktail bar on Glossa with a fantastic view and a lounge feel (a good choice for a daytime sweet).
Oionos – A rock bar in Hora, with little alleyway tables and a special character.
Docks (Ntokos Cocktail Bar) – A little seaside bar with Greek music on the beach in the summer.
Paraporti – A cute little bar, tucked away in the side streets of Hora, serving cocktails and wine.
Spira – Beer specialists by the port in Hora (owned by the local brewery).
Swell – A cafe-bar at a lovely coastal location in Hora.