READING TIME
As long as it takes to eat a Greek salad
The Venetians called it 'Fiore di Levante', or flower of the east. You can call it Zante like the Italians and the English, or Zakynthos as it's known in Greece, but the fact is that this Ionian jewel will beguile you no matter the name. With a history stretching back to antiquity (it is name-dropped in Homer's Iliad) and a past that includes visits from Vandals to Venetians (grazie for the wine), Zante is special. We're talking lush green vegetation and white, vertiginous cliff faces amidst the prettiest turquoise waters. And as for the beaches, you'll find white fluffy sand (with loggerhead turtles nesting in some of the Nature 2000-protected tranches), which will probably make you think of the Caribbean. So stick around and we'll give you 12 good reasons to visit, as we tour the best beaches in Zante.
Shipwreck beach
The poster-child of Greek tourism, this is unreservedly the most famous beach in Zante. Wedged inside a small cove, surrounded by towering white cliffs with a lush green icing of foliage and a solitary shipwreck bang in the middle of the sandy beach, Navagio beach (to give it its Greek name) justifies every plaudit heaped upon it. This is, after all, one of the most ubiquitous places on the Insta-verse, with a pretty neat backstory to go with it (the ship was illegally transporting cigarettes when it ran aground and the captain now wants compensation). A day trip to Shipwreck beach (accessible only by boat) is a must on your holidays in Zante.
Amenities: None
Access: By boat from Porto Vromi, Skinari, Agios Nikolaos port
Gerakas beach
Stretching across a large swathe of golden-white sand, Gerakas is as long as it is pretty. It sits inside a large cove with shallow, blue waters making it a great choice for families with kids. It's also great for the endangered loggerhead turtles who nest here during the summer months (as they do on many of Zante's beaches). The beach is protected and off-limits after sunset to protect the turtles, so keep that in mind and tread lightly. Note that the left side of the beach is made up of clay, which is pretty neat if you fancy an impromptu exfoliating session.
Agios Nikolaos beach
Located on the southern peninsula of Vassilikos (and not to be confused with the homonymous port to the north), Agios Nikolaos is a classic staple of beach holidays in Zante. The exotic green-blue waters and yellow-white sand attract everyone from families (due to the shallow warm waters) to adrenaline junkies (scuba diving, paragliding & water sports) and so a day spent here is a day well spent. That it's surrounded by thick, lush vegetation is the icing on the cake. This is an all-around beach with pedigree.
Amenities: Sunbeds & umbrellas, beach bars, tavernas, water sports
Access: By road
Porto Limnionas beach
Unique amongst the beaches of Zante, Porto Limnionas is not your typical patch of sand. In fact, there's no sand at all, as this is a rocky, U-shaped cove that is great for dive-jumping, snorkelling and adventuring to the many caves in and around it. Getting down presents a mild challenge but once you set your towel on the rocks and survey the emerald-green waters in this tranquil paradise, you'll get what the fuss is about. It's serviced by a canteen on one side of the cove and frequented by couples and boho types.
Amenities: A few sunbeds & umbrellas, parking, taverna
Access: By road & steps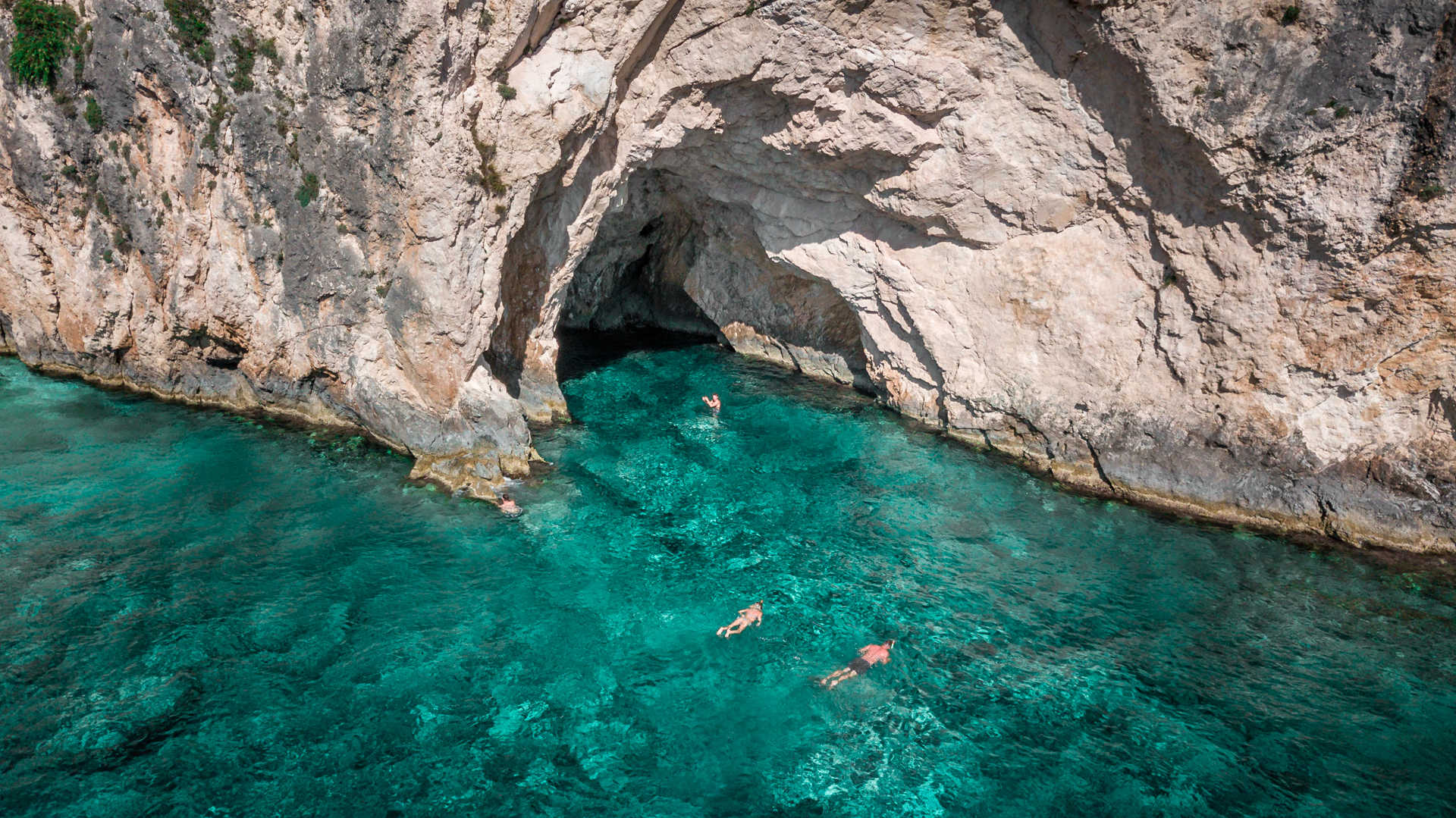 Banana beach
Banana beach is as fun and playful as its name suggests. Whether you're young or old, single or not, this golden-sanded paradise and its shallow, green-blue waters are life-affirming. Stacked with water sports and chill vibes all around, it is a cosmopolitan hub that should be one of your top priorities during your stay. Nearby Plaka beach is smaller if you desire more privacy. Sunset cocktails are a must.
Amenities: Sunbeds & umbrellas, beach bars, restaurants, water sports, parking
Access: By road

Keri beach
The small seaside town of Limni Keriou and its surroundings need to be on your bucket list during your holidays in Zante for a number of reasons, not least of which is that it's a family-friendly beach. The beach itself is pretty, if small, but the real zinger is what's around it. Marathonisi island, visible from the shore, is a protected loggerhead turtle nesting ground. Rent a boat with a skipper and explore the wild Keri Caves (the colour of the blue-green water is indescribable and your tour boat might pass through tunnels in the rocks) and Myzithres, an impressive rocky outcrop hiding a gem of a beach.
Amenities: A few sunbeds & umbrellas, parking, tavernas
Access: By road

Porto Vromi beach
Porto Vromi is twice as nice and that's because there are two of these terrific little gems. Tucked deep inside a fjord-like bay, they're narrow, snaking coves and while not right next to each other (you'll have to decide which one to go to from beforehand as there's some distance between them), you'll get to enjoy the fine pebbles and sand and clear, turquoise waters without too many distractions. On one, you can rent canoes and water bikes and explore the nearby caves and on the other, you can grab a taxi boat and head to Shipwreck beach. As beaches in Zante go, they're spankers.
Amenities: Snack bar, water sports
Access: By road

Laganas beach
Holidays in Laganas have been a rite of passage for generations and the tradition continues unabated. This seaside town is favoured by both the young and the reckless and the bold and the beautiful, and the reasons are plain and simple. Laganas is one of the most developed resorts in Zante, boasting a long sandy beach with lots of amenities, activities (look out for scuba diving) and bars. At one end, Kalamaki beach is essentially an extension of Laganas beach (and an extension of the Zante magic) – although you should note that it is home to loggerhead turtle nests, so there are stretches where you're not allowed to sit. And at the other end is the tropical-looking islet of Cameo, connected to the mainland by a rickety wooden bridge.
Amenities: Sunbeds & umbrellas, tavernas, restaurants, beach bars, water sports
Access: By road

Xigia beach
Xigia is a natural spa beach with therapeutic properties that aid arthritis (amongst other ailments), owing to elements and minerals from the nearby caves. Surrounded by a thick mantle of lush-green vegetation and boasting emerald-green waters, it's actually made up of two beaches (both known as Xigia Sulfur beach). The first is a small rocky bay, with green descending to the sea and a canteen, and the second has white pebbly sand and a taverns above it. Take your pick.
Makris Gialos beach
Do your holidays in Zante justice and visit pebbly Makris Gialos beach. It is wild and beautiful, just what you need to revitalise your energy. There are nearby caves (some of which you can swim into) and it's flanked by a thick green canopy of vegetation. The emerald-green waters are some of the clearest in Zante, so snorkelling and canoeing will keep you entertained for quite some time. When it's lunchtime, head up to one of several tavernas.
Amenities: Sunbeds & umbrellas, snack bar, taverna, water sports
Access: By road

Porto Zoro beach
The Italians named this swimming spot Porto Azzuro because of its incandescent blue waters. Today, it's known as Porto Zoro and it's a great choice for families as well as couples and friends on account of the tavernas and the younger crowd who appreciate the beach bars. The thick vegetation and giant boulders sticking out of the sea give it its distinctive appearance. Altogether, it's easily one of the best beaches in Zante.
Amenities: Sunbeds & umbrellas, beach bars
Access: By road

Marathias beach
If you want wild and secluded, Marathias is for you. This beach does as advertised. Boasting calm, warm crystal-clear waters, pebbles and rocky outcrops, this isolated gem is beach perfect. The towering cliffs protect it from the winds and the steep descent through a bushy path prevents it from getting too crowded. So it's ideal if you're looking at a quiet day at the beach, with some snorkelling and a lot of reading your book. Enjoy.
Amenities: Sunbeds & umbrellas
Access: By road & short hike

12 of the best beaches in Zante
Like most Ionian islands, Zante is blessed with an almost unfair amount of natural beauty. Couple that with its extraordinary history, delectable food & wine culture, and world class beaches and you've got yourself a winner.
Book your trip
All your holiday planning needs in one place, letting you book direct and benefit from official online rates
Group
Group
3 hours
Free cancellation
Not sure? You can cancel this reservation up to 24 hours in advance for a full refund
Group
9 hours
Free cancellation
Not sure? You can cancel this reservation up to 24 hours in advance for a full refund