EXPERIENCE
Kayaking to Zante's magical Blue Caves
A wonderful alternative to a boat trip, sea kayaking offers a unique water-level appreciation of Zante's extraordinary Blue Caves.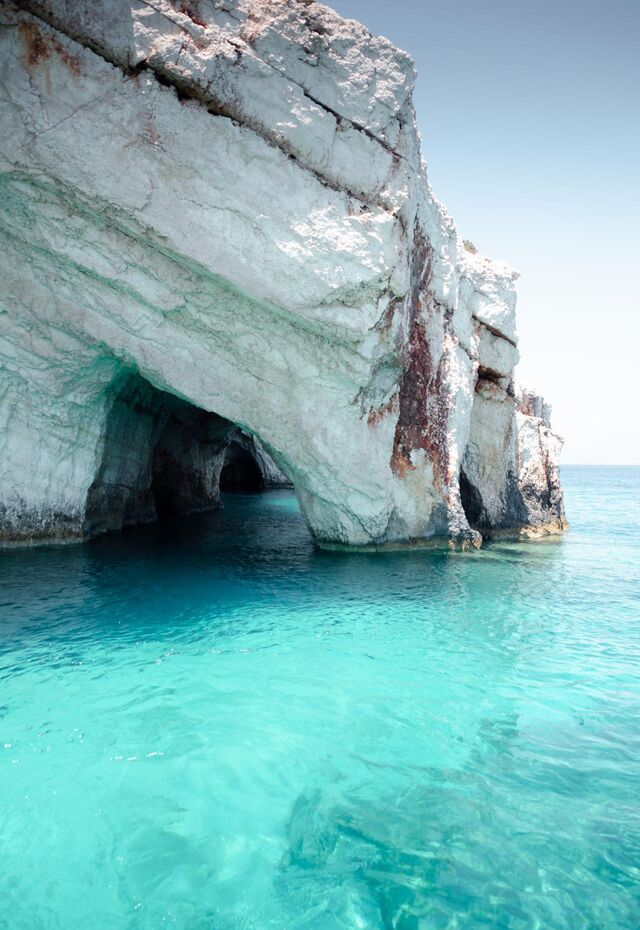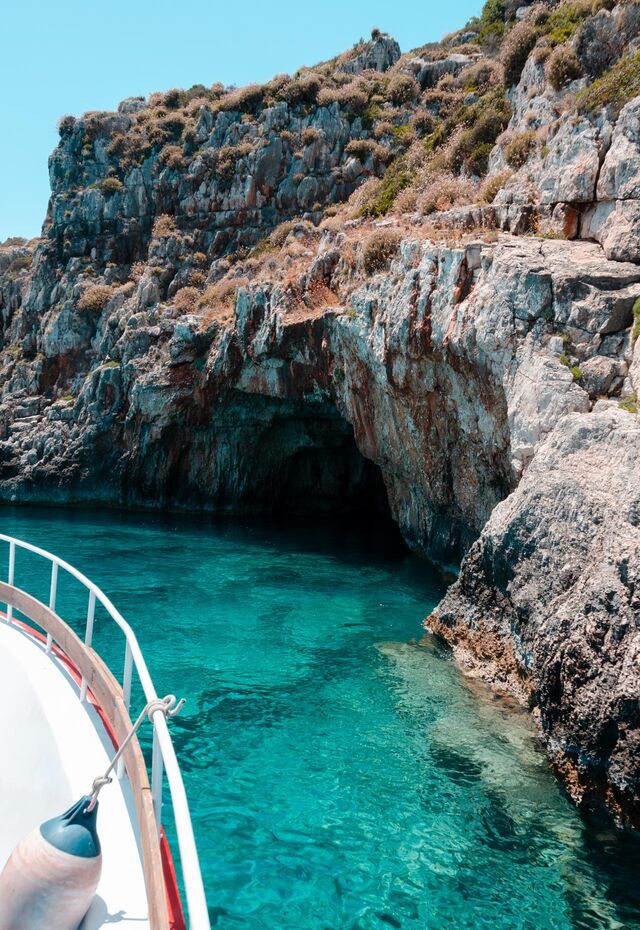 Duration
3 - 3.5 hrs
Season
May - October
OVERVIEW
Kayaking to Zante's magical Blue Caves
It's one thing witnessing the impressive colours of Zakynthos' Blue Caves, and quite another doing so when you feel like you're literally part of them. That's the effect of visiting them by sea kayak or canoe.

It is one of the most memorable activities in Zante, challenging enough to give you a sense of holiday adventure but more than doable as a family or group of friends. And it makes a wonderful alternative to visiting by boat.

There are nooks all the way along Zante's wild and rocky northeastern coastline that no boat could get into. And once at the caves, you'll have a unique water-level appreciation of the iridescent blue colours created by the play of sunlight on the cliff-face and the sea, together with the occasional orange-purple hit of coral in the rocks. Every one of the caves seems to put on a different light show just for you. Just make sure you stop for a snorkel whilst you're there.

Most kayaking trips start from Agios Nikolaos and follow the coastline towards the northernmost tip of Zakynthos, where the Blue Caves are located. And along the way, there's a view of your island-neighbour Kefalonia that adds to an experience that feels so much more intimate than it would on a boat.
GET PLANNING
Where do kayaking trips to the Blue Caves start from?
Kayaking and canoeing excursions to Zante's Blue Caves start from Agios Nikolaos which can be reached:
From the main port of Zakynthos
By car or taxi: 30km (55mins)
By bus (KTEL)

From Zakynthos airport
By car or taxi: 30km (55mins)
By bus (KTEL)
When is the best time to visit Zante's Blue Caves?
Organised kayak trips to the Blue Caves operate from May to October.
May-June and September-October are the best and quietest months for holidays in Zante.
You can visit the Blue Caves as a group on your own, but you'll need equipment and know-how.
The experience is dependent on weather conditions.
May-June and September-October are the best and quietest months to visit Zakynthos.
Autumn
Spring
Summer
Winter
How long do kayak excursions to Zakynthos' Blue Caves last?
The full experience, with time to snorkel at the caves, takes around 3hr30min.
Distance covered: 7.4km (4 nautical miles)
Kayaking level: Easy
All your equipment will be supplied by the tour organisers: (kayak, paddle, lifejacket, snorkelling equipment)
Make sure you have: