EXPERIENCE
Explore the best hiking trails in Santorini
Hiking along Santorini's famous caldera or up to Santorini's highest point is the perfect way to experience this island legend's classic Cycladic villages, volcanic landscape and unique sunsets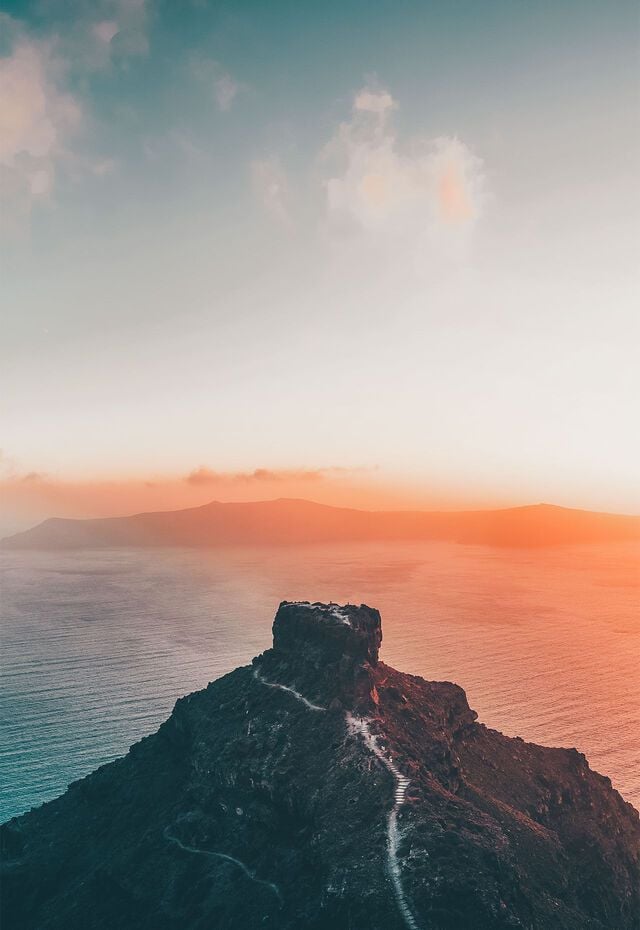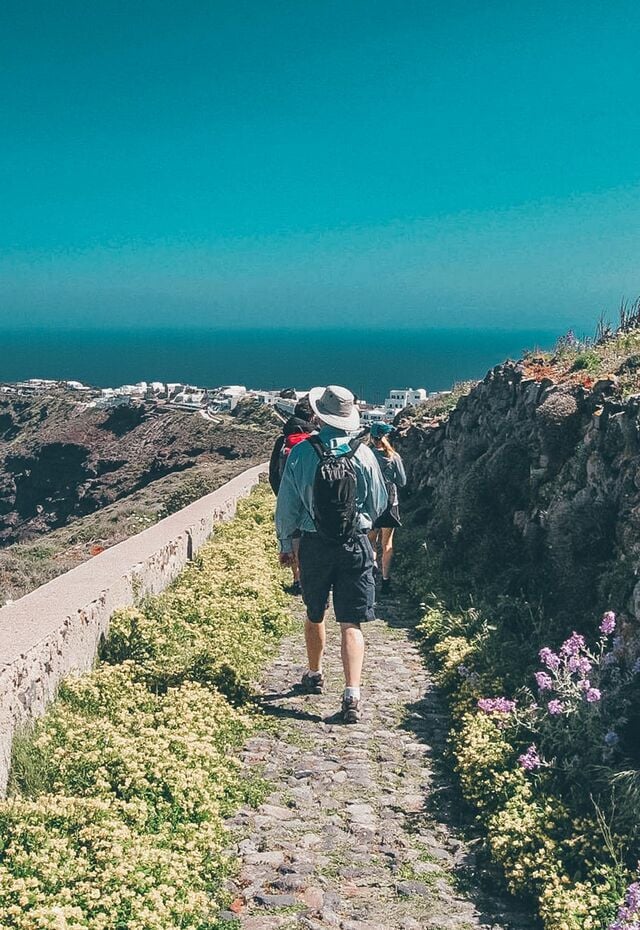 Duration
2 - 5 hrs
Season
All year round
OVERVIEW
Explore the best hiking trails in Santorini
It would be so easy to remain mesmerised by the whitewashed beauty and polished charm of Santorini. But if you really want to develop a personal relationship with this island legend, you have to put on a pair of walking shoes and get hiking.
Two routes stand out. The Santorini caldera trail, all the way from the capital, Fira, to Oia, on the northwestern point. There's a balcony view of the Aegean all the way, with quaint little villages and chapels and, if you time your walk right, the sunset of your life.
Or if you want to explore the interior, there's a wonderful route from the picturesque village of Pyrgos all the way up to Santorini's highest point, with 360-degree views of the island and the sea beyond, before descending into Ancient Thira, first settled by 9th century BC Dorian colonists. The trail feels, in parts, like it's been carved into the stone.
There are less challenging walks on Santorini. Particularly along the caldera trail, you'll encounter plenty of steps and the volcanic landscape around the island can be rugged. But you'll be richly rewarded. Perhaps you'll want to join a Santorini walking tour and learn more about the island's long history and rich topography, or discover the trails yourself. Either way, you'll walk away with a feeling about Santorini you never expected.
DON'T MISS
The best hiking trails in Santorini
From Fira to Oia
Don't forget to pop into the chapels (Agios Gerasimos and Agios Nikolaos) around the gorgeous settlement of Firostefani.
• A little further along is the village of Imerovigli, perfectly situated for a picnic-with-a-view.
If it's a jaw-dropping vista you're after, take the steps from Imerovigli down to Skaros Rock, with its fortress ruins and where the caldera views of cruise ships and the volcanic little islands of Thirasia and Nea Kameni become your very own.
Between Imerovigli and Oia, there's a cluster of more chapels (Agios Markos, San Antonio) to explore.
For a magical sunset, climb Mavro Vouno (Black Mountain) to the small church of Stavros or Prophet Elias chapel shortly before you arrive at Oia.
From Pyrgos to Ancient Thira
From Pyrgos, it takes about 1hr to reach the 567m peak and the Monastery of Profitis Ilias (built in 1711). Visit the monastery and enjoy a picnic with a 360-degree view.
The Ancient Cemetery of Thira is where villagers once sought refuge during pirate raids.
You can finish your walk at Kamari, just north of Ancient Thira, where you'll find restaurants, shops and other amenities.
GET PLANNING
What is the best way to get around Santorini?
There is a good network of public buses on Santorini, including stops in Fira, Oia, Pyrgos and Kamari. More info
Taxis are also available.
What is the best time of year for hiking on Santorini?
All year round but Santorini gets busy during the summer months.
Ideal months for hiking in Santorini are April-May and October, when it's cooler and calmer
Particularly in the hottest months (July and August), make sure you set out early in the morning or (especially on the caldera trail) leave in the afternoon to coincide with the sunset.
Early morning or in the afternoon to coincide with the sunset!
Autumn
Spring
Summer
Winter
Fira – Oia
Distance: 10.5km
Highest point: 350m
Walking time: 3-5hrs
Age: 12+
Pyrgos - Ancient Thira
Distance: 5.1km
Walking time: 2-3 hours
Highest point: 570m
Age: 8+
What are the conditions like for hiking in Santorini?
The soil in Santorini is mostly volcanic and rough. So although parts of these hikes are paved and easy, other sections can be slippery and hard. In both cases, some parts that are steep that can be challenging, particularly if you start late on a very hot day.
Are there other easier walking paths on Santorini?
There are shorter and easier walks within the settlements. But even here there are always plenty of steps, some of which can be steep or slippery.
What should you pack: