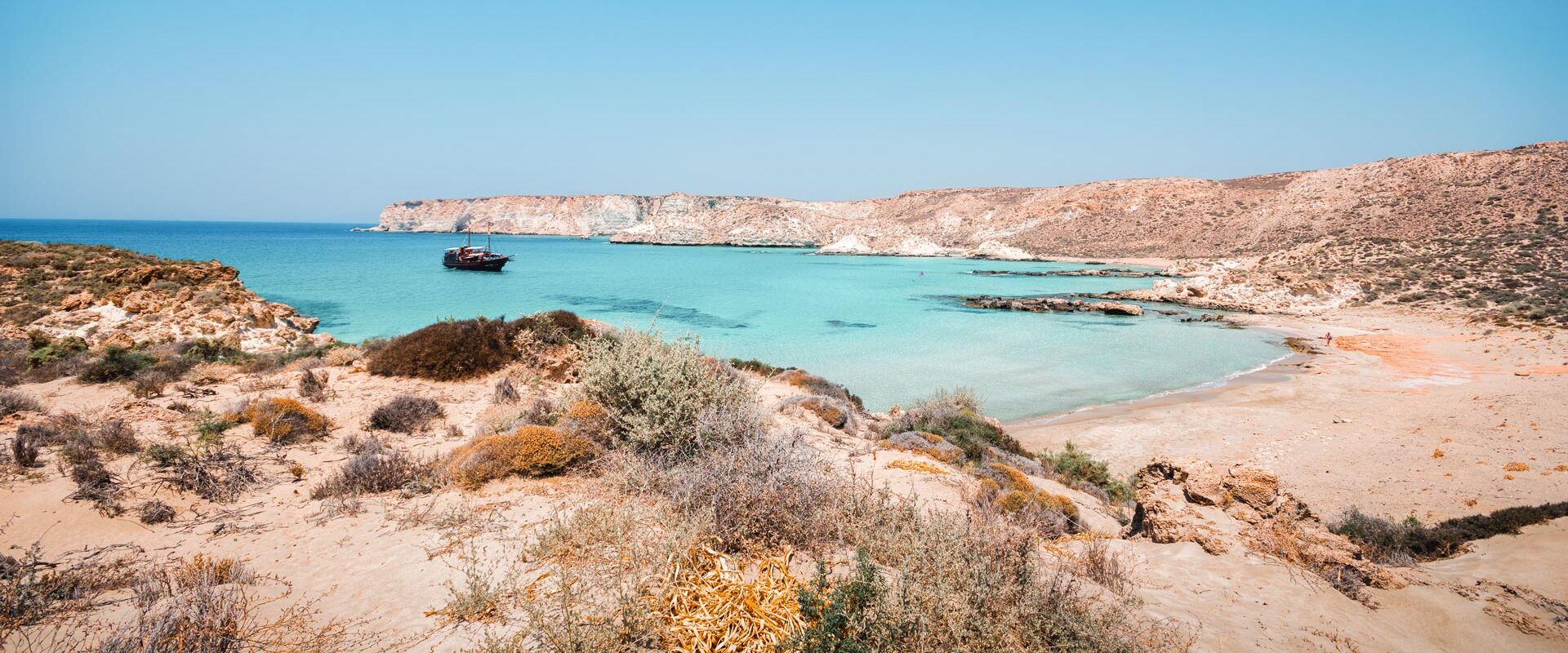 EXPERIENCE
A boat trip to Crete's desert island of Koufonisi
With 36 beaches and its very own desert to explore, the island of Koufonisi offers a sand-filled escape for day-trippers from Crete.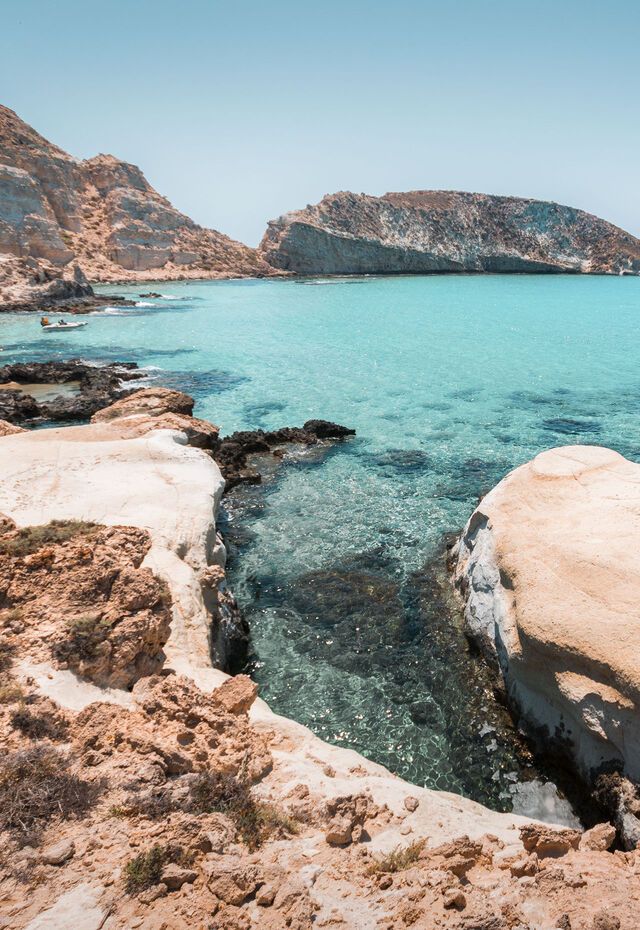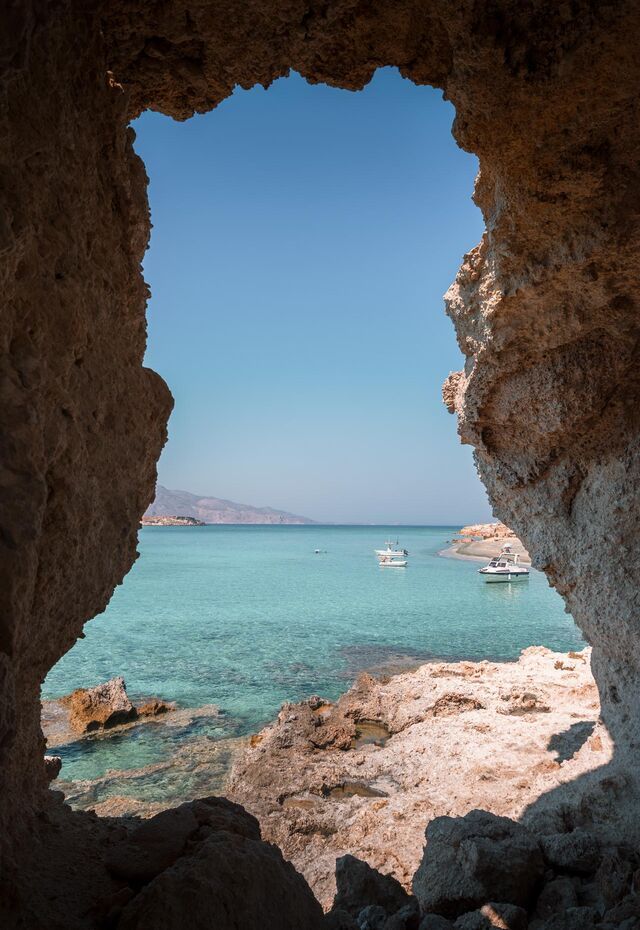 Duration
6 - 8 hours
Season
May - October
OVERVIEW
It takes just 10 nautical miles to reach Africa from Crete. Or so it feels when you travel to Koufonisi, off the eastern coast of Lasithi, into the Libyan Sea.

The small island offers a completely different experience to mountainous Crete. Here the landscape changes to an expanse of limestone (its ancient name, Lekfi, means white) and no fewer than 36 beaches, most with fine white or golden sand. The interior, meanwhile, resembles an African desert, with tamarisk trees and rare or indigenous shrubs and bushes, hiding small lizards and other heat-loving animals.

Though uninhabited now, Koufonisi held a special value for ancient Greeks, and its waters – rich in sea sponges and shells – attracted civilisations as varied as the Minoans and the Byzantines.

In fact, there are Hellenistic and Roman ruins all over the island, with some still in the process of excavation. Instead, you're free to explore a landscape which has been sculpted over time by the elements. Tread carefully, though. The entire island has been given Natura 2000-protected status.

DON'T MISS
Beaches
With 36 to choose from and all that white and gold sand, the only danger is of not knowing where to start. So here's a quick tour of the island: Pigadi, on the north coast, is closest to where you'll most likely be dropped off. Heading east, there's beautiful Anemertia, which is sandy at one end and rocky at the other (nearby excavations have revealed a theatre). Heading southeast, you reach the generous sandy bay of Hiliaderfia and Prosfora, the longest beach on the island. And, finally, there is secluded and untouched Asprougas.
The Church of Agios Nikolaos
Near Pigadi Beach, you'll find the little Chapel of Agios Nikolaos, patron saint of sailors, and a well from which the beach takes its name. You'll also find a path leading inland.
The Desert of Elias
As you explore inland, you'll completely forget that you're in Greece (perhaps only the sand dunes of Ammothines, on Limnos, are comparable). The name (Elias) comes from a centuries-old olive tree, which is the only tree in the desert and one of only four olive trees on the island.
The Lighthouse
At the end of the path, there's a ruined lighthouse, alongside the remains of a Hellenistic-era temple. The lighthouse was built in the 1920s, partly with the remains of the temple that once stood an impressive 2.5m tall.
GET PLANNING
Boat trips to Koufonisi operate from May-October.
All boat trips are dependent on weather conditions
Tickets cost around €25 per person for organised trips. Renting a boat and skipper will cost more.
The peak summer months are the busiest and hottest, so May-June and September-October are the ideal periods to visit.
How long you stay on the island will depend on which boat trip you choose, or whether you hire your own boat.
The crossing takes approximately 1 hour.
The entire experience will, most likely, take 7-8 hours.
Depending on which boat trip you choose, you may be served food and drink on board.
If you hire your own boat, be aware that there are some reefs around Koufonisi.
There are no facilities on the beaches.
Make sure you have everything you need for a day in the sun:
Plan your trip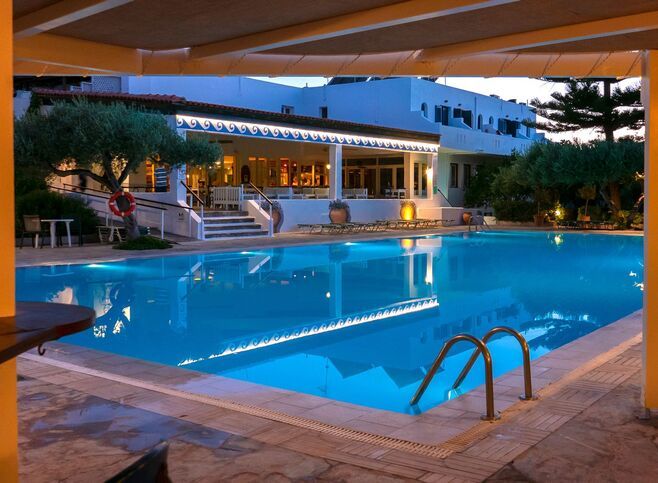 Accommodation
Ierapetra
Located on the south east coast of Crete in Makrygialos, lies the warm and friendly resort of Villea Village, a lush and leafy paradise with...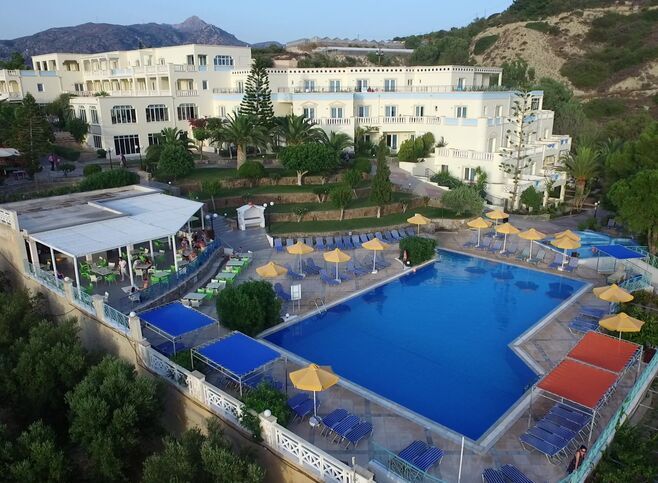 Accommodation
Ierapetra
ARION PALACE HOTEL is situated in the southernmost town of Europe, the beautiful Ierapetra on the southeast coast of Crete with panoramic and spectacular vie...
TRAVEL RESPONSIBLY
Greece's uninhabited islands are delicate ecosystems, so please help keep them in the best possible condition and leave only your footprints.
Use the bins provided or, if need be, take your rubbish with you.
Don't remove any shells, rocks, fossils or sand from the beach.
Respect the marine life and the plants and animals on shore.
Use a refillable water bottle to try to minimise your use of plastic.
Explore your surroundings but please keep to designated paths for your own safety and to avoid disrupting the flora and fauna.
Making fires on beaches is strictly forbidden.