I come from the Peloponnese, from a beautiful village near Kalamata called Pidima. I love my homeland because it combines the mountains and the sea. I get the chance to go on daily trips to various different places depending on the season and my mood.
I had my best holiday in Greece on gorgeous Kythira, an island between the Peloponnese and Crete. The beauty of the alternating landscape and the wonderful hospitality of its inhabitants move me deeply. Furthermore, the local people have a keen sense of aesthetics that manifests itself in everything they do.
I really love Greek islands and especially Skyros. A destination that's easily accessible and so ideal for short escapes from Athens. Wonderful beaches, each with its own special style and all very near the centre of the island. On Skyros one must not miss the fairs organized around the chapels. They are picturesque, emotionally moving and the food is fantastic!
If I was asked to describe Skyros in three words, I would say, "Three isn't enough!" Skyros is "the sun's rock".
My favourite spot is Agios Fokas beach! I like it because it is remote with crystal clear waters. You swim along with the fish and there is also a wonderful family tavern serving traditional dishes. One such dish is "tiganopsomo me ksynotiri", fried dumplings with a local variety of sour cheese, expertly prepared by the housewives of Skyros.
Another favourite spot of mine is the central beach of Skyros called 'Τa Μagazia', full of beach bars. I have a particularly soft spot for Ammoudia beach bar, not to mention all the beautiful hotels, ready to offer their warm hospitality to their guests.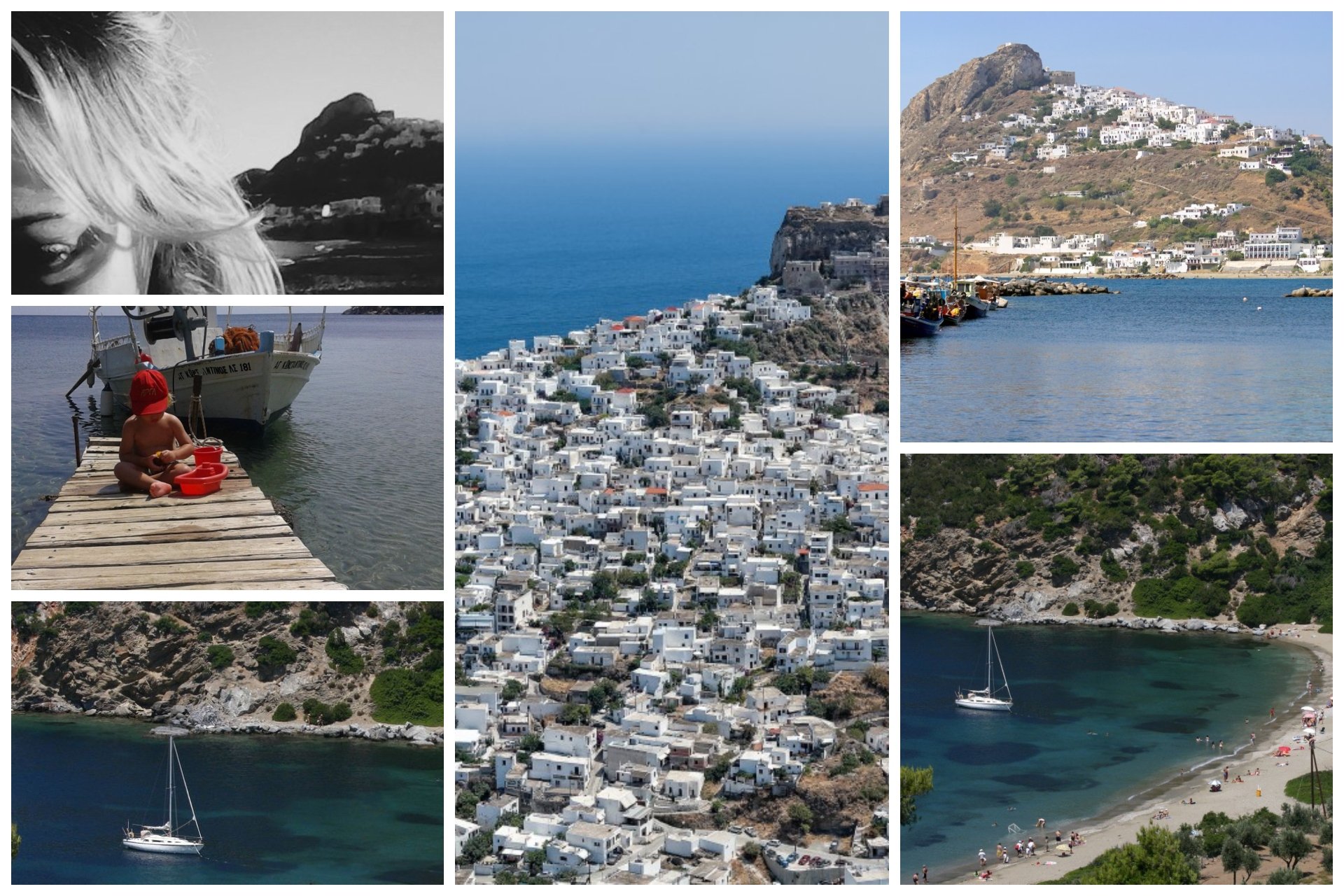 Skyros is an island one can also visit in winter. It makes quite an impressive spectacle as the winds ruffle the sea and fireplaces are lit to warm up friendly gatherings on chilly evenings. Naturally, there is no shortage of musical events for all tastes organized by bars.
Another great time to visit Skyros is during the carnival season when the locals honour the customs of their island. People in fancy dress costumes fill the alleyways. Most prominent amongst them are the elderly who continue a very old tradition. Afterwards, they start dancing in the favourite coffee shops of the main town (I would like to especially recommend Yianni and Maritsa's coffee shop famous for its delicious food and banana liqueur), and in pretty coffee bars such as "Ino".
If I was asked to describe Skyros in three words, I would say, "Three isn't enough!" Skyros is "the sun's rock". The next place I'd like to visit is Patmos in order to feel, as many say, the energy of the land and the touch of God. I love travelling in my car frequently because I get the chance to enjoy the route.
There are times when I make a point of travelling alone because I am given the opportunity for self-assessment, meditation and self-redefining. Usually, however, I prefer to travel in company and the best companion is my son who passes his enthusiasm to me every time and makes our journeys a lot more exciting!
When I travel I always bring with me my love of life and my travel guide. As a souvenir, I keep the new experiences I have gained. I love Greece because it never ceases to amaze. There are always new places to discover – places with sun, kindness, tradition, craftsmanship and smiles- so long as you are in the mood for adventure and keep your eyes open so as not to miss anything…
Happy travels, everyone!