EXPERIENCE
Sun, sea and a splash of culture at Agios Stefanos beach on Kos
If you're caught between wanting to spend the day on the beach and experiencing a bit of culture on Kos, then photogenic Agios Stefanos has you covered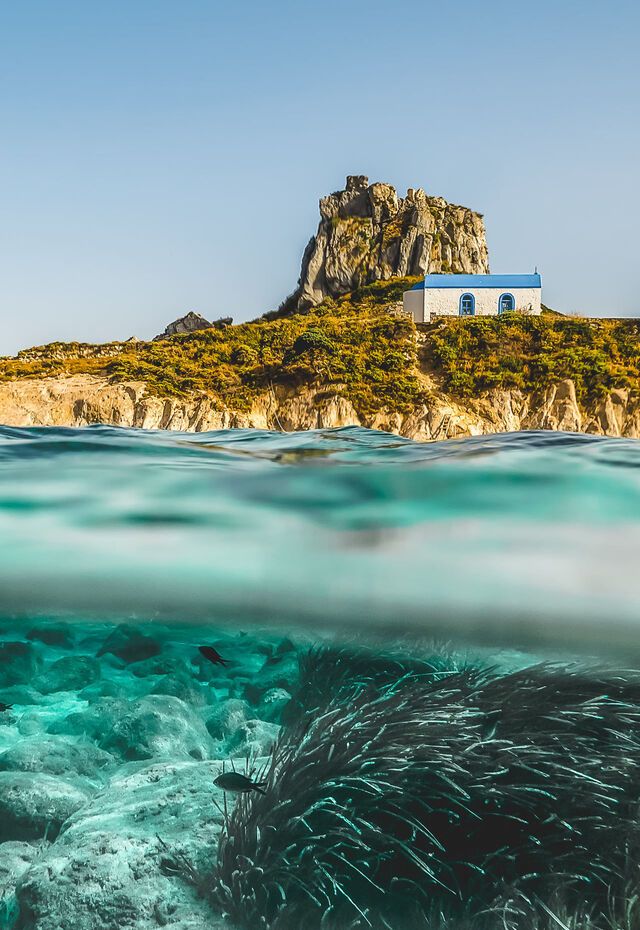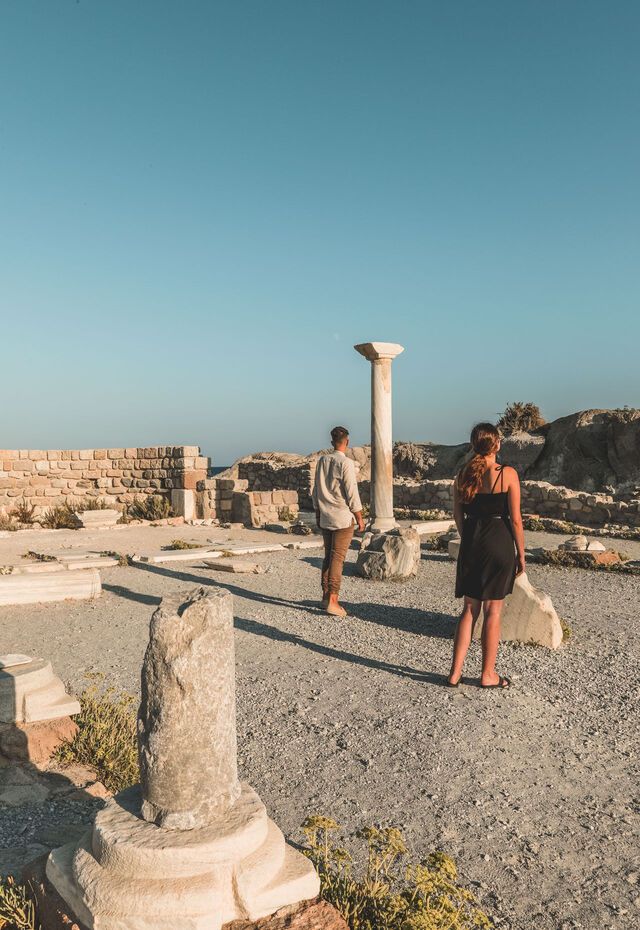 Duration
4 - 6 hrs
Season
April - October
OVERVIEW
One of the most photogenic beaches in Kos, Agios Stefanos manages to combine an impressive collection of talents. A long beach of sand and fine pebbles in Kefalos Bay, it is ideal for families and couples looking to spend a day by the sea.
But if you're suffering a pang of guilt that you really should be soaking up a bit more culture, you can put down your bucket and spade at any time and amble over to of a pair of 5th-6th century AD churches, right alongside the beach.
The remains of columns, mosaic floors, baptisteries and other features give you the feeling that you've uncovered a lost treasure. And at the same time, there's a strangely cosmopolitan air to the site – as if a magazine photo shoot is about to break out at any moment, with a backdrop of the Aegean Sea.
The setting is completed by the view of the islet of Kastri within the bay, with its elegant little blue-domed church dedicated to Agios Nikolaos (the patron saint of sailors) and the striking rocky outcrop rising from the island's centre. You can catch a boat to the island, or even swim over, to have a look around.
GET PLANNING
From Kos Town:
From Kefalos (the nearest village)
By car: 4km (10min)
By foot: 50mins (mostly along the coast)

You can enjoy the scenery of Agios Stefanos beach at any time of year, but the temperature is ideal for swimming from May-October.
If you are visiting in July-August, do so in the morning or afternoon.
It is best to visit in the months either side of peak summer (April-May & September-October) to enjoy the beach at its quietest.
There are all the facilities you could want to spend a full day on Agios Stefanos beach (tavernas, beach bars, cafes, sunbeds & umbrellas and waters ports).
Every accommodation option is available nearby, from luxury 5* hotels to rooms to let. If you want to stay close to the beach, Kefalos village is 4km away.
There are other star beaches along Kefalos Bay, such as Paradise Beach.
Don't forget to bring everything you need to spend a day in the sun: