You might imagine that, having been born on an island, you would know pretty much every inch of what could be appealing to its visitors. So it was with myself and Thassos, but my complacency lasted right up until the moment I needed to organize a visit by friends and prove to them that this island has everything and that each visitor can enjoy it in exactly the way a local can. For one thing, I discovered that whoever contemplates the trip may harbour slight reservations about what exactly Thassos has to offer. However, once you step onto its shores, its myriad charms are instantly apparent and it is certain to stay in your heart forever. Getting to know them all is really where we come in…
Last year we developed our app, Visit Thassos, and wanted to pilot it on our own visitors who we would be coming from the USA for 10 days at the beginning of summer. It is a mobile app with all the information a visitor needs, including sights as well as activities. The aim is for the visitor to move all over the island like a local, get to know its most enchanting trails and locations, organizing their time and expeditions according to their own preferences. The venture was new and pioneering. Touring with our American guests helped us improve our electronic guide, see the island itself through different eyes and identify spots other visitors would find interesting so as to incorporate them in the app.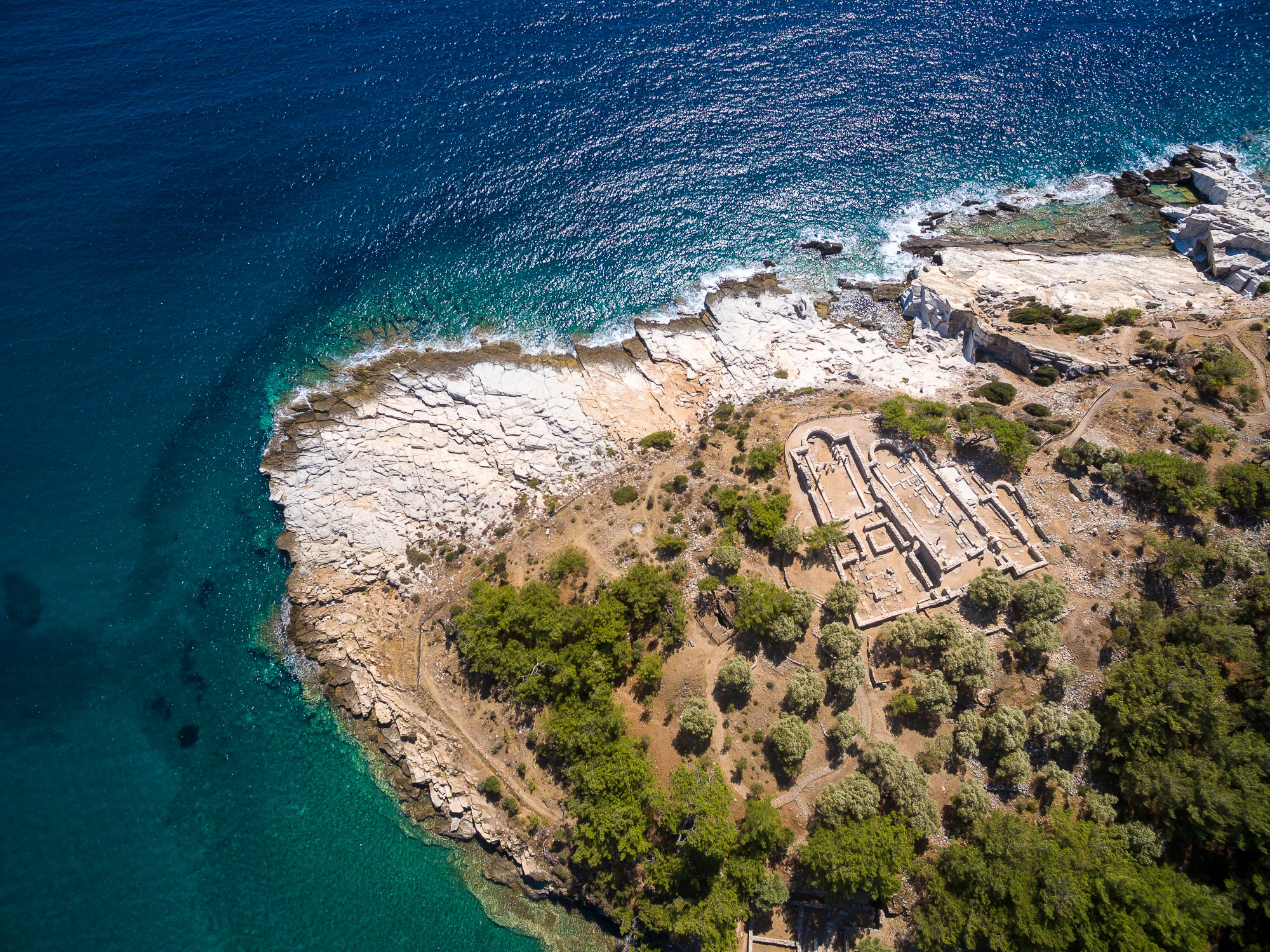 Our days started early in the morning and the tour was either by car or by boat, providing ideal material for lovers of exploration, adventure and photography. All the trails came in luscious green, beautifully framed by the blue of sea and sky. In fact this is what Thassos is all about: an emerald heaven with authentic landscapes and a mouth-watering cuisine. And everywhere the fragrances of pine and honey embellish the ultimate summer experience.
One tour kicked off as usual at the crack of dawn after a very late night out at Skala Potamias. First things first; we needed to stock up on supplies for the road, namely coffee and traditional cheese pies from Giorgos' bakery with the wood burning oven. With the essentials loaded, we set off with the wonderful Paradise beach as our first intended port of call. We saw it at its best, at daybreak; a summer sunrise, iridescent and crimson.
Our next stop was Aliki, with a marble quarry dating back to the 7th century BC and two old Christian basilicas at the tip of the headland. We found our way right down to the beach, a natural harbor in antiquity, which still hosts plenty of small ships and yachts today. We swam from Kionia in Aliki to the rock of Nerhia for the first dive of the day and then jumped at the chance of some scuba diving. Here in the open sea off the coast of Skidia, you'll find a kaleidoscopic sea bed. If you are feeling brave, there are dives of up to 16m to challenge and delight in equal measure. Fine views are also on offer nearer to shore.
An emerald heaven with authentic landscapes and a mouth-watering cuisine
On the way to Giola, a stop at the beach of Arsanas and Kazanotrypa, opposite the monastery of Archangelos, is a must. The latter is a well-hidden sea cave whose name is derived from the fact that its entrance is shaped like a cauldron, kazani in Greek. Heading south we finally hit Giola, a spot whose reputation precedes it. Unique and unusual, it is a natural pool with salt water, ideal for both diving and sunbathing on the rocks. A visit early in the morning is best for avoiding crowds and also at sunset, when the horizon turns a glorious shade of gold.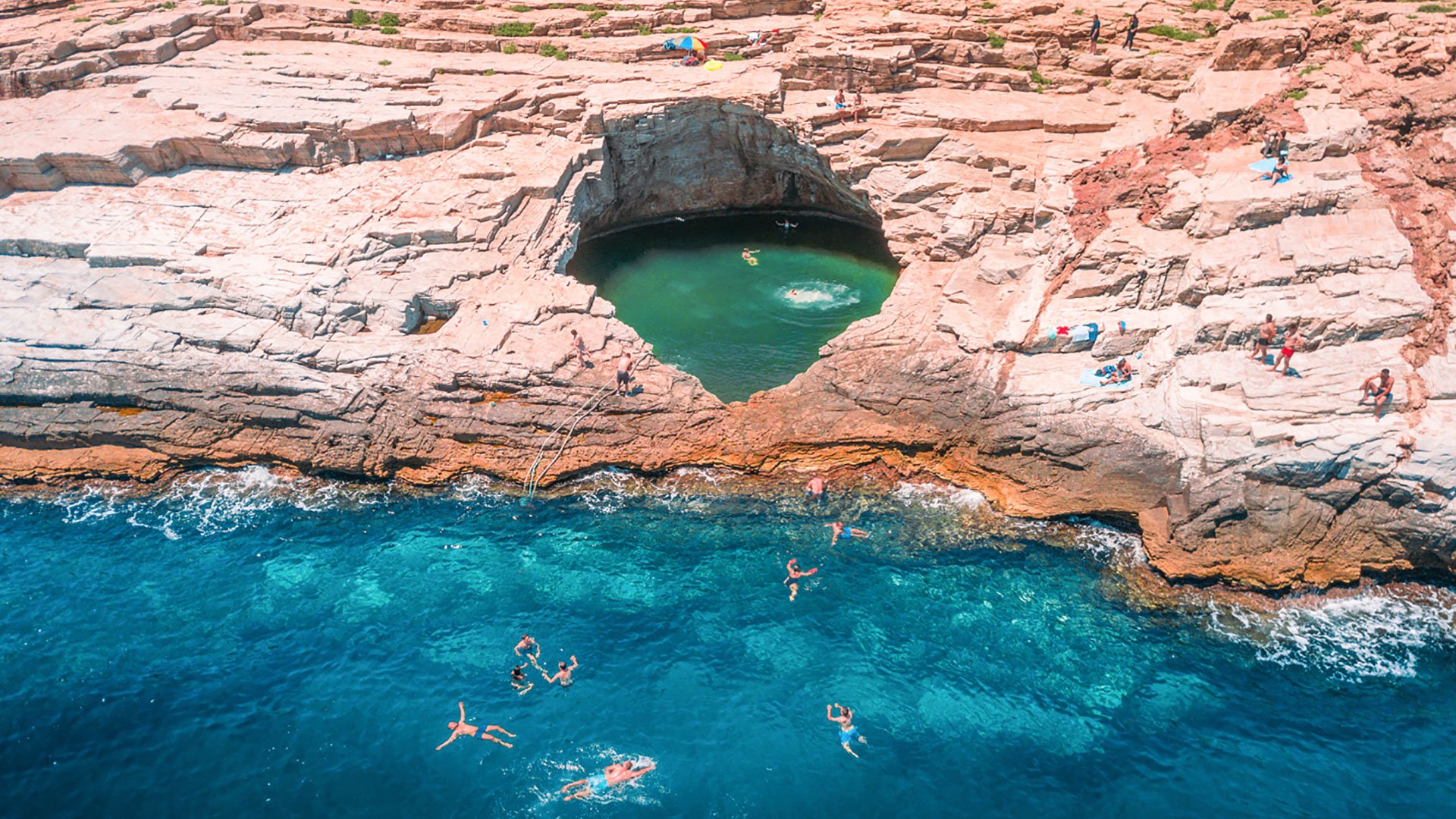 The tear-jerking beauty of Giola on Thassos
Dusk found us in Aliki, this time taking culinary "dives" into a lavish spread of seafood accompanied by tsipouro, the famously potent Greek spirit. Cockles harvested from the rocks of Skalia, sea urchin salad, sea fennel, locally produced olives, sun-dried octopus and fresh fish from the nets of the Evanthoula fishing boat are all served in generous helpings at the Archodissa tavern. And all this comes with the added bonus of an incredible view, stretching all the way to the Athos peninsula on the mainland and bidding you a sweet goodnight. It was there that we concluded that the best high-grade lubrication for the visitor to take the Greek language for a test drive was pure, undiluted tsipouro, preferably in large quantities…
Believe it or not, despite the headaches, the next day we all headed up the mountain on a trail which the visitors picked themselves through the Visit Thassos App.