Provided by: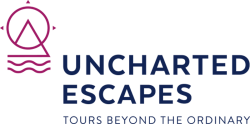 Premium Sunset Safari Tour in the Northwest side of the inland of Crete... Allow yourself to indulge in a romantic off-road route experience with the best panoramic view followed by a wine tasting with delicacies platter in a semi private tour with up to 6 or 8 persons per vehicle.
At a Glance
Our evening tour begins from Chania city centre and tourist areas, heading towards the White Mountains through uncharted mountain routes. Our premium off-road vehicles driven by well trained escorts will help you enjoy the best panoramic sunset view of Northwest Crete from above.
Unpaved off-road routes, with wild and dense vegetation, non tourist places, unique panoramic views, ideal for sunset capture stops, combined with a three wines tasting accompanied by Cretan delicacies platter, are only some of the experiences that you will have in this 4-5 hour premium sunset safari tour.
After our off-road exploration through orange and lemon tree valleys in villages of Patelari, Varipetro, Alikianos and Vatolakkos, we reach an amazing point in the hill of Vatolakkos at 700m altitude where we will have the best panoramic view of the sunset and the possibility to admire the entire city below. After experiencing the sunset, we continue our road-trip to Cretan Villages, full of amazing sights and stories until we reach Manousakis Winery where we will taste their wine.
After the wine tasting, we begin to reach the end of our Sunset Safari tour, driving back to our hotels full of memories, premium service and experiences, adventures and best panoramic views of Chania from above.
Highlights
Semi private tour up to 6 or 8 persons per vehicle
Sunset panoramic view of Chania
Uncharted off road routes in Non-touristic areas
Traditional villages
Wine Tasting
What's Included
Free hotel pick up and drop off.
Premium offroad vehicles (7 or 9 seater) driven by multilingual escort-drivers
Three Wines tasting with Cretan delicacies platter.
Liability insurance and local taxes.
Additional Information
Don't Forget

Don't forget your face masks, comfortable shoes, for example trekking shoes or sandals, camera, sun protection, etc. During spring and autumn, we advise you to bring a jacket.

The trip is not recommended to people suffering from car sickness, having mobility or kinetic or back problems, pregnant women or for children younger than 7 years old as we don't provide baby seats, or people taller than 195 cm or heavier than 130 kg. Alcohol consumption is not allowed to minors under age of 18 years old. Uncharted Escapes reserves the right to make minor changes in the program when considered necessary, for example, in case of unfavourable weather conditions. This can be done without any prior notice.

Reservations must be done no later than 24 hours prior to departure. Any cancellation must be made according to our cancelation policy mentioned under "Terms & Conditions". In case of late cancellations, no refund will be granted from Uncharted Escapes. If a tour is cancelled due to insufficient number of participants or adverse weather conditions, Uncharted Escapes will refund 100% of made payments. For more information about our terms and conditions please follow this link: http://www.unchartedescapes.com/terms-conditions




Price Does Not Include

Extra wine consumption

Gratuities