Corfu is one of the most charming "neighbourhoods" in Europe; a place of successive ethnic influences, a crossroads of cultures and colours. A combination of Venetian, French, English architecture and delightful sounds permeate the picturesque alleys of the Venetian Old Town or entangle themselves in the foliage of centuries old olive trees and towering Corfiot cypress trees in the countryside, making the whole island look like a theatrical setting.
The Corfiot Easter is set in this atmosphere; colourful, fragrant but, primarily, musical with its 18 brass bands accompanying the processions of the Holy Bier on Good Friday all over the island, with a spirit of exaltation, respect and the utmost devoutness. Particularly moving is the procession of the Holy Bier of the Metropolis as it makes its way through Liston, which, in keeping with the solemnity of the occasion, is lit by mourning lanterns. Three brass bands of the town accompany its progress, performing Mariani's Sventura, Verdi's Μarcia Funebre and Albinoni's Adagio.
The whole island looks like a theatrical setting
The highlight, however, is the two processions on the Saturday before Easter, with the procession of the relic of Saint Spyridon, our patron Saint, and that of the Holy Bier, accompanied by the Old Brass Band performing Faccio's Hamlet (we Corfiots call it "Amleto"), the Mandgiaros Brass Band performing the Calde Lacrimae march by Micheli and the Kapodistrias Brass Band playing Marchia Funebre from Beethoven's Heroica, just as they cross the Carde Lacue.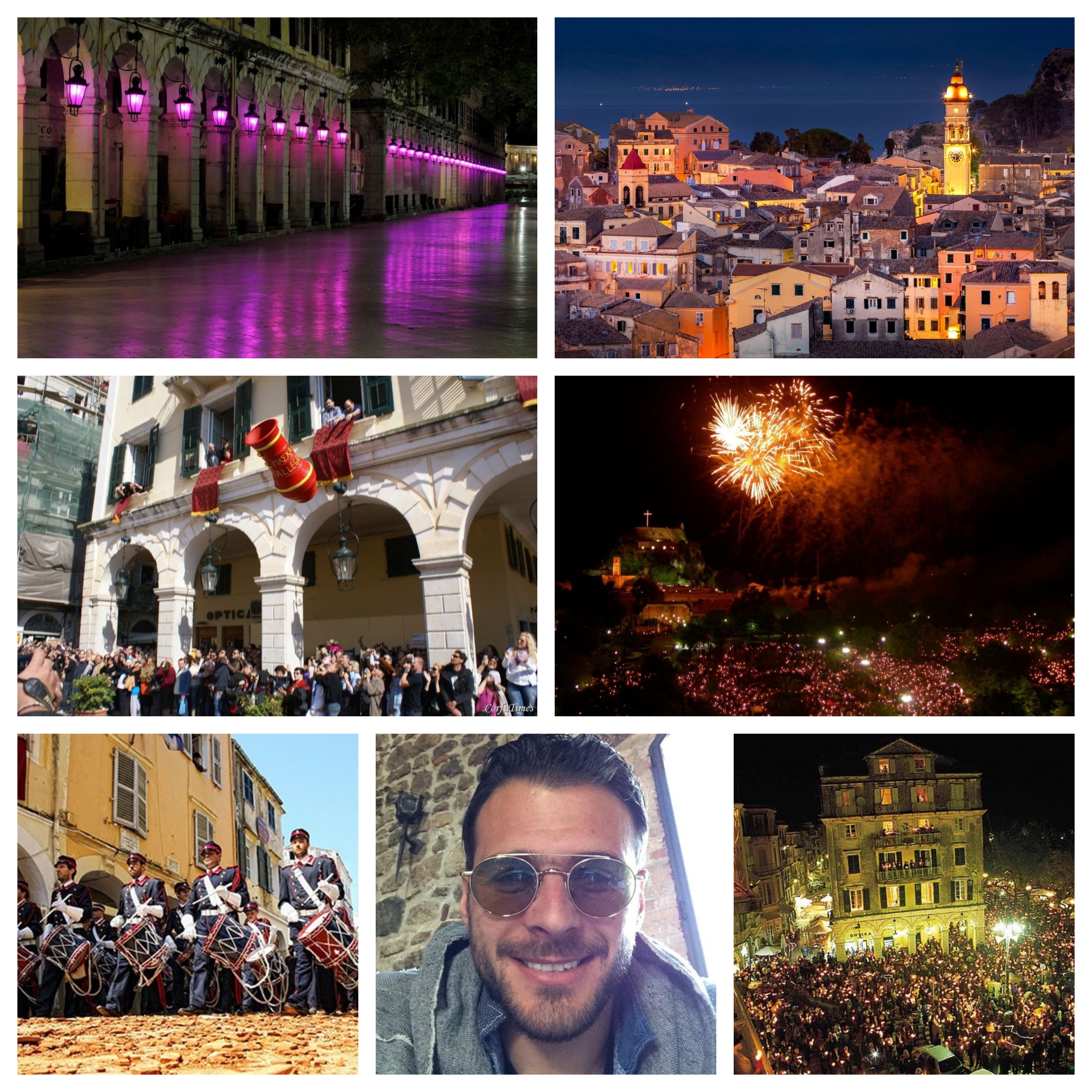 The favourite dish served on Easter Sunday in the village I come from, Agios Mattheos (southwest of Corfu) is egg and lemon soup.
My favourite appetizer is "savouro", fried fish with raisins and vinegar, made according to grandma's secret recipe

….And then a walk barefoot in the enthralling scenery of the Korission Lagoon, combining an endless beach with sand dunes and a rare forest of cedar trees, white lilies and orchids growing in the sand.
And the day cannot come to a satisfying end without an ice cream cone, always accompanied by a refreshing ginger beer under the eucalyptus or plane trees in the traditional cafes of my village…