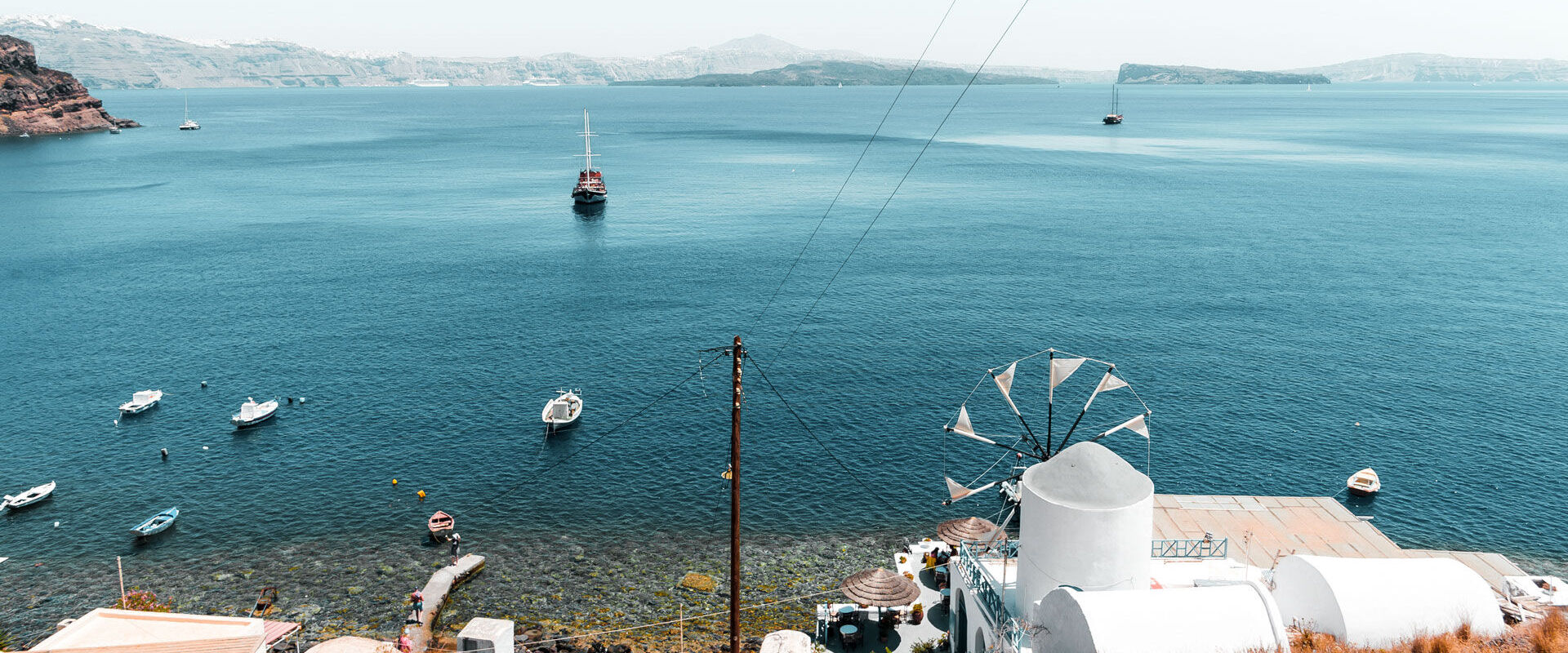 COVER STORY
Meet the Cycladic escapes neighbouring Santorini
READING TIME
As long as it takes to drink a Greek coffee
It would be so easy to visit Santorini and consider that you've found Cycladic perfection. What could compete with that architecture, those vistas and that sunset? But wait a minute! Perhaps you haven't heard of the Greek islands surrounding you. Ios (another Cycladic star, hiding a quiet side), Folegandros (stealing the hearts of those who discover it) and quiet but utterly charming Anafi and Sikinos. Seductive Cycladic escapes and pure hospitality everywhere you turn and so easy to hop between.
Santorini
At least once in a lifetime
It doesn't matter how many times you've seen the dazzling white houses and cliff-top majesty of Santorini in Instagram feeds. Nothing prepares you for the real thing. Every blue-domed church; the red-and-black of volcanic beaches, traditional villages such as Pyrgos; the prehistoric settlement of Akrotiri; the Caldera view (from up high, including islands such as Thirassia, where you can rediscover the Santorini of 50 years ago, or from sea level on a sailing boat or canoe); and the walk between Fira and Oia whilst you enjoy the famous sunset… this is once-in-a-lifetime territory. So if you can, visit in April-May and September-October when the experience will be even more personal.
Explore the hiking trails of Santorini
Food & wine you'll never forget
With all that volcanic soil and rich Mediterranean sunshine, how could it not be that fruit and vegetables thrive in Santorini? The tomatoes are sublime – cherry, sundried and pureed or as fritters (same with courgettes). And try the fava and capers. Most memorable, though, are the wines, especially the crisp whites made from the Assyrtiko grape that's found its natural home here. There are plenty of vineyards to visit.
Sample the wine routes of Santorini
Ios
A love of life with a quiet side
Next stop, Ios (as little as 40mins away by ferry), another Cycladic isle famous for its fun and nightlife. But it also has a tender side that will get under your skin. You'll find it strolling in the labyrinth of whitewashed alleyways and sampling the local products. Ios has its own photogenic windmills and the aromas of freshly baked bread waft from bakeries each morning. At the top of town, is the Church of Panagia Gremniotisas (the view is amazing) and nearby is the Theatre of Odysseus Elytis (Greece's Nobel-prize winning poet). It's all the perfect prelude to sunset cocktails in town.
So much to discover around Ios
This wouldn't be the Cyclades without eye-candy beaches. The most popular (due to their beach bars, water sports and proximity to Hora) are Milopotas and Gialos. And there is no end to the picturesque bays and swimming spots around the island – Manganari (quaint, protected and with fine golden sand) and Agia Theodoti (northeast of Hora). And a little closer to town, Kolitsani (popular with sailing boats and with nothing by golden sand and blue-green water). If you want to combine a day on the beach with a little culture, the early Bronze Age settlement of Skarkos is just behind town.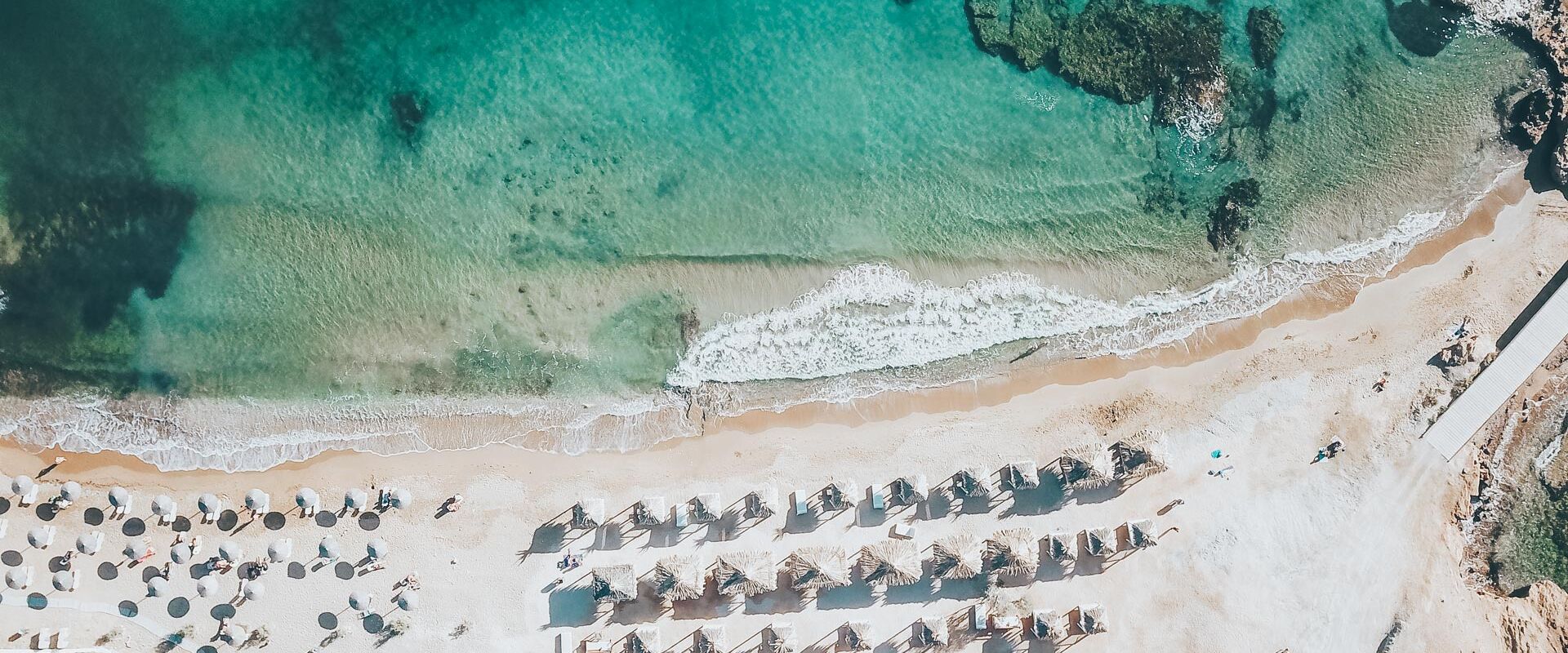 Folegandros
A rising star of the Cyclades
Sugar-cubed houses with blue-framed windows and doors, dramatic cliff-top views from 200m above sea level and a landscape shaped by a volcanic past… no, you're not on Santorini. You've arrived in Folegandros, another star of the Cyclades, as little as 40mins away but with a calmer, seductive tempo of its own. The Cycladic architecture will look familiar but you'll soon discover Folegandros has its own character, especially in and around its crowning medieval castle settlement (Kastro), from which the views are unsurpassed. The squares and tavernas, and little nightspots around Kastro, are sublime. And as for the sunset… could it be that Santorini has a rival?
Beautiful beaches and an energising landscape
More spectacular views await as you explore Folegandros, with the beaches completing the relaxation process. Agali (with its many tavernas) is the most popular and Katergo is perhaps the most impressive (you can reach it by boat from the port or it's a 30min walk from the village of Livadi). And there are excellent scuba diving facilities on the island. Meanwhile, for hikers there's an impressive network of trails crisscrossing the island. Many were originally used by shepherds walking between settlements, such as that starting from Ano Meria and passing the lighthouse of Aspropounta.
Anafi
A sanctuary in the Cyclades
If you thought Folegandros was relaxing, prepare for pure, undiluted tranquility in the form of Anafi, just east of Santorini (1-2hrs away). Anafi's origins are also volcanic and you'll find brilliant white box-houses and beaches with a wild beauty of their own. But that's where the comparisons with Santorini end. Spending time in Anafi is all about wandering its tiny (yet classy) town and lounging on remote beaches (like Klisidi, Katsouni, Megalos Roukounas and Monastiri), many accessible by foot. Don't expect sunbeds and umbrellas but Klisidi has a few tavernas. Make sure to climb to the 17th-century Panagia Kalamiotissa monastery. The rock into which it is built isn't just the highest point of the island, but the second-tallest monolith in Europe after Gibraltar. The views are everything you'd expect.
Sikinos
At peace in the heart of the Cyclades
Now that you've got a taste for the quiet life, welcome to Sikinos. Squeezed unassumingly between Folegandros and Ios, it's another quiet, little-known escape. The beaches are few but charming, with highlights being Alopronia, the biggest (although it could hardly be called that), Dialiskari and Agios Georgios (and its little taverna). Don't expect beach bars… just complete tranquility. Then again, Sikinos is the kind of place you can join the locals on a festival day in hiking to a church and cooking, dancing and celebrating into the night. The town, perched on a rock, is actually two settlements divided into a village and a castle… simple (sitting at a traditional taverna) yet stylish (with cocktail in hand). Climbing to the castle, you'll admire the views from the Monastery of Zoodochos Pigi and the church of Panagia Pantanassa. And there are walking trails to enjoy, with the most memorable leading you to a winery. The vineyard produces four labels, amongst them a sweet wine made from sun-dried grapes.