READING TIME
As long as it takes to eat a Greek salad
Long sandy bays with pulsating beach bars, luxury sunbeds with waiter service; shallow coves with calm, clear water, perfect for kids to play and parents to unwind; water sports, fine dining, traditional tavernas… even the chance to do a little boutique shopping, right next to the beach. Mykonos has a unique way of making everyone who visits feel special.
Cosmopolitan, bohemian, family, remote… you name it, the beaches of Mykonos cater to the island's famously diverse and discerning clientele. So here are 12 of them, from the superstars to the quiet gems. So the more you scroll, the more you'll discover about this legendary island's beach scene.
Psarou
Love it for its fame and luxury
It's hard to pick a No.1 but Psarou – just 4km from the main town – gets to the nod. It's a celebrity magnet, with fine, almost white sand, clear blue water and beach bars renowned for their epic parties. Want a taste of fame and luxury? Just say the word. There's a choice of restaurants nearby where you'll get VIP service and a high-end menu to match. But don't let that distract you from the fact that Psarou is also a great swimming spot (as with so many beaches along the protected south coast), with a diving school and water sports.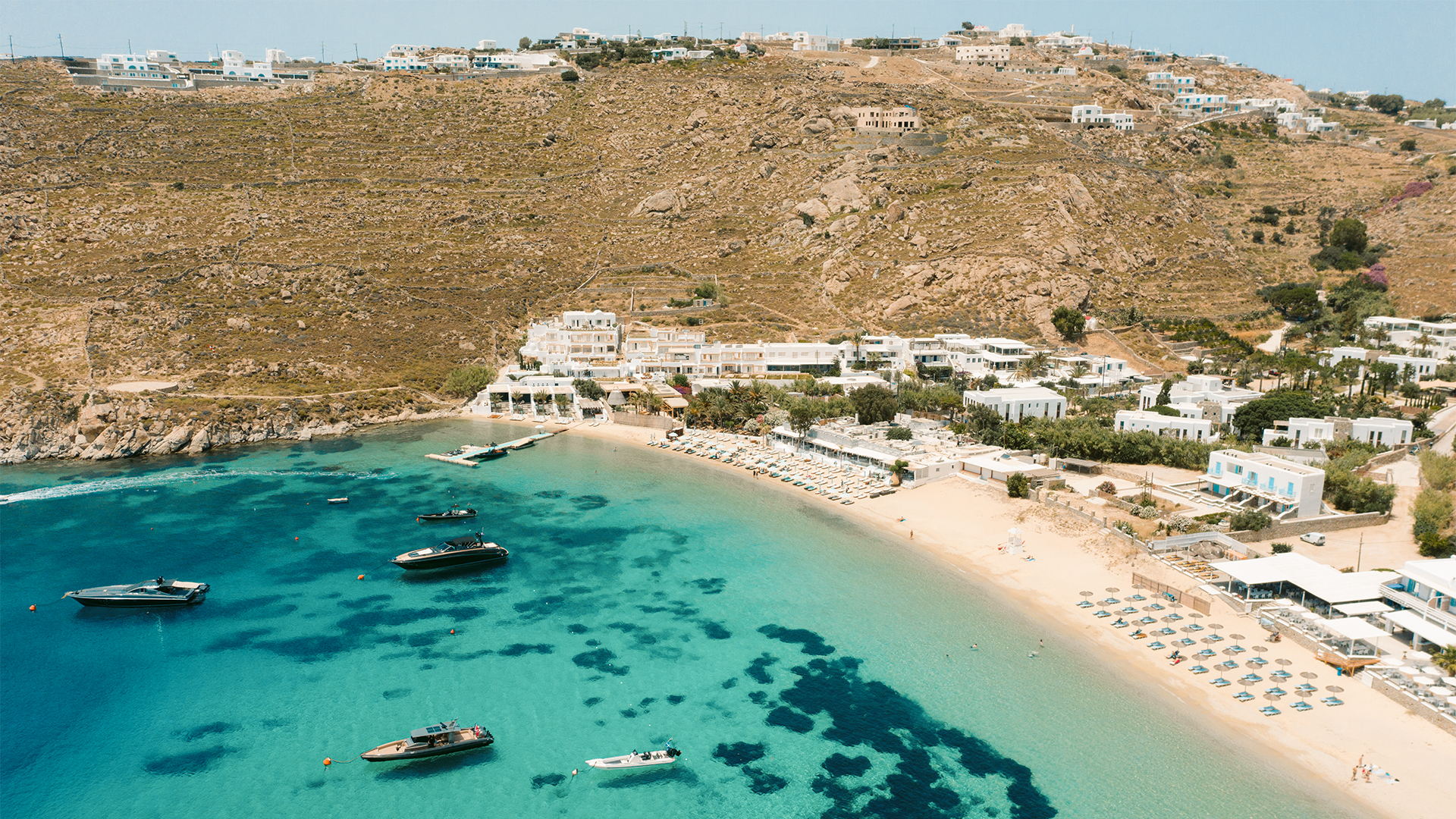 Paradise & Super Paradise
Love them for the party vibe
It takes something to pull off being called Paradise, let alone Super Paradise, and yet these two iconic beaches, just along the coast from Psarou, do just that. They're relaxing in the morning, before the music kicks in in the afternoon and, before you know it, it's party time … long into the night. The beach bars and restaurants are legendary, attracting a celebrity crowd and some of the biggest international DJs. You'll find a water sports and diving centre on Paradise.
Elia
Love it for the perfect mix
You'll find everything you could wish for on Mykonos' longest sandy beach. Celebrities and VIPs mingle right next to honeymooning couples and families… and there's a choice of traditional taverna and upscale restaurant, beach bar and even a water sports centre where you can try everything from waterskiing to parasailing and jet skiing. Something for everything. It's the perfect mix and it knows it.
Kalo Livadi
Love it for catering to every taste
There's another cluster of beaches on the south coast, this time further east, starting with Kalo Livadi. One of Mykonos' biggest beaches, it caters to every taste. Again there's a trendy beach bar and restaurant scene that turns heads. But there's also a long stretch with nothing on it and a water sports centre. The shallow water makes it a big favourite with families and there's a handrail leading into the water, helpful for anyone needing a little support getting in to and out of the sea.
Paraga
Love it for its boho style
Back to the cluster of beaches between Psarou and Paradise, we have Paraga. There's an elegant restaurant and lively beach bar scene here too, but the mood is more intimate and the facilities have a way of blending in with the environment. The water by the beach is shallow, ideal for the little ones. You can take a taxi boat from here to Super Paradise but it's worth staying till sunset.
Kalafatis
Love it for water sports & family fun
Another hit with families and water sports fans. You can hire everything from snorkelling equipment to jet skis here, but windsurfing is especially popular. The trees at the back of the beach offer shade, if you prefer that to an umbrella, and there's plenty of space for everybody.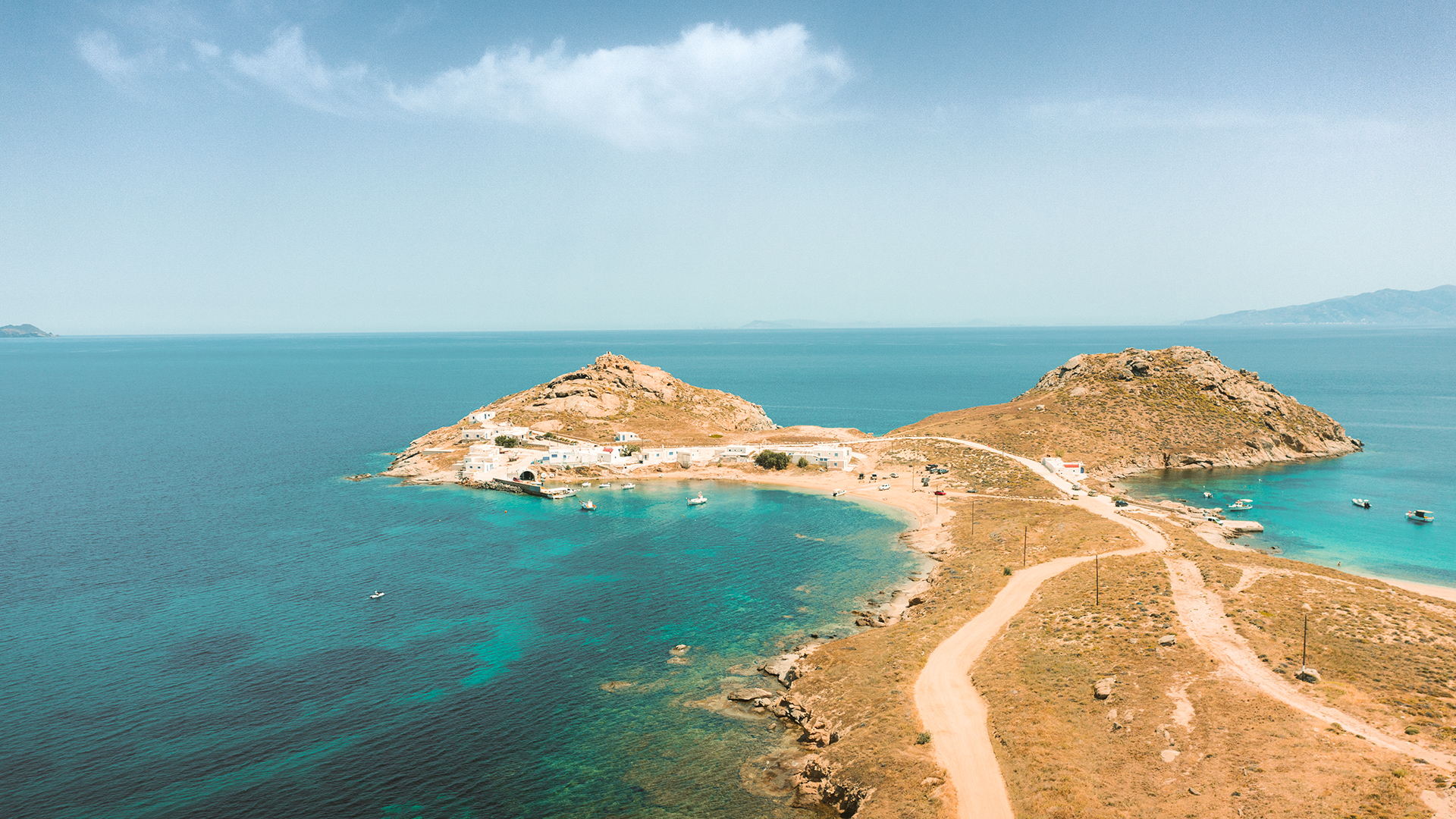 Lia
Love it for relaxation & snorkelling
As the furthest beach from Hora on the south coast, Lia offers a more remote and relaxing feel but still has all the facilities to make you comfortable all day long. The rocky landscape adds to the calming atmosphere and there are plenty of underwater features that make it a great snorkelling and diving spot.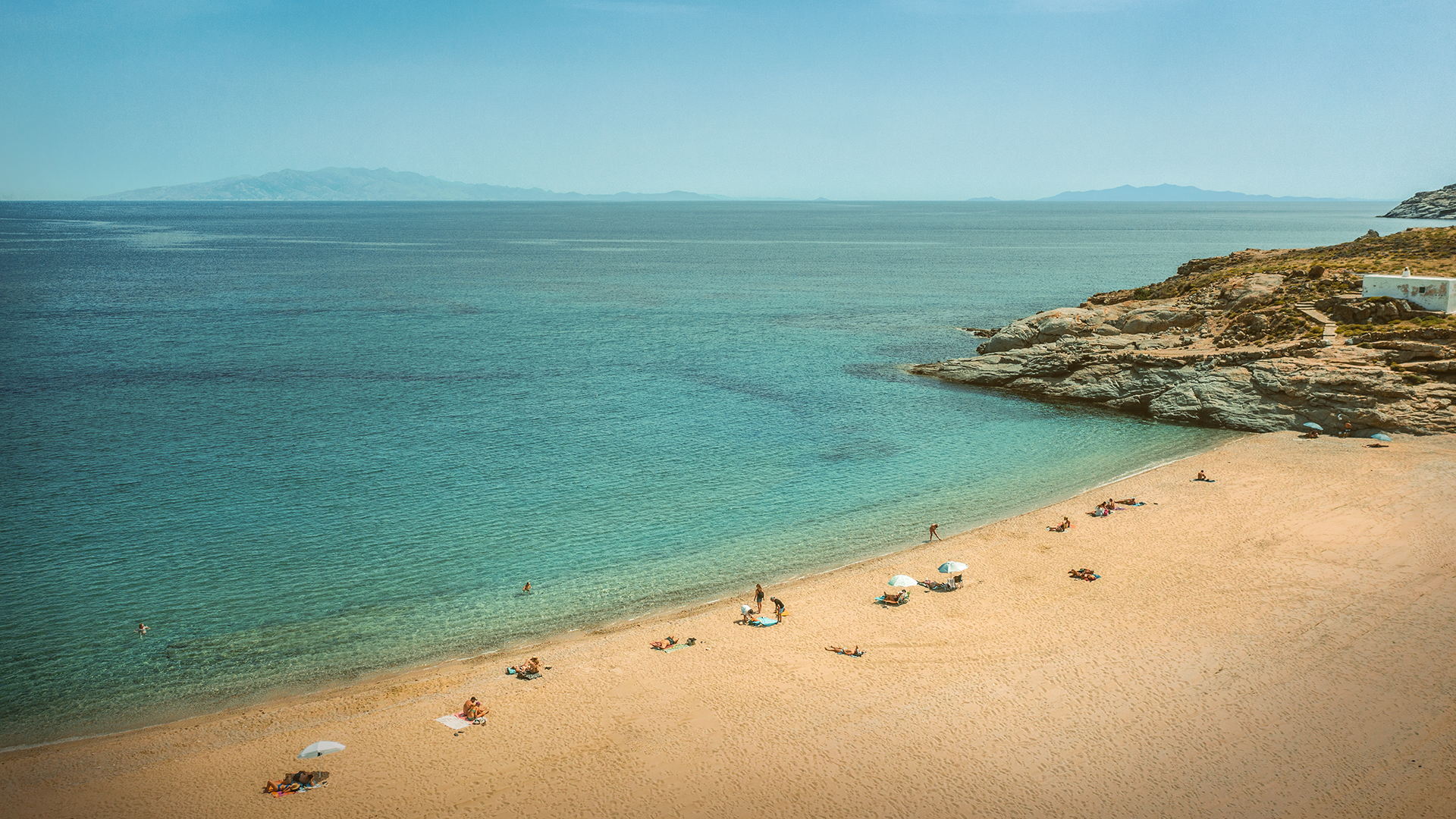 Ftelia
Love it for windsurfing
We head north now and to Ftelia, which has made the most of the winds that often blow stronger along this coast by attracting kite- and wind-surfers. There's a small road (sandy towards the end) that weaves towards to the beach, where you'll find a restaurant and a couple of beach bars. There's a more boho, relaxed mood here and a large section of the beach has nothing on it but sand. The view into the gulf is magical.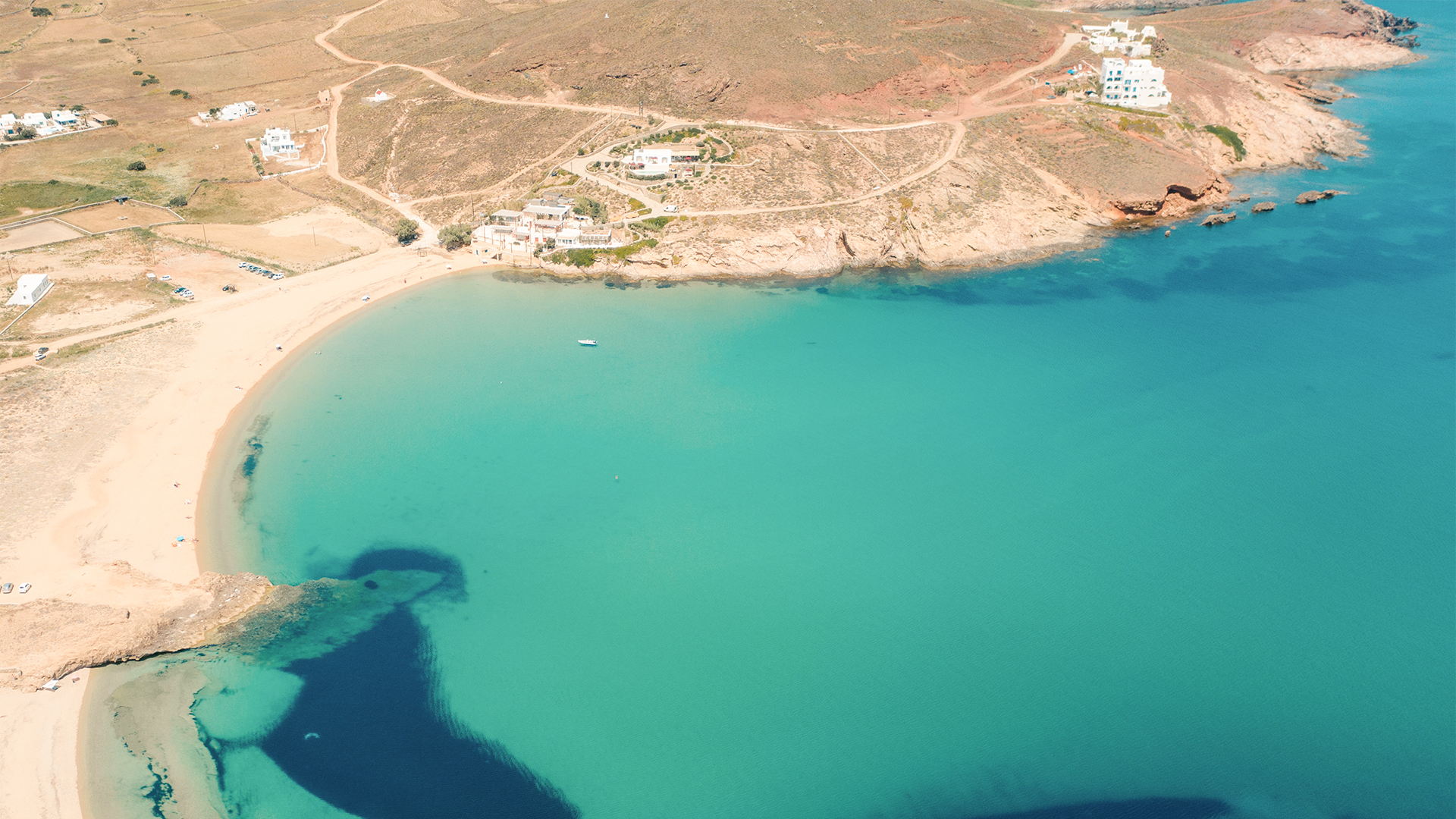 Panormos
Love it for its dramatic scenery
More protected from the wind on the north coast is Panormos, surrounded by a rugged, rocky landscape and known for its amazingly clear water. It's a favourite with locals and families, especially on calm days. You'll find everything you need here – beach bar, taverna and sun lounger & umbrella and there's a section of the beach that's got nothing but sand.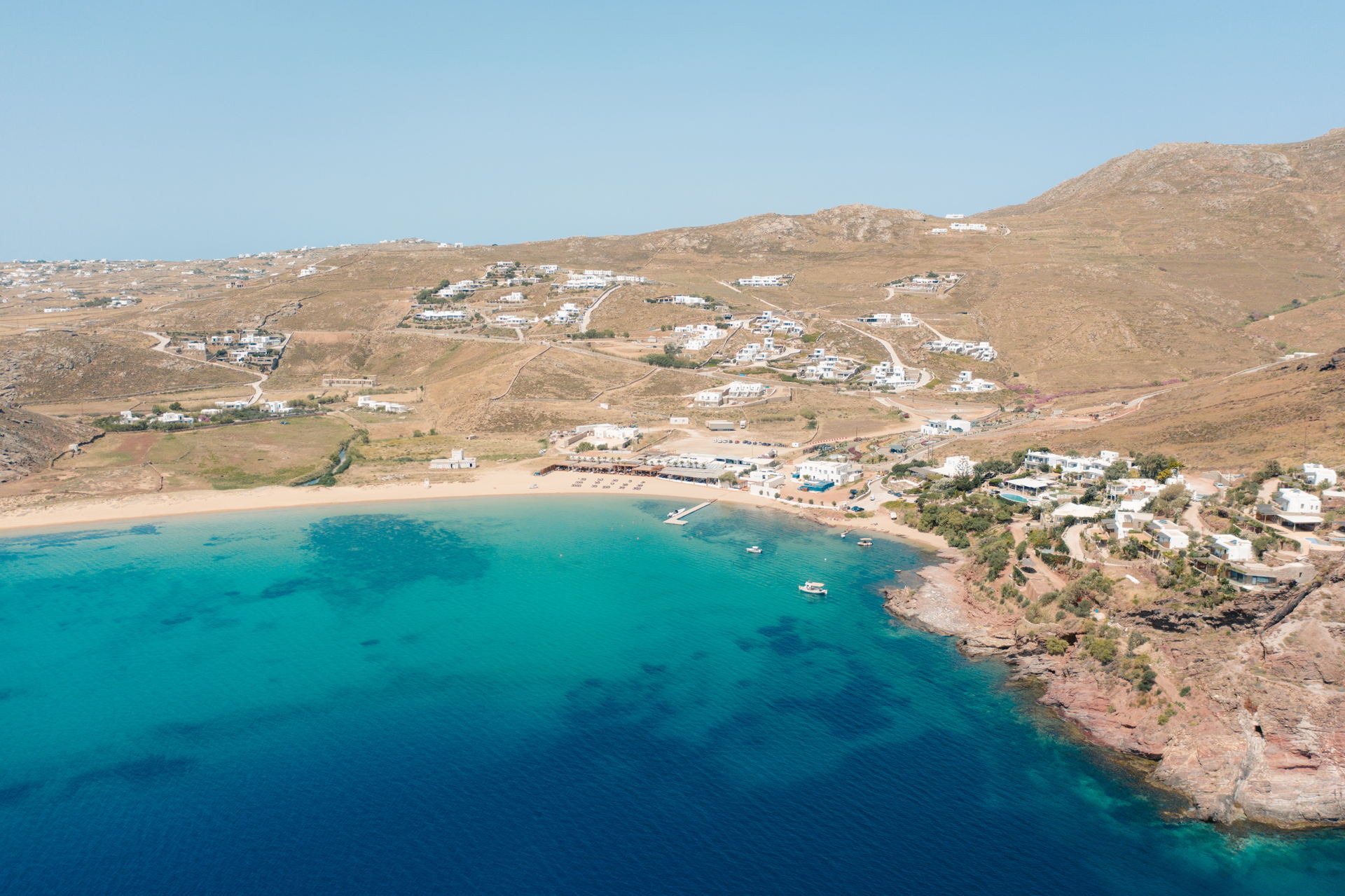 Fokos
Love it for its wild beauty
Heading further along the northern coastline, you come across a gem that's for those seeking wild beauty. On calmer days, there is nowhere on Mykonos that offers greater tranquillity. There are no umbrellas and sunbeds here, just a taverna serving delicious, traditional dishes and nature at its most alluring.
Agios Sostis
Love it for its pure escape
One of the most remote beaches in Mykonos, Agios Sostis is for those seeking absolute tranquility. At almost the northernmost point of Mykonos, you won't find anything in this sandy cove apart from pure relaxation. You need to walk the final stretch of the road and it's best to bring shade and drinks & snacks with you, although there's a taverna nearby. Pets are welcome on the beach and, if you want to take the feeling of escape one step further, there are even more secluded little coves nearby.
Kapari
Love it for its sunset View of Delos
We end on the west coast, at another hidden gem… quiet little Kapari, near popular Agios Ioannis. Again, this is for those whose dream beach day involves just throwing a towel onto the sand and lying back, listening to the gentle wash of the surf and going for the occasional cooling dip. It's a great swimming spot and just opposite is the island of Delos. The best view of all comes at sunset.
No wonder Mykonos' beaches have earned celebrity status. And best of all, many are close enough to one another to hop between. Or you could choose a different beach style every day. There's something different to love about each of them.
Plan your trip