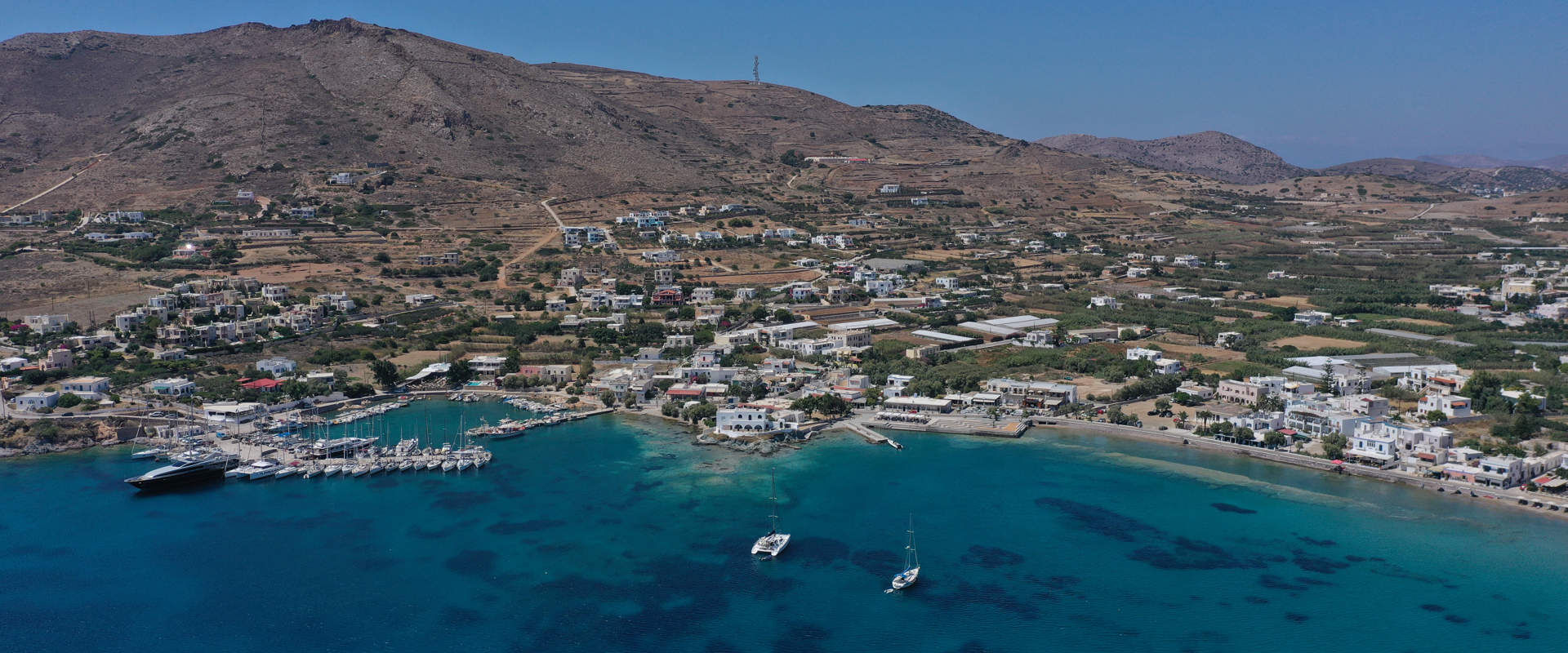 ITINERARY
A 10-day island-hopping tour of Andros, Syros and Tinos
Three Cycladic gems, each with their own unique character, and so close to one another (and the ports of Athens) that you won't be able to wait to get started.
Some islands are made for hopping, particularly when they are part of the famous Cyclades island chain and so easily reached from Athens. Green Andros, stately Syros and beach-lined Tinos – and that's just the start of their stories. You can go by sailing boat or conventional ferry, pick and choose your stops, and extend or reduce your stay… just prepare for some great island-hopping.
SHOW ROUTE ON MAP
DOWNLOAD AS PDF
Start point - End point
Rafina port - Tinos island
Means of transport
Boat, Car, Foot
Highlights
Noble Hora, Menites village and Tis Grias to Pidima beach in Andros; stately Ermoupoli, the view from Agios Georgios cathedral in Ano Syros and remote San Michali village in Syros; and the churches, villages and marble of Tinos
DAY 1 OVERVIEW
Andros island
40km
Car, Foot
3
You'll scarcely believe that, within 2hrs from the port of Rafina (just east of Athens), you can be in the Cyclades. Then again, Andros isn't like any other Cycladic island. And you're about to find out why.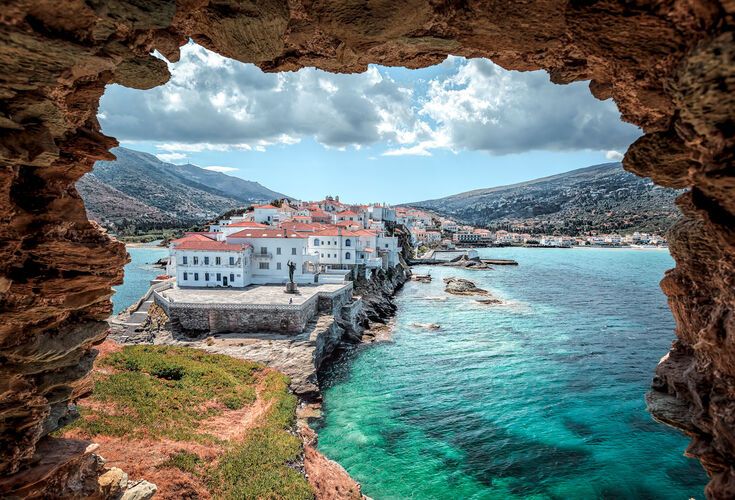 A stroll around Hora
You'll find the Venetian, Byzantine and Cycladic elements of other Cyclades islands, but that's where the similarity ends. Located on a narrow peninsula on the east coast, Andros' main town (or Hora) has been influenced by the riches of shipping over the years, with captain's houses, a Maritime Museum and a Museum of Contemporary Art (the private collection of Basil and Elise Goulandris, with more than 300 pieces from Greek and international artists). Look for the stone bridge connecting the town to an islet with the remains of a Venetian castle and, just off the coast, the Lighthouse of Tourlitis.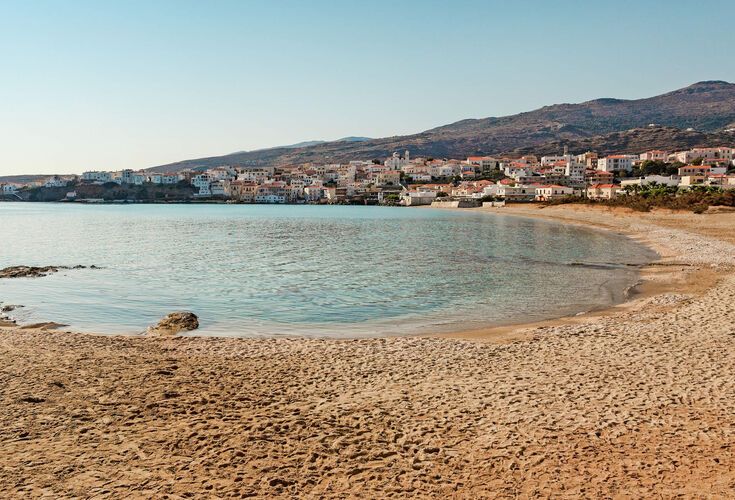 The nearby beaches
Time to treat yourself to a swim. Just to the north of Hora, Nimporio is protected from the summer winds (Meltemia) that often blow in Andros and is a perfect town beach. There's a rock (known to the locals as Tourlos) that divides the beach into a sandy and pebbly side. Or you could walk around 10mins to the golden sand and clear blue water of Piso Gialia. You'll need to negotiate around 120 steps from the road to reach it.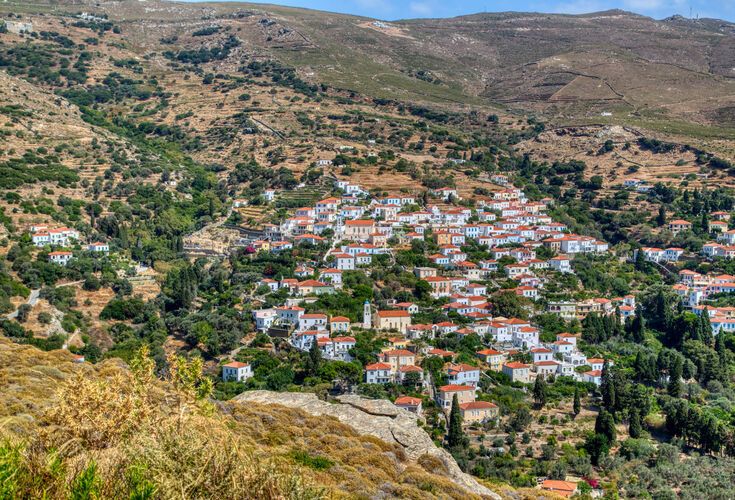 Stenies village
You end the day with a first foray into the villages by visiting Stenies, a hillside settlement just above Piso Gialia beach. You'll find more captain's houses in the upper town (the influences of shipping are strong here too) but also a totally traditional feel and the lower town is distinctive for the 17th-century three-storey Tower of Bisti-Mouvela. Find yourself a 'kafeneion' to get a really good sense of village life.
DAY 2 OVERVIEW
Andros island
19km
Boat, Car, Foot
3
Plenty of pristine nature in store for you today with a trip to some waterfalls and a hike, if you're up to it, plus another dose of village life. But don't worry, there'll be plenty of beach-time too.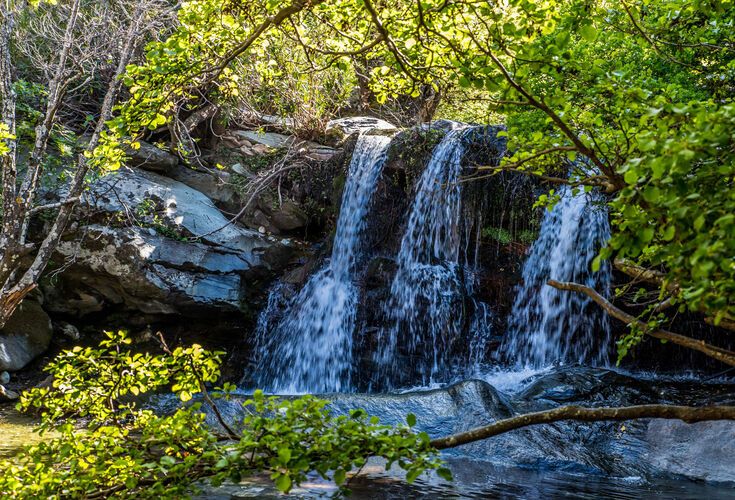 The Pithara Waterfalls
With so much water on Andros, enjoying nature couldn't be easier, especially on the hiking trails to the villages. So even if you just walk the 10mins from Apikia village to Pithara Waterfalls, you'll get a feeling for the greenery of the island. But it's also worth dedicating half the day to hiking (ideally with a guide) between Apikia to Gialia beach (around 5km). Before leaving Apikia, make sure to see the Springs of Sariza (a fountain in the middle of the village) before heading to the waterfalls and then trekking back towards the coast. If you do the half-day hike, you'll skip Achla beach and head straight to Menites next.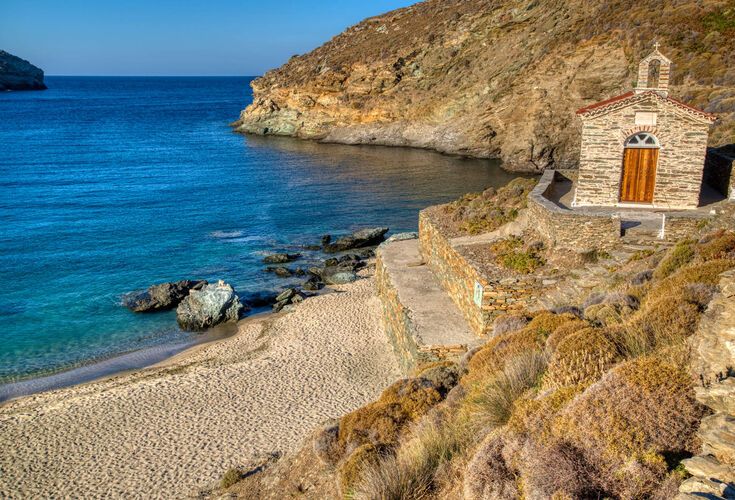 Achla beach
On to one of the most beautiful beaches on the island. The dirt road leading to Achla from Vourkoti village can be bumpy, so if you don't have a 4x4 the best way to get there is by boat from Hora. You'll enjoy a beach of fine white pebbles and crushed seashells, as well as clear water and a background of plane trees and a river. It's also one of the calmer beaches when the wind is blowing. Nearby is the quaint little church of Agios Nikolaos.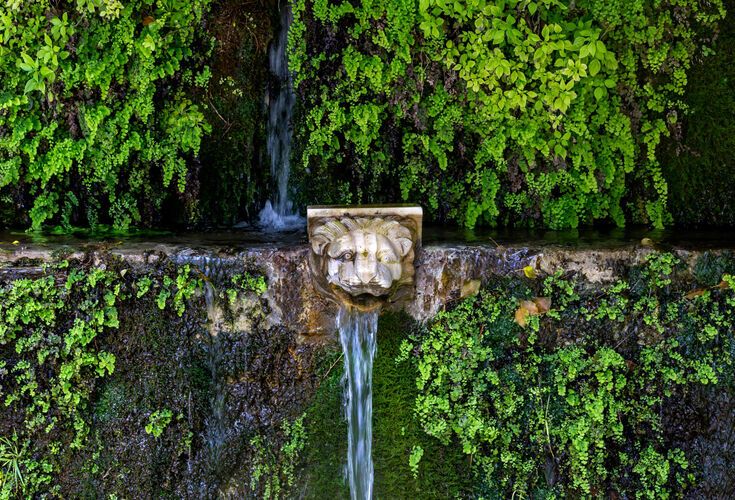 Menites village
On to the little village of Menites, built between walnut and plane trees and surrounded by yet more running water and springs. What better place to end your day than in the picturesque main square in a cafe or a taverna? Ask about the legend behind the carved lion heads from where the spring water runs at the entrance of the village. The answer has to do with the name of the village.
DAY 3 OVERVIEW
Andros island
32.1km
Car, Foot
3
Today is dedicated to the wider area of Korthi, towards the south of Andros, with a visit to a traditional village or seaside settlement (your choice) and some more incredible scenery. Plus a trip to Andros' most recognisable beach.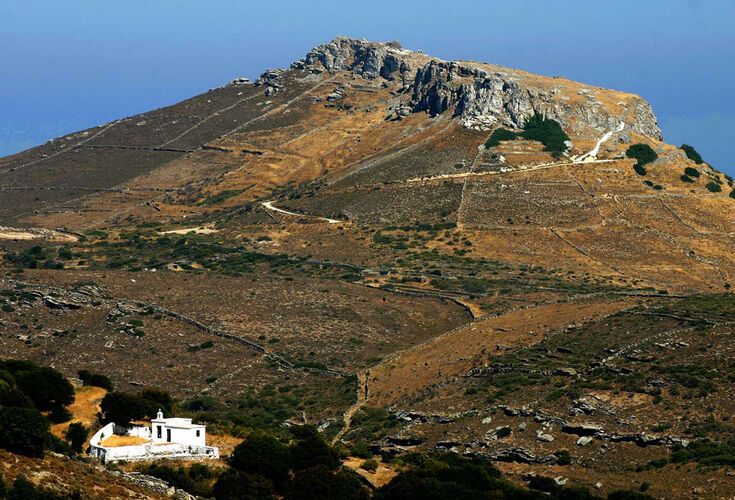 The Dipotamata Valley
Another beautiful spot to start your day is the 7km-long Dipotamata Valley in the centre of the island. There are plenty of hiking routes here, with the old stone path that was once the only land connection between Hora and the village of Korthi one of the highlights. You'll pass the remains of the Faneromenis Castle (a Venetian legacy with a great sea view), a stone-arched bridge and more than 20 watermills… as well as a lot of nature. Or if you prefer to head straight to the beach today, skip the hike and stop at the stone bridge to admire the view on the way.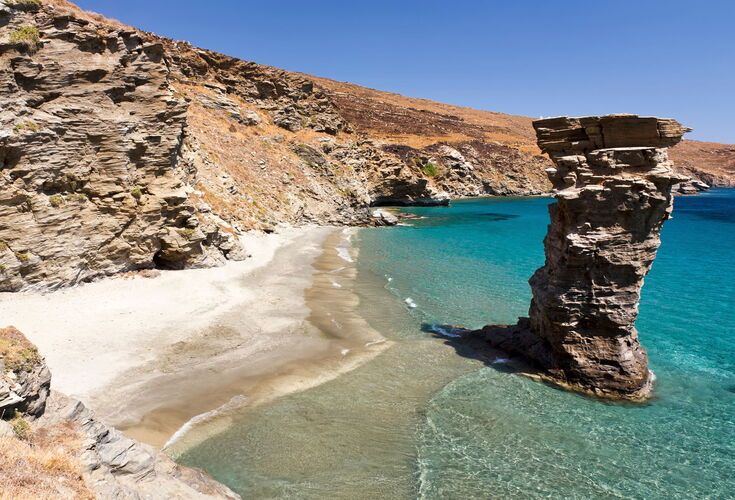 Tis Grias to Pidima beach
Probably the most famous beach on Andros and certainly the most photographed due to the mysterious rock formation protruding column-like from the sea, from which the beach takes its name. 'The old lady's leap' (as it translates) relates to a story of an old lady, the Ottomans, betrayal, regret and (you guessed it) a big leap from the rocks. Getting to the beach involves a bit of a walk but the reward is fantastic swimming and a unique setting.
Korthi village
Another village to end the day. In fact, Korthi is more like two villages – both mountainous and coastal, which is how the settlement has evolved. Start by enjoying the traditional houses and mansions in the hills, before descending to the bay (called either Ormos Korthiou or Gialos) for a seafood meal in a waterfront taverna. If you feel like something sweet, grab a pasteli (a sesame honey bar) or amygdalota (traditional almond biscuits for which Andros is famed).
DAY 4 OVERVIEW
Andros island
51.4km
Car, Foot
3
Your final day on Andros is dedicated to the western side of the island, ending in the lively little town of Batsi. Built around a harbour, it has retained its character as a fishing town but is full of colour, action and places to eat. But before that, you've got a couple of great beaches to choose between … depending on your preference (and the wind).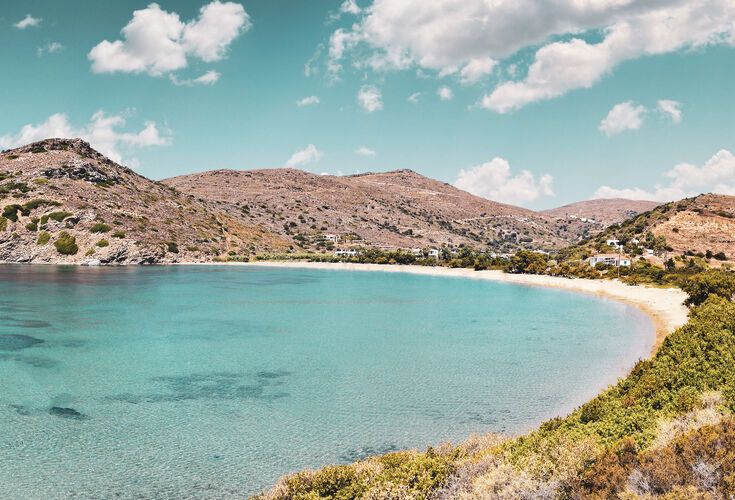 Fellos beach
Your first taste of beach-life today is long, sandy Fellos, easily accessible but with little infrastructure and tamarisk trees for shade. There's a small beach bar for coffee and snacks and a nearby taverna but little else. The water is fantastic but be aware that it can be affected by northerly winds. Other nearby beaches are Kourtali and Selki.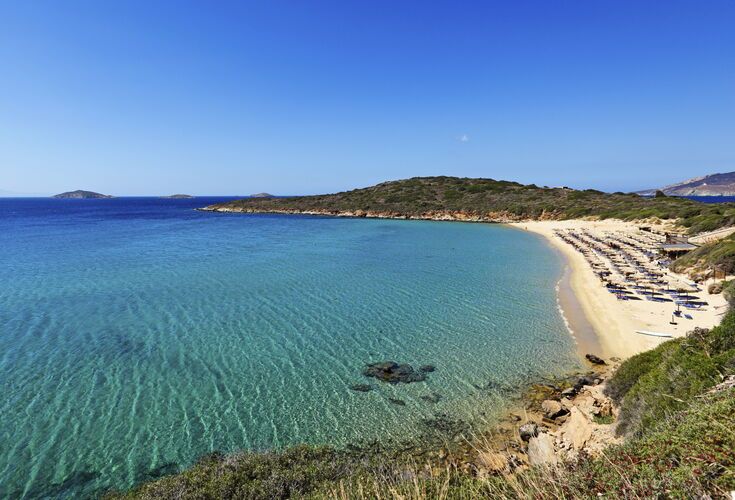 Chrissi Ammos beach
If you want a change of beach scene during the day or perhaps something more organised and lively, Chrissi Ammos is the place to go. Between the port of Gavrio and Batsi, it's one of the most popular beaches on the island because of its fantastic water, beach bar and water sports scene and the fact that it is in a more protected bay. It has all the facilities you could need but its most popular feature is in its name, which translates as Golden Sand.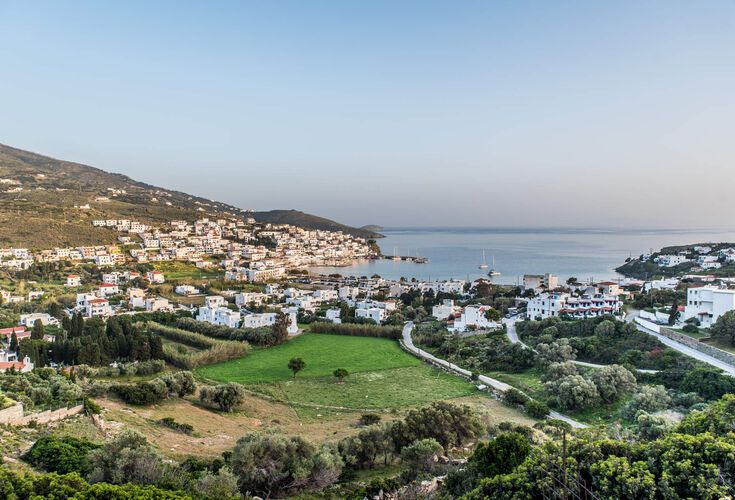 Batsi village
The coastal village of Batsi is where a lot of Andros' nightlife is concentrated (unusually for a Greek island, not in the main town). Many of the cafes, restaurants, shops and bars are found in the harbour and look out for the local women's cooperative selling local products (most members are farmers). There's also a beach with sand and facilities, meaning Batsi is the focal point of many holidays on Andros.
DAY 5 OVERVIEW
Syros island
10km
Car, Foot
3
From Andros, you head to Syros (around 2-3hrs by hydrofoil or ferry), the centre of the Cyclades and the capital of the island chain. That said, it bears little resemblance to other Cycladic islands, with its main town, Ermoupoli, being full of colourful neoclassical mansions rather than classic sugar-cubed houses. Take the early-morning ferry to make the most of the day.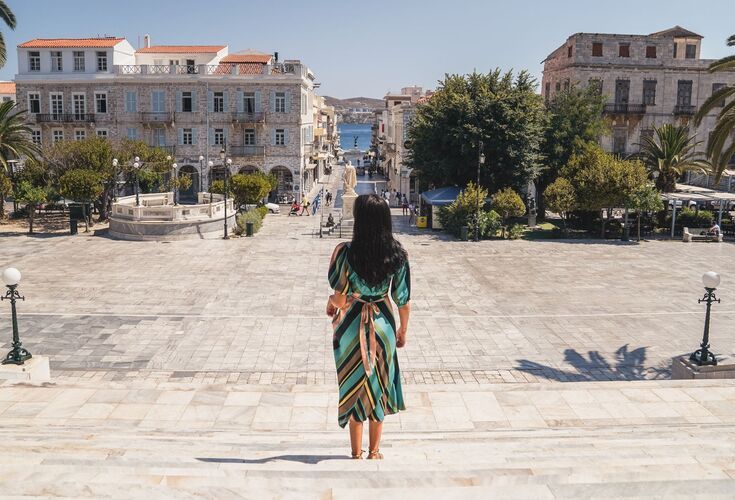 A walking tour of Ermoupoli
Your first sight of the multicoloured mansions, rising like an amphitheatre above the port of Ermoupoli, will last long in your memory, as will the lively, cosmopolitan aura that is the legacy of the island's commercial and artistic heyday in the 1800s. Head to Miaouli Square (with its grand Town Hall), the magnificent Agios Nikolaos church and the Apollo Theatre. And try the local sweets – icing sugar-dusted loukoumia (Turkish delight) and halvadopita (soft nougat with fillings like nuts or cranberries).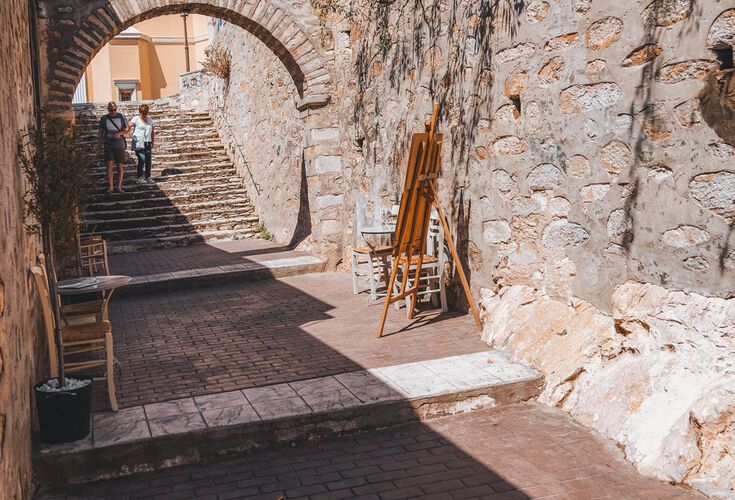 Vaporia
Part of Syros' main town but worth its own attention. This is the most aristocratic neighbourhood of Ermoupoli, owing to its high-ceilinged mansions built over the water as if they were ships (Vaporia means Boats). Take your time to wander around and choose a spot for lunch. But before you do that, have a dip (or a coffee) at Asteria Beach, which is actually a rocky platform that has one of the best views on Syros and is a popular spot for a dive.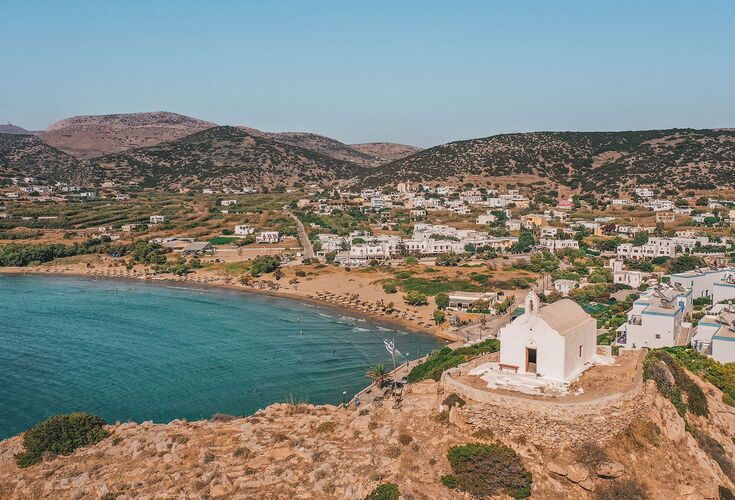 Galissas beach
The perfect choice of beach close to Ermoupoli, not just because it's sandy but because it has a good selection of tavernas. But make sure you explore a bit, heading up to the little church of Agia Pakou (the view is fantastic) or even the nearby beach of Armeos for a more secluded dive. Another gem is the church of Agios Stefanos, literally built into the mouth of a cave. A path leads there or you can take a boat from Galissas.
DAY 6 OVERVIEW
Syros island
16km
Car, Foot
3
Today is all about exploring. First, you head up to Ano Syros (the impressive town above Ermoupoli) before going to one of the best seafood-and-beach spots in the Cyclades. And you end the day in the remote north, in another epic taverna spot, with a sunset view you won't forget.
A walking tour of Ano Syros
Ano Syros is essentially the extension of the main town up the hill from the port. You switch the stately aura of Ermoupoli with Cycladic architecture and Venetian charm in what was once the ultimate fortress town. You'll find windy little alleyways (typical of the Cyclades), cafes and shops selling local products (the Piatsa is the place to stop) and – at the very top – the Catholic Cathedral of Agios Georgios, has incredible views.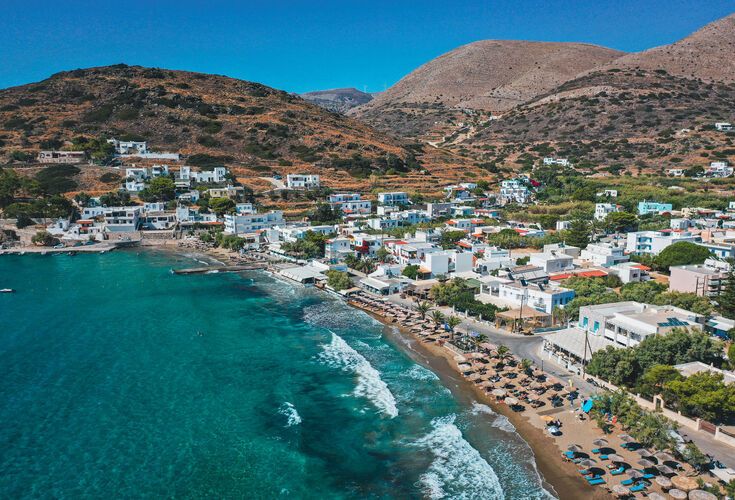 Kini village
The scenery changes as you head to the village of Kini, with its fishing boats and tavernas on the waterfront. Choose the one that appeals most and order yourself a seafood meze and ice-cold ouzo. You'll find numerous references in Kini to the importance of the sea on the lives of its residents, with a statue of a mermaid protectively holding a fisherman and a small museum of fishing vessels. It's also got one of the loveliest beaches on Syros, which you can enjoy before or after your meal. Or both!
San Michali village
Having ventured this far, it's worth heading a little bit further, into Apano Meria, which is the name for much of the north of the island. The scenery here has its own charm – part arid, part mountainous, mixing valleys and craggy shoreline, and it attracts very few visitors. There are numerous villages to explore, especially San Michali, famous for its hard, yellow cheese. There's a taverna here with probably the best food-and-sunset combo on the island.
DAY 7 OVERVIEW
Syros island
13.8km
Car, Foot
3
Another two beaches are on the cards for you today (choose whichever appeals) before heading to Posidonia, a unique village with an aristocratic heart. Syros' nobility once gathered here.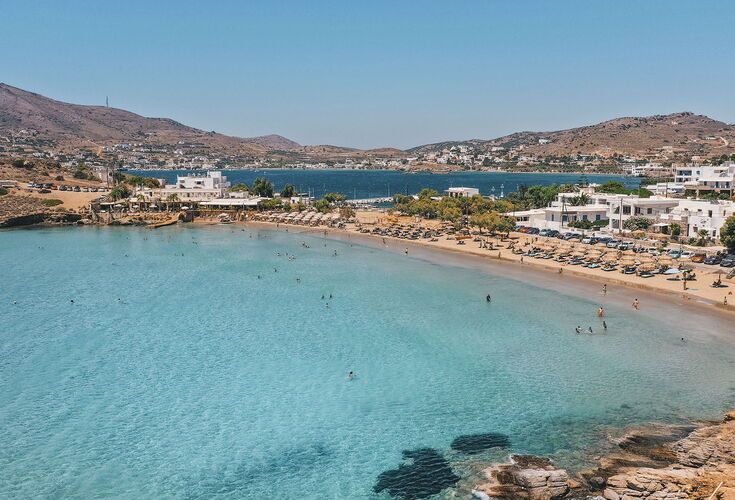 Agathopes beach
Agathopes ticks all the boxes if you're after a beach with sunbeds, cafeterias and cosmopolitan vibe that's also ideal for families. It's easy to get to and sandy, with shallow water, and its defining feature is the tiny islet of Strongylo just next door, connected to the peninsula by a thin strip of land. There's everything you need to stay as long as you like.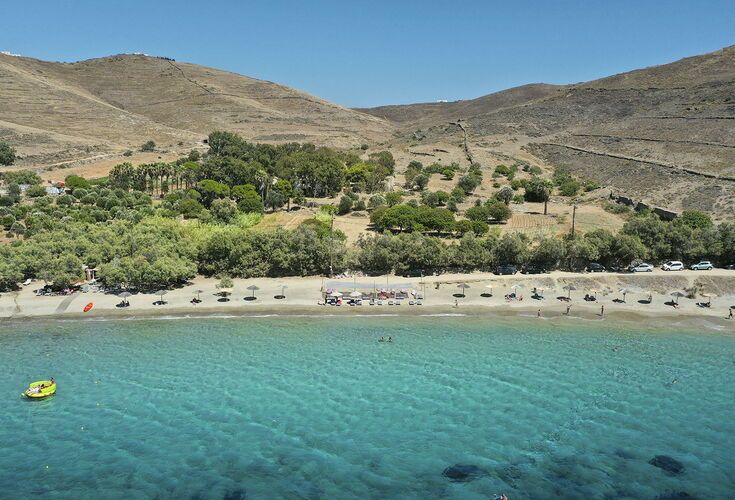 Komito beach
If you prefer something a little quieter, then just next door is Komito beach. You'll also find facilities here, but there are fewer sunbeds and umbrellas and a beach bar giving an even more relaxing mood to your swim. The trees lining the back of the beach and gorgeous turquoise water complete the mood.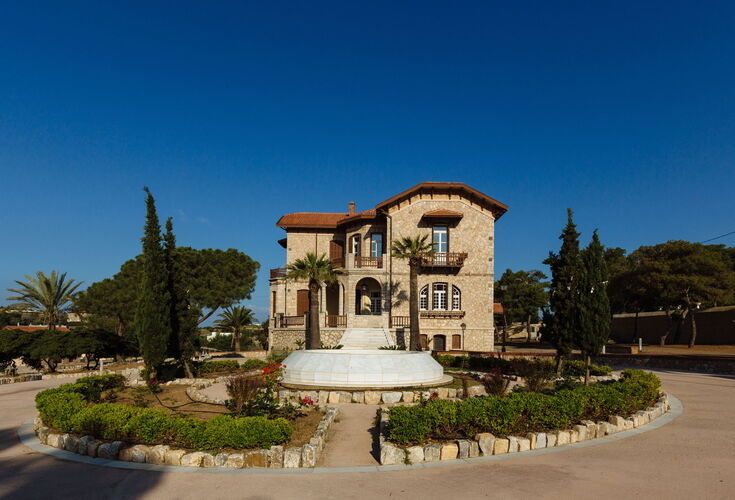 Posidonia village
The one-time aristocratic heart of Syros, gathering lords and other nobility, Posidonia was formerly known as Delagratsia, from the Catholic church of Madonna de la Grazia. The legacy is now felt in the stately mansion houses, many with neoclassical designs. Look for Villa Tsiropina (used as the Village Hall and a cultural hub) as well as the beautiful churches, such as the chapel of Agios Ioannis. There are plenty of dining options here.
DAY 8 OVERVIEW
Tinos island
13km
Car, Foot
2
Your final island-hopping trip takes you to Tinos (as little as 30mins from Syros), a place of great religious significance, wonderful villages and beaches, marblework, hiking trails and incredible food. If you get a morning ferry, you'll have the rest of the day to explore, starting with the main town's iconic church (a beacon for pilgrims) and ending on the beach.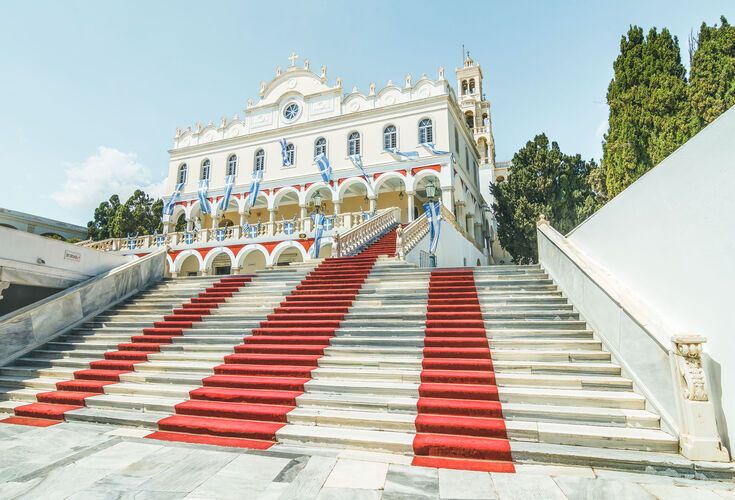 Hora and the church of Panagia Evangelistria
Dominating the main town (Hora) is the Panagia of Tinos, the church dedicated to the Virgin Mary. It commands your attention not only because it is built on a hill but because of its religious significance. Pilgrims often approach it on their knees, along a red carpet stretching to the port. Intriguingly, it also houses Tinos' Fine Art Gallery. Exploring the area, you'll find pebbled alleys, courtyards and fountains, and houses with lovely gardens – as well, of course, as cafes and restaurants.
Nearby beaches
Nearby beaches
A beach is never far away on Tinos. There are two great swimming spots just by Hora, fully organised and with excellent swimming conditions. Agios Fokas is right by town, with sunbeds and plenty of snack bars and tavernas, but also long stretches with nothing by sand. And just a short distance out of town is Agios Sostis. Sandy and with trees offering shade, it also has a beach bar and tavernas nearby.
DAY 9 OVERVIEW
Tinos island
18.4km
Car, Foot
2
Something special for you today as you head to two of Tinos' most Instagrammable spots… the beaches of Kolymbithra and the village of Volax, famous for its bizarre boulders and basket-weavers. You'll want as much time as possible at both.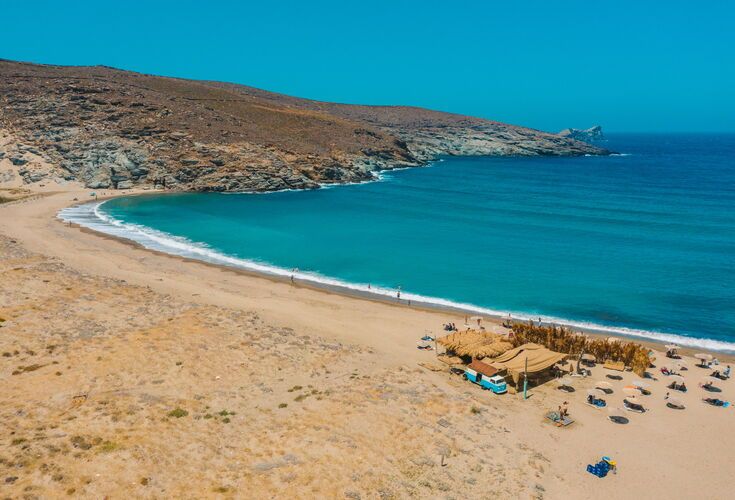 Kolymbithra beach
The twin beaches of Kolymbithra, on the northern coast, are possibly Tinos' best-known swimming spots, with the smaller (and more sheltered) of the two being more popular because of its facilities (including sunbeds & umbrellas and tavernas). But if you're looking for a boho feel, go to the larger cove (Megali Kolymbithra). Popular with surfers, it has a beach bar with a sustainable theme … biodegradable straws, umbrellas made from wood, vintage furniture for that extra touch of Instagrammability.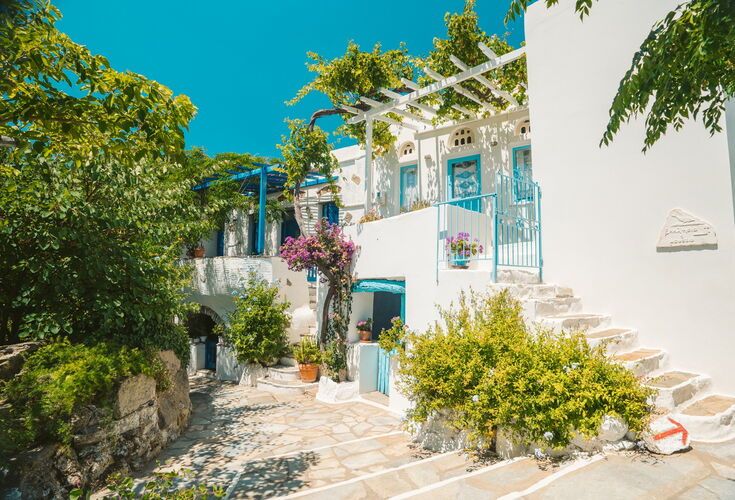 Volax village
The scenery changes again in a village that is just 15mins from Kolymbithra beach. Amongst Tinos' many settlements, Volax stands out because of the smooth, granite boulders (a geological phenomenon that has attracted many theories) found around the surrounding area and even in the village itself. It's also a village of basket-weavers. You'll find cafes and tavernas and the surrounding area is great for hiking.
DAY 10 OVERVIEW
Tinos island
21.4
Car, Foot
3
Your final day takes you to two more villages (without that meaning that you don't get time on the beach) and the opportunity to immerse yourself in Tinos' famous marble craft.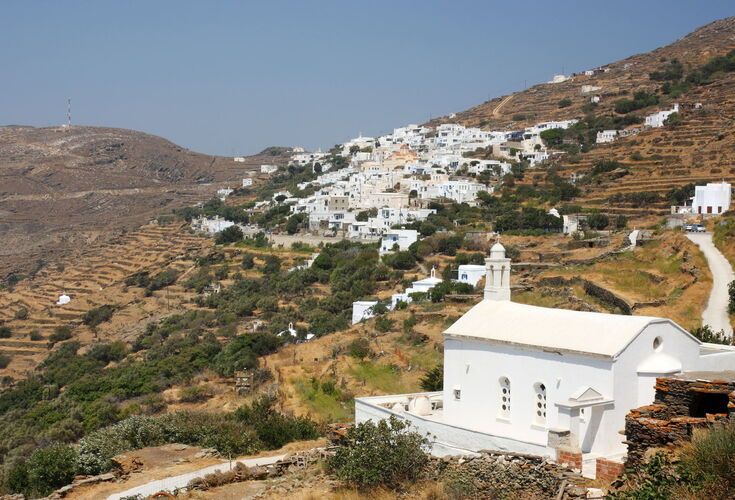 Ysternia village
Ysternia is another must among Tinos' villages. It's a settlement with a twin personality – part coastal and part mountainous. Up on the hillside, you'll feel like you're on a terrace overlooking the Aegean. You'll also get an introduction to Tinos' marble craft, particularly in Glyni Square, and in the old municipal school and the church of Agia Parskevi. You can have breakfast or a coffee up here before heading down to the coast for a dip.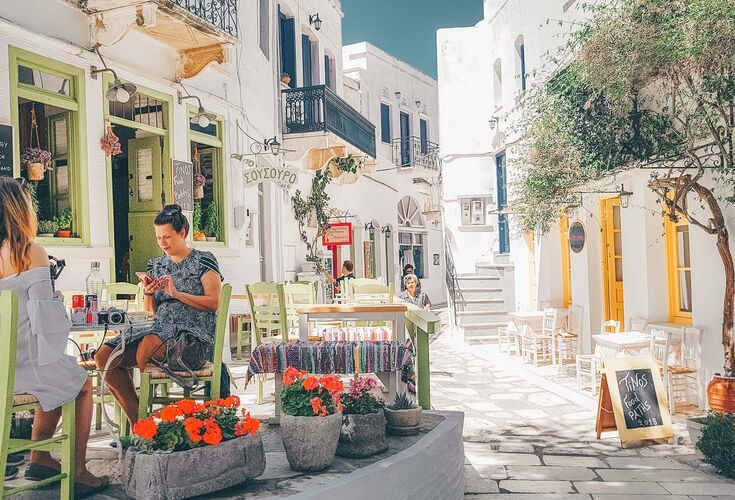 Pyrgos village
You'll find plenty more examples of Tinos' famed marblework in the windows and doors, and embossed in intricate patterns of houses, as you wander the streets of Pyrgos. There's also a Museum of Marble Crafts and the Museum of Tinian Artists. And you should pop into the former house (now a museum) of Giannoulis Halepas (a legendary marble craftsman). Don't leave without trying a galaktoboureko (a custard-and-phyllo pie) or an orange cake in the village square and finding something arty to take home with you.
Panormos Bay
You end your village-hopping tour at a fantastic bay on the northwestern coast, with plenty of choices of beach – such as Rohari (with its facilities and beach bar), Agia Thalassa and Kavalourko. The nearby settlement is the perfect place for an evening stroll and a last taverna meal by the sea.