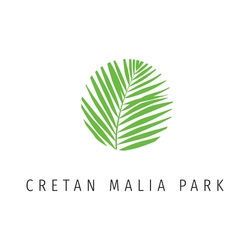 Cretan Malia Park
Set amidst lush botanical gardens, surrounded by beautiful Cretan landscapes, a sandy beach with sparkling blue waters, endless expanses of unspoilt nature and sleepy little villages nearby just waiting to be explored – this is the place you've been dreaming of.
LOCATION
Nestled amongst lush gardens, white sand beaches and the calm, crystal blue waters of the Mediterranean, Cretan Malia Park enjoys a perfect location.
As one of the most unique and special beachfront hotels in Crete, the resort is just 30 minutes away from Heraklion International Airport, the island's biggest airport.
Easily accessible yet surrounded by nature, Cretan Malia Park Hotel is also an ideal base for visitors wishing to combine a laidback holiday with exploring Crete's historic riches and charming tradition. Sites such as the Minoan Palace of Knossos and the Lassithi Plateau, not to mention the welcoming towns of Heraklion and Panagia Kera, are all close by.

ACCOMMODATION
At Cretan Malia Park, all of our recently renovated accommodation has been designed and furnished to reflect our sustainable, nature-inspired approach to holistic relaxation and effortless elegance. Tastefully decorated in contemporary earthy wood tones, creating a striking contrast with a palette of calming greens and white finishes, our boutique-style resort offers guests a haven of peace and wellbeing. Each light-filled room is fully equipped to ensure your comfort and appreciation of the small things in life.
Guestrooms – fully renovated
Crafted in the spirit of the Mediterranean living, the beautiful Guestrooms of our resort feature an impressive living space, opening up to a private balcony with views of the scented gardens, inviting glimpses of the sea beyond.
Bungalows – fully renovated
Find serenity and seclusion in these tranquil low-rise hideaways offering side sea views, proximity to the pools and wonderful landscaped gardens of the resort. This is the beachfront tranquil living you've been dreaming of.
Nestled amidst generous greenery, our indulgent suites of elegant design, boast unique outdoor living spaces and exceptionally appointed interiors, inviting to live to the rhythm of the Mediterranean, which is only a few steps away.

CUISINE
Inspired by healthy, sustainable eating and celebrating local, homemade Mediterranean kitchen, dining at Cretan Malia Park takes you to a culinary journey that is personal but shared. Regional delights include fresh fruits, seasonal produce handpicked by our organic kitchen garden, out-the-oven baked bread, local farm honey and olive-oil – all reflecting the local palate.
Our Consultant Chef, Athinagoras Kostakos is passionate to serve great quality, wholesome food, with fresh, locally selected produce and only the finest ingredients, with a blend of culture and the contemporary, focusing on travelers' enjoyment in mind (for this I'm not sure as I don't know the terms of the partnership).
Mediterraneo - Authentic accents of the South at our Main Restaurant
Almyra - Authentic Italian at a new place by the sea
Mouries - Crete's True Soul - seasonal Cretan dishes shared in a family atmosphere
Pool Bar & BBQ - A cool spot for delicious poolside fare
Coffee & Sweet Corner - A selection of pastries and coffees at our brand-new corner, by the pool
Lobby Bar - A vibrant new welcoming place at the resort's heart
Beach Bar - Savor the fresh taste of summer at this new beachfront setting
Beach Dining - The perfect evening spot for Cretan tapas and wine at sunset time

MEDITERRANEAN RESPONSIBLE LIVING
Organic Kitchen Garden, Wine Tastings, Cooking Lessons, Cultural Activities, Cretan Soul Event, Garden Tours, Destination Discoveries, the Cat Cafe

RECENT AWARDS
TUI Environmental Champions Award 2019
TUI Family Champion 2019
TUI Top Quality 2019
Travelife Gold Award 2018 - 2020
Recommended on HolidayCheck 2018
TripAdvisor Certificate of Excellence 2018

Available Services
Swimming Areas: a main swimming pool (heated), a river pool & a paddling pool, a private sandy beach with sparkling blue waters

Water Play: pedalo, canoe, windsurfing & SUP

Power Sports: a brand-new basketball half court (new for 2019), a tennis floodlit court, beach volley, mountain bike station

Wellness & Fitness: our Cute Spa with treatment rooms & gym, outdoor yoga area & various fitness sessions

Kids: our new impressive Kids' Club (new for 2019) features baking, gardening, performance area & many more creative activities

Teens: Atmospheric Youth Area (new for 2019) with cinema screenings, games, Jacuzzi & hammocks